Key Research Findings - Phospholipase Enzyme Market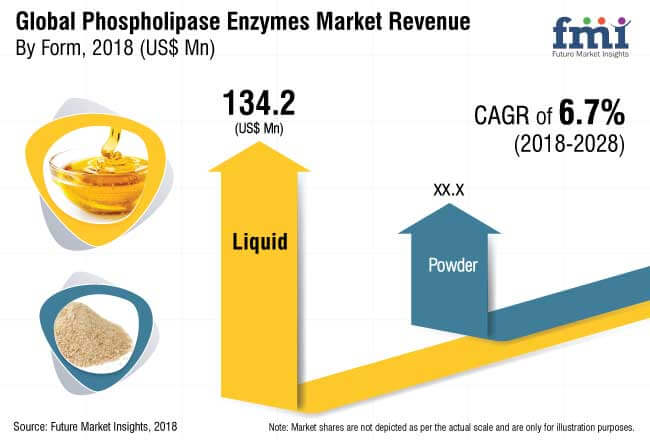 The global phospholipase enzyme market size is anticipated to exceed US$ 200 Mn in revenues, by 2019 end.
The global phospholipase enzyme market will witness ~ 6% CAGR over the forecast period, 2019-2029.
North America and Europe will continue to hold prominent shares in the global phospholipase enzyme market during the forecast period.

The increasing health-awareness and growing demand for clean-label products are estimated to have a positive impact on the phospholipase enzyme market.

South Asia and East Asia phospholipase enzyme markets are estimated to grow at a medium pace.

Improvement in economic conditions and government regulations, high population, and changing consumer preferences are driving the phospholipase enzyme market in South Asia and East Asia regions.

By application, food and beverages is a prominent consumer of phospholipase enzyme market and is estimated to register steady consumption over the forecast period.

Phospholipase enzyme helps to improve flavour, increase shelf life, enhance yield, improve texture, and provide several other advantages, which have increased its use in the food and beverages industry.
The food and beverages industry is further categorized as bakery products, dairy, oil & fat processing, and flavour production. Bakery products occupy a major share in terms of revenue during the forecast period.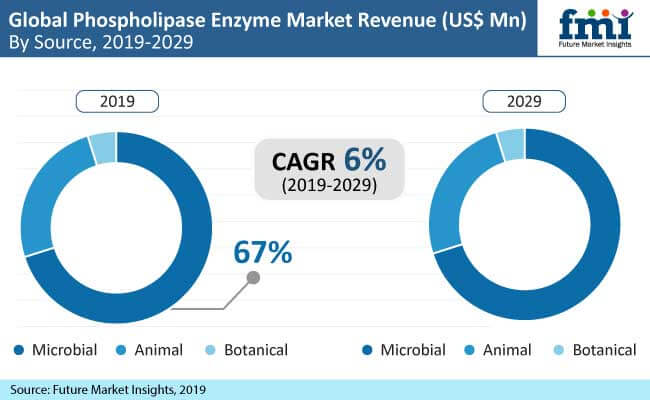 Top 3 Factors Shaping the Phospholipase Enzyme Market
Growing Demand for Cheese Shaping Phospholipase Enzyme Consumption Patterns
Cheese is a popular food item all across the world. However, with increasing health-awareness among consumers, the preference for low-fat cheese is growing. Thus, manufacturers are looking for appropriate ingredients that will help them develop low-fat cheese. Phospholipase enzyme is a suitable option as it reduces the phospholipid content and enables the formation of low-fat cheese.
Also, the increasing per capita consumption of cheese makes it necessary for the manufacturers to increase the yield and quality of cheese to fulfill the requirements of the consumers. Thus, the demand for phospholipase is estimated to increase as it helps in the hydrolysis of phospholipids and improves the yield of cheese. It also aids in reducing the environmental impact of cheese production.
Anti-Inflammatory and Anti-Obesity Attributes Driving the Market Growth
Phospholipase enzyme offers anti-inflammatory and anti-obesity properties, which are anticipated to increase its end-use applications. The growing prevalence of obesity has made it all the more important for manufacturers to develop nutraceutical products that can help manage weight. Thus, these important properties of phospholipase enzyme are estimated to boost its use in the nutraceutical industry.
Companies are Seeking Kosher & Halal Certifications to Gain the Confidence of the Consumers
As health concerns are increasing, consumers want to know more about the products they are consuming. Consumers consider various factors such as certification, price, brand, nutritional content, and ingredient list before buying the product. Thus, manufacturers are trying to get various certifications to attract more consumers.
The competition is intense in the phospholipase enzyme market, hence, some companies are providing halal- and kosher-certified phospholipase enzyme to gain a competitive advantage over other manufacturers. Therefore, manufacturers are trying to obtain various certifications to remain at the forefront in the phospholipase enzyme market.
Phospholipase Enzyme Market Structure Analysis
The players in the global phospholipase enzyme market are classified into three-tiers for analysis, where the tier-1 companies are dominant, hold a significant share, and have a strong distribution network as well as global presence.
Key players in the phospholipase enzyme market include

Novozymes A/S,
DuPont de Nemours, Inc.
Koninklijke DSM N.V.
Chr. Hansen A/S
Nagase & Co. Ltd.
Enzo Life Sciences, Inc
among others.

The major players are primarily located in the US and Europe, and are focusing on acquisitions and mergers to increase their global presence.
Key Segment
Based on product type
phospholipase A1
phospholipase A2
phospholipase C
phospholipase B
phospholipase D
basis of source
microbial
animal
Data Mining
botanical
region
North America
Latin America
Europe
South Asia
East Asia,
Oceania
Middle East and Africa
Need specific information?