Feed Enzymes Market Outlook
The global feed enzymes market is growing at a moderate pace and is likely to accelerate, as manufacturers are putting enormous efforts into the development of the products. During the COVID-19 scenario, businesses of global as well as regional players had an impact. However, there is no prominent impact of the pandemic on the global operations as well as the supply chain. Numerous players still have their operations up and running during the spread of corona.
For instance, in February 2020, BEC Feed Solutions announced that its operations for the redevelopment of Carole Park into a new facility. This new facility is well-equipped with a manufacturing plant, a warehouse, and a two-story building. The new facility has been developed to boost the production of feed enzymes.
In addition, Advanced Enzyme Technologies announced the acquisition of Evoxx Technologies for enhancing its R&D capabilities through the adoption of Directed Evolution technology.
The production of feeds accounts for a significant part of the operational cost, which includes half the cost of livestock production. In addition, an opportunity has surfaced through the research and advancement in the phytase production process. Studies have found that some kinds of fungi grow in palm oil mill effluent (POME) that hold the ability to produce phytase. Since palm oil mill effluent consists of carbohydrates, minerals, lipids, proteins, and nitrogen compounds, they act as excellent raw material, which can be produced through biotechnological techniques.
On the flip side, the feed enzymes market, in turn, faces some challenges regarding the high research and development costs for the production of high-quality feed enzymes at affordable prices. Manufacturers need to make huge investments with molecular techniques and high-end labs for bringing the required innovation for discovering new enzymes.
Key Growth Influencers - Feed Enzymes Market
Introduction of Feed Enzymes Targeting Ruminants for Improved Milk Production
Feed is one of the most significant cost factors in the dairy industry. As a result, improved efficiency of converting feed into milk will boost returns for dairy farmers. Conventionally, feed enzymes that result in increased uptake of nutrients prominently targeted swine and poultry.
However, market players are introducing feed enzymes to improve efficiency and milk production of ruminants, which benefits farmers with dairy cows by cutting down feed cost. Such feed enzymes are anticipated to gain popularity among stakeholders in the dairy industry.
Rising Acceptance as Key Growth Promoters in Feed Industry
Controversies continue to surround the usage of antibiotics as growth promoters for animals. Although antibiotics have been used conventionally at therapeutic levels to enable animals to fight microbial infections and consequently deliver improved performance and productivity, the concerns centered around their negative impact on the entire food chain prevail. The EU has already imposed a ban on the usage of antibiotics as growth promoters in the animal feed industry.
This has prompted farmers and breeders to look for alternative solutions that improve performance of their animals, while reducing environmental impact, and protecting their profit margins. Feed enzymes have a positive effect on the nutritional intake, digestibility of feed and production capacities of animals. The industry has been reflecting strong acceptance for feed enzymes since the recent past.
Market Leaders Targeting Specialized Feed Enzymes
Players in the feed enzymes market are now targeting evolving supplement demands of different animals by offering specialized feed enzymes. Key players in feed enzymes market are focusing on individual categories, including poultry, cattle, canines, or equines, and are launching feed enzymes that offer optimum results.
Additionally, manufacturers focus on increasing thermo-stability, effective delivery, and higher efficacy of feed enzymes. This would remain a strong factor stimulating feed enzyme sales in the near future.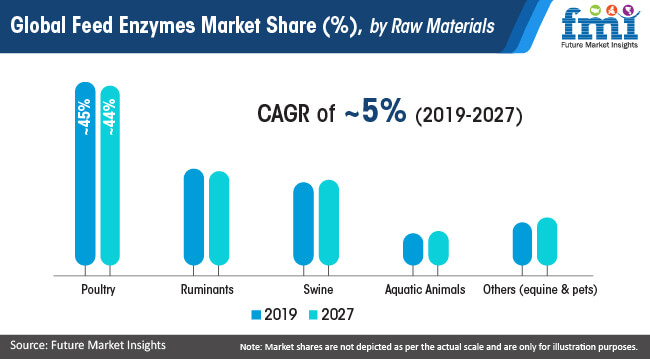 Feed Enzymes Market Structure Analysis
The global feed enzymes market is consolidated and is characterized as highly organized in developing and emerging economies. Key players operating in the global feed enzymes market are focusing on product launches to expand their customer base. These product launches are a result of significant investments in robust research and development facilities by feed enzyme manufacturers.

To maintain its position in the global feed enzymes market, BASF SE focuses on product development through research and development for enabling livestock growers to gain feed high-quality inputs. In 2016, the company invested US$ 2,206.92 Mn on its R&D facility.

Prominent players in the feed enzymes market are also investing in strategic collaborations, mergers, acquisitions, and partnerships.

In 2014, DuPont signed an agreement to purchase Dyadic's C1, a fungal expression technology for producing enzymes. This transaction is anticipated to enhance the world-leading biotechnology capabilities of DuPont's industrial biosciences business.
In August 2017, Cargill Inc. acquired Southern States Cooperative's animal feed business to enhance its global presence in the eastern United States.

Key players in the global feed enzymes market are presently targeting developing regions, including the Asia Pacific and Latin America, to expand their geographical presence.

In 2016, BioResource International, Inc., signed an agreement with Connell Bros. Co., LLC (CBC), a Wilbur-Ellis company, for distribution and marketing of selected feed enzyme products in Thailand, Vietnam, Indonesia, and Myanmar.
Feed Enzymes Market Report Scope
Attribute

Details

Forecast Period

2012-2018

Historical Data Available for

2019-2027

Market Analysis

US$ for Value and MT for Volume

Key Regions Covered

North America, Latin America, Eastern Europe, Western Europe, APEJ, Japan, and Middle East & Africa (MEA)

Key Countries Covered

U.S, Canada, Mexico, Brazil, Rest of Latin America, Germany, United Kingdom, France, Italy, Spain, Benelux, Nordic Region, Rest of Eastern Europe, Russia, Poland, China, India, Australia, Japan, ASEAN, Rest of APEJ, New Zealand, GCC, South Africa, and Rest of MEA

Key Segments Covered

Form, Product Type, Animal Type, Region

Key Companies Profiled

BASF SE
EI du Pont de Nemours & Co
Koninklijke DSM N.V.
Cargill Inc.
Novozymes A/S
Novous International, Inc.
Chr. Hansen Holding A/S
Biocatalysts Ltd
Associated British Foods plc
BIO-CAT Inc.
BioResource International
GNC Bioferm Inc.
Bioproton Pty Ltd
Roal Ltd
Bio Agri Mix LP

Report Coverage

Market Overview, Key Market Trends, Key Success Factors, Demand Analysis, Market Background, COVID-19 Analysis, Segmental Analysis, Regional Profiling, Market Structure & Competition Analysis

Customization & Pricing
World's Most Profilic Intelligence Engine
Get Access To The World's Largest Market Research Database. Ngage with a revolutionary intelligence engine that scale and pricing that flexes as per your needs
Sign Up Now
Feed Enzymes Market Segmentation
Form
Product
Animal
Poultry
Ruminants
Swine
Aquatic Animals
Others (Equine & Pets)
Region
North America
Latin America
Western Europe
Eastern Europe
Asia Pacific Excl. Japan (APEJ)
Middle East and Africa
Japan
Need specific information?