COVID-19 Impact Analysis
For livestock feed pigments are used to enhance the color of the products derived from animals like eggs, milk and meat. The key driving factor for the feed pigments market is rising meat consumption. Increasing demand for solid, nutritious meat and increased knowledge among individuals about safe food consumption are major factors expected to drive global market over the forecast period.
Furthermore, rising awareness about aquaculture and poultry industry is another important factor expected to drive the market. However, experts foresee potential disruptions following the coronavirus outbreak. Supply chain disruptions caused due to lockdown enforced may hinder operations of companies operating in the market. Procuring raw materials will get difficult. Furthermore, the fear of spread of the virus is keeping their employees and labours to home.
The market will however gain pace, once lockdowns enforced across nations are rolled over.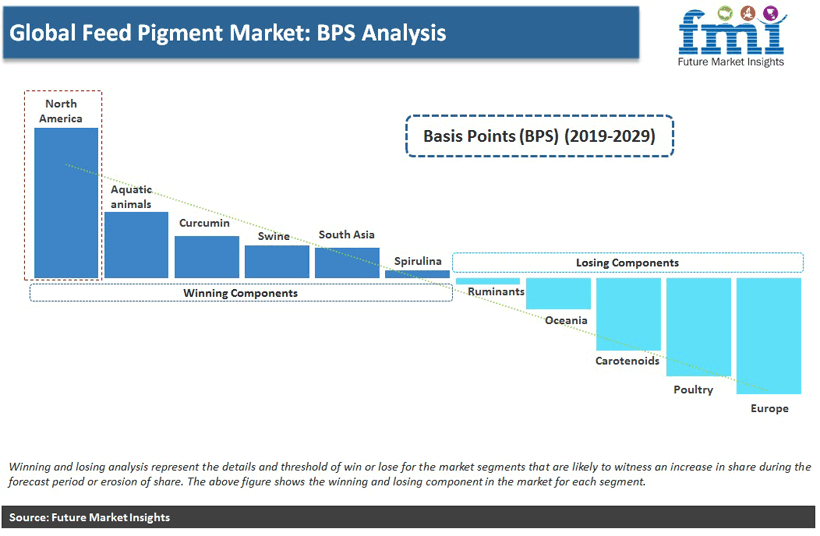 North America to Offer Economic Expansion
North America's market dominates the global market followed by Europe in terms of revenue over the projected period, owing to high research and development activities, increased knowledge of livestock nutrition benefits, and acceptance of feed pigments among farmers in different countries in this region. The Asia Pacific market is projected to have the highest revenue growth due to growing preference among individuals for safe and nutritious feeds, rising aquaculture and poultry businesses, and rising meat product consumption in countries in this region.
Health Benefits of Carotenoids for Animals Drives the Market
In general, feed pigments are used to improve animal feed appearance and nutritional value. Carotenoids play the most important role of all the feed pigments, and therefore dominate the feed pigments market. Animals cannot synthesize carotenoids and rely on those compounds on their diet. Carotenoids have very high nutritional benefits and stimulate white blood cell development which helps to determine the overall immune status.
They are considered to act as antioxidants that can cure allergies, skin diseases, immune disorders, eye disorders and any cardiovascular diseases in animals to some degree. There is an increasing awareness in the animal feed industry with regard to the health benefits of carotenoids for animals, thus driving the feed pigments market.
How Growth will Unfold
The key factors driving the growth of the feed pigment market are growing demand for high meat production, rising customer health perception of safe food consumption, growing urbanization and rising disposable income. In addition, increasing tendency toward healthier livestock with rising meat industry growth is alleged to drive the growth of the demand for feed pigments.
Additionally, feed pigments improve palatability, nutritional benefits from organoleptic advances, and also have other health benefits. Over the forecast period, the global market revenue for feed pigments is projected to rise at a rapid growth rate. The market is expected to perform well in the near future because feed pigments have improved the palatability of meat products & feeds, an important pigmenter and food industry expansion. In addition, accepting astaxanthin feed pigment among feed manufacturers, feed pigments serve as hormone precursors and antioxidant dyes to prevent various animal diseases and improve animal health are some of the main factors expected to drive revenue growth in the global feed pigment markets.
However, the market will take a hit due to the COVID-19 outbreak in 2020. As COVID-19 further spreads, global markets, especially North America and Europe, will face demand-side issues. People may postpone purchase decisions due to economic uncertainty and to avoid social distancing. The current forecast assumes that, by the end of the second quarter, the outbreak in all global markets will result in a return to normal economic activity and freedom of movement in the second half of the year.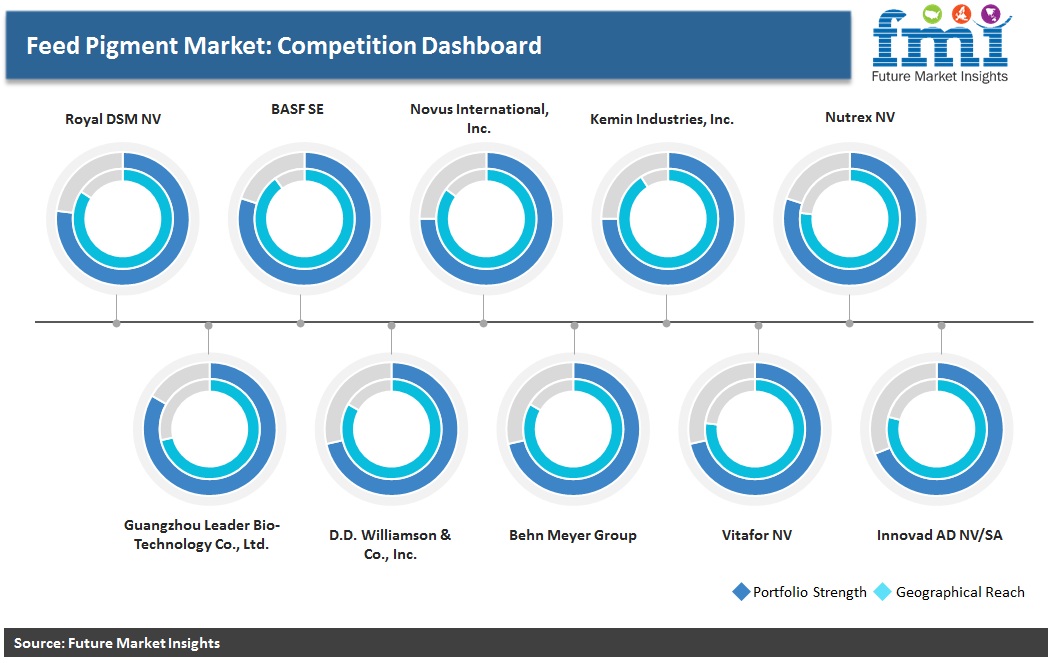 FEED PIGMENT MARKET TAXONOMY
The global Feed Pigment Market is segmented in detail to cover every aspect of the market and present complete market intelligence to readers.
Product Type
Carotenoids

â-carotene
Lutein
Lycopene
Astaxanthin
Zeaxanthin
Canthaxanthin
Others

Curcumin
Caramel
Spirulina
Others
Source
Livestock
Swine
Poultry
Ruminants
Aquatic animals
Others
Region
North America
Latin America
Europe
East Asia
South Asia
Oceania
MEA
Need specific information?