Global Feed Pigment Market Forecast to Reach US$ 1.5 Bn by 2019
The global feed pigment market is projected to reach US$ 1.5 Bn by the end of 2029. The market was valued at US$ 1.1 Bn in 2019. If these figures hold true, the market will exhibit a CAGR of 3.10% between 2019 and 2029. North America dominates the global feed pigments market followed by Europe and Japan owing to the presence of research and development facilities, high awareness about benefits of feed additives in livestock nutrition, and high acceptance of feed pigments among farmers.
COVID -19 : Impact Analysis
Request the coronavirus impact analysis across industries and markets
Request Covid -19 Impact
Feed Pigment Market - Key Research Findings
The feed pigment market value reached US$ 1.5 Bn in 2019, and the number is set to grow by 3% CAGR over the forecast period (2019-2029).

The market revenue, however, may face a slight downturn in 2020 due to the impact of COVID-19.

Carotenoids remain the bestselling category, owing to their efficient colouring properties along with fertility enhancing and health boosting roles.

Astaxanthin is expected to gain significant traction in years to come.

Asia Pacific and North America remain at the forefront of the global feed pigment market.

Increasing livestock production and meat consumption in these regions are primarily driving the market growth.

China's dominant role in the global supply chain is presenting numerous challenges with the outbreak of COVID-19, which in turn may have a negative impact on the market.
Growing inclination towards healthier livestock along with rising consumer awareness about the quality of meat is compelling manufacturers to revisit their product development strategies.
High price point of synthetic pigments, manufacturing cost, and availability of seasonal feed pigments such as marigold are posing as potential threats for the market growth.
Key Factors Shaping Feed Pigment Market
Strong Growth of Aquaculture, Poultry, and Meat Industry
Despite the rise of vegan culture and increased demand for plant-based meat alternatives, the global aquaculture, poultry, and meat industry shows no sign of slowing down, which continues to fuel growth of the feed pigment market. The impact of changing lifestyles, growing health consciousness, and rising importance of nutritive livestock feed is also noticeable in the feed pigment industry, thereby compelling manufacturers to increase their investment in product innovations. Furthermore, rapid expansion of meat industry in both developed and developing economies will continue to a key growth lever of the market.
Wide Availability of Cheaper Alternatives
Relatively high cost of synthetic feed pigment has been influencing livestock farmers to adopt cheaper alternatives which are creating a hindrance in the market growth. To that end, an embrace of R&D has been underway to develop low-cost feed pigment with superior properties. Manufacturers are further focusing on improving the nutritional value of their product to help boost the immune system of livestock and prevent risk of common diseases such as mad cow disease among cattle.
Challenges in Raw Material Procurement During COVID-19 Pandemic
In recent times, the outbreak of COVID-19 has taken a toll on numerous industries and the feed pigment market is no exception. Nationwide lockdowns, factory closures, supply chain disruptions, and logistical delays are presenting a wide range of challenges for manufacturers. While animal feed continues to witness a steady demand to maintain the well-being of livestock animals, relatively low availability or shortages of raw materials is expected to disrupt business continuity of the market players during the pandemic.
Feed Pigment Market Structure Analysis
The feed pigment market is characterized by top players with high profile strength and geographical reach.
The leading players are strategically focusing on strengthening their R&D proficiencies by capitalizing on advanced technology to offer diversified product portfolio with increased nutritive benefits.
Penetration in low- and mid-income countries with affordable offerings remain a key focus area of manufacturers
Report Metric

Details

Base year considered

2019

Actual estimates/Historical data

2014 - 2018

Forecast period

2019 - 2029

Market Value in 2019

US$ 1.5 Bn

Segments covered

Product, Source, Livestock

Regions covered

North America, Western Europe, Eastern Europe, APEJ, Japan, Latin America, and the Middle East & Africa

Key Players

BASF SE, Royal DSM NV, Kemin Industries, Inc., Novus International, Inc., Guangzhou Leader Bio-Technology Co., Ltd., D.D. Williamson & Co., Inc. (DDW), Nutrex NV, Behn Meyer Group, Vitafor NV, and Innovad AD NV/SA

Growth Drivers

Increased meat consumption across the globe
High demand for immune-boosting animal feed ingredients

Growth Restraints

Wide availability of cheaper alternatives
Challenges in raw material sourcing during the pandemic
COVID-19 Impact Analysis
For livestock feed pigments are used to enhance the color of the products derived from animals like eggs, milk and meat. The key driving factor for the feed pigments market is rising meat consumption. Increasing demand for solid, nutritious meat and increased knowledge among individuals about safe food consumption are major factors expected to drive global market over the forecast period.
Furthermore, rising awareness about aquaculture and poultry industry is another important factor expected to drive the market. However, experts foresee potential disruptions following the coronavirus outbreak. Supply chain disruptions caused due to lockdown enforced may hinder operations of companies operating in the market. Procuring raw materials will get difficult. Furthermore, the fear of spread of the virus is keeping their employees and labours to home.
The market will however gain pace, once lockdowns enforced across nations are rolled over.
North America to Offer Economic Expansion
North America's market dominates the global market followed by Europe in terms of revenue over the projected period, owing to high research and development activities, increased knowledge of livestock nutrition benefits, and acceptance of feed pigments among farmers in different countries in this region. The Asia Pacific market is projected to have the highest revenue growth due to growing preference among individuals for safe and nutritious feeds, rising aquaculture and poultry businesses, and rising meat product consumption in countries in this region.
* This data is only a representation. Actual data may vary and will be available in report.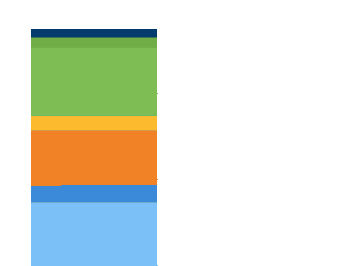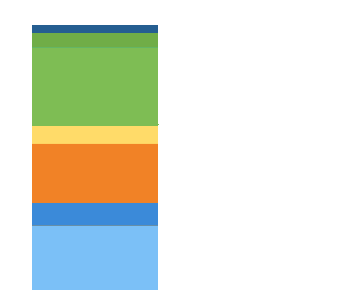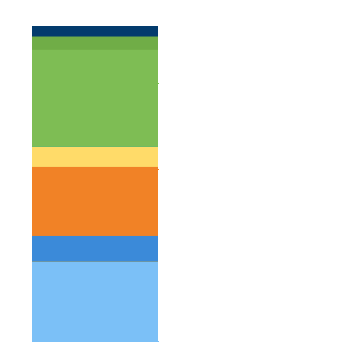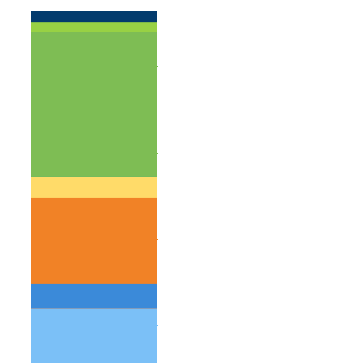 Health Benefits of Carotenoids for Animals Drives the Market
In general, feed pigments are used to improve animal feed appearance and nutritional value. Carotenoids play the most important role of all the feed pigments, and therefore dominate the feed pigments market. Animals cannot synthesize carotenoids and rely on those compounds on their diet. Carotenoids have very high nutritional benefits and stimulate white blood cell development which helps to determine the overall immune status. They are considered to act as antioxidants that can cure allergies, skin diseases, immune disorders, eye disorders and any cardiovascular diseases in animals to some degree. There is an increasing awareness in the animal feed industry with regard to the health benefits of carotenoids for animals, thus driving the feed pigments market.
Carotenoids segment held the leading market share
Astaxanthin segment forecast to higher rate of growth
Swine segment held lion's share in the market
Poultry segment to remain the second-lead
How Growth will Unfold
The key factors driving the growth of the feed pigment market are growing demand for high meat production, rising customer health perception of safe food consumption, growing urbanization and rising disposable income. In addition, increasing tendency toward healthier livestock with rising meat industry growth is alleged to drive the growth of the demand for feed pigments.
Additionally, feed pigments improve palatability, nutritional benefits from organoleptic advances, and also have other health benefits. Over the forecast period, the global market revenue for feed pigments is projected to rise at a rapid growth rate. The market is expected to perform well in the near future because feed pigments have improved the palatability of meat products & feeds, an important pigmenter and food industry expansion. In addition, accepting astaxanthin feed pigment among feed manufacturers, feed pigments serve as hormone precursors and antioxidant dyes to prevent various animal diseases and improve animal health are some of the main factors expected to drive revenue growth in the global feed pigment markets.
However, the market will take a hit due to the COVID-19 outbreak in 2020. As COVID-19 further spreads, global markets, especially North America and Europe, will face demand-side issues. People may postpone purchase decisions due to economic uncertainty and to avoid social distancing. The current forecast assumes that, by the end of the second quarter, the outbreak in all global markets will result in a return to normal economic activity and freedom of movement in the second half of the year.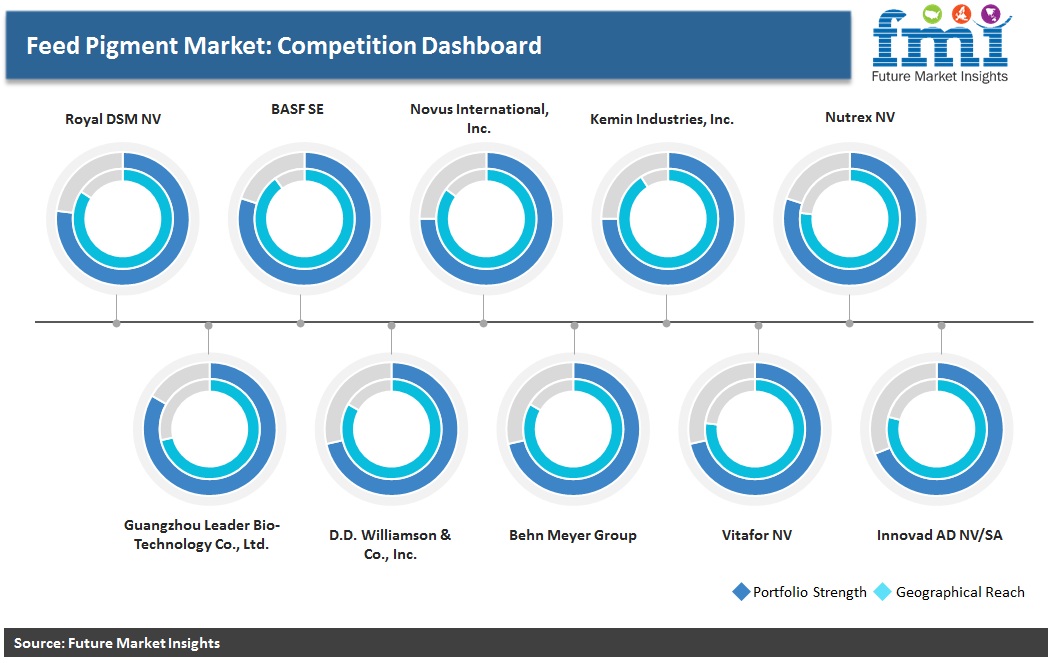 * This data is only a representation. Actual data may vary and will be available in report.
Click Here To Know How The Growth Will Unfold
Custom Market Research Services
FMI offers custom market research services that help clients to get information on their business scenario required where syndicated solutions are not enough.
Overview
Feed Pigment Market: Global Industry Analysis 2015-2019& Opportunity Assessment 2020-2030
A recent market study published by Future Market Insights on the Feed Pigment Market offers global industry analysis for 2015-2019& opportunity assessment for 2020-2030. The study offers a comprehensive assessment of the most important market dynamics. After conducting a thorough research on the historical, as well as current growth parameters of the Feed Pigment Market, the growth prospects of the market are obtained with maximum precision.
Feed Pigment Market Taxonomy
The global Feed Pigment Market is segmented in detail to cover every aspect of the market and present complete market intelligence to readers.
Product Type
Carotenoids

â-carotene
Lutein
Lycopene
Astaxanthin
Zeaxanthin
Canthaxanthin
Others

Curcumin
Caramel
Spirulina
Others
Livestock
Swine
Poultry
Ruminants
Aquatic animals
Others
Region
North America
Latin America
Europe
East Asia
South Asia
Oceania
MEA
How the research was conducted?
Primary Research
C - Level Executives
Marketing Directors
Sales Heads
Production Managers
Distributors Heads
Sales Executives
Product Manufacturers
Distributors
Traders
Industry Experts
End Users
Current Market Dynamics and Challenges
Market Characteristics
Market Performance and Growth Quadrants
Competition Structure and Market Structure
Strategic Growth Initiatives
Near-term and Long-term Market Growth Prospects
Market Segment Splits and Authenticity
Opinions on Market Projections and Validity Of Assumptions
Secondary Research
Industry Publications

Industrial Week
Industrial Product Review
Industrial Magazine

Industry Associations

Dieticians Association
Food and Agriculture Organization

Company Press Releases
Annual Reports and Investor Presentations
Research Papers
Government Websites and Publications
Trade Websites
Primary Interview Splits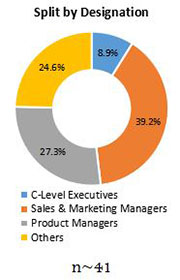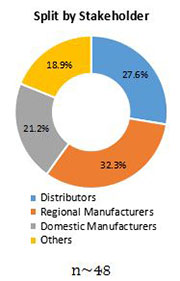 To Learn More About our Comprehensive Perspective on Feed Pigment Market,
Get in touch
Harish Tiwari
Global Head - Business Development
Akshay Godge
Client Partner - Global Business Development
CASE STUDIES
See how our work makes an impact.
At FMI, we design strategies that are adaptive, impactful, and implementable.