Introduction
Phytogenics are referred to plant-derived non-antibiotic feed additives, which are added to livestock feed for improving animal performance. Plant sources from which phytogenics are derived include herbs & spices, fruits, tubers, roots, and leaves. Feed phytogenics are available in dried, ground, or solid form, as essential oils or extracts.
Encapsulation Enhancing Shelf-life of Feed Phytogenics
Feed phytogenic additives effect the livestock health positively, however they are usually difficult for processing in the feed. Several sensitive sources of phytogenics, particularly essential oils, lose their efficiency and efficacy, as they are highly vulnerable to oxidative & volatile properties, pungent odour, and high temperatures. Introduction of technologies such as encapsulation, are helping to enhance the feed phytogenics' shelf life, thereby prolonging the shelf life of essential oils.
Through integration of solid, gaseous, and liquid substance into a millimetric capsule, encapsulation is also enabling protection of feed phytogenics from environmental changes. In addition to protection from effective environmental factors, encapsulation also leads toward improved digestion, stability in ration, and enhancement of palatability.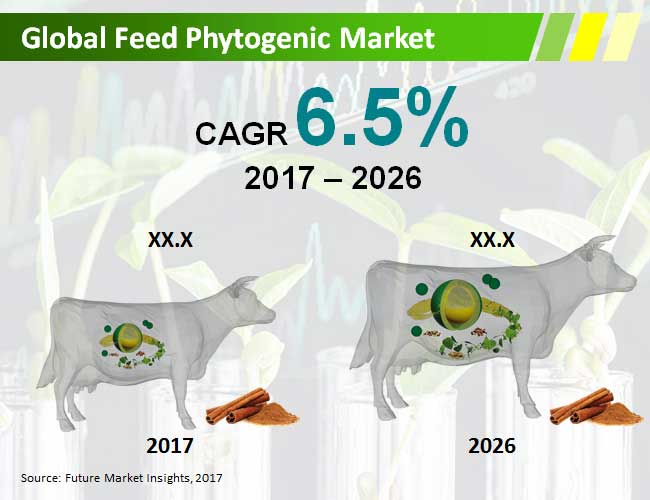 Increasing concerns associated with side effects of prolonged chemical feed additives' use is considered to be a major factor driving adoption of feed phytogenics. However, feed phytogenics have complex composition, and are expensive, which in turn might hinder their adoption in the foreseeable future.
In its new research report, Future Market Insights (FMI) projects an impressive expansion for the global feed phytogenics market throughout the forecast period (2017-2026). Sales of feed phytogenics across the globe are estimated to account for roughly US$ 2,500 Mn revenues by 2026-end.
Europe and North America to Remain Largest Markets for Feed Phytogenics
The feed additives market is highly regulation across North American and European regions. The European Union (EU) has implemented stringent regulations concerning adoption of chemical feed additives. In North America and Europe, it is mandatory for feed phytogenics producers to follow strict norms pertaining to national and regional health, as well as safety for approval of their products.
Europe and North America will continue to be the largest markets for feed phytogenics, collectively estimated to account for nearly three-fifth revenue share of the market by 2026-end.
Based on product type, essential oils are anticipated to remain sought-after in the market, with sales poised to exceed US$ 1,000 Mn in revenues by 2026-end. Between oleoresins and herbs & spices, the former will remain more lucrative than the latter, while sales of herbs & spices will register a higher CAGR than that of oleoresins through 2026. Revenues from sales of herbs & spices, and oleoresins, will collectively account for over half share of the market by 2026-end.
Poultry to Remain Most Attractive Feedstock for Sales of Feed Phytogenics
Production of poultry has become vertically integrated and more intensive on the back of continuous technological advancements coupled with expansion of economies. Increasing disposable incomes of the middle class population worldwide has resulted into spurring demand for safe and organic poultry meat, thereby fuelling adoption of feed phytogenics.
Projected to account for approximately half revenue share of the market, poultry is expected to remain the most attractive livestock for sales of feed phytogenics. In addition, sales of feed phytogenics for ruminants will also witness an impressive expansion through 2026.
Projected to expand at the highest CAGR through 2026, palatability enhancers will continue to account for the largest revenue share of the market. Although demand for performance enhancers will remain relatively lower than palatability enhancers, the former will also account for a significant revenue share of the market during the forecast period.
Competition Tracking
FMI's report has profiled active players in the global feed phytogenic market, which include Cargill Incorporated, E. I. Du Pont De Nemours and Company, Kemin Industries, Inc., Biomin Holding GmbH, Dostofarm GmbH, Phytobiotics Futterzusatzstoffe GmbH, Pancosma SA, A&A Pharmachem Inc., Phytosynthese, Natural Remedies Pvt. Ltd., Nor-Feed Sud, Nutricare Life Sciences Ltd., and Igusol.
World's Most Profilic Intelligence Engine
Get Access To The World's Largest Market Research Database. Ngage with a revolutionary intelligence engine that scale and pricing that flexes as per your needs
Sign Up Now
Market Taxonomy
Region
North America
Latin America
Europe
Japan
APEJ
MEA
Product Type
Essential Oils
Herbs & Spices
Oleoresins
Others Product Type
Livestock
Poultry
Ruminants
Swine
Aquatic Animals
Other Livestock Animals
Function
Performance Enhancers
Palatability Enhancers
Other Functions
Need specific information?