Significance of Digestive Health for Overall Wellbeing boosts Market
In 2020, the overall sales for digestive enzymes supplements market witnessed a massive decline due to the Covid-19 crisis as lockdown was implemented and all the factorial units were closed which led the manufacturing companies to face immense losses. Now in 2021, the global manufacturers are giving entire focus on improving their sales and profitability through product innovations, upgrades and online selling.
Leading corporations including Klaire Labs, National Enzyme Company, ProteoZymes, Metagenics, Douglas Labs, Integrative Therapeutics, and Amway, are taking initiatives to increase awareness regarding the benefits of digestive enzyme supplements among the consumers and are also focussing on the establishment of research institutes in different regions to come up with improvements in their offerings. They are adopting business strategies such as sales contracts, strategic alliances, acquiring technical expertise, product approvals, patents and events, joint ventures, partnership agreements, collaborations, digital marketing, mergers and acquisitions, capacity utilisations, technological advancements etc to lead the global market for the digestive enzyme supplements with largest market share.
For instance, Amway launched Nutrilite Digestive Enzyme which has the ability to aid the 22 enzymes in our body that break down carbohydrates, starches, fats and dairy products. The company has expanded its product line in the sports nutrition market. In addition to this, Deerland Probiotics and Enzymes acquired Bifodan effectively leading to the enlargement of its global footprint. The company's value proposition has grown stronger than ever. Post acquisition, the companies worked together and served their existing and new customers in a better way.
North America is predicted to rule the global market for digestive enzymes supplements market through 2030 owing to increasing digestive disorders in the people. The Asia pacific region is leading to market expansion as countries like India and China heavily populated fast-growing economies have a large portion of their population suffering from digestive disorders due to fast-paced lifestyles, resulting in unhealthy eating habits. Increasing disposable income of people in Europe has been driving the market and is leading to the creation of new growth opportunities and augmenting the progress exponentially.
Digestive enzymes are special proteins which are naturally synthesized in the pancreas and small intestine. Digestive enzymes allow the body to digest breakdown food. Digestion is impaired in the event of inadequate synthesis of digestive enzymes that can also lead to certain health problems.
That needs people to take digestive enzymes that are available as dietary supplements. Lifestyle change, and professional and personal stress are significantly associated with digestive disorders. There is a need to address digestive conditions for better physical and emotional health.
While the market may face restraints to growth amidst COVID-19 outbreak, overall growth trend will remain favorable because with time, consumer intererst towards health and wellness is only expected to increase.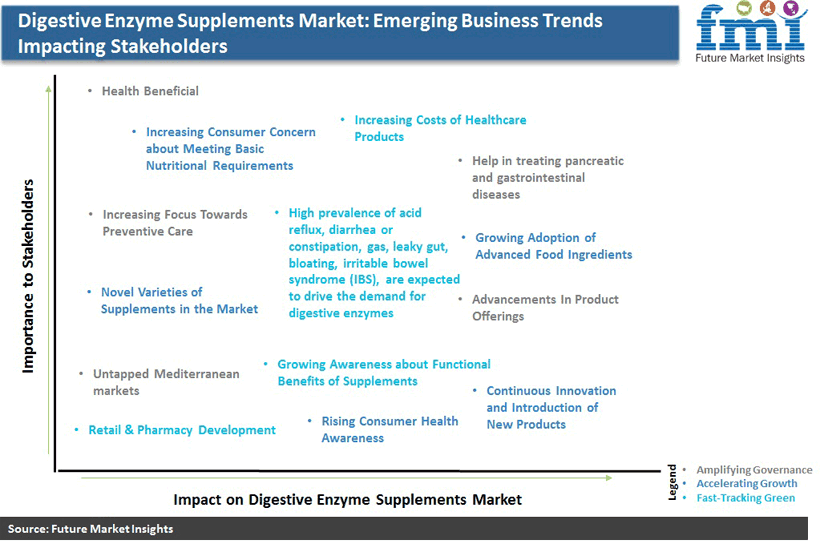 North America Runs the Show due to Unhealthy Eating Habits of its People
Geographically, North America runs the show in the global digestive enzymes market at present. Pressing schedules and unhealthy eating habits of people, primarily in the U.S. is said to be driving the market in the region. In the near future too, the market in the region is predicted to retain its dominant share by rising at a CAGR of 6.1% from 2019 to 2029. Europe is another key market that has progressed on the back of a superior healthcare infrastructure and the high disposable income of its people.
In terms of growth rate, however, Asia Pacific is slated to outpace all others with a CAGR of 6.1% in the forecast period, powered by nations of India and China. Such heavily populated fast-growing economies have a large portion of their population suffering from digestive disorders due to fast-paced lifestyle, resulting in unhealthy eating habits.
This, in effect, has increased demand for supplements with digestive enzymes. To stop the spread of the Covid-19 outbreak, a number of countries around the world have begun to introduce very tough measures. Countries and world capital have been brought under tight lockdown, putting a complete halt to the large industrial chains.
Increasing Prevalence of Intestinal Diseases Driving Growth
Unhealthy lifestyle among the younger population and growing customer inclination towards packaged food have resulted in various digestive problems which is another major factor expected to help growth of the global digestive enzyme supplements market over the forecast period. Growing demand for digestive enzyme supplements to treat various ailments such as digestive diseases, inadequate age-related enzymes, hypochlorhydria, and liver diseases are factors expected to fuel market development.
In addition to increasing the adoption of digestive enzyme supplements in sports drinks and sports nutrition, other factors expected to further fuel target market growth are the rising propensity of young people towards sports and the launch of numerous sports leagues around the globe.
How Growth will Unfold
The application of digestive enzymes in sports nutrition is expected to gain importance owing to increasing consumption of these products by athletes, sportsmen, bodybuilders, and patients as a dietary ingredient. Furthermore, increasing number of fitness centers, gymnasiums, and health clubs coupled with growing health consciousness are likely to propel the growth.
Increasing demand for sports nutrition products among working professionals in the U.S. for maintaining muscular strength is anticipated to promote the usage of digestive enzyme supplements. Furthermore, new product developments and attractive internet campaigns by companies, such as Amway and Herbalife in the U.S., are projected to amplify the demand over the upcoming years.
In October 2015, XYMOGEN's production site received approval from Therapeutic Goods Administration (TGA), a pharmaceutical regulatory agency located in Australia. In October 2015, XYMOGEN's production site received approval from Therapeutic Goods Administration (TGA), a pharmaceutical regulatory agency based in Australia, and became the exclusive manufacturer of supplements in the U.S. This strategy was implemented to gain market penetration for digestive enzyme supplements in Australia.
DIGESTIVE ENZYME SUPPLEMENTS MARKET TAXONOMY
The global Digestive enzyme supplements market is segmented in detail to cover every aspect of the market and present complete market intelligence to readers.
Origin
Application
Additional supplements
Medical & infant nutrition
Sports nutrition
Region
North America
Latin America
Europe
East Asia
South Asia
Oceania
MEA
Need specific information?