TECHNICAL ENZYMES MARKET - KEY RESEARCH FINDINGS
The global technical enzymes market will expand at a CAGR of

4.1%

over 2020-2030.
The market has noticeable demand from the Bio-ethanol industry.
Micro-organism remains the preferred source; plants to gain gradual traction.
European market will have comparatively higher growth for the customized premixes market; North America is the market front-runners for the technical enzymes market.
KEY FACTORS SHAPING TECHNICAL ENZYMES MARKET
Increasing Demand from Chemical Industry
Technical enzymes are usually used as bulk enzymes in several industries such as pulp and paper, textile, and detergents industries; apart from these industries the technical enzymes are also used in the synthesis of organic products and biofuels. Commercially available technical enzymes used includes amylases, lipases, proteases, xylanases, catalases, and cellulases.
Among these technical enzymes, α-amylases the most versatile enzymes in the sector of industrial enzymes undoubtedly because of the starch abundance, with the uses ranging from the starch conversion to sugar syrups. Apart from that, it is also used for the pharmaceutical industry to produce cyclodextrins. Lipases are used as industrial catalysts and its demand has increased these days.
COVID-19 Outbreak Compels Market Players to Reassess their Strategies
The outbreak COVID-19 pandemic has forced manufacturers to primarily go back over their strategies and improve it. This pandemic has very badly impacted the enzyme industry, the post effect of COVID-19 will also slowdown the growth of industry. However, due to increasing incidence of Corona Virus among the population, the lockdown executed across the countries around the world, corporations have been dropping their shutters. The technical enzyme market is facing the shortage of work force along with disruption of supply chain during the ongoing disaster.
Increasing Demand in Animal Feed Industry
The use of technical enzymes in animal feed has the key role in modern farming systems. Technical feed enzymes improve the nutrients digestibility, leading to more proficiency in feed application. Moreover these technical enzymes also destroy the unwanted feed components, that are of little or no value or otherwise harmful.
For instance, diets based on cereals including wheat, rye, and barley are have amount of non-starch polysaccharides that can reduce the intestinal production of methane when added with NSP (non-starch polysaccharides). Additionally, proteases can considerably reduce the quantity of non-protein nitrogen supplement in animal feed diet, thereby decreasing the urea excretion in the environment.
TECHNICAL ENZYMES MARKET: STRUCTURE ANALYSIS
Some of the major players of the global technical enzymes market include Koninklijke DSM N.V. (The Netherlands), E.I. du Pont de Nemours and Company (U.S.), BASF SE (Germany), Associated British Foods Plc (U.K.), Novozymes A/S (Denmark), Advanced Enzyme Technologies Ltd. (India), Epygen Labs FZ LLC (UAE), Maps Enzymes Limited (India) and Megazyme Inc. (U.S. New product developments and application bases expansions are expected to pose multiple opportunities over the forecast era.
Competition for raw materials with other industries and price fluctuations are likely to impede the development of the studied market. New product innovations and expansions of application bases are anticipated to provide numerous opportunities over the forecast period.
Base year considered - 2019
Historical Period - 2014 - 2018
Forecast period - 2019 - 2029
Market Value in 2019 - US$ 1,083.69 Mn
Segments covered - Product Type, Application, Source and Region
Regions covered - North America, Latin America, Europe, East Asia, South Asia, Oceania and MEA
Key Players - Koninklijke DSM N.V. (The Netherlands), E.I. du Pont de Nemours and Company (U.S.), BASF SE (Germany), Associated British Foods Plc (U.K.), Novozymes A/S (Denmark), Advanced Enzyme Technologies Ltd. (India), Epygen Labs FZ LLC (UAE), Maps Enzymes Limited (India) and Megazyme Inc. (U.S.)
Growth Drivers

Increasing demand from cosmetics industry propelling the growth
Rising demand from textile industry
Pharmaceuticals industry to continue exhibiting high demand
Increasing applications in Nutraceuticals spurs growth
Bio-ethanol industry driving the market
Rising Demand from Various Industries will Encourage Growth
Protease is a catalyst used in the proteolysis process, which is mainly an enzyme in the dairy industry, whereas lipases are a catalyst enzyme that speed up lipid and fat hydrolysis. Growing use of protease in the detergent industry would drive growth in the segment. Proteases have the most dominant market share and is expected to retain its dominance over the forecast period. This is due to its increasing use in drinks, food, pharmaceuticals and detergents.
In the coming years, the market will witness increasing demand from various industries. These include bio-ethanol, paper and pulp, starch processing and textile and leather industries.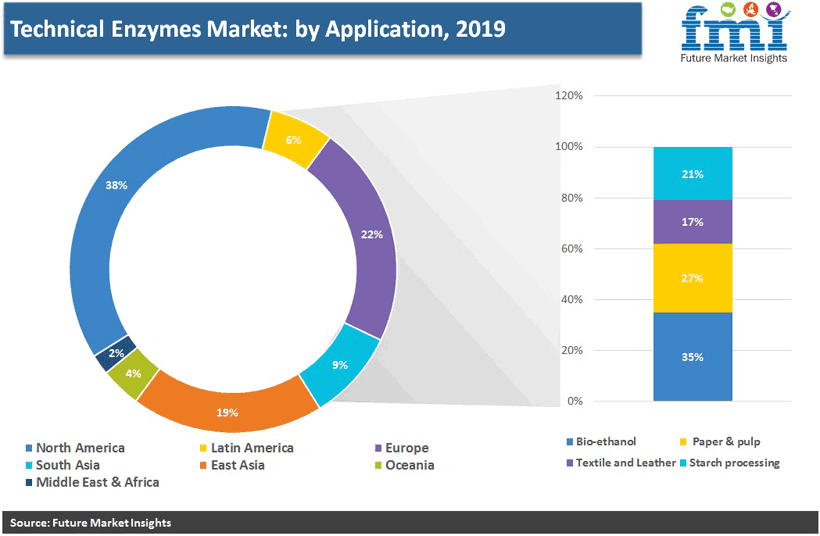 North America Projected to Account the Largest Share
The North America market is estimated to account for the largest share in the market. The region exhibits high awareness about various benefits of technical enzymes. For instance they are environmentally friendly and cost-effective alternative to traditional alkaline or organic acid catalysts. Furthermore, recent technological developments have made technical enzymes available for a wide range of applications in the biofuels, paper & pulp, textile & leather, starch processing and other industries.
North America boasts a sophisticated industrial infrastructure, which is expected to drive the growth of the market in the region. It is expected that North America will remain the largest market for technical enzymes globally owing to the production of new and superior performing goods, emerging technologies and global industrialisation. The U.S. ranks high on the global industrial enzyme market.
Rising Demand for Food Processing to Propel the Market Growth
With a combined share of more than 35 percent, food processing dominates the technical enzyme market. This is the fastest growing market which is driven mainly by the buying power of the global population. Health awareness among the buyers is also an important factor for the rising demand for quality food, safer production processes and improved nutritional value.
Growing demand for higher quality foods in regards to the natural flavour and taste has become a popular phenomenon among the consumers. These enzymes serve as catalysts by playing important roles in the decomposition of vitamins and nutrients in metabolic reactions and in the interconversion of large molecules into smaller molecules.
Food enzymes, including amylase, cellulase, xylanase, pectinase, protease, lipase, glucosyltransferase, arabinanase, polygalacturonase, chymosin, and beta-glucanase, have become an integral part of the globaltechnical enzymes market..
How Growth will Unfold
Increasing use in detergents manufacturing due to its properties, such as superior removal of stains and the ability to be used at low temperatures are expected to fuel the demand for technical enzymes in the coming years. The compound used in animal feed products increases the feed's digestibility and nutritional value, and enhances aquaculture sustainability.
A key factor driving the global technical enzyme market is multifunctionality of technical enzymes. Advanced enzymes are seeing an increase in demand from various end-use industries, with ample advantages and the use of innovative enzymes.
However, intense competition among raw material suppliers of technical enzymes along with high costs are globally restricting the technical enzyme market. In order to gain competitive advantage, therefore, leading players are focusing on strategic collaborations. Furthermore, they are increasingly investing towards product innovations to woo consumers.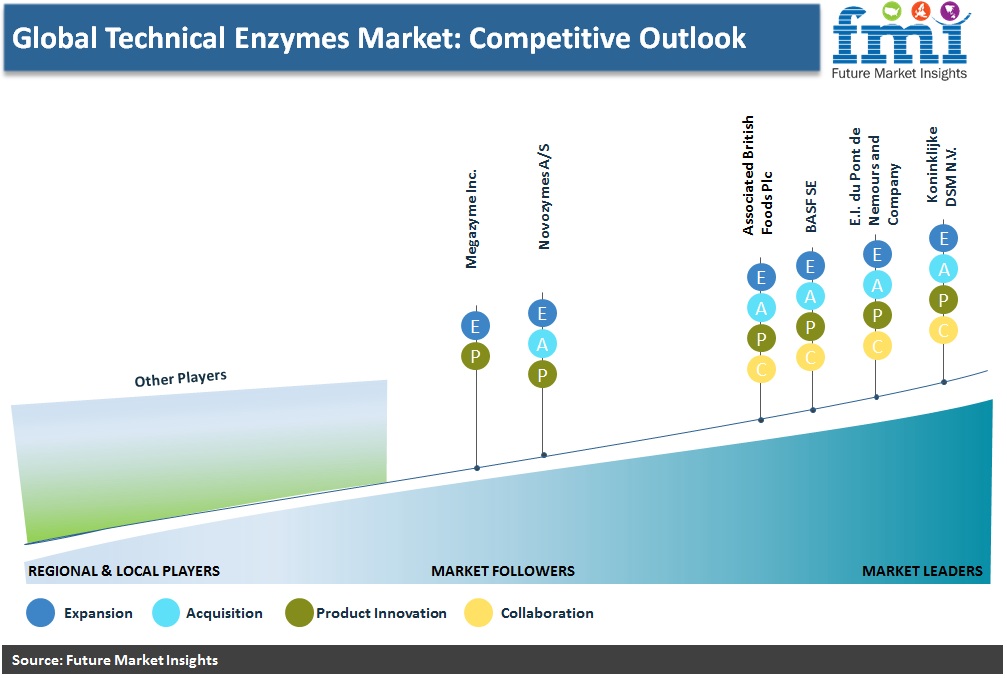 TECHNICAL ENZYMES MARKET TAXONOMY
The global Technical Enzymes market is segmented in detail to cover every aspect of the market and present complete market intelligence to readers.
Source
Micro organism
Plant
Animal
Application
Biofuel
Starch
Textiles & Leather
Paper & Pulp
Form
Product Type
Amylases
Cellulases
Proteases
Lipases
Region
North America
Latin America
Europe
Asia
Oceania
MEA
Need specific information?
Talk Show:
The Rise of Intelligent Packaging
Personalized, Connected and Sustainable
November 18, 2021
11:00-11:45 AM PST (USA & Canada)
This is a LIVE session