Protease Market Snapshot
[250+ Pages] Demand for Protease market is expected to reach US$ 1.8 Bn in 2021, according to the latest Future Market Insights (FMI) study. Driven by the rising demand for healthy food derived from natural sources, the market value is expected to reach US$ 3.94 Bn by 2031, exhibiting growth at healthy CAGR of 7.8% for 2021-31.
Growing awareness regarding health and food safety has increased the consumption of vital nutrients such as proteases, which are important for human metabolism and digestion. As clean label movement makes deeper inroads in the food industry, demand for natural and healthy food items has surged. This has in turn resulted in the increasing inclusion of protease in food and beverage products.
| | |
| --- | --- |
| Base year (2021) Market Value | US$ 1.8 Bn |
| Projected year (2031) Market Value | US$ 3.94 Bn |
| CAGR% (2021-2031) | 7.80% |
2016-2020 Protease Market Outlook in Comparison to 2021-2031 Growth Forecast
As per Future Market Insights (FMI), the global protease market grew at a steady CAGR of 5.2% between 2016 and 2020. Growth in the market can be attributed to increasing application of protease in food and beverage sector.
As protease enzymes have a plethora of advantages such as lower food manufacturing costs, their inclusion in the production of certain packaged food products is increasing. Protease also improves the digestion of certain meals and are necessary for a lot of FMCG food products including, breads, cookies, and other bakery items.
As protease is widely used in the production of meat products, infant food, and others, sales are expected to soar over the forecast period. Increasing adoption of protease in pharmaceutical industry also is expected to improve the market growth. As per FMI, the market is predicted to grow at a CAGR of 8.4% between 2021 and 2031.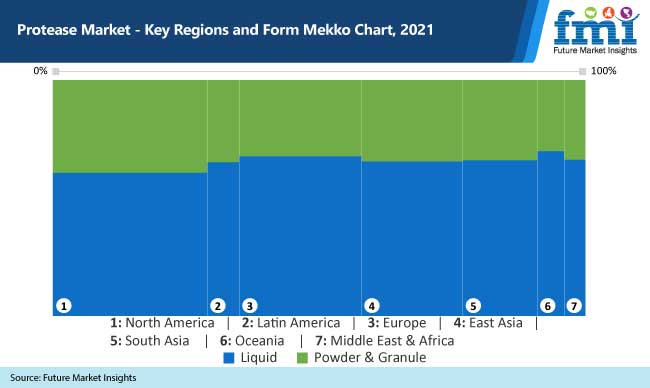 How is Improving Meat Tenderization by Protease Creating Scope for Market Growth?
Meat consumers are often worried about the tenderness and quality of the meat they consume. Tenderness in meat is influenced by connective tissue, sarcomere length, and the muscle's proteolytic potential. Protease enzymes are widely used to ensure the meat is tenderized properly.
Different proteases, such as bromelain, ficin, actinidin, papain, and calpain, are commonly used in the food industry to improve meat tenderness through proteolytic destruction. As Protease is vital for decomposing structural proteins in connective tissues, which reduces meat hardness, food vendors and producers are extensively using proteases treatment.
Rising Pharmaceutical and Therapeutic Applications Pushing the Sales
Expansion of the healthcare industry will positively affect the protease market growth because of the numerous benefits they provide, such as boosting the immune system, healing skin burns, preventing inflammatory bowel illnesses, and stomach ulcers.
However, other industries, such as animal feed, where protease is used to improve the nutritional or digestive characteristics of fodder and maintain animal gut health, account for a significant portion of the protease market.
For the synthesis of many APIs, enzymes have largely replaced traditional chemical-based methods, such as the production of various semi-synthetic antibiotics, the kinetic resolution of active enantiomers of drugs, the synthesis of enantiomerically pure forms of amino acids (d- and l-amino acids), and others.
Till date, the Food and Drug Administration (FDA) in the United States has approved 12 protease medicines, and a number of next-generation or wholly new proteases are in clinical trials. Protease's growing popularity and acceptability in the pharmaceutical business is propelling the market forward.
How will Stringent Regulatory Framework Affect the Protease Market?
Manufacturers of enzymes like protease, lipase and others need to comply with the regulations imposed by various governing agencies, such as the Association of Manufacturers & Formulators of Enzyme Products (AMFEP), Enzyme Technical Association (ETA), and EU REACH (Registration, Evaluation, and Authorization of Chemicals) Regulation.
The food chemicals codex requires the use of enzymes in the food business to follow certain rules. Despite the fact that industrial enzymes are subject to strict restrictions in the Canada, the U.K., and the European Union, there is no unified regulatory system for the use. As a result, manufacturers must adhere to strict labelling, packing, and mixing restrictions before releasing items into the market.
What is the Impact of COVID-19 on the Protease Market?
Due to the global lockdown and restrictions imposed on movement in various economies, the outbreak of COVID-19 has had a huge impact on the global economy, greatly interfering with buyer lifestyle patterns. The pandemic, on the other hand, has proven to be a huge boost for the proteases industry, which is seeing new applications in the pharmaceutical industry.
Following the COVID-19 outbreak, enzyme labelling in food can be scrutinized more closely. More information on the potential role of food in the transmission of the virus through local and international trade is being sought by national food safety authorities and the International Food Safety Authorities Network (INFOSAN) Secretariat
Meanwhile, the World Health Organization (WHO) has issued guidelines for maintaining food cleanliness and food safety policies in order to minimize COVID-19 transmission through food.
These changes will increase the demand for protease goods with a clean label. Recovery of global economy will lead to a rise in per capita income and adoption of healthier lifestyles, which will boost the market in the forecast period.
Country-wise Insights
How are Millennials Driving the Need for Innovation in Supplements in the U.S.?
The U.S. protease market is projected to register growth at a CAGR of 5.7%, during the forecast period. Millennials are the most experimental shoppers. They are less loyal and more easily swayed by influences such as the media or recommendations from friends.
Contrary to this older consumers are likelier to try new flavors or products created by businesses they are familiar with. Not just in the US, but throughout the world, millennials are changing the way people eat.
They enjoy consuming natural, organic, and sustainably sourced food and have increased their reliance on protein as a result of their wellness goals. Furthermore, millennials in the US are spending record amounts on wellness and devote the most time and money to the self-care business, which is worth US$10 billion.
As per a survey conducted by DSM Nutritional Products AG, over the course of their lives, average American millennial spends US$155 per month on health and fitness, which is more than the cost of a public four-year college.
With millennials increasingly preferring natural products due to their numerous health benefits, they are altering the economy as one of the largest generations in history. As a result, the protease market is predicted to expand rapidly.
As per Future Market Insights, the U.S. protease market is expected to exhibit healthy growth at 5.2% CAGR, capturing market size of over 86.3% across North America.
What is driving the Growth of Protease in China?
According to the latest report, the protease market of China is estimated to be valued at US$ 134.3 Mn in the year 2021.
Endurance athletes need energy, which they get from food. Food, on the other hand, must be digested before nutrients can be absorbed. Whey protein is the king of proteins, and athletes and fitness aficionados consume more of it to help muscles develop, define, and grow.
Unfortunately, the digestive system finds it difficult to break down and assimilate whey, which necessitates the use of particular enzymes such as proteases.
As a result of the increasing use of protease in sports nutrition and supplements, producers are offering a variety of protease-derived supplements. Following the demand for protease-derived goods, the National Health Commission of the People's Republic of China (NHC) approved ten new food additives in 2021, including three new enzymes (Protease Alpha-amylase and Lactase).
Is Growing Application in the Bakery Sector Driving the Growth Germany?
According to the latest report, the protease market of Germany is estimated to be valued at US$ 71.7 Mn in the year 2021.
One of the key causes driving the consumption of baked goods among consumers across n the country is the growing popularity of low-carbohydrate diets. As the consumption of bakery goods rises, so will the demand for various food enzymes such as proteases, amylases, lipases, and other enzymes.
Food enzymes are available for use in a variety of baked foods, including bread, tortillas, cakes, and other sweet bakery goods. The availability of a wide selection of food enzymes, particularly for bakery products, as well as rising sales of baked goods, are two important drivers fuelling the demand for protease in Germany.
Why is the Protease Market Growing in UK?
According to FMI's analysis, UK is forecast to grow at a CAGR of 9.8%. The UK bakery industry is a significant part of the UK food industry.
Proteases function as catalysts for biochemical events, improving the quality of baked goods. The protease market in the United Kingdom is predicted to increase during the forecast period, as bakery has traditionally been an important sector in the country and will continue to be so throughout the forecast period.
Category-wise Insights
Why is Liquid Form Highly Sought-After?
Liquid form of protease is projected to hold over 64.9% of market share in 2021. The segment is expected to register healthy growth at 6.2% CAGR, to reach US$ 1,183.4 Mn in 2031.
Proteins are catabolized by liquid protease through hydrolysis of peptide bonds. Protein turnover, digestion, blood coagulation, fertilization, and cell differentiation are just a few of the physiological activities that liquid proteases help in. Growth, cell signaling, the immunological response, and apoptosis are all aided by it.
Why is Demand for Microbial Protease Rising?
Microbial product type will account for more than 62.8% of market share, registering growth at 8.5% CAGR over the forecast period. The segment is expected to reach US$ 2,481.5 Mn in 2031.
Microbial proteases have been the most studied enzyme since the beginning of enzymology. Microbial proteases have sparked interest not just because of their critical involvement in metabolic processes, but also because of their widespread use in industry. Due to their high yield, low time consumption, low space requirement, elevated genetic manipulation, and cost-effectiveness, the proteases offered in the market are largely of microbial origin.
Which is the Primary Application of Protease?
In terms of end-use application, bakery and confectionery is projected to hold a dominant position with a market share of 13.8% in 2021. Extensive consumption of proteases in the commercial production of bread, baked products, crackers, and waffles will drive the segment growth.
Protease a can be used to speed up the mixing process, reduce dough consistency, ensure uniformity, manage gluten strength in bread, control bread texture, and enhance flavor.
In the manufacturing of bread, fungal acid protease is utilized to alter gluten-rich mixes. When proteases are added to the mixture, it partially hydrolyzes, making it soft and easy to pull and knead. Proteases are commonly used in dough preparations as well.
Due to impact on the gluten network or gliadin, these enzymes have a significant impact on dough rheology and bread quality. Biscuits, pastries, and cookies all are infused by proteases in the production.
As protease act on wheat flour proteins by lowering gluten elasticity, they are widely adopted for the shrinkage of dough or paste after molding and sheeting. For example, hydrolysis of glutenin proteins, which are responsible for dough elasticity, improves the spread ratio of cookies significantly.
Can Protease play a Pivotal Role in Application in Infant Formula?
In the protein nutrient paradigm, intact proteins denatured by stomach acid and attacked by endogenous proteases in the stomach initiate a digestive process that continues in the small intestine with neutral protease hydrolysis and eventually leads to the release and complete absorption of amino acids by the intestinal epithelia.
On the other hand, young newborns are still developing they create minimal stomach acid, and have little protease activity.
Despite this, a variety of proteases produced by the newborn contribute to catalytic activity, helping newborns to adequately digest and absorb milk proteins.
Protein digestion, specifically, in infants has some crucial implications for baby nutrition. Infants that drink animal-derived milk are more likely to develop allergies as a result of animal contamination. As a result, producers are developing protease for infant formulas, as infants struggle to make enough protease.
For instance, Novozymes' Formea® is a Kosher/Halal-certified baby formula that is low-allergenic, neutral-tasting, and low-allergenic. Novozymes supplies two microbial proteases, one trypsin-like and the other chymotrypsin-like, for the manufacturing of low-allergenic partially hydrolyzed infant formula. Both reduce the possibility of animal contamination and variance, ensuring consistent quality for customers. They can be used individually or in tandem to give you complete control.
Scope of Report
Attribute

Details

Forecast Period

2021-2031

Historical Data Available for

2016-2020

Market Analysis

USD Million for Value

Key Countries Covered

US, Canada, Germany, U.K., France, Italy, Spain, Russia, China, Japan, South Korea, India, Thailand, Malaysia, Indonesia, Australia, New Zealand, GCC Countries, Turkey, Northern Africa, and South Africa

Key Segments Covered

Form, Product Type, End Use Application, and Region

Key Companies Profiled

Novozymes A/S
Advanced Enzymes Technologies Limited
BASF SE
Royal DSM N.V.
E.l. Du Pont de Nemours & Company
Rossari Biotech Limited
AB Enzymes GmbH
Lallemand Inc.
Amano Enzymes Inc.
Biocatalysts Limited
Creative Enzymes
Nagase & Co., Ltd.
Chr Hansen Holding A/S
Jiangsu Boli Bioproducts Co. Ltd.
Kemin Industries, Inc
Others

Report Coverage

Market Forecast, Company Share Analysis, Competition Intelligence, DROT Analysis, Market Dynamics and Challenges, and Strategic Growth Initiatives

Customization & Pricing

Available upon Request
Key Questions Answered in the Report
What is the protease market demand outlook?

As per FMI, the protease market is expected to grow at 7.8% CAGR between 2021 and 2031.

At what rate did the demand for protease increase in the last five years?

The demand for protease increased at 6.1% CAGR between 2016 and 2020.

Which is the most lucrative market for protease?

North America is leading the protease market, contributing over 27.3% of market share through 2031. In North America, the U.S. is expected to be the most lucrative market of protease, registering growth at 5.2% CAGR.

Which are some of the leading companies offering protease?

As per Future Market Insights, Rossari Biotech Limited, AB Enzymes GmbH, Novozymes A/S, BASF SE, E.L. Du Pont de Nemours & Company, Advanced Enzymes, and Nagase & Co. Ltd among others are identified as key players.

Which are the key factors supporting the growth of protease market?

Some of the key factors supporting the protease market growth include increased application of protease in bakery & confectionary, dietary supplements, and infant food, and expansion of product portfolio. Additionally, growing demand for clean label and sustainable organic food products is supporting the growth of protease market.

What are the key trends shaping the protease market?

Companies operating in the protease market are likely to focus on production of sustainable products with extended shelf life to gain competitive strength.

What is driving protease sales in the U.K.?

Increased application of protease in bakery and confectionary will create increasing opportunities for protease sales in the U.K.

What is China's contribution towards protease sales in East Asia?

Over 38.6% of protease sold in East Asia is expected to concentrate in China.

What is the outlook for protease sales in South Korea?

South Korea is expected to contribute over 29.6% of protease sales in East Asia.
Protease Market by Category
By Form:
By Product Type:
Animal

Trypsin
Renin
Pepsin
Others (chymotrypsin, thrombin, elastase, etc.)

Plant

Papain
Keratinases
Others (Ficin, Bromelain, etc.)

Microbial

Alkaline
Acid stable
Neutral
Others (Proteinase K, Peptidase, etc)
By End Use Application:
Dairy Products
Brewing
Meat Products and Processing
Bakery & Confectionery

Breads
Cookies & Crackers
Pastries
Waffles
Other Bakery & Confectionery

Baby Food/ Infant Food
Oil & Fat Processing
Starch and Grain Processing
Fruits and Vegetable Processing
Cheese Making/ Processing
Egg Products
Beverages
Dietary Supplements
Pharmaceutical Products
Personal Care Products
Animal Nutrition
By Region:
North America
Latin America
Europe
East Asia
South Asia
Oceania
MEA
Need specific information?
Talk Show:
The Rise of Intelligent Packaging
Personalized, Connected and Sustainable
November 18, 2021
11:00-11:45 AM PST (USA & Canada)
This is a LIVE session