Plant-based Protein Holds Dominance with 90% Share
Despite the increasing interest in insect protein and cultured meat among consumers, these markets are will need more than a decade to become fully commercialized. Thus, plant-based protein which has low production cost, high market penetration and better innovation has become highly attractive.
Soy, wheat and pea protein make up to 95% of the plant-based proteins in the meat alternatives market. The demand for faba, lentil, chia, and corn is expected to increase at a high rate even though they have a smaller market share compared to the other segments.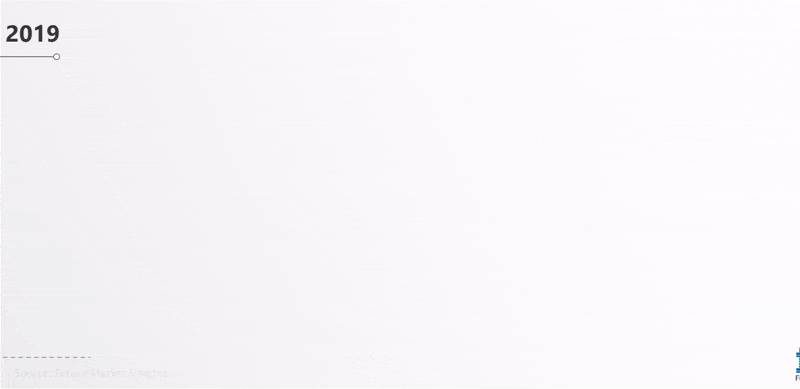 Consumers are Overcoming the Yuck Factor in Insect Protein to Adapting Its Taste
Insect protein is gaining traction as meat alternative due to the high protein content. It is more sustainable compared to other animal meats that we consume. The consumption of insect protein has been high in Latin America, Asia, and Africa. According to the study, in the U.S. and Europe, the insect protein market is gaining considerable traction.
Consumers in Europe and North America, are most likely expected to overcome the aversion to insect protein, which could positively impact the market's expansion. The uses of insect proteins have been expanding in the meat alternatives market as they are incorporated in a variety of products such as bars, cereals, snacks, flour, etc. Bugsolutely Ltd. has introduced a pasta that has 80% wheat flour and 20% cricket flour.
Millennials Have Become the Change Makers in Meat Alternatives Market
Millenials have become more concerned about their health, hence they are in favour of maintaining a healthy eating pattern. The changing consumer preference is reshaping the food and beverages industry, subsequently fuelling the demand for meat alternatives, especially the plant-based ones.
These products are trending among Gen Z and millennial who are more inclined to make healthier food choices. Spurred by this, the demand for clean label products will rise, which in turn will create growth opportunities for the meat alternatives market.
How Growth will Unfold
Technological innovations have changed the dynamics of the meat alternatives market as the development of cultured meat, mycoprotein, and impossible burgers could not have been possible otherwise. Meat alternatives that were previously available did not taste or look like meat as the name suggests.
But the research and development carried out in the meat alternatives market have increased the number of product launches and have led to the launch of innovative products. For example, Impossible Foods is producing a bleeding burger by using genetically modified yeast to produce heme, a protein that mimics the flavour of the meat.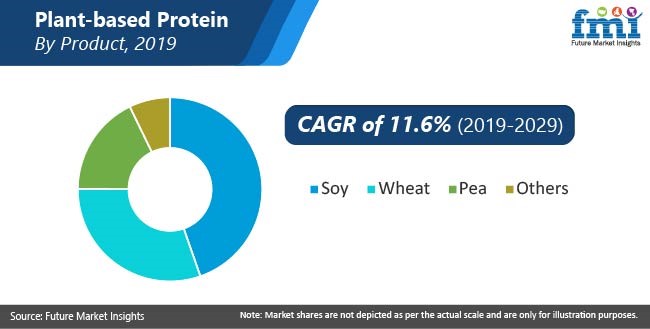 MEAT ALTERNATIVES MARKET- KEY RESEARCH FINDINGS
The global meat alternatives market generated a revenue of US$ 5 Bn in 2019.
The market is projected to increment at a highly remarkable CAGR of 12% over the forecast period 2019-2029.
Accounting for 90% of the revenue share, plant-based protein such as wheat, soy, pea, rice, and lentil will continue to witness higher demand.
Insect protein is expected to showcase a noteworthy CAGR during the forecast period.
Sales of meat alternatives through grocery stores and supermarkets are becoming mainstream.
North America accounts for major share of the global meat alternatives market, while Europe is expected to offer lucrative growth opportunities for the market players.
KEY FACTORS INFLUENCING MEAT ALTERNATIVES MARKET
Growing Number of Vegetarian and Flexitarian
As per IFIS Food and Health Information, there is a palpable increase in the popularity of meat alternatives in Europe, especially in the U.K. This increase in the sales of meat alternatives largely depends on the flexitarian trend in the region, as people are not completely turning into vegetarians. Due to the awareness pertaining to the repercussion of meat consumption, the population of Europe is also considering the nutritive meat substitutes.
Millennial Mindset Leading to Meat Alternatives
In recent times, millennials are largely concerned about their health. Therefore, they are inclining towards a healthy eating pattern. Change in consumers' preference is significantly reshaping the food & beverage industry, and subsequently fueling the demand for meat substitutes. Due to these factors, most of the teenagers are showing interest in plant-based meat alternatives.
Gradual Shift Away from Meat Products
As per the Weforum report, worldwide food systems will need to fulfill the dietary demands of more than 10 billion people. It will be difficult to fulfill the needs of this population, especially when people in North America and Europe have heavy meat requirements. However, recent aversion of consumer towards meat products amid the rise of vegan culture is highly likely to push demand for meat alternatives.
Awareness About High Environment Impact of Meat Industry
Growing awareness regarding the impact of meat on the environment is leading to changing dietary patterns of consumers. This has led to surge in the demand for meat alternatives. Moreover, governments of various countries are developing Sustainable Development Goals (SDGs) in collaboration with the United Nations, which will gradually influence growth prospects of the meat alternatives market.
MEAT ALTERNATIVES MARKET STRUCTURE ANALYSIS
Start-ups and mid-sized market players are highly benefiting from the growing demand for meat substitutes.
In June 2019, Beyond Meant, Inc., introduced a new product- Beyond Beef, an alternative to meat.
In October 2018, Atlantic Natural Foods LLC launched TUNO, a new plant-based seafood alternative.
Base Year -2019
Forecast Period -2019-2029
Market value in 2019 -US$ 5 Bn
CAGR over 2019-2029 -12%
Segments Covered -Source, Nature, Application, Product, Distribution Channel, Storage
Growth Drivers -

North America & Europe

Overcoming aversion to insect protein
Growing demand for plant-based products

APEJ

Large number of vegetarian consumers
Rising popularity of vegan culture

Latin America & MEA

Rising awareness of meat substitute products

Key Company Covered - Agrana, AGT Food & Ingredients, Inc., Amy's Kitchen Inc., Axiom Foods Inc., and Beyond Meat Inc.
MEAT ALTERNATIVES MARKET TAXONOMY
The global meat alternatives market is segmented in detail to cover every aspect of the market and present complete market intelligence to readers.
Product Type
Seitan or Wheat gluten
Tofu
Tempeh
Textured Vegetable Protein
Quorn
Risofu
Algae/ Mycoprotein
Insects
Fermented proteins
Cultured or 'clean' meat
Fish Protein
Others (Yaso, Nato and Miso)
Nature
Source
Plant-based Protein

Soy-Based
Wheat-Based
Pea-Based
Canola- Based
Faba Bean- Based
Potato- Based
Rice- Based Lentil- Based
Flax- Based Chia- Based
Corn- Based

Insect Protein
Mycoprotein
Storage
Refrigerated
Frozen
Shelf-Stable
Distribution Channel
B2B
Retail

Hypermarkets/Supermarkets
Convenience Stores
Specialty Stores
Independent Small Groceries
Wholesalers
Online Retail
Other Retail Formats

HoReCa (Food service Sector)
End Use Application
B2B

Bakery & Confectionery
Protein and Nutritional Bars
Breakfast Cereals
Functional Beverages
Dairy Alternatives
Dietary Supplements
Sports Nutrition
Infant Nutrition
Meat Additives, Analogs & Substitutes
Dressings, Sauces & Spreads
Pharmaceutical Products
Personal Care Products
Animal Nutrition and Animal Feed
Aquaculture

B2C
Need specific information?