Technical Textiles Market Outlook and Key Findings
Non-woven technical textiles to remain sought-after through 2030
Indutech textiles to gain momentum in coming years
Smart textiles to shape market landscape in near future
Market players to explore opportunities in Asia Pacific (APAC)
Technical Textiles Market Analysis – Wearable Tech Succeeding Traditional Textiles
Developed for non-aesthetic applications, technical textiles market has been on the radar globally for the past several years, given its high growth potential and capacity for job creation.
The market is making rapid advances, with about 60% of products across the globe produced with fibers that were not marketed five decades ago. While nearly 20% of technical textiles produced worldwide are crafted from natural fibers such silk, cotton, and wool, the remaining is made from man-made fibers such as nylon, polypropylene (PP), and viscose.
Technical textile development, at its core, is a broad landscape of advanced yarn systems coupled with textile formation methods. The completed production is further transformed via coatings, lamination, and composite techniques.
While development of consumer or commercial textiles generally emphasizes on comfort and aesthetics, technical textiles are developed with function in mind. Industrial textiles are designed to feature wide spectrum of certain characteristics, making them suitable for application in extensive range of industries and use cases.
Furthermore, governments in various countries are devising comprehensive policies to mandate the usage of technical textiles in specific industries, as well as offering financial aid to encourage local manufacturing.
Technical Textiles Market Trends – Mobiltech Products Stay In-demand
Mobiltech continues to generate substantial total returns to shareholders (TRS), capturing about a fifth of total technical textiles market revenue. Adoption of technical textiles to protect customers and products during transportation is no new.
Case in point, ships have been utilizing sails and ropes to cruise through oceans for centuries. In addition, technical textiles have been used in various forms of aviation such as zeppelins, balloons, and airplanes. At present, they are high in demand in automotive industry, for parts such as air bags, sun visors, and molded fuel tanks.
Mobile textiles generally contain phase change materials (PCM), which protect automobile parts from extreme conditions, and are employed during chemical finishing or fiber spinning process.
Mobiltech check the temperature in every electronic components in automotive industry. While PCM-based mobiltech products are prevalent in automotive industry, they are also used in products such as apparel, sleeping bags and ballistic vests.
As technical textiles are becoming an essential aspect in manufacturing sector, manufacturers are shifting towards advanced industrial textiles – indutech - including, nonwoven nano-fiber filtration media that are used in filling up micro-filtration performance loopholes.
Controlling Soil Erosion with Geotextile Fabrics
Geotextiles – geotechnical textiles – find immense usage in wide range of construction applications such as landfills, roads, drainage structures, and harbors to improve soil stabilization. Their benefits of cost-effectiveness and prolonged service life in tandem with rising ecological concerns regarding soil erosion are driving the adoption of geotextiles.
In the US, geotextiles are witnessing huge demand to curb erosion caused due to various water bodies in mountainous regions. Moreover, they help in restoration of landmasses affected due to hurricanes and storms.
In European countries such as the UK and Germany, manufacturers are required to abide by strict regulatory framework that specify the characteristics of types of geotextiles and applications they are highly suitable for.
Such supportive government policies for application of geotextiles, particularly in prevention of soil erosion prevention, is anticipated to propel the usage of geotextiles. FMI reveals that sales of geotextiles are expected to soar at double-digit CAGR over years ahead.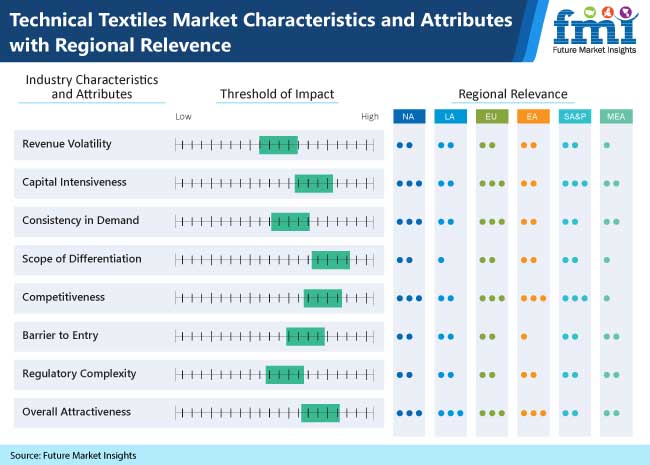 Technical Textiles Market Regional Analysis – Opportunities Abound in APAC
Technical textiles have been recognized as lucrative potential area for stepping up textile industry Asia Pacific (APAC). As conventional textiles industry in APAC has almost reached saturation level in terms of innovation, development, and value-addition, technical textiles are offering value-capture opportunity.
Technical textiles make up for about 20% of China's textile market, compared to about 12% in India. China has been the leading textile and apparel (T&A) exporter worldwide for almost three decades. The country has identified the importance of technical textiles both for local market as well as for exports, and has implemented necessary initiatives for establishment of large units in this domain.
India has been proactively encouraging and kick-starting key schemes including, Technology Mission on Technical Textiles (TMTT), to promote the adoption of geotechnical textiles and agro-textiles in the northeast region. In addition, the country's finance minister has announced removal of anti-dumping duty on purified terephthalic acid (PTA) - key raw material for technical textiles.
North America follows APAC in terms of value share, owing to well-established industrial sector. The US leads the technical textiles market in the region.
The US is the global leader in textile R&D activities, with the textile industry in the country developing next-gen textile materials such as electronic textiles that check heart rate and other crucial signs, conductive fabrics with antistatic aspects, antimicrobial fibers, and innovative fabrics that fit in well with climate to keep wearers cooler or warmer.
Throughout Europe, technical textiles are among the main pillars of textile and apparel industry, as such, a disruptive driving force for economic structure in the region. The technical textiles market in Europe is generating relevant return on the back of rising product demand for household, and fashion and clothing purposes.
Moreover, medical textiles are among the leading, and ever-growing fields in the regional market. The medical textile industry in Europe has been in the race to improve existing pipeline as well as developing new products with new innovative materials and designs. Some of these innovative products are designed for minimally invasive surgeries, accelerated healing, and infection control.
Technical Textiles Market Players – Manufacturers to Rethink their Product Portfolio with Innovative Launches
The global technical textiles market is highly competitive, characterized by large number of domestic and international players. Manufacturers are scaling up their investments R&D to innovate their product offerings, some of which include,
Duvaltex is shoring up its production to provide full range of Level 1 and Level 2 antimicrobial scrub textiles and gowns to front-line medical personnel and patients in the US. Crafted from breathable, durable, and smooth engineered fabrics, its technical textiles fulfil strict quality standards to offer protection against body fluids, microorganisms, and particulate matter.
Berry Global Group Inc. is set to invest in its worldwide meltblown nonwoven fabric capacity for South America. This investment is poised to strengthen the company's global presence and position as nonwovens manufacturer. Considering ever-growing demand for face masks worldwide amid COVID-19 pandemic, Berry has been working in close collaboration with customers to ensure production and supply.
Milliken & Company has ramped up domestic manufacturing of its BioSmart fabric that equips healthcare products such as lab coats, scrubs, and privacy curtains with anti-microbial shielding. The proprietary, bleach-activated technology eliminates 99.9% of viruses and bacteria.
Baltex has developed textile face masks - BaltexAirox AX100 - that features the company's 3XD Spacer fabric, which has been developed for medical textiles.
Technical Textiles Market Future Outlook - Smart Textiles to Shape the Future of Fabric Industry
Smart textiles – or e-textiles and functional fabrics - are transforming the perception of customers about the role of fabrics for industrial and household purposes. With new tech-driven advancements, the world is inching closer towards a future wherein fabrics are functional, as well as aesthetic.
Evolution of technical textiles takes cues from electronics and photonics industries. Integration of plastic optical fiber (POF) sensor arrays is paving way for extension of functional fabrics - smart textiles.
Think tanks in the industry are picking up materials and making them smart, enabling them to sense, and communicate in creative ways. Technical textiles are going beyond fashion statement – they are rapidly becoming a standard way of lifestyle.
As technology continues to make progress, smart textiles are slated to become the solution for several common issues, potentially replacing bulky hardware components that currently complement homes and workplaces. Adaptability and versatility of smart textiles enable wide array of flexible applications. With innovative yarns and durable designs, smart textiles are likely to stand the test of time.
This, coupled with fast-paced growth of cost-effective smart wireless sensor networks, has been propelling the adoption of smart textiles in developed regions. Further, FMI finds that apparel industry is poised to be the early adopter of smart textiles by technology intervention through flexible printed electronic techniques.
TECHNICAL TEXTILES MARKET TAXONOMY
The global technical textiles market is segmented in detail to cover every aspect of the market and present complete market intelligence to the reader.
Application
Agrotech
Buildtech
Hometech
Indutech
Sportech
Packtech
Mobiltech
Meditech
Clothtech
Geotech
Protech
Oekotech
Process
Nonwoven
Composites
Others
Region
North America
Latin America
Europe
South Asia & Pacific
East Asia
Middle East & Africa
Need specific information?