Technical Textiles Market Snapshot
The technical textiles market will register positive growth with the overall valuation forecast to surpass US$ 183 Bn in 2021. The market's worth will increase at a compound annual growth rate (CAGR) of 4.60% between 2021 and 2031. Global sales are expected to rise at 4.7% with shipments reaching nearly 37,872 KT in 2021, following a period tepid growth in 2020.
3M, DuPont, Arville, Milliken and Company, and Freudenberg & Co. KG have been identified as the leading market players. Future Market Insights (FMI) has estimated these companies to account for nearly 20% to 30% of the global market share in 2021.
Key Points Covered in Technical textiles Market Study
Market estimates and forecast 2021 – 2031
Key drivers and restrains impacting market growth
Segment-wise, Country-wise, and Region-wise Analysis
Competitive Mapping and Benchmarking
Brand share and Market Share Analysis
Key Product Innovations and Regulatory Climate
COVID-19 Impact On Technical Textiles Market
Recommendation on Key Winning Strategies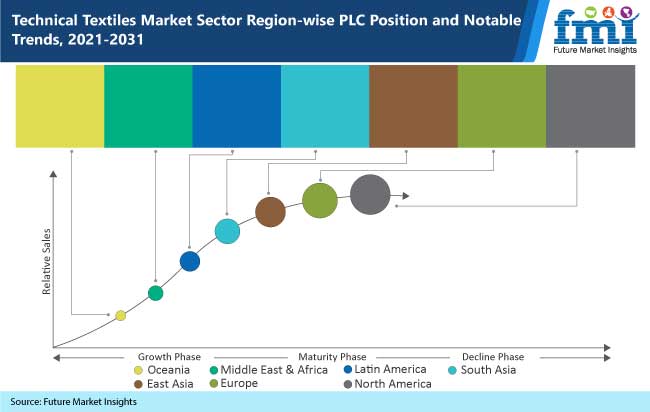 2016 – 2020 Global Technical textiles Market Compared to Sales Forecast for 2021 – 2031
Technical textile market registered growth at a robust pace between 2021 and 2031. Increasing adoption of technical textiles in agriculture and farming activities to boost the crop yield and modernization in farming methods have bolstered the prospects of the technical textile market growth.
The demand for technical textiles rose significantly during COVID-19 pandemic. Sales uptick registered can be attributed to increasing demand of medical grade masks in hospital and other healthcare centers.
Considering their application in the manufacturing of surgical hosiery, caps, beddings, sheets, pillow cover, and uniforms, the demand for technical textiles is expected to surge at an accelerated pace in the coming years.
Rising awareness about various benefits of technical textiles and introduction of modern technologies to boost production rate will positively influence growth. Demand for geo-tech textiles will increase owing to the rising incidence of soil erosion and demand for sustainable solutions for water treatment and soil erosion protection.
Technical textiles are designed for maximum functionality rather than comfort and aesthetics. Governments are looking forward to mandate the use of technical textiles in certain industries like mining and manufacturing operations. They are also implementing strategies to encourage local manufacturing of technical textile products.
According to FMI's research, projected rate of expansion of the global market is likely to touch CAGR of 4.60% for the forecast period 2021-2031, due to rising demand for technical textiles in construction and sports sector.
What Makes Smart Textile the Future of Technical Textile Industry?
Smart textiles are relatively new entrant in the technical textile market. However they are redefining the role of textile in industrial, general, and military purpose. Extensive research and technological advancement in technical textile domain is leading to development of functional as well as aesthetic smart fabrics.
Increasing reliance on Bluetooth low energy (BLE) technology in smart devices and technological advancement in smartphones and laptops will encourage the demand for smart textile in the future.
Incorporation of plastic optical fiber (POF) sensor arrays in functional fabrics to monitor and communicate the information regarding physiological parameters to the wearer will accelerate the demand of smart textiles in health and sports sector.
The increase in demand of smart textile from the medical and healthcare sector amidst pandemic to manufacture self-sterilizing and smart masks will positively affect the market growth.
For instance, in 2021, textile computing leader Myant Inc. exhibited new designs for connected personal protective equipment that senses and assess health and performance as a part of its interconnected system of biometric garments.
Why Are Technical Textiles High In Demand?
Mobiltech is forecast to account for more than 20% of global technical market sales revenue in 2021. Sales uptick can be attributed to rising adoption of technical textiles in manufacturing customer protection equipment and products like air bags, collapsible fuel tanks and sun visors.
Rise in mining activities and material production has increased the demand for remote location fuel storage using collapsible fuel tanks as they provide compatible and durable fuel storage options and high chemical resistance.
As collapsible fuel tanks are made from multiple types of technical textiles welded together through fabric welding, the demand for technical textiles is expected to rise in upcoming years.
Mobile textile has phase change materials (PCM) as base material which protects automotive parts from accident and extreme weather conditions. Mobiltech also continuously monitor temperature of every electronic component in automobile. Rise in sales of automobiles will drive the demand for technical textiles over the forecast period.
Country-wise Analysis
How Is Agriculture Driving the Technical Textile Market in U.S.?
Technical textiles are used in manufacturing agriculture nets and shade cloths owing to its high temperature and weather resistance. Rise in agricultural activities and increasing investments by farmers towards sheltering crops will drive the demand for Agrotech textiles in U.S.
Demand for agrotech textile made protective nets is on the rise as U.S. is aiming towards national food self-sufficiency and lower the food related dependencies over other nations. As per the American Farm Bureau Federation, around 166 people are fed from one farm in U.S. with the global population to increase by 2.2 billion in next thirty years; the farmers must grow about 70% more food than present production rate.
Growing awareness among the population regarding modern farming techniques and need to protect crops from extreme weathers is predicted to drive the demand for agrotech textiles in U.S.
Agrotech shade cloths are gaining popularity among home gardeners and farmers in U.S. as they reduce cost of energy by limiting the need of fans by keeping crops under the cloth at lower temperature than the surrounding. Development of new type of agrotech textiles which keeps the daytime temperature lower and night time temperature higher is further boosting the market demand.
How is the Technical Textiles Market in India Set to Fare?
Technical textiles are finding its application in manufacturing of ballistic protection vest as phase change materials in technical textiles offer properties like high durability tear and scratch resistance.
Ballistic vests are used by military personnel, high net worth individuals and influential political leaders which face the risk on their lives. Rise in domestic and cross border terrorism in India has fueled the demand for ballistic vest, consequently driving the demand for technical textiles in the country.
World Bank reports that military expenditure accounted for around 2.4% of India's total GDP in 2019. Increasing military expenditure and rise in local extremist insurgencies and casualties will boost the demand for protective ballistic armors, thus increasing the demand for technical textiles in India.
Indian government has kick-started important initiative like Technology Mission on Technical Textiles (TMTT) to encourage the use of geotech textiles and agro-tech textiles in north-east provinces. The removal of anti-dumping duty on key raw materials of technical textiles will make a positive impact on market growth in the country.
Why is the Demand for Technical Textiles High in France?
France is expected to offer lucrative opportunities for market growth owing to presence of leading textile and apparel companies in the region as France is considered to be the fashion capital of the world, increasing consumer spending on apparel, and rise in per capita income.
Sportswear is gaining traction among French population as people are showcasing increased spending habits on health and wellness. Sportswear requires materials that are durable, have long life and anti-perspiration properties, while being lightweight and soft in texture. Technical textiles provide all these properties and are thus used for manufacturing sportswear for hiking, mountaineering, golf, etc.
European Union reports that around 50% of French population engages in sports, fitness or recreational activities once a week. Rise in number of people engaging in physical activities will boost the sales of sportswear, which in turn will increase the demand for technical textiles in France.
What is the Outlook for Technical Textiles Sales in China?
China has been the top exporter of textile and apparels for past 30 years. Technical textiles are expected to account for over 20% of China's textile market throughout the forecast period.
Surging demand for effective sterilization and protective equipments against virus in Europe and North America amidst COVID-19 pandemic has boosted the demand and production of medical technical textiles in China. Adoption of technical textiles in patient tracking and physiological monitoring will create conducive environment for Chinese medical technical textile market growth.
China Association of Automobile Manufacturers (CAAM) states that in June 2021, more than 2 million units of automobiles were sold in the June 2021. Increasing sales of automobiles will drive the demand for industrial technical textiles in the country.
Category-wise Insights
Which Technical Textiles Type Is Experiencing High Demand?
By application type, mobiltech textiles are expected to exhibit tremendous growth in upcoming years owing to rise in manufacturing and sales of automotives across the globe. Technical textiles are used in manufacturing air bags, seat belts, seating upholstery, tire cords & linear, and others owing to high durability and wear resistance offered by these textiles.
Government mandating the installation of airbags in the automobiles and stringent rules regarding the usage of seat belts and increasing consumer spending on high quality and durable seating upholstery will drive the demand for mobiltech textiles in upcoming years.
Why is Non-Woven Based Production Process Most Preferred in Technical Textile Market?
By process, the non-woven segment will continue to lead the technical textile market growth during the forecast period. Non-woven process is preferred over composite and other process as it is cheaper than other process and improves properties of individual properties of natural fiber or synthetic fiber, which ultimately enhances the performance of textile material.
The non-woven textiles have better cushioning and absorbency, making them an ideal material for automotive application. High strength and softness are desired in sportswear manufacturing, thus driving the demand for non-woven textiles.
Competitive Landscape
Leading market players are focusing on scaling up their investments R&D to innovate their product offering while simultaneously participate in strategic merger and acquisitions to gain maximum market share, says FMI.
In November 2020, Duvaltex in collaboration with Steelcase developed new ocean waste clean impact textiles™ technology, which turns marine plastic waste into surface fabric with full traceability. "Intersection" is the first ocean waste clean impact textiles™ and is available in 17 different colors and applicable on more than 50 Steelcase screen and panel product lines.
In March 2019, 3M launched its new sustainable insulation material "Thinsulate insulation" for fashion and clothing industry, made from 100% recycled fabric and plastics. This product is expected to reduce the carbon footprint of fashion industry.
Technical textiles Market – Report Scope
| | |
| --- | --- |
| Attribute | Details |
| Forecast Period | 2021 – 2031 |
| Historical Data Available for | 2020 – 2030 |
| Market Analysis | US$ Mn for Value & Units for Volume |
| Key Regions Covered | North America, Latin America, Europe, East Asia, South Asia and Pacific, and Middle East & Africa |
| Key Countries Covered | U.S., Canada, Brazil, Mexico, Argentina, Rest of Latin America, EU-5, BENELUX (Belgium, Netherlands, Luxembourg), NORDIC (Denmark, Finland, Iceland, Norway, Sweden), Poland, Russia, Rest of Europe, China, India, Japan, GCC Countries, South Africa, Israel, Turkey, Iran, Rest of Middle East & Africa, Australia, New Zealand, South Korea, the Philippines, Malaysia, and Thailand |
| Key Segments Covered | By Application Type, By Process Type, and By Region |
| Key Companies Profiled | Asahi Kasei, Kimberly Clarke, Berry Global Group, DuPont, Mitsui Chemicals, Freudenberg & Co., Low & Bonar , Huntsman (US), Toyobo Co, Milliken & Company, SRF Limited, Koninklijke Ten Cate, and International Textile Group |
| Report Coverage | Market Overview, Market Background, Market Forecast, Segmental Analysis, Regional Profiling and Competition Analysis |
| Customization & Pricing | Available upon Request |
Key Questions Answered in the Report
What is technical textiles market size?

Driven by increasing demand for advance and safe material, the technical textiles market size is forecast to reach US$ 183 Nn in 2021 with a CAGR of 4.6%.

At what rate did the technical textiles market expand in the last five years?

Between 2016 and 2020, the technical textiles sales grew at 2.50% CAGR.

What are the key trends shaping the technical textiles market?

Strategic merger and acquisitions between market players to enter new markets and expansion of production facilities to cater the rising demand are few of the key trends shaping the technical textiles market.

Who are the key exporters of technical textiles across the globe?

USA, China, and India are the leading exporters of technical textiles in the world.

What is the North America technical textiles market outlook?

Demand registered in North America will continue rising, backed by increasing production and export of technical textiles from U.S. and Canada, the North America market is anticipated to expand at 2.60% CAGR during the forecast period.

Who are the leading companies in technical textiles market?

Freudenberg & Co. KG, Milliken and Company, Arville, DuPont, and 3M are the top companies operating in the market.

What is the cumulative share of top companies in technical textiles market?

The cumulative market shares of top players operating in technical textiles market are around 20% to 30% in 2021.

At what rate will technical textiles sales increase in Europe?

Technical textiles sales will increase at 2.50% CAGR in Europe, backed by rising demand in the U.K., Germany and other countries.

Which are the top countries driving technical textiles market demand?

Leading countries driving demand in the technical textiles market are U.S., China, and India.

What are the key statistics for technical textiles market in Japan and South Korea?

Currently in 2021, Japan and South Korea jointly holds around 8.40% of share respectively in the global technical textiles market.
World's Most Profilic Intelligence Engine
Get Access To The World's Largest Market Research Database. Ngage with a revolutionary intelligence engine that scale and pricing that flexes as per your needs
Sign Up Now
Key Segments Covered in Technical textiles Market Study:
Application:
Agrotech
Buildtech
Hometech
Indutech
Sportech
Packtech
Mobiltech
Meditech
Clothtech
Geotech
Protech
Oekotech
Process:
Nonwoven
Composites
Others
Region:
North America
Latin America
Europe
South Asia & Pacific
East Asia
Middle East & Africa
Need specific information?