Bakery Enzymes Market Value Set to Cross US$ 1 Bn Mark by 2021
In line with growing demand for healthier foods, consumers today want less sugar, fewer chemicals, and cleaner labels. In the bakery industry, this can include baked goods that are gluten-free, organic, or made with ancient ingredients or health-benefiting enzymes. Moreover, demand for bakery enzymes has been on a significant rise, on the account of extending shelf-life and improving texture of baked products. Future Market Insights, in its new study, estimated that the bakery enzymes market will surpass the US$ 1 Bn mark by 2021. These enzymes are garnering significant traction as a viable option to prevent spoilage of baked goods, thereby playing an active role in reducing food waste.
FREQUENTLY ASKED QUESTIONS ABOUT Bakery Enzymes Market
What are the major factors that would prominently assist the bakery enzymes market growth?
Increasing consumer inclination towards ready-to-eat and packaged food, further complemented by rise in awareness about health and wellness, continues to fuel an upsurge in consumption of bakery enzymes.
How will the bakery enzyme sales progress over the period of next decade?
An increase in the stringent regulation enforced by governments regarding clean-label and eco-friendly products continues to spur the demand for various bakery enzymes. This will predominantly drive sales of bakery enzymes at a CAGR of 5.8% over the projection period 2019 – 2029.
Which is the most preferred bakery enzyme in the global market?
Carbohydrase contributes a lion's share to the growing size of the bakery enzyme market. It would continue to see significant uptake, as it possesses high thermal stability suitable for bakery products. Lipase has also been witnessing rise in demand.
How is bread making industry influencing bakery enzymes consumption pattern?
In line with consumer inclination towards high-quality and innovative bread products, the bread making industry is observing significant growth over the recent past. Bakery enzymes are thus witnessing a rapid change in consumption pattern, as they are responsible for improved dough handling and a rich texture.
Which are the major factors that are pulling the bakery enzyme demand?
A sizeable consumer population is allergic to bakery enzymes, if used in excess. Moreover, a measurable chunk of bakery consumers refrains from buying products that contain microorganisms-based bakery enzymes. These factors will continue to restrict consumption of bakery enzymes to a large extent.
Which region is developing lucrative growth environment for the market?
Over the next 10 years, North America will continue to lead the bakery enzyme market. Additionally, Asia Pacific (excluding Japan) will witness substantial growth owing to favorable government initiatives related to adoption of baked products that contain bakery enzymes.
Carbohydrase Remains Bestselling Category
Accounting for half of the total sales of bakery enzymes, carbohydrase continues to witness higher demand as compared to protease and lipase. In recent years, the rise of convenience, on-the-go, and better-for-you trends resulted in increased demand for innovative yet healthy food ingredients, thereby potentially raising sales of carbohydrase. This can be attributed to plant-based origin of carbohydrase, in addition to extending shelf-life of breads and cakes and helping in digesting certain types of carbs. As bakers are on the journey of producing goods that appeal to growing number of health-conscious consumers, market players are also focusing on capitalizing on protease and lipase.
North America's Market on Upward Trajectory
North America continues to maintain its lead in the bakery enzymes market, in the view of bakery industry operators reformulating their existing baked goods and dessert selections with healthier ingredients. Growing popularity of artisanal baked goods and consumers increasingly following a healthy lifestyle in the region are leading to realignment of manufacturers' strategies. By 2021, the market in Asia Pacific excluding Japan (APEJ) is expected to surpass the European market, as more baked foods are finding shelf space on supermarkets across the region. Consumers' demand for better food choices along with globalization and cultural and generational shifts in the Asia is significantly contributing to the demand for bakery enzymes.
Rising Regulatory Approvals Opening Avenues for Revenue Growth
In recent years, governments from numerous countries have increasingly supporting the use of bakery enzymes, catering to consumers' demand for clean products and subsequently boosting the market growth. With the approval of DuPont's three bakery enzymes by the Japanese Ministry of Health, Labor, and welfare, the market has got a head start on the future. Given consideration to the extensive waste of bakery products, especially bread, manufacturers are focusing on expanding their product portfolio to enable these products to stay fresh longer without compromising the quality or taste. These factors came into play when Royal DSM introduced two maltogenic amylase enzymes in its BakeZyme portfolio in November 2019.
Carbohydrase remains highly preferred
Demand for lipase to pick pace
High application in breads
Use in cakes and pastries increases rapidly
Increasing demand for powdered form
Liquid enzymes to witness surging adoption
How Growth will Unfold
Bakers worldwide are increasingly using enzymes to improve softness, moistness, and resilience of products. Adoption of bakery enzymes for breads is accounting for relatively high revenue share, while growing application in cakes and pastries is opening a wide window of opportunities for market players. Today, consumers are increasingly embracing convenient foods, and breads are no exception. Realizing the challenges in fulfilling all consumer needs, from improve texture to longer-lasting freshness, market players are directing their investments in product innovation. Further, the on-going trend of plant-based food consumption, amid mounting concerns over animal welfare issues in F&B industry, is expected to boost the application scope of bakery enzymes.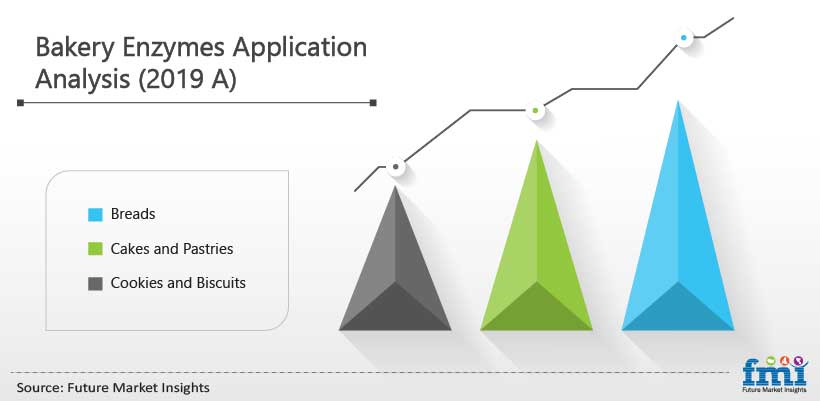 * This data is only a representation. Actual data may vary and will be available in report.
Click Here To Know How The Growth Will Unfold
Custom Market Research Services
FMI offers custom market research services that help clients to get information on their business scenario required where syndicated solutions are not enough.
Overview
Bakery Enzymes Market Analysis 2019 - 2029
The report on the global bakery enzymes market is intended to offer global industry assessment for 2014 - 2018 and 2019 - 2029. In this study, Future Market Insights (FMI) covers some of the chief factors that are likely to impact the demand and supply of bakery enzymes over the next couple of years. It includes detailed review of growth drivers, challenges, opportunities, and prevailing trends in the market. It therefore covers crucial information intended to help readers get a comprehensive overview of the bakery enzymes market.
Bakery Enzymes Market Taxonomy
The report segments the global bakery enzymes market in detail to present an executive-level blueprint to the reader
Product
Protease
Carbohydrase
Lipase
Others
Application
Bakery and Confectionary
Cookies and Pastries
Breads
Cookies and Biscuits
Region
North America
Latin America
Western Europe
Eastern Europe
Japan
APEJ
MEA
To Learn More About our Comprehensive Perspective on Bakery Enzymes Market,
Get in touch
COVID -19 : Impact Analysis
Request the coronavirus impact analysis across industries and markets
Request Covid -19 Impact
CASE STUDIES
See how our work makes an impact.
At FMI, we design strategies that are adaptive, impactful, and implementable.