Pectin Market - Key Research Findings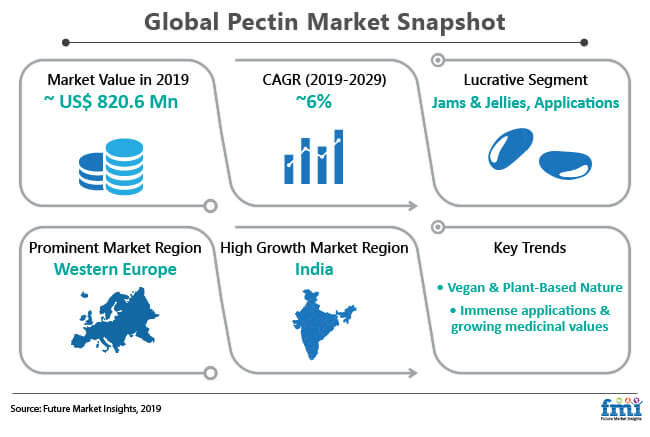 The global pectin market value in 2019 is estimated at ~US$ 820 Mn.
The pectin market is anticipated to grow at a CAGR of ~6% during the forecast period of 2019-2029.
Low methoxyl pectin remains highly preferred product for various application in F&B industry, accounting for relatively high share as compared to high methoxyl pectin.

The growth in demand for low methoxyl pectin can be primarily attributed to its low requirement of sugar to form gels, and wide applications in the food industry.

Western Europe is projected to account for ~28% of the revenue share in the pectin industry by the end of 2029.

Western Europe is projected to be the most opportunistic region for manufacturers and distributors, owing to increasing demand for pectin in various end-use industries.

Noteworthy applications of pectin in beverages industry, bakery filling & toppings, dairy products & frozen desserts, confectionaries, meat & poultry products, dietary supplements, functional foods, pharmaceuticals, personal care & cosmetics, jams & jellies, and others make it an essential product. Its usage in such multiple fields is estimated to increase market value during the forecasted period.
Key Factors Shaping the Pectin Market
Medicinal Properties Make Pectin a Trusted Natural Product

Pectin is a fiber found in fruits and is most commonly used to make medicines, as it has various medicinal properties and tendency to reduce cholesterol levels. It is useful in preventing poisoning caused by lead, strontium, and other heavy metals. It is used to treat colon and prostate cancer by activating cell death pathways in cancer cells.

Its usage in the medical field is very immense, and as people are shifting and trusting natural and plant-based products in treating number of diseases, pectin would mark one among the top lists in serving consumers, due to its unique property.

Pectin Gaining Attention as a Vegan Alternative to Synthetic Products

Pectin is a vegan product derived from the cell wall of almost all plants. It is fat- and cholesterol-free, and contains 36% of fiber, due to which, it is used as a major ingredient in the dietary supplements industry. The increasing inclination towards plant-based products is likely to influence the pectin market growth in the foreseeable future.

Increasing Promotions and Product Launches

Benefits of pectin are still unknown to common consumers, and they are still using gelatin, which is an animal-derived gelling agent over pectin. Therefore, manufacturers of the plant-derived and vegan pectin products are spending large amount of their profits on promotional activities, and are planning a number of exciting strategies to provide the information of pectin's usefulness to consumers.

For example, certain dairy product manufacturers such as Stonyfield Farm, Inc. and Sunnyside Dairy Farms Ltd., are focusing on using pectin and modified starch as gelling, emulsifying, and stabilizing agents in juice drinks, yogurts, and dairy products.

In November 2016, Stonyfield Farm, Inc. introduced three new organic yogurt products in order to expand its organic milk product portfolios.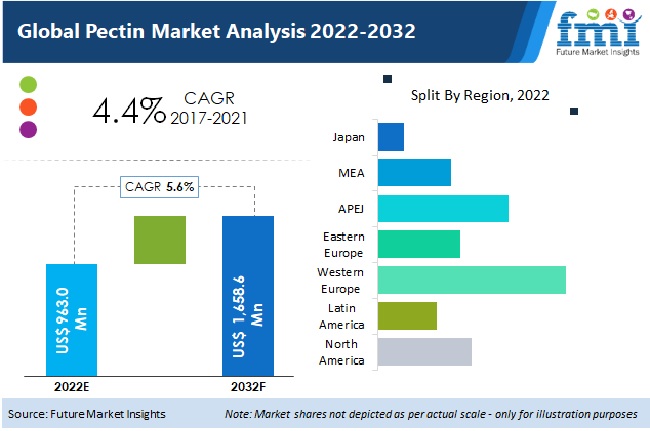 Pectin Market Structure Analysis
The global pectin market is a reasonably competitive market. Approximately 15% - 20% share of the market is held by tier-1 players.
Manufacturers are focusing on certain strategies such as acquisitions of small companies that are present in the pectin market since a long time. These acquisitions can increase their regional as well as local markets, and win the trust of consumers. They are also increasing their market presence by launching different products with the usage of pectin. In short, they are trying to attract consumers by providing them blend, innovation, and richness of natural product all under the same product.
CP Kelco, in December 2015, completed the expansion of its manufacturing facility at Brazil. This expansion increased the manufacturing capacity of pectin by 30%.
Naturex, in December 2011, completed the acquisition of Pektowin, which is a Poland-based company that specializes in pectin, fruit and vegetable juice concentrates. This helped the company to expand its product range and strengthen its global presence, particularly in developing countries.
Noteworthy investments in the research and development for novel and sturdy products is projected to boost the growth of the pectin market.

Major players in the pectin market are DuPont, Cargill, Incorporated, Naturex, CP Kelco, Herbstreith & Fox, CEAMSA, Silvateam S.p.A., Lucid Colloids Ltd., Yantai Andre Pectin Co. Ltd., and others.
Market Taxonomy
Product
High methoxyl pectin
Low methoxly pectin
Amidated
Non-amidated
Application
Jams & Jellies
Beverages
Bakery Filling & Toppings
Dairy Product & Frozen Desserts
Confectionary
Meat & Poultry Products
Dietary Supplements
Pharmaceuticals
Personal Care & Cosmetics
Others
Region
North America
Latin America
Western Europe
Eastern Europe
APEJ
MEA
Japan
Need specific information?