About the Report
In the current business scenario it is extremely important for the brands to leverage efficient marketing tools and systems to gain the maximum out of their advertising expenditure. With a highly competitive business environments, business are continuously looking for opportunities to attract customers. Digitalization and smart city infrastructure are a few factors that are expected to drive the market for signages.
In its new study, ESOMAR-certified market research and consulting firm Future Market Insights (FMI) offers insights about key factors driving demand for signage. The report tracks the global sales of signage in 20+ high-growth markets, along with analyzing the impact COVID-19 has had on the signage market.
How Historical and Future Outlook for Signage Market Compare?
In the current business scenario, it is crucial to have efficient marketing system. To establish effective communication with customers, signage is a cost effective solution. Signage is vital for a business to be successful as it allows to market and advertise the products and services which a brand has to offer. In the highly competitive business environment branding is important and signage plays an important role to bolster the marketing efforts of the businesses.
Driven by prevailing trends, a drastic shift has been witnessed from the conventional signage to the digital signage. Upfront cost savings from the digital signage are allowing the businesses to leverage the digital technology. The digital signage offers useful features that conventional signage cannot match. Augmented or virtual reality are anticipated to enhance the use of digital signage. According to FMI's analysis, signage sales have grown at 3.8% CAGR between 2014 and 2020.
Signages are a popular marketing medium and are used as a marketing tool by many businesses, hailing from multiple industries. Signage companies have increasingly collaborated with business owners and designed signages which best suit their requirement. Right from the size to the location of the signage plays a predominant role in impacting the footfall of the customers.
It is important for businesses to capitalize every opportunity that signage has to offer to extract the maximum benefits out of their advertisement expenditure. Every business has a different model which needs to be conveyed to the public for making the business successful.
The best approach is to develop unique propositions and communicate the same through good signage designs. This will help the customers differentiate one brand from another. Increasing competition in various end use industries make advertisement a differentiator. Increasing R&D activities and studies on customer behaviour are likely to benefit the signage market in the forecasted period. FMI expects global signage market to grow at 6.4% CAGR through 2031.
Will Adoption of Digital Signage Create Impactful Advertisements?
There are multiple benefits of digital signage which are giving tailwinds to their sales worldwide. Multiple commercial places such as retail stores, specialty stores, hospitals, and other public spaces have been increasingly spending on the installation of digital signages since the past few years.
Engaged shoppers have high chances of becoming actual customers of a brand. With digital signages, businesses have the choice to explore wide possibilities of graphics and designs to capture the attention of shoppers. Further, digital signages help in changing multiple displays without much effort. The displays can be automatically changed at pre-set intervals.
Interactive digital signages for in store requirements create a better shopping experience for the customers. Customers can easily locate a specific category of products and check for discounts and offers without any hassles. The businesses can retool their strategies with lesser time and low costs by leveraging the technology of digital signages.
How Will Automated Content Creation Promote Signage Sales?
The Internet of Things (IoT) integration with digital signages are capable of automatically creating content which can be shared on displays. Digital signages can handle changes in schedule and offer in the store, however, for a limited time. It can also assist in managing new product launches.
Furthermore, the safety of the stores can be enhanced using the digital signages. For instance, alarm systems can be connected to the digital signages which use sensors and can detect store capacity and stock depletion. This can be used to deliver warning messages to customers. Such technology can be extremely useful to reduce the human interaction and adhering to the safety protocols during the time of pandemic.
How will Visible Light Communication Technology Aid Signage Market?
Visible Light Communications (VLC) technologies has the power of incorporating Global Positioning System (GPS) indoors, which creates to a smooth shopping experience for customers. The customers can use this technology by connecting their mobile phones to digital signage platforms.
Their shopping habits have changed drastically during the pandemic. They now require less time searching for products in the store and focus more on quickly locating the items required.
VLC can be beneficial as the technology highlights the directions in the store which lead to the items on a shopping list through the mobile applications, where the digital signage reflects what the key trending products are in the store. This further enables the brand owners to promote the sale of most selling products or combinations in the store.
How Can Digital Interactive Technology Hinder Signage Applications?
COVID-19 has increased the demand for touch less marketing tools that limit the human interaction. Digital signages use technologies such as interactive screens, but the pandemic has called for technologies that limit or minimize touching of screens, putting them up in public. Rather screen interaction alternative such as voice assistance is anticipated to be demanded.
Many business owners are increasing expenditure on online and broadcast advertisements since they reach customers directly and are likelier to gain a customers' attention compared to signage. The number of internet users is going up drastically which provides lucrative opportunities for the advertising companies to churn monetary benefits.
Online advertising has increased after the spread of the COVID-19 and is preferred by the marketers as an effective tool compared to their counterparts. Though, the interactive digital signages remain relevant and useful, a sluggish demand is forecasted for them owing to the concerns associated with the pandemic.
How can Digital Signage Create Lucrative Opportunities for Signage Manufacturers?
Signage manufacturers are witnessing a shift from the print signage to the digital signage. Print signage manufacturers have understanding of the effective information display and have a better understanding of the communication element required to be showcased on the signages. Furthermore, inclination from traditional signage to digital signage gives a chance to the manufacturers to leverage the customer base. This provides the sign manufacturers the opportunity to expand their business using research and development followed by new production methods.
Traditional signage is slowly losing grounds owing to lack of agility and high initial costs. Whereas, digital signage personalizes experiences along with providing real time feedback to the customers. Further demand for customized noise, colour contrast, connectivity and resolution makes digital signages an apt marketing tool for businesses.
How Signage Demand Is Fluctuating as per Product and Various End Use Industries?
As per FMI analysis, in-store signage segment is estimated to capture maximum attention among end users over outdoor signage. Although, this segment holds nearly 1/3rd value share in the global market in 2020, it is expected to increase rapidly with nearly 270 bps during the forecast period of 2021-2031.
The consumption of signage is more in the conventional stores and it holds major pie in the global market. However, this segment is expected witness a loss of 310 bps, by the end of 2031. On the other side, exponential demand for signage is witnessed in the school and offices, attributing to increasing consumer inclination towards digital signage. This segment is expected to increase by 200 bps and reach over 14% market share in 2031-year end.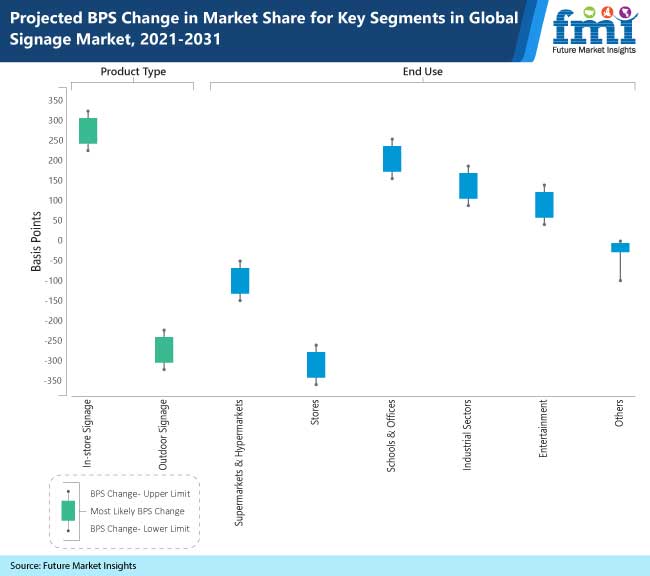 Country-wise Insights
United States' Rapidly Growing Advertising Industry to Fuelling Demand for Signage
Over the last decade, the advertising industry in the U.S. has witnessed a rise in the use of digital modes of advertisement. The spike in advertisement can be attributed to the growth of the retail sector which has resulted in enormous competition between the brands. As per census.gov, total retail sales for the fourth quarter of 2020 was estimated to be US$ 1,477 billion. This is anticipated to surge consumer demand for comprehensive information about products.
Furthermore, seasonal product lines have augmented the demand for short term promotional signage. Moreover, increasing acceptance of advanced technologies in terms of interactive digital signage will create lucrative opportunities for the digital signage market in the United States. It also provides cost efficient marketing solutions for the brands to explore dynamic content and customization options.
Printing Industry in China to Augment Printed Signage Sales
China is gaining grounds as one of the Asia's fastest expanding printing markets. Growing interest from the manufacturing companies has helped printer manufacturers to emerge and grow. Future trends in China's printing industry are development of publication printing, digital printing, package printing and green printing.
Several large printing companies are heavily investing in the signage industry for place making and interior applications. For corporate marketing and retail, printers are required for interior place making which emphasizes on the dominance of well-equipped printers. This can be a lucrative gain for the region's signage market as the scale of printing is anticipated to enhance the cost efficiency of the printed signage.
Outdoor Digital Advertising in the U.K. Results in Huge Footfall of Customers
Outdoor digital advertising is a powerful media tool for multiple industrial sectors including education, healthcare, hospitality, transportation and retail among others. As a result many conventional signages have been replaced by digital signages in U.K. to reach a wide range of customers at optimum costs.
The low cost yet highly engaging digital signages give businesses and institutions the opportunity to maximize their brand awareness and attract customers. Moreover, many customers subconsciously link a business's signage to the quality of services or the products which is extremely important to create an impact in the mind of the customer.
India's Road Network to Boost the Demand for Directional Signage
According to ibef.org, India has the world's second largest road network, spanning a total of 5.89 million kilometres. Road transportation has witnessed a drastic drift in the recent years with high connectivity due to infrastructural development across the nation. Government initiatives coupled with high sales in the automobile sector has hiked the demand for better road infrastructure.
It is anticipated that the roads sector would account for 18% of the capital expenditure between FY19-25. This is anticipated to boost demand for directional signages along the constructed roads. Way finding signages and signages portraying safety norms would be demanded by the government to promote a safe and comfortable drive on the roads.
Japan's Electronics Makers to Benefit from the Digital Signage Demand
Japan's electronics makers are catering to heavy demand for digital signages which would supplement their earnings lost due to declined demand from television. The manufacturers are seeking large contracts globally and domestically by aiming at producing digital signage as a new source of revenue.
LCD panels are witnessing high demand and rapidly replacing conventional advertisement. Display quality and user friendly attributes of the digital signages are impacting the decisions of brands. Further use of cards and external media is helpful in displaying pre-programmed content which comes in multiple forms such as audios, videos or photos.
Category-wise Insights
Outdoor Signage Segment to Contribute Highest Market Share
Signage is a brand's most visible form of communication and outdoor signage can impact the performance of a brick-and-mortar store. Also, it is crucial for businesses to make themselves stand out when compared to their competitor to strengthen their market positions. Outdoor signage can be a differentiator when a customer has to decide between two brands. A unique outdoor store signage can draw customer's attention from a distance and increase the number of customers entering the store.
Furthermore, the cost of effectiveness and return on investment of outdoor signages is comparatively higher than the in-store signages as they target multiple demographics. Also, with a wide variety of signage available, the business owners can easily find signage that best suit their budget. Promotional outdoor signages help the brands to be noticed by new customers. A good signage may encourage the customer to enter the store. Thus, this segment is expected to create a significant incremental opportunity in the years to come.
Stores Emerge as Key End Users of Signages
Multiple retail stores leverage signages as a marketing opportunity to enhance the overall shopping experience of the customers. Store owners use signages to contribute to the atmosphere of the stores. Further, outdoor store signages lead to impulsive buying behaviours. For instance, a signage communicating about the offers and discounts on the products available in the store have the ability to create an impulse buying behaviour.
Store signages let the customers know about the upcoming events that is sale, in-store appearances, etc. This enhances the recall and retention rate amongst the customers which has a significant impact on the revenue stream of a brand. Moreover, digital intervention has eased the process of putting up signages. Digital signages allow the store owners to display an array of content which can be timed and changed automatically with minimum efforts.
Competitive Landscape
Companies operating in the signage market are a part of highly fragmented landscape, where multiple domestic players exist in the market. Rising demand for marketing solutions with technological advancement across the emerging economies has led to business expansion. Improvised product development and advanced display technologies are commonly adopted strategies by the players in the signage market.
The companies are inclined towards providing green solutions to their customers. For instance, Signs Express Ltd offer environmental advantage their customers by switching to 100% recyclable PVC-free polypropylene board for all temporary construction site signs.
Some of the leading companies operating in the market are:
FASTSIGNS International. Inc.
Signarama
Walton Signage Corporation
R.R. Donnelley & Sons Company
Back Bay Sign Company
Pearce Signs Group
Sovereign Signs (Strata Holdings Limited)
HNS Signs Ltd
Allsigns International Ltd
Harrisons Signs Limited
Lavastar Signs Ltd
National Signs Ltd
Signs Express Ltd
Dlinexsign Ltd
One Digital Signage Ltd.
*The list is not exhaustive, and only for representational purposes. Full competitive intelligence with SWOT analysis available in the report.
Scope of the Report
Attribute

Details

Forecast Period

2021-2031

Historical Data Available for

2014-2020

Market Analysis

USD Million for value

Key Regions Covered

North America, Latin America, Europe, East Asia, South Asia, Oceania Middle East & Africa

Key Countries Covered

US, Canada, Germany, U.K., France, Italy, Spain, Poland, Russia, China, Japan, South Korea, India, Thailand, Malaysia, Vietnam, Indonesia, Australia, New Zealand, GCC Countries, Turkey, Northern Africa, South Africa

Key Segments Covered

Product Type, End Use, and Region

Key Companies Profiled

FASTSIGNS International. Inc.
Signarama
Walton Signage Corporation
R.R. Donnelley & Sons Company
Impact Signs Inc.
Back Bay Sign Company
Pearce Signs Group
Sovereign Signs (Strata Holdings Limited)
HNS Signs Ltd
Allsigns International Ltd
Harrisons Signs Limited
Benson Signs Ltd.
Lavastar Signs Ltd
National Signs Ltd
Signs Express Ltd
Dlinexsign Ltd
One Digital Signage Ltd.

Report Coverage

Market Forecast, Brand share analysis, Competition intelligence, DROT analysis, Market Dynamics and Challenges, Strategic Growth Initiatives

Customization & Pricing
Key Questions Answered in the Report
Who is the Leading End User of Signage?

Stores segment currently accounts for the largest share in the global market for signage. The segment is anticipated to account for over 30% of total demand throughout the forecast period.

Which End User Will Exhibit Increasing Spending on Signage?

Schools & offices segment would exhibit a significant growth, as they show higher inclination for investing in signages.

Which is the Top-selling Type of Signage?

Outdoor signages are highly preferred by the business owners owing to their potential of reaching maximum number of customers. This segment holds over 60% market share.

Who Are Some of the Leading Companies Offering Signage?

Some of the leading companies offering Signage are FASTSIGNS International. Inc., Signarama, Walton Signage Corporation, R.R. Donnelley & Sons Company, Impact Signs Inc., Back Bay Sign Company, Pearce Signs Group, Sovereign Signs (Strata Holdings Limited), HNS Signs Ltd, Allsigns International Ltd, Harrisons Signs Limited, Benson Signs Ltd., Lavastar Signs Ltd, National Signs Ltd, Signs Express Ltd, Dlinexsign Ltd and One Digital Signage Ltd among others.

Which Region Accounts for the Maximum Share in the Signage Market?

As per FMI analysis, North America contributes towards the lion's share in the signage market.
Signage Market by Category
Product Type
In-store Signage

Promotional Signage
Directional Signage

Outdoor Signage

Promotional Signage
Directional Signage
End Use
Supermarkets & Hypermarkets
Stores
Schools & Offices
Industrial Sectors
Entertainment
Others
Region
North America
Latin America
Europe
East Asia
South Asia
Oceania
Middle East and Africa (MEA)
Need specific information?
Talk Show:
The Rise of Intelligent Packaging
Personalized, Connected and Sustainable
November 18, 2021
11:00-11:45 AM PST (USA & Canada)
This is a LIVE session