Soybean-based Tempeh Holds Dominant Share
In terms of source the tempeh market is segmented into soybean, multigrain, and others. Of these, the demand for soybean-based tempeh is significantly increasing, catapulting the segment to the fore. While soybean-based tempeh holds dominance, the multigrain-based segment is likely to show optimistic growth in the coming years. Increasing vegan & vegetarian population is a key factor enabling growth in the soy-based tempeh segment. Apart from this, demand for soybean based tempeh is on the rise due to their high protein content.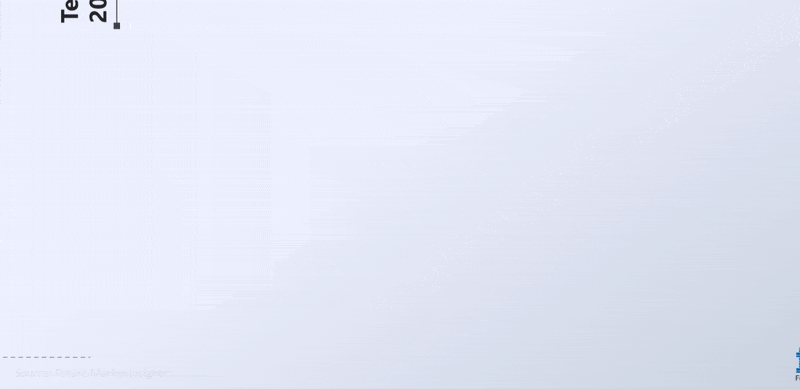 Developed Countries Present Remarkable Growth Opportunities
APAC is expected to hold the leading share that is 77.5% in the global tempeh market in terms of value. Besides this, the market will witness considerably high demand in North America. The demand for tempeh is considerably high in North America, which is unlikely to subside in the forthcoming years. As a result of the expanding flexitarian/ vegan population, the demand for tempeh is poised to surge in North America. The market in Latin America, leg by Brazil, also exhibits high demand for tempeh.
Adoption of Innovative Strategies - a Key Trend among Market Players
The global tempeh market is primarily characterized by the presence of a large number of local companies. A large volume of tempeh is manufactured in Indonesia wherein mostly small & medium enterprises are operating. Other companies operating in this business are based in North America, Europe, and Australia.
Many of these companies are startups and constitute a minority share in the global market. An increasing number of start-up companies are emerging globally, especially in Canada and Australia, where soybean farmers are adopting innovative strategies to promote the consumption of tempeh.
How Growth will Unfold
Plant-based foods are one of the best sources of protein and other vital nutrients that are required to maintain a healthy lifestyle. Rising concerns about animals are fuelling the demand for meat alternatives such as tempeh and tofu. These meat substitutes are mostly derived from the plants. Apart from this, high meat consumption leads to various diseases, which in turn is increasing the demand for plant-based alternatives.
Plant-based food has positive effects on metabolism. The increase in awareness about the risks of meat and consumers' inclination for a better living are drivers of the tempeh market. Plant-based food, especially meat-free substitutes are preferred by athletes and the younger generation, mainly due to their high protein and calcium content. These plant-based products improve diabetes and have been related to minimizing the risk of diabetes mellitus type 2.
Spurred by aforementioned scenario, the tempeh market is likely to witness high demand for all key product types. These include frozen tempeh, fresh tempeh, and ready-to-eat tempeh.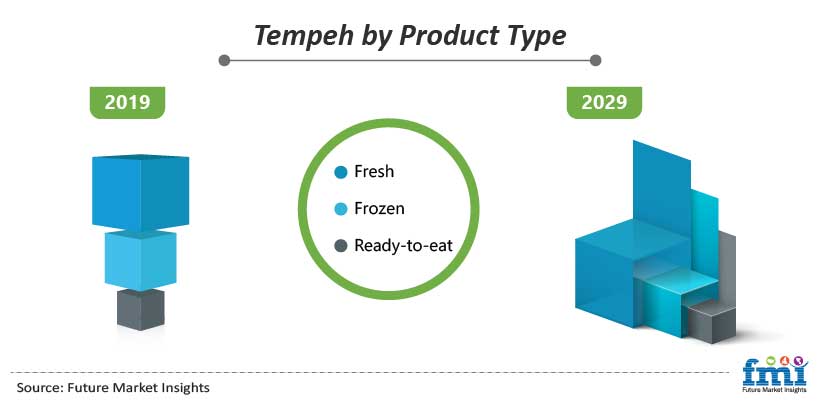 FREQUENTLY ASKED QUESTIONS ABOUT THE GLOBAL TEMPEH MARKET
What are the prospects for tempeh products based on the source?
In the present scenario, the soybean-based tempeh segment holds the major share in the market. Though it is estimated that in the upcoming years, multi-grain based tempeh will show a higher growth as compared to the former due to its high protein content.
Which product type segment offers the most profitable growth opportunities for the market players?
Tempeh is protein enriched food material and is one of the best meat substitutes. In the product type segment, the fresh tempeh has very high demand as compared to other segments such as frozen, and ready-to-eat products.
What is the degree of competition in the tempeh market?
The global tempeh market is identified as highly organized in developed and developing economies. Key manufacturers operating in the global tempeh market are concentrating on product launches and expanding their footprints by collaborating with regional distributors/suppliers to increase their customer base.
Which region will lead the global sales of tempeh-products?
APAC remains the major shareholder in the tempeh market. However, North America is projected to show higher growth.
Which factors are driving the tempeh market?
Tempeh market is driven by factors such as the increasing demand for meat substitutes and rising vegan/flexitarian population. Apart from these factors, the increasing demand for functional food is fueling the demand for tempeh.
Which trend will drive the tempeh market in the upcoming period?
Flexitarian diet implies hybrid of flexible vegetarianism and include people whose protein consumption is reliant on sustainable sources such as plant-derived food products and considerably reducing the intake of flesh/meat in their food. This inclination is aided by many food giants who mutually support the growth of the all-meat alternatives market, even tempeh.
TEMPEH MARKET TAXONOMY
The global tempeh market is segmented in detail to cover every aspect of the market and present complete market intelligence to readers.
Source
Soybean
Multigrain
Others
Nature
Flavour
Product Type
Frozen
Fresh
Ready-to-eat
Distribution Channel
Direct
Indirect

Hypermarkets/Supermarkets
Convenience Stores
Food & Drink Specialty Stores
Traditional Groceries
Online Retailers
Region
North America
Latin America
Europe
APAC
MEA
Need specific information?