REPORT SCOPE
Base year considered - 2020
Actual estimates/Historical data - 2015 – 2019
Forecast period - 2020 – 2030
Forecast units - Value (USD) Mn
Segments covered - Product Type, Form, Nature, Application, Region
Regions covered - North America, Latin America, Europe, East Asia, South Asia, Oceania and Middle East & Africa
Key Players - Glanbia Plc, Archer-Daniels Midland Co., Cargill Incorporation, Burcon Nutrascience Corporat, E.I. du Pont de Nemours & Co, Cosucra Groupe Warcoing, Ingredion Inc., and CHS Inc. Roquette Freres, AGT Food & Ingredients, Inc., and Now Food.
Report coverage - Revenue forecast, company share, competitive landscape, growth factors, and trends
KEY RESEARCH FINDINGS
Increasing productivity of food and beverage sector will provide an array of opportunities to the plant-based protein market
Based on product type, soy protein segment is estimated to represent the largest share in the global plant-based protein market
On the basis of application, convenience food segment is expected to witness the fastest growth during the forecast period
The plant-based protein market in East Asia, especially in China, South Korea and Japan, is expected to witness a high growth during the forecast period
Consumers in Europe prefer high protein diet in comparison to other regions. A consumer's regular diet in this region comprises more than the recommended amount of protein prescribed for maintaining ideal health. This has led to increasing demand for plant-based proteins and protein rich products
Key Factors Shaping Growth
Rapidly Evolving Lifestyle and Diet Choices will Enable Growth
Rapidly evolving lifestyles and growing demand for convenience food items are likely to boost the growth rate of the plant-based protein market. In addition, consumer preference for natural and organic products is rising, which is expected to fuel demand in the market in the coming years. As a result of this, consumption in both developing and developed countries is expected to rise. Trend of consuming natural energy foods is expected to continue steadily, as preference for healthier and premium alternatives such as seeded bread, breakfast cereals, smoothies, bakery and other products with natural ingredients is rising.
STRUCTURE ANALYSIS
Some of the major players of the global plant-based protein market are Glanbia Plc, Roquette Freres, Archer-Daniels Midland Co., Cargill Incorporation, Burcon Nutrascience Corporat, E.I. du Pont de Nemours & Co, Cosucra Groupe Warcoing, and others. Plant-based protein widely used in different nutritional product due to its multiple benefits, and other functional properties.
Demand for plant-based protein products is expected to increase, that provides the better opportunity to the manufacturers to gain the potential growth in plant-based protein market. In addition, increasing bakery and confectionary consumption in around the worldwide is further providing the potential growth to the market participants of plant-based protein Market.
Manufactures are unlikely to invest in production during this growing pandemic around the worldwide. Additionally, disturbance in trade making worrying to leading players in the market. Hence, manufacturers are also taking measurers to maintain the supply chain and fight with this coronavirus outbreak. They pursue aggressive strategies to preserve their foothold in the marketplace. Their expansion strategies may help rekindle the market and regain pace.
Top Players Are Expected to Focus On Acquisitions and Mergers
Companies operating in the plant-based protein market are likely to focus on acquisitions of popular local and regional brands to expand their offerings in the plant-based nutrition category. In addition to this, they will aim at enhancing capacity of production of plant-based ingredients to maintain their position in the market.
They are likely to engage in research and development activities to strengthening their commercial capabilities and operating efficiencies. Through these strategies they aim at capitalizing on each other's potential and emerge as a reckoning force in the market in the coming days.
For instance, In 2016, Cargill opened two major R&D facilities in November and December—one in North America and one in China—focused on continuous improvement and investing in the food segment to meet shifting consumer expectations. Where, In April 2017, Cargill Inc. announced its plans to sell its last two cattle feeding operations to Nebraska-based ethanol fuel producer, Green Plains Inc. for $36.7 million to invest in plant-based protein.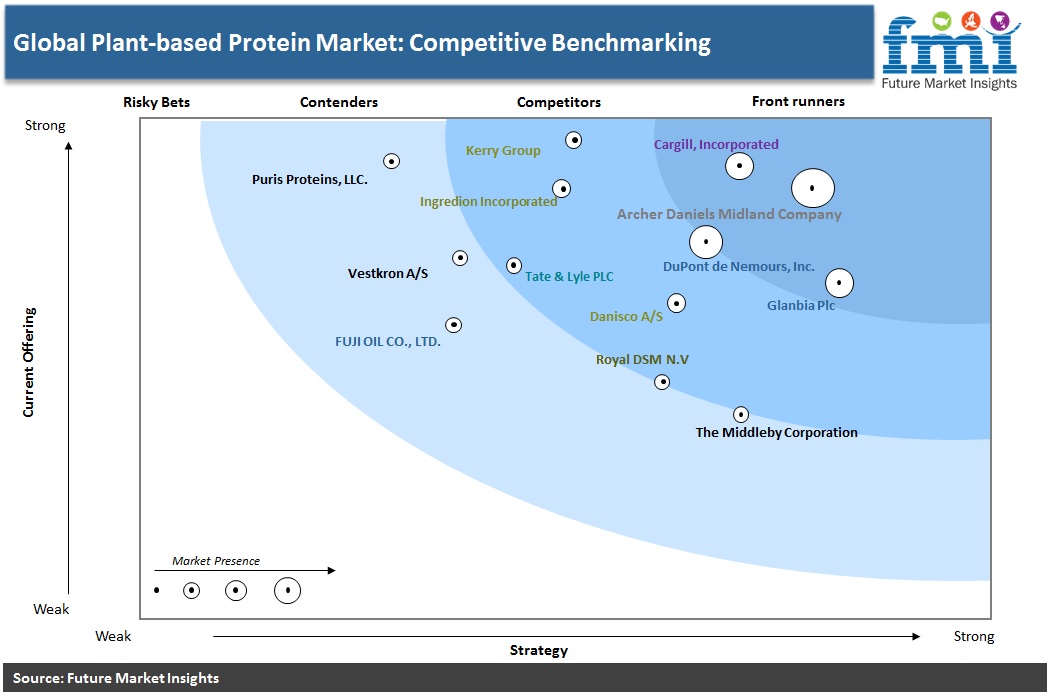 Regional Breakdown of Plant-Based Protein Market over the Forecast Period
North America constitutes the largest share in the plant-based protein market. The demand for plant –based protein is driven by increasing aging population in North America. Currently, there are more people in the U.S. over the age of 60 than under the age of 10. As this trend is forecast to continue, maintaining a balanced, well-rounded diet has become more important issue. For instance the demand for soy protein is high since it is one of the best sources of protein and contains lower amounts of cholesterol and saturated fat.
Rapid digitalization has led to high e-Commerce penetration in countries in East Asia, with China leading the regional market for plant-based protein. Plant proteins have long shelf-life and can be easily packed as required, which is anticipated to appeal to high consumer base. These factors are expected to drive growth of the market over the forecast period.
According to FAOSTAT, overall production of peas has declined in Asia, while that is developing regions witnessed 6% to 8% increase in dry pea production during the same period. This is mainly attributed to increasing healthcare awareness coupled with higher profit margin than that of other legume production profits. As such, countries in Asia such as China and India are witnessing increasing production of dry peas and high growth in plat-based protein market.
Increasing Penetration of Organic Food in Global Food and Beverage Market will Boost Growth Prospects
Organic food has been witnessing significant growth in demand over the past few years around the world. This is more prominent in markets in developed countries. Plant protein enriched products are largely marketed as organic, claim high nutrient value and are labelled as non-GMO. In addition, shifting preference of millennial towards high nutritional food options owing to increasing awareness regarding health benefits.
This is more prominent in countries in North America and Europe, and the trend is expected to spread around the globe over forecast period owing to increasing penetration of the Internet, rising adoption or smartphones and owing to information and advertising campaigns and promotions on various social media platforms.
According to FiBL & IFOAM – Organics International (2017), the global organic food market was estimated around US$ 80Bn, U.S (47%) being the largest of the all, followed by Germany (11%) and France (7%).
How Growth will Unfold
Large-scale application of plant-based protein in nutritional products, bakery, snacks & cereals, dairy, confectionary & desserts, convenience food, beverages, animal feed and many others will boost the market as a result of growing awareness of their nutritional benefits. Urbanization in developing region has led to rise in economical standards and changing consumer preference in favour of healthy food products.
Consumers are opting healthy food options such as chia seeds, protein shakes, and dietary supplements in order to fulfil their nutrient requirement, which would enable growth in the market in the coming years.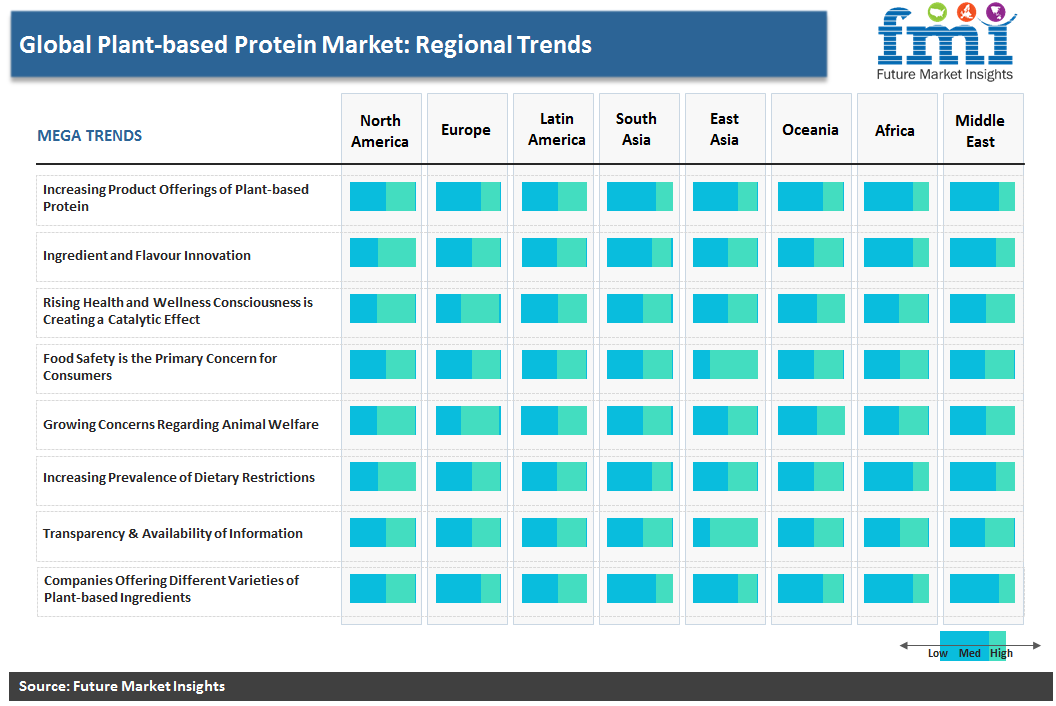 PLANT-BASED PROTEIN MARKET TAXONOMY
The global Plant-based protein Market is segmented in detail to cover every aspect of the market and present complete market intelligence to readers.
Product Type
Soy Protein
Wheat Protein
Pea Protein
Others
Form
Isolates
Concentrates
Hydrolysates
Nature
Application
Nutritional Products

Sports Nutrition
Medical Nutrition
Infant Nutrition

Bakery
Snacks & Cereals
Dairy
Confectionary and Dessert
Convenience Food
Beverages
Animal Feed
Others
Region
North America
Latin America
Europe
East Asia
South Asia
Oceania
MEA
Need specific information?