Protein Ingredients Market Outlook
The protein ingredients market is anticipated to register an above-average CAGR during the forecast period. The growth of the protein ingredients market can be attributed to numerous drivers--technological advancements, growth in demand for personal care products, and rise in consumption of animal-based products.
Among the other growth influencers, use of plant- and dairy-based protein ingredients are used for manufacturing insect sprays, fertilizers, paper coatings, printing inks, and paper, which is likely to improve the sales prospects for the protein ingredients during the forecast period.
Besides this, a significant share of revenue to the protein ingredients market is coming from the food and beverages industry. Protein manufacturers are developing several isolates and concentrate, which has been increasing the use of protein ingredients in dairy products, dietary supplements, bakery products, confectionery, infant formula, and more.
Amidst the uptick in the growth rate, the protein ingredients market could witness sluggishness, owing to the cultural restrictions on gelatin. Numerous cultures across the world do not allow the consumption of animal by-products. For instance, in the Middle East and Jewish culture, pork, as well as pork-derived products, are forbidden.
Similarly, in India, beef products are forbidden for consumption. As a result, a consumer aversion towards the use of gelatin could hamper the growth of the protein ingredients market during the forecast period.
The COVID-19 crisis has both--good as well as bad--influence on the protein ingredients market. The positive side of COVID-19 for the protein ingredients market is coming from the proclivity of consumers towards healthy products. Individuals are highly focused on boosting immunity and reducing weight, which is likely to increase the demand for protein ingredients and Vitamin C.
The dark side of the COVID-19 for the market is that there are demand-based fluctuations in prices of these ingredients. Add to that the distorted supply chain and the price of protein ingredients might increase.
High Usage of Protein Ingredients in Sports and Bodybuilding Products
Protein Ingredients are considered important for muscle growth, as proteins help in building muscle mass and repair damaged muscle tissue. Due to this reason, the consumption of protein powder is increasing among fitness enthusiasts, athletes, and regular gym-goers.
Plant protein ingredients are also finding increased applications in sports nutritional products as they are perceived to be natural and chemical-free. Soy protein ingredients are considered important as these have entire set of amino acids similar to dairy proteins. This high usage of protein ingredient in sports and health supplements is fueling the growth of protein ingredients market at global level.
Market in Asia Pacific to Witness a Boost by Fortified Food Sales
Rapid growth in the demand for fortified food products will reportedly stimulate high growth of the protein ingredients market in Asia Pacific. Asia Pacific is considered to be a highly lucrative region for key players of functional foods and beverages. This growth is also attributed to strong presence of the world's leading food manufacturers, exporters, and importers. Opportunities galore as the region is also home to some of the world's most populated countries.
Satisfying the growing and evolving needs of such a large consumer base will entail new solutions. It is estimated that by 2050, the global population will reach approximately 10 Bn, and a large percentage of this population will be based in Asia Pacific.
Due to the changing lifestyles including diet and wellbeing in Asia Pacific, Large number of manufacturers are looking to enter their position in the protein ingredient market as consumers in Asia Pacific look forward to changing their lifestyle and wellbeing
North America Leading, Demand Abound in F&B
The food & beverages industry in U.S and Canada will continue steady growth graph due to the stability in the expenditure of the consumers in the U.S. and changes in the Food Safety Modernization Act may mean that America's food safety laws will concentrate more on prevention of food contamination, rather than responding to claims of food adulteration. The consumers in the North America are more attentive towards ingredients in the food products because the rising awareness on the role of food in health and well- being.
As the preference for nutritious food products is increasing, the North American companies of food and beverages has created a new product portfolio. Food and beverage manufacturers are interested in acquiring smaller companies that have a strong reputation in specialty foods because companies don't want to spend their resources and capital on developing these new products in-house.
The trend towards acquisition of smaller companies at lower cost is likely to continue in the forecast period. The food and beverage companies in North America are adapting to new ways of delivery. Amazon's acquisition of Whole Foods is likely to set off a chain of mergers and collaborations. In the prevailing competitive scenario, the consumers are set to gain, as companies will fight it out to deliver their products within a quick timeframe.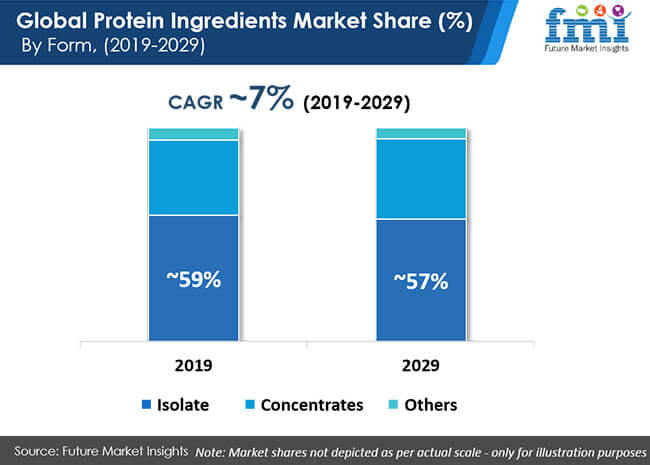 Capitalizing on Increasing Demand for Novel Flavors
Consumers want variety in flavors and look for traditional as well as novel flavors. This opens the door for operators to differentiate their concepts through new and innovative flavors. New taste pairings and unusual offerings are creating new opportunities for market players.
Key market players are investing in research and development to launch unique flavors in protein powders such as chocolate, vanilla, strawberry, peanut butter, caramel, coffee etc. which attracts the customers
Growing Prominence of Consumer-Friendly Labelling
Consumers are increasingly seeking a story along with their food, demanding insights into a company's environmental sustainability and business practices before they buy a product. To interest these consumers, several manufacturers are displaying information about their company's history and how their products are made, via websites and product labels.
Color codes are a vital component of a simplified nutrition label but it is essential that the colors are appropriately assigned. To allow consumers to gain an accurate picture of a given food or drink's nutritional quality, color-coding needs to be established on a uniform basis.
Protein Ingredients Market Structure Analysis
The global protein ingredients market is fragmented with a lot of local and regional players dominating the market.
Expansion of businesses through acquisitions, alliances, mergers, and collaborations, are strategies followed by key market players in the protein ingredients market.
Key market players are focusing on strategies such as adoption of new technologies to develop innovative products, and improving supply chain management and effective raw material sourcing strategy.
Key players in the protein ingredients market are Cargill Plc., Glanbia Plc., Archer Daniels Midland Co., Solae LLC, Kerry Group Plc. etc.
Protein Ingredients Market Report Scope
Attribute

Details

Forecast Period

2014-2018

Historical Data Available for

2019-2029

Market Analysis

US$ Mn for Value and MT for Volume

Key Regions Covered

North America, Latin America, Europe, Asia Pacific, and Middle East & Africa (MEA)

Key Countries Covered

U.S, Canada, Mexico, Brazil, Rest of Latin America, Argentina, Germany, United Kingdom, France, Italy, Spain, Benelux, Russia, Poland, Nordic Region, Rest of Europe, China, India, Australia, Japan, Rest of APAC, ASEAN, Rest of APAC, New Zealand, GCC, North Africa, South Africa, and Rest of MEA

Key Segments Covered

Product Type, Product Form, Application, Region

Key Companies Profiled

Solae LLC
Archer Daniels Midland Company
Cargill Inc.
Glanbia plc
FrieslandCampina DMV B.V.
Kerry Group plc
Arla Food Ingredients
ROQUETTE FRERES S.A
Davisco Foods International, Inc.
Sterling Biotech Ltd.

Report Coverage

Market Overview, Key Market Trends, Key Success Factors, Demand Analysis, Market Background, COVID-19 Analysis, Segmental Analysis, Regional Profiling, Market Structure & Competition Analysis

Customization & Pricing
Protein Ingredients Market: Segmentation
The global protein ingredients market is segmented in detail to cover every aspect of the market and present complete market intelligence to the reader.
Product Type
Animal Protein

Whey Protein
Casein and Caseinates
Milk Protein
Egg Protein
Gelatin

Plant Protein

Soy Protein
Wheat Protein
Pea Protein
Others
Application
Supplements and Nutritional Powder
Beverages
Protein and Nutritional Bars
Bakery and confectionery
Breakfast Cereals
Meat and Meat Products
Dairy Products
Infant Nutrition
Animal Feed
Others
Form
Isolates
Concentrates
Others
Region
North America
Latin America
Europe
Asia Pacific
Middle East & Africa.
Need specific information?
Talk Show:
The Rise of Intelligent Packaging
Personalized, Connected and Sustainable
November 18, 2021
11:00-11:45 AM PST (USA & Canada)
This is a LIVE session