The importance of Proteinase K
Proteinase K is a broad spectrum and highly specific serine protease produced by the fungus Tritirachium album Limber. Proteinase K is useful in general digestion of protein in biological samples by cleaving peptide bonds adjacent to the carboxylic group of aliphatic and aromatic amino acids. Proteinase K helps remove the unwanted enzymes that are harmful to activity of DNA & RNA and produce high molecular genomic products.
The stability of Proteinase K in SDS and urea and the ability to digest native proteins make it useful for a variety of applications, such as protein fingerprinting, removal of nucleases for protein purification, preparation of chromosomal DNA for pulsed-field gel electrophoresis.
Proteinase K considered in the report include lyophilized powder form and liquid form. The lyophilized powder is easy to store and the integrity of product remains the same for a long time. The required stock solution is made by adding distilled water at the time of reaction and it saves the wastage of product.
Global Proteinase K Market: Forecast
In terms of revenue, the global Proteinase K market is projected to register a CAGR of 6.1% during the forecast period and is expected to be valued at US$ 33.4 Mn by the end of 2026. Biotechnology companies dominated the end-user segment in the global Proteinase K market in 2015 and this segment expected to gain traction due to increasing research and developments, investments and adoption of gene therapies in developing regions. The global Proteinase K market is expected to represent US$ 15.8 Mn in terms of incremental opportunity between 2016 and 2026.
The spike of chronic diseases and alternate DNA purification methods likely to impact market behaviour
Growth of the global Proteinase K market is primarily driven by increasing prevalence of chronic diseases, increasing investment by government in research, rising global demand for gene therapy and increasing consumer awareness. In addition, good product stability and specificity and low production cost and wide application are expected to fuel market growth over the forecast period.
However, good availability of other proteases and introduction of new sophisticated technologies that are available for DNA purification might hinder market growth over the forecast period.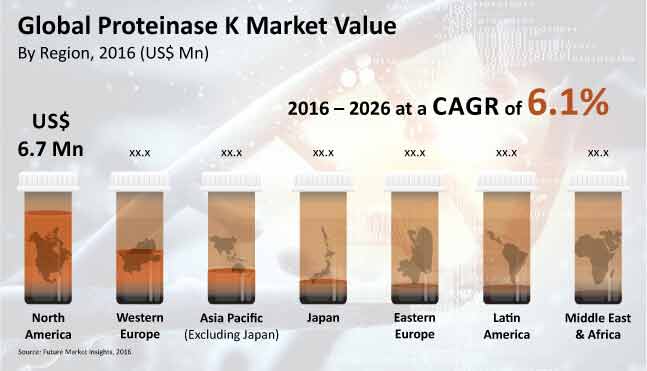 Global Proteinase K Market: Regional Forecast
North America is anticipated to dominate the Proteinase K market during the period of forecast. The Proteinase K market in North America is estimated to be valued at US$ 7.2 Mn by the end of 2017 and this is expected to increase to US$ 13.0 Mn by the end of the forecast period in 2026, witnessing a CAGR of 6.8% in terms of value. After North America, Western Europe and APEJ are expected to be the fastest growing markets in terms of revenue growth in the global Proteinase K market.
The Western Europe Proteinase K market will register a CAGR of 5.7% and reach a market valuation of US$ 6.8 Mn by the end of 2026 while the APEJ regional market will reach a valuation of US$ 4.6 Mn by 2026 end, registering a CAGR of 6.1% during the forecast period.
Market Segmentation
Form
Lyophilized Powder Form
Liquid Form
Application
Isolation and purification of genomic DNA & RNA
In Situ Hybridization
Mitochondria isolation
Enzyme Removal
End User
Contract Research
Organization
Academic Institutes
Biotechnology
Companies
Diagnostic Laboratories
Region
North America
Latin America
Western Europe
Eastern Europe
APEJ
Japan
MEA
Need specific information?
Talk Show:
The Rise of Intelligent Packaging
Personalized, Connected and Sustainable
November 18, 2021
11:00-11:45 AM PST (USA & Canada)
This is a LIVE session