Protein Expression Technology Market
The demand for protein expression technology has shot up since the outbreak of the Covid-19 pandemic in the first half of 2020. This demand has been led mainly by the pharmaceutical industry, the biotechnology industry and in medical research-based academic institutions. With the development of vaccines and test kits gaining in importance, the market is estimated to witness further growth. Furthermore, it is now being widely acknowledged that this growth will sustain beyond the pandemic years since preventive healthcare and diagnostics will increase in importance in public life as well as in governmental policies.
In the initial stages of the pandemic, manufacturers of protein expression technology faced several issues due to the rapid and unforeseen rise in demand. This shook up the market in a big way. However, most major players have since substantially upgraded and expanded their manufacturing capacities to ensure deliverability to products. Similarly, considering the vital role supply chain logistics plays in effective delivery of protein expression products, logistical providers too have increased and upgraded their capabilities. Concurrently, these have also led to fears that the industry may face a high degree of redundancy and diminishing returns in the future. However, all relevant indicators suggest that these fears may be unfounded.
Given the strong growth indicators, the market is estimated to show a strong growth rate in the coming decade. Furthermore, this growth rate will no longer be restricted to developed countries in North America and Western Europe either. Considering the huge leaps and bounds in protein expression technology taken by countries like India, China and Russia that were earlier not considered biotechnological powerhouses, most regional segments are expected to surpass earlier market expectations. As a result, market fragmentation is also likely to increase.
Mammalian Expression Systems Leading with Over 40% Share
Among the various expression systems, the adoption of mammalian expression systems is expected to remain prominent over the next decade. Preferred for their high-yield protein quotient as well as immense utilization in antibody production, and protein structural analysis, mammalian expression systems continue to capture a relatively higher market share.
Accounting for nearly one-third share of total revenue, prokaryotic expression systems are also seeing healthy adoption, owing to low-cost culture and flexibility. Meanwhile, the adoption of other expression systems such as insect cell and yeast expression systems would increase at a steady pace.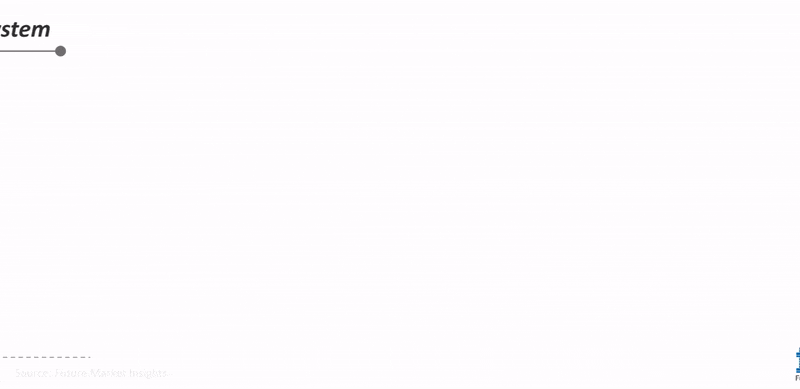 Market Consolidation Predominant in Developed Regions
At present, North America and Western Europe are leaders in the global protein expression technology market, with the market in the former representing the most worthwhile growth opportunities. Presence of well-established biotechnology infrastructure and conducive regulatory environment are the key factors triggering the adoption of protein expression technology in these developed regions.
On the back of rising usage of biotechnology and genetic engineering in the medical science and pharmaceutical industry, the market is also receiving strong impetus from Asia Pacific (APAC).
Greater Emphasis on Producing High Quality Reagents
Although the market is highly fragmented, consisting of market leaders and followers, there are a few firms that are solely focused on delivering reagents for research & diagnostic purposes. Moreover, most of the leading companies combine research products and reagents with in-vitro diagnostics tools and other equipment.
Keeping strong focus on providing reagents ensures high-quality products, customer retention, and a stable supply chain. As investments in the development molecular biology enzymes, kits, and reagents are likely to ascend in the near future, players involved in protein expression technology must tap this potential opportunity for stable returns.
How Growth will Unfold
Reagents including oligomers and antibodies remain the preferable choice in protein expression technology for a desired transformation of an organic substance. In terms of growth rate as well as revenue generation, reagents will maintain their primacy in protein expression technology throughout the period of projection.
By 2023, the supply of reagents is expected to surpass the US$ 1 Bn mark. Expression vectors and competent cells are also witnessing promising demand growth, holding a collective share of over 40%.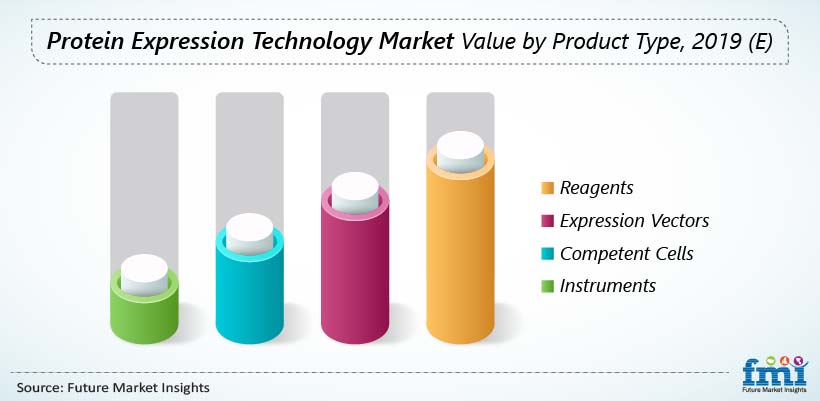 FREQUENTLY ASKED QUESTIONS ABOUT PROTEIN EXPRESSION TECHNOLOGY MARKET
What is the status of the global protein expression technology market?
The global protein expression technology market is poised for a healthy CAGR over the period of forecast (2019 - 2029). Towards the end of the year 2025, the market is most likely to surpass the US$ 3 Bn mark.
Who are the leading players in protein expression technology?
Some of the leading players operating in the market are:
Why are market players focusing more on North America and Western Europe?
Owing to increasing per capita healthcare expenditure, favorable reimbursement policies, and strong establishment of biotechnology infrastructure, market players are eyeing North America and Western Europe for increased sales and bigger margins.
What is driving sales of protein expression technology?
Rising adoption of biotechnology and genetic engineering in the medical science and pharmaceuticals industry is currently driving the growth of protein expression technology. High success rate of therapeutic products and recombinant DNA technology are projected to boost the popularity of protein expression technology in the near future.
Which application area is expected to be the most lucrative?
According to FMI, players in protein expression technology will continue to target protein therapeutics for lucrative returns during the forecast period of 2019-2029, followed by drug discovery, protein purification, and disease diagnostic & monitoring.
PROTEIN EXPRESSION TECHNOLOGY MARKET TAXONOMY
The global protein expression technology is segmented in detail to cover every aspect of the market and present a complete market intelligence approach to readers.
Expression System
Insect Cell Expression Systems
Prokaryotic Expression Systems
Mammalian Cells Expression Systems
Yeast Expression Systems
Other Expression Systems
Product Type
Expression Vectors
Reagents
Competent Cells
Instruments
Application
Drug Discovery
Protein Purification
Protein Therapeutics
Disease Diagnostics and Monitoring
End User
Biotechnological Companies
Pharmaceutical Companies
Contract Research Organizations
Academic Research Institutes
Region
North America
Latin America
Western Europe
Eastern Europe
Asia Pacific Excluding Japan (APEJ)
Japan
Middle East and Africa
Need specific information?