About the Report
Increasing rate of medical device manufacturing across the world has been fuelling the demand for advanced technologies. 3D bioprinting is used to design medical devices. Leading medical device and pharmaceutical manufacturing companies are focusing on improving their product portfolio across the world. The demand in this market is expected to surge in response to the lack of organ donors in adequate number. With research and development (R&D) investment within the medical devices sector poised to rise significantly, the market will gain from increasing growth opportunities in the coming years.
In its new study, ESOMAR-certified market research and consulting firm Future Market Insights (FMI) offers insights about key factors driving demand for 3D bioprinting. The report tracks the global sales of 3D bioprinting in 20+ high-growth markets, along with analyzing the impact COVID-19 has on the medical device industry in general, and 3D bioprinting in particular. COVID-19 pandemic will show a negative impact on the 3D bioprinting market. Due to short term shut down of production facilities of medical device industries for first few months in 2020
How Historical and Future Outlook of 3D Bioprinting Market Match Up?
Growing aging population across the world is expected to drive the demand for orthopedic implants, as the risk of peripheral vascular disease, diabetes-related gangrene cases, and osteoarthritis is higher among elderly individuals.
According to the World Health Organization (WHO), global ageing population is increasing rapidly. Between 2000 and 2050, the geriatric population is expected to account for 11% to 22% of the overall world population, growing from 605 million to 2 billion over the same period.
On an average, 82% of amputations are due to peripheral vascular diseases and diabetes. Over 65% of amputations, globally, are performed on people aged 50 years and older. Increasing ageing population is expected to boost the revenue growth of the 3D bioprinting market over the forecast period. According to FMI's analysis, 3D bioprinting sales have grown at 10.8% CAGR between 2015 and 2019.
In past few years, 3D bioprinting technology has been increasingly preferred by surgeons and patients to precisely perform and plan reconstructive surgery. Therefore, key producers of 3D bioprinting are now increasing their product portfolio with launch of 3D printers and devices as part of their extensive manufacturing strategy, which is expected to provide opportunities for the market growth in near future.
For instance, in February 2021, Advanced Solutions announced its newest patented cGMP and UL certified bioprinter, the BioAssemblyBot® 200. It uses a four-axis robotic arm to bioprint and automate the science workflow. Moreover, Major medical device manufacturer highly rely on 3D bioprinters to manufacture medical devices such as orthopedic implants. These developments present a positive outlook for growth. FMI expects global 3D bioprinting market to grow at 12.9%CAGR through 2030.
How is 3D Bioprinting a Potential Solution for Organ Transplant?
3D bioprinting method is an alternative to overcome existing organ ongoing organ donation shortage crisis worldwide, if 3D bioprinters were capable to print out any human organ. For instance, according to the U.S. Government Information on Organ Donation and Transplantation, more than 113,000 people are on the waiting list for national organ transplant as of July 2019. Unavailability of organs for transplant cause death of 20 patients per day.
Researchers are trying to develop cardiac tissue with tissue engineering in the patch form, which is implanted directly onto scar tissue. With the help of engineered cardiac tissue, researchers try to decrease the need for organ transplants, prevent subsequent events, and improve recovery. For instance, in June 2019, Imperial College London creates thumb-size patches of heart tissue which can mimic the tissue of mature heart within 30 days and it start beat continuously after three days. These patches successfully led to improvements in heart function following a heart attack after only four weeks.
3D bioprinting can be a significant solution to the organ transplant waiting crisis so that patients can receive organ for transplant in time.
Why is 3D Bioprinting Considered the New Frontier in Regenerative Healthcare?
3D bioprinting technology has been used in regenerative medicine with the help 3D printed devices such as surgical instruments and prosthetics. Currently researchers are testing out bio-ink as a way of printing cartilage, bones, and vital organs.
Ongoing research on regenerative medicine and advancements in tissue engineering are being aimed at regeneration of damaged tissues and organs with the help of 3D bioprinting. For instance, a scientists group from Tel Aviv University developed fully vascularized heart with the help 3D bioprinting by using fat tissue cells from a donor. Scientist from Swansea University UK has developed a 3D bioprinting process by using regenerative and durable biomaterial and generate an artificial bone matrix.
The Christchurch Regenerative Medicine and Tissue Engineering (CReATE) Group, a multidisciplinary research team in New Zealand, is focusing on developing innovative bio printing techniques and biomaterials using 3D bioprinting technology in order to repair damaged tissue following trauma or a disease.
The key component of the 3D bioprinting is bioink, which is important for the development of tissue structures and functional organs. Currently, inkjet bioprinting and direct ink writing are frequently preferred for 3D bioprinting of live cells.
What is the Role of 3D Bioprinting in Advanced Dermatology?
Burns and scars particularly on exposed parts of the body, can adversely affect appearance and in turn consciousness and self-confidence of an individual. Increasing number of dermal procedure and treatments across globe is driven due to growing consumer awareness about personal appearance and increasing personal disposable income.
According to the U.S.-based National Institute of Aging and American Academy of Plastic Surgeons, in the U.S a remarkable share of the population, mostly between the age group between 16-33, is adapting advanced dermatology, dental services, thus creating sufficient traction for product manufacturers. Growing awareness about self-care is among the major factors driving growth of the 3D bioprinting market in developed regions such as North America and Europe, as 3D bioprinting in healthcare assists in bio printing of skin tissues.
What Is the Impact of Intellectual Property, Ethical Considerations On 3D Bioprinting Market?
Ethical, religious, and moral questions are expected to be raised about human nature of manipulating own selection process by synthetically manufacturing human body organs with the help of 3D bioprinting.
As per experts, evolution of 3D bioprinting is associated with intellectual property theft and is expected to create major challenges in the future resulting in loss of approximately US$ 100,000 Mn per year in IP, globally. For distribution of 3D printed version of a patented product, one needs to negotiate a license with patent owner or else the distribution process would considered to be violating the patent laws.
Currently, many researchers are not only trying to print non-human cells through 3D bioprinting but are also trying to merge human cells with non-human cells, which is expected to raise ethical issues over the coming years.
What's the Impact of 3D Bioprinting on Surgical Practice?
Medical models have revolutionized surgeries and are assisting surgeons across the globe to reduce time and complexity involved in completion of a surgical procedure. Although applications of 3D-printing in the operating room is restricted to certain procedures as of now, surgeons can design their procedure in advance to reduced time and error of surgery. Surgical procedures are becoming faster, cheaper, and less dangerous resulting in cost and time saving, which means more number of surgical procedures can be performed annually.
Surgeons can study CT scan data of a patient's blood vessels, complex surgery, bone or other organs by converting it into a digital file with the help of 3D-printing, which can be studied and manipulated. Through printed custom tools and guides, 3D bioprinting is useful for surgeries involving drilling and cutting such as joint replacement surgeries. Over the next decade, it is most likely that custom surgical guides and medical models manufactured by 3D-printing will be a standard procedure for diverse surgical procedures such as cranial implants, joint replacement, cardiac surgeries, and spinal surgeries.
What are the limitation of 3D Bioprinting?
Only certain materials such as resins, plastics, and few of metals are used for 3D bioprinting. Consumption of other materials for 3D bioprinting increases the operational cost and is time consuming. Also, the size of the printer limits the size of the product and thus, it is quiet challenging job to manufacture parts of large industrial machines.
Apart from this, there are few more limitations such as difficulty in achieving tight manufacturing tolerances and as compared to conventional subtractive manufacturing processes, the speed of production is relatively slow. Biocompatibility of materials used for manufacturing 3D Bioprinting is also a major concern when creating implantable devices or tissues to avoid allergic reactions. Also, high costs and low availability of 3D printers in various regions is a concern for the revenue growth of the 3D bioprinting market.
Country-wise Insights
How Government Initiatives is Impacting China 3D bioprinting Market?
In order to accelerate innovation in 3D bioprinting technology, government and non-profit organizations are collaborating resources and coordinating standards in order to drive rapid growth of the industry.
Chinese government is providing funding for the establishment of manufacturing facility for production of biomaterials and studying 3D printed organs and tissues. In 2015, Materialise NV. opened its first pediatric 3D medical research facility at the Children's Medical Center, Shanghai, China, with the focus on pediatric 3D modelling and medical imaging and 3D fabrication.
Also, in July 2016, Hkable Biological 3D and the local government of Fengdu county, collaborated to build first 3D bioprinting factory for medical products. The Chinese government has invested US$ 7.5 million on this new facility and started commence operations in early 2017
What is the impact of FDA Approvals on the U.S 3D Bioprinting Market?
Manufacturing method of 3D bioprinting is different than that of conventional medical devices, thus they might require different and additional forms of testing. However, currently the Food & Drug Administration (FDA) treats 3D Bioprinting same as medical devices made conventionally.
To receive FDA approval, the new device must undergo process of attaining premarket approval or its manufacturers must ascertain that new device corresponds to one already being marketed for the identical use. Key players in the market are getting approvals for 3D bioprinting which further help to increase revenue of the 3D bioprinting market
Geriatric Population Influencing 3D bioprinting Market in Japan
Growing aging population across the world is expected to drive the demand for orthopedic implants, as the risk of osteoarthritis, diabetes-related gangrene cases, and peripheral vascular disease is higher among elderly individuals. Increasing ageing population is expected to boost the revenue growth of the 3D bioprinting market over the forecast period.
According to United Nations Population Division, World Population Prospects 2019 data, Japan has 28.2% geriatric population. Moreover significant research on 3D bioprinting also fuel the growth of the market. For instance, in 2019 Ricoh, a leading Japanese company release human cell-infused chips by spring. Ricoh operates its proprietary 3D bioprinter in Tokyo
How Are 3D Bioprinting Startups Enabling Growth In Germany?
3D bioprinting market growth in Germany is expected to happen at an accelerated pace. As per the FMI analysis, presence of new startup Companies in Germany is more. Companies such as Mecuris, Fluicell, BigRep. Moreover, key players such as Electro Optical Systems, EnvisionTEC, GeSiM, 3D Systems, Inc present in Germany which creates significant revenue which create surge in 3D Bioprinting production in Germany.
Category-wise Insights
Which is More Preferred 3D Bioprinting Technology?
The fused deposition modeling (FDM) technology is forecast by FMI to remain dominant through the forecast period. However, the inkjet-based segment is expected to exhibit growth at a much higher pace. The technology helps in printing of complex living organs and tissues. The segment is forecast to rise at above 14% CAGR through the forecast period.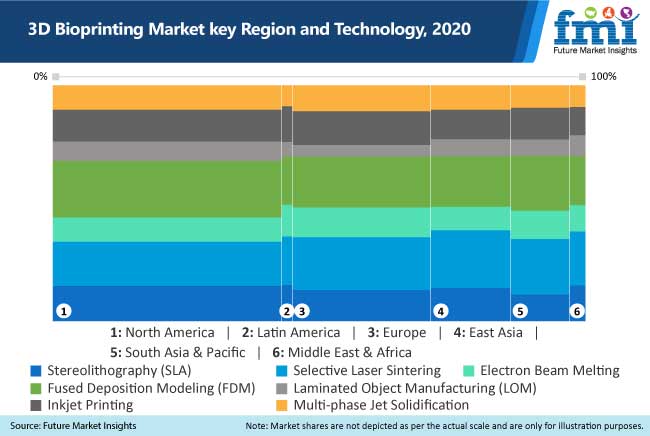 Which is the Key Application for 3D Bioprinting?
3D bioprinting application is expected to be the highest in case of manufacturing orthopedic implants. According to the World Health Organization (WHO), nearly 1.71 billion have musculoskeletal conditions around the world. With the prevalence showing no signs of slowing down, focus on 3D bioprinting for orthopedic implants is expected to surge in the coming years.
Who is the Leading 3D Bioprinting End User?
Medical device manufacturers exhibit significantly high demand for 3D bioprinting. Rising demand for implants for administering effecting treatment is one of the key factors aiding the expansion of the segment. FMI has forecast it to account for over 45% of the overall market through the forecast period.
Competitive Landscape
The global market is dominated by top manufacturers- 3D Systems, Inc, GE Healthcare, Electro Optical Systems, Stratasys Ltd, Renishaw plc. Major Manufacturers are focusing on development of intermediates by offering wide range of 3D bioprinting. Moreover, Major players in 3D bioprinting market focus on enhancing their global and regional presence through acquisition and expansion. For instance, On February 2019, In January 2021, 3D Systems announced its regenerative and bioprinting solutions expansion by actively investing in the regenerative areas, in collaboration with United Therapeutics Corporation. In February 2021, TCL Hoffmann signed an exclusive distribution agreement with ExOne as a channel partner, to sell the ExOnes's industrial solutions and technology to Australia and New Zealand. This agreement expects to strengthen the ExOne's network sales outreach in the key Asian markets
Some of the leading companies operating in the market are:
3D Systems, Inc
GE Healthcare
ExOne (S. Kent Rockwell]
Electro Optical Systems
Renishaw plc.
Stratasys Ltd.
EnvisionTEC
Cyfuse Biomedical K.K.
Formlabs, Inc.
Organovo Holdings Inc,
Allevi Inc.
Advanced Solutions Life Sciences, LLC
Aspect Biosystems
CELLINK
GeSiM
Bio3D Technologies Pte. Ltd.
Regenovo Biotechnology Co. Ltd.
Optomec Inc.
*The list is not exhaustive, and only for representational purposes. Full competitive intelligence analysis available in the report.
Scope of the Report
Attribute

Details

Forecast Period

2020-2030

Historical Data Available for

2016-2020

Market Analysis

USD Million for value and Units for Volume

Key Regions Covered

North America, Latin America, Europe, East Asia, South Asia, Oceania Middle East & Africa

Key Countries Covered

US, Canada, Germany, U.K., France, Italy, Spain, BENELUX, Russia, China, Japan, South Korea, India, Thailand, Malaysia, Indonesia, Australia, New Zealand, GCC Countries, Turkey, Northern Africa, South Africa

Key Segments Covered

Technology, Application, End User and Region

Key Companies Profiled

3D Systems, Inc
GE Healthcare
ExOne (S. Kent Rockwell]
Electro Optical Systems
Renishaw plc.
Stratasys Ltd.
EnvisionTEC
Cyfuse Biomedical K.K.
Formlabs, Inc.
Organovo Holdings Inc,
Allevi Inc.
Advanced Solutions Life Sciences, LLC
Aspect Biosystems
CELLINK
GeSiM
Bio3D Technologies Pte. Ltd.
Regenovo Biotechnology Co. Ltd.
Optomec Inc.

Report Coverage

Market Forecast, company share analysis, competition intelligence, DROT analysis, Market Dynamics and Challenges, Strategic Growth Initiatives

Customization & Pricing
Key Questions Answered in the Report
Which is the most lucrative market for 3D bioprinting?

The U.S currently leads the global market for 3D bioprinting. Sales in U.S will be over 36% of total demand throughout the forecast period.

Which is the top-selling technology 3D bioprinting?

Fused Deposition Modeling (FDM) are highly sought-after in every market. The demand for Fused Deposition Modeling (FDM) technology is expected to remain high in the near future, especially due to growing usage in medical device 3D bioprinting.

What are the challenges in 3D bioprinting Market?

There are ethical problems involved in 3D bioprinting as in many other aspects of Bioengineering. These could pose challenges to the market.

Which are some of the leading companies offering 3D bioprinting?

Some of the leading companies offering 3D bioprinting are GE Healthcare, 3D Systems, Inc, Electro Optical Systems, Stratasys Ltd, Renishaw plc, among others.

Which Application hold significant share in 3D bioprinting Market?

The World Health Organization has identified prevalence of orthopedic conditions ranges from 7.2% to 36.2% globally. The rising incidence of orthopedic around the world is fuelling the demand for 3D bioprinting for producing orthopaedic implants.
Enquiry before Buying
Is this research conducted by Future Market Insights?
Yes, the research has been conducted by expert analysts of Future Market Insights through a combination of primary research and secondary research. To know more about how the research was conducted, you can speak to research analyst
What research methodology is followed by FMI?
FMI follows a methodology that encompasses demand side assessment of the market, and triangulates the same through supply side analysis. This methodology is based on use of standard market structure, methods and definitions. Request detailed methodology
Who are the respondents for primary research?
FMI speaks to stakeholders across the spectrum, including C-level executives, distributors, product manufacturers, industry experts. For a full list of primary respondents, please reach out to us.
What are the sources of secondary research?
FMI conducts extensive secondary research through proprietary databases, paid databases, and information available in the public domain. We refer to industry associations, company press releases, annual reports, investor presentations, and research papers. More information about desk research is available upon request.
Is a sample of this report available for evaluation?
Yes, you can request a sample and it will be sent to you through an email.
How can I buy this report?
FMI provides a secure online payment system to buy report seamlessly. You can buy the report securely and safely.
3D bioprinting Market by Category
Technology
Stereolithography (SLA)
Selective Laser Sintering
Electron Beam Melting
Fused Deposition Modeling (FDM)
Laminated Object Manufacturing (LOM
Inkjet Printing
Multi-phase Jet Solidification
Application
Surgical Simulation and Training Models
Prosthetic Devices
Tissue Engineering and Regenerative Medicine
Orthopedic Implants
Dental Implants
Medical Sensors
Others
End User
Medical Device Manufacturers
Pharmaceutical Companies
Research & Academic Institutions
Contract Research Organizations
Region
North America
Latin America
Europe
East Asia
South Asia
Middle East and Africa (MEA)
Oceania
Need specific information?