3D Printed Wearable Market - Key Research Findings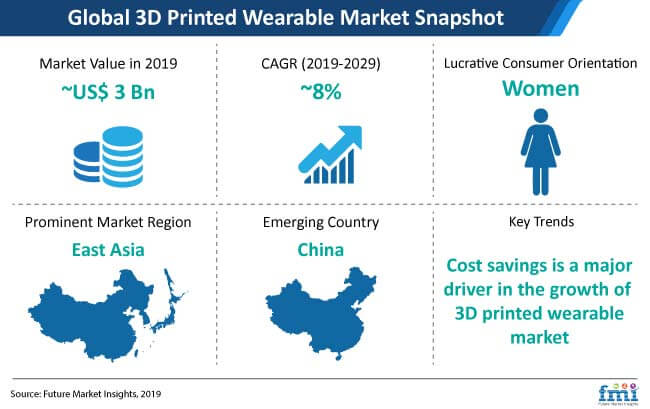 The global 3D printed wearable market size in 2018 was ~US$ 3 Bn.
The 3D printed wearable market is expected to grow at a CAGR of ~8% during the forecast period of 2019-2029.
Expanding creativity in fashion designs has been recently driving the sales of 3D printed wearables.
Collectively, Europe and North America are likely to account for half of the revenue shares in the 3D printed wearable industry by the end of 2029.

North America, owing to the strong presence 3D printed manufacturers, is expected to continue to be a prominent regional market for 3D printed wearables.

The women segment is expected to remain a prominent consumer orientation area to invest in for 3D printed wearable market players.

The fashion industry has witnessed significant growth over the recent past, and the revival of apparel and accessories has been particularly noteworthy.
Noteworthy application potential of 3D printed wearables has been identified in the unisex category.
Key Factors Shaping the 3D Printed Wearable Market
3D Printing – a Zero-Waste Technology
The process of 3D printing technology involves the manufacturing of products layer-by-layer. The required product is designed with the help of CAD software with complete detailing. The design is precisely followed by the printer to produce the product without any extra material. Moreover, the finishing of products, if required, is done by sand polish or paint. Thus, there is hardly any waste produced in 3D printing technology, thus enhancing optimum resource utilisation.
An Edge over Other Manufacturing Processes
While the functional attributes of 3D printed wearables continue to position them above the other manufacturing practices that are available in the market, the former is likely continue to gain preference from end-use industries over the latter.
The low-cost production and less time consumption to manufacture products are among factors anticipated to uphold the applicability of 3D printed wearables in various end-use industries, which include fashion, apparel, and the sports industry, thereby supplementing the revenues of the 3D printed wearable market.
Increasing Frequency of Innovative Launches
Increasing emphasis of manufacturers on introducing innovative 3D printed wearable products is projected significantly boost the growth of the market. High demand for the rapid production of products with cost savings has been directing the focus of manufacturers on the R&D of designing with excellent technical characteristics. Since newly developed 3D printed wearables are expected to overcome the shortcomings of the conventional products, the sales of 3D printed wearables is expected to increase in the near future.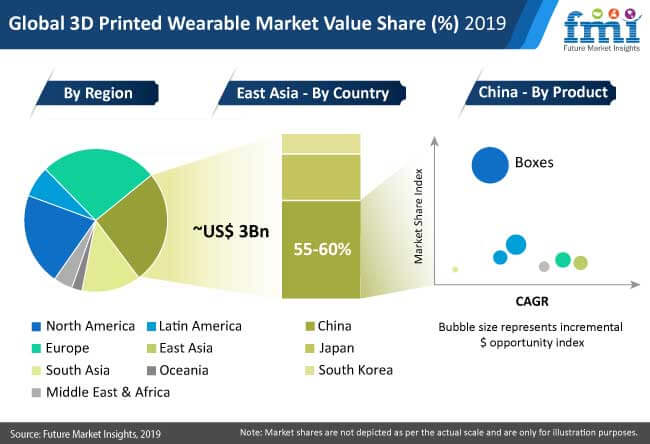 3D Printed Wearable Market Structure Analysis
The global 3D printed wearable market represents a fairly consolidated competition landscape, where a majority of key players maintain their strategic focus on the development of solid distribution partnerships and joint ventures, thus targeting a firmer global footprint.
The 3D printed wearable market has been relatively moderate in size, which remains a key factor for its dynamic competitive nature.
Leading manufacturers of 3D printed wearables are currently prioritising R&D and new product launches to resonate with the booming consumption of eco-friendly products in North America and Europe.
Portfolio extension has been identified as one of the key developmental strategies adopted by the manufacturers of 3D printed wearables.
For a stronger foothold in target markets, manufacturers of 3D printed wearables will continue to rely on inorganic strategies such as mergers and acquisitions.
Deeper understanding of the market trends and preferential shifts of end-use segments across various regions are likely to create a bottleneck for prominent players who are looking forward to capitalise on the untapped opportunities in the 3D printed wearable market.
A New Horizon for the Fashion Industry - 3D Printed Wearables
Rapid advances in 3D printing technology have been significantly disrupting the fashion industry. The recent accessibility of 3D printers to artists and designers, has led to an increase in the adoption of this technology. This has opened up new avenues for the fashion industry, while providing manufacturers and consumers with a tech-based alternative. With adoption of 3D printing, coming from both high-end and low-end fashion, the right design solutions are the focus of research in the wearable industry.
Developments in material science are set to fuel an assimilation of electronics in wearables as well. With an increase in the number of designers and manufacturers choosing 3D printing for its physical customization potential, the 3D printed wearable electronics have already entered the market.
The penetration of 3D printing technology in the wearable industry has been expedited by designers seeking solutions to textile finishing in fashion. 3D printing technology is facilitating production of wearables without the limitations of traditional methods, changing the way consumers interact with the world around them, thereby creating a new narrative of the industry.
Personalization - A Key Trend
The uptake of 3D printing technology by companies is gradually becoming a pervasive trend. One of the drivers of 3D printed technology is the preference for customers to use uniquely designed products for the individual size and requirements. The onus of the wearables manufacturers for creating innovative and brilliant designs and pushing the limits of personalization has further been creating lucrative avenues for the 3D printing technology providers worldwide.
While simultaneously driving and keeping up with the personalization trend, aesthetic customization has been a significant force in driving shoe manufacturers to adopt 3D printing technology. The ability of the 3D printing technology to create with new designs, quick prototyping and novel methods of manufacturing, has been attracting the interest of stakeholders in the 3D printed wearables landscape to invest in this viable and profitable solution.
The trend of personalization has led several 3D printed wearables manufacturers to make R&D investments dedicated toward making customized mass-marketed products a reality. 3D printing has come a long way, allowing manufacturers to personalize according to the needs of each individual, and the future depends on the customization as the core of research and development.
Developed Markets Continue to Present Lucrative Opportunities
The 3D printed wearables have witnessed relatively greater sales in developed markets, as these have gained the first-mover advantage in most of the technology disruptions till date. North America and Europe collectively account for three-fourth share of the 3D printed wearables market. There has been a notable rise in the number of manufacturers responding to confinements in supply chain and production by leveraging the 3D printing technology in these regions.
Although developing markets such as East Asia and South Asia currently present low revenue share, lucrative opportunities abound for the 3D printed wearables manufacturers in these regions in the foreseeable future.
The Broader Perspective
Additive manufacturing has skyrocketed in popularity and visibility in the manufacturing and commercial sectors with long term impact on production processes and techniques. It is far from the niche technology meant only for prototypes, they are now being used for cutting edge products across platforms and industries. The additive manufacturing industry is at a point where innovations are attracting a larger consumer pool, and companies are eyeing investment in 3D technology to gain a competitive edge.
While 3D printing is being leveraged in fashion, research is also being geared towards biomedical wearable devices. 3D printing has had a transformative influence on how goods are being ideated and manufactured. Established organizations have now begun focusing on 3D printing as a way of improving resource efficacy and increasing the lifecycle of the product, with opportunities created for improved sustainability.
3D printing stands out as a manufacturing technology with great potential for changing the way production is handled. The greater benefits, as compared to traditional manufacturing methods, are likely to lead industry players in adopting the technology in a bid to realize faster prototyping, reduced costs and customization process.
How Will Growth Unfold?
The potential of 3D printing technology and its impact on wearables manufacturing has already caught the interest of investors, with more engineers becoming familiar with the process and gaining access to new equipment. Although it is highly unlikely that 3D printing will replace entirely the current, high-volume manufacturing process, its broadening range of capabilities for small-scale design and production are being increasingly sought after by the wearables industry.
The 3D printed wearable market is expected to witness significant growth as a direct result of the innovations and technology in the sector. The possibilities when it comes to 3D printed wearables are endless as research focusses on flexible materials and on sensors being pliable and bendy - stretchable electronics could have potentially limitless applications.
Even with several challenges that have hampered the development of this, a steady stream of startups is making inroads into this fast expanding landscape, and global leading wearable manufacturers are validating the space and dedicating their efforts to innovate faster for remaining ahead of the curve.
Key Segments
By Product Type
Clothes
Watches
Footwear
Jewelry
Sports Accessories
Miscellaneous Products
By Price
By Consumer Orientation
Men
Women
Children
Unisex
By Sales Channel
Online

Direct to Consumer Sales
Third Party Sales

Offline

Specialty Stores
Mono-brand Stores
By Region
North America
Latin America
Europe
South Asia
East Asia
Oceania
Middle East and Africa
Need specific information?
Talk Show:
The Rise of Intelligent Packaging
Personalized, Connected and Sustainable
November 18, 2021
11:00-11:45 AM PST (USA & Canada)
This is a LIVE session