3D SCANNERS MARKET: KEY RESEARCH FINDINGS
The global 3D scanners market will close in on US$ 10 Bn by 2030.
Increasing R&D expenditure, tech-enabled advances, and rise of structured light technology are key factors fueling market growth.
3D scanners /hardware currently hold a leading revenue share; services to offer lucrative prospects.
Portable/handheld 3D scanners continue to maintain their positive trend.
Short range (less than 1m) 3D scanners would witness high demand.
Healthcare and manufacturing industries would remain the primary end users of 3D scanners.
North America is at the forefront of the global 3D scanners market; East Asia to reflect potential investment opportunities.
KEY FACTORS SHAPING 3D SCANNERS MARKET
Growing Technological Advancements to Boost Market Growth
Numerous technologically-advanced imaging applications are being introduced into the market. To support printing applications and imaging, 3D scanners are an important part of the overall value chain. 3D scanning is excessively used in healthcare applications, and is increasingly being adopted in the media and entertainment industry. In addition, technological advancements have helped end users in depth scanning across various industry verticals with such technologies.
Major players in the global 3D scanners market, such as FARO and Hexagon, have introduced new 3D scanners with automation, high speed, and user-friendly features to gain a major share of the market in the coming years. Thus, the introduction of advanced technologies and industry 4.0 revolution are significant factors driving the growth of the market.
Evolution of New Software & Services to Propel 3D Scanners Market Growth
Improved hardware performance along with better Internet connectivity has allowed increased user access to advanced tools from remote locations, particularly hospitals/clinics or research institute departments. Advanced 3D scanner software is moving towards more specialized applications requiring unique post-processing. This includes apps for chronic obstructive pulmonary disease, surgical planning, oncology management, radiation treatment, and liver analysis.
Customers of advanced 3D scanner software and services now use cloud-computing-based services to host these various applications over the web. Therefore, technological advancements are likely to offer significant opportunities in the 3D scanners market in the near future.
Slump in 3D Scanners Market Owing to COVID-19 Pandemic Outbreak
All electronic manufacturers are experiencing the impact of the COVID-19 outbreak on their businesses, globally. 3D scanner manufacturers are also experiencing raw material supply disruptions, with five-week shipment delays on an average. In addition, industries such as manufacturing and automotive are major contributors for the growth of the 3D scanners market, but the coronavirus pandemic has impacted these industries significantly. Thus, a significant drop has been seen in the demand for 3D scanners market from these industries.
Most manufacturers are expecting a decline in sales in the first two quarters of 2020, and 65 percent of vendors are expecting business operations to get back to normal by October 2020. Some manufacturers such as Canon Medical Systems are delivering the materials and parts needed to take care of patients. Moreover, companies are also offering static rental solutions to meet clinical needs in such a pandemic situation.
North America & Europe to Hold Major Market Share; East Asia to Grow At Significant Rate
In terms of value, North America accounted for the largest market share of the 3D scanners market in 2019, with the U.S. dominating the region, owing to the high adoption of technology in healthcare and automotive industries in this region. In addition, rising research & development in this field and increasing modeling operations are fueling the growth of the 3D scanners market.
East Asia is anticipated to witness significant growth over the coming years, owing to increasing growth opportunities in civil and architectural sectors in this region. Moreover, increasing usage of 3D printing in this region is anticipated to generate additional opportunities for the 3D scanners market, so as to facilitate the process of capturing details of real objects.
3D SCANNERS MARKET: COMPETITION ANALYSIS
Leading players in the 3D scanners market are distributing their products majorly via direct sales channels.
Moreover, they are leveraging value added resellers (VAR), original equipment manufacturers (OEMs), and system integrators to market their product offerings.
Base year considered - 2019
Actual estimates/Historical data - 2015 - 2019
Forecast period - 2020 - 2030
Forecast units - Value (USD) Mn
Segments covered - Component, Type, Range, End User, and Region
Regions covered - North America (US & Canada), Europe (UK, Germany, France, Spain, Italy, Russia, BENELUX and the Rest of Europe), Latin America (Brazil, Mexico, and the Rest of LA), East Asia (China, Japan and South Korea) South Asia & Pacific (India, Indonesia, Malaysia, Thailand, Australia and New Zealand and the Rest of South Asia & Pacific), and MEA (GCC, South Africa, Turkey, Northern Africa, and the Rest of MEA)
Key Players - Hexagon Ab, Faro Technologies Inc., Nikon Metrology NV, Topcon Corporation, Trimble Inc., Creaform, Inc., 3D Digital Corporation, and Perceptron Inc.
Report coverage - Revenue forecasts, company share, competitive landscape, growth factors, and trends
3D Scanners Market Share by End Use
3D scanners have been triggering step-change transformations in the healthcare sector, owing to increasing scope of applications. They help healthcare organizations upgrade their existing processes accurately and effectively.
Integration of 3D scanners and mixed reality (MR) in healthcare spaces incorporates real-time interactive imaging for aiding medical students and professionals in their medical practice. The manufacturing sector has been encountering several issues, including insufficient and inaccurate dimensional control procedures. 3D scanners have emerged as a vital component of modern-day quality control and inspection systems in this end-use industry.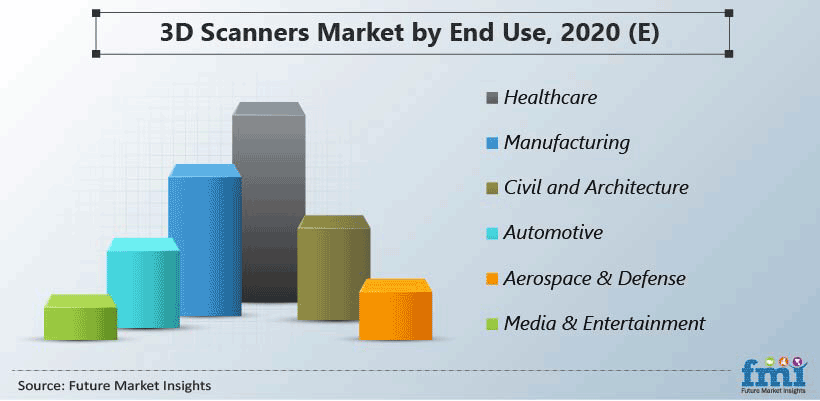 3D Scanners Market Regional Assessment
North America continues to capture a leading tranche of the total 3D scanners market size. Upswing in R&D expenditure in tandem with at-scale deployment of 3D scanning technology in the automotive sector and environmental scanning and modeling operations are driving the regional market growth.
Going forward, the East Asia 3D scanners market will experience demand growth from several use cases such as reverse engineering, civil surveying, architecture, and urban topography. FMI reveals that the 3D scanners market in East Asia would inch closer to the North America market in terms of value creation towards the end of the projection timeframe.
3D Metrology to Offer Further Growth Spurt
3D metrology software has been making gradual progress, as manufacturing is a crucial aspect of several sectors such as automotive and healthcare, and requires quality assurance, although it accents high infrastructure expense. In addition, the technology finds extensive usage in industries - media & entertainment, aerospace & defense, healthcare, oil & gas, energy, automotive, and manufacturing.
Case in point, in the aerospace & defense industry, metrology 3D scanners are leveraged for aerodynamics/stress analysis, quality control/inspection, damage assessment, legacy part reengineering, and design and engineering of aircraft parts.
How Growth will Unfold
Short-range (less than 1m) 3D scanners are widely utilized in automotive and healthcare industries, wherein, accuracy is a top priority. These scanners offer umpteen advantages such as high resolution & accuracy, fast & larger area scanning, and versatility & portability, resulting in their broader adoption. In addition, short-range 3D scanners are cost-efficient, safe, and highly effective for the scanning of individuals and animals. By 2030, stakeholders would reap revenue worth over US$ 4 Bn from these scanners.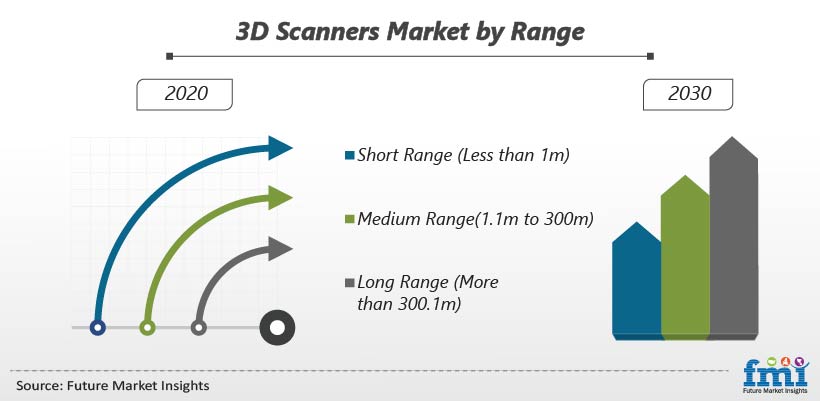 3D SCANNERS MARKET TAXONOMY
The global 3D scanners market is segmented in detail to cover every aspect of the market and present complete market intelligence to the reader.
Component
3D Scanners /Hardware

Laser 3D Scanners
Optical 3D Scanners
Structured-light 3D Scanners

3D Scanning Software
Services

3D Design & Modelling
Integration & Deployment
Consulting
Support & Maintenance
Type
Portable/Handheld
Desktop-based
Fixed-mount
Robot-mount
Range
Short Range (Less than 1m)
Medium Range (1.1m to 300m)
Long Range (More than 300.1m)
End User
Automotive
Aerospace & Defense
Civil and Architecture
Healthcare
Education
Manufacturing
Media & Entertainment
Others
Region
North America
Latin America
Europe
East Asia
South Asia and Pacific
Middle East & Africa
Need specific information?