Viscosupplementation Market Outlook & Key Findings
Viscosupplementation market likely to grow at nearly 4.6% in 2020,
Short period of lubrication and pain relief by viscosupplementation remains a challenge
Development of cross-linked hyaluronic acid to encourage greater investments
Relaxation in regulatory norms to drive the market in Asia Pacific in the forecast period
Viscosupplementation Market Analysis: A Snapshot
The NCBI mentions that close to 9.6% of men and 18% of women aged 60 and above develop osteoarthritis. 80% of these have restricted movements and 25% find it difficult to perform daily chores.
As per University of Surrey, over 8.75 Mn people in the UK seek medical advice regarding osteoarthritis every year. This rising incidence, demand for non-surgical methods to treat the ailment followed by clinical efficacy of hyaluronic acid-based therapies is expected to drive the viscosupplementation market during the forecast period.
Proprietary Technology Integration to Bolster the Viscosupplementation Market
The leading players are emphasizing on developing cross-linked hyaluronic acid to facilitate immediate pain relief. Extensive investments are being made by them to have a competitive edge over each other.
For instance – Sanofi S.A.'s "Synvisc-one" viscosupplement comes across as an exclusive composition of 2 formulations of cross-linked polymers containing hyaluronic acid. This composition lets Synvisc-one act as a fluid as well as gel. The high molecular weight is reported to render therapeutic efficacy in the long run.
On the similar lines, Anika Therapeutics, in June 2019, did showcase "Hyalofast", a scaffold based on hyaluronic acid meant for repairing cartilages at ICRS (International cartilage Regeneration and Joint Preservation Society). Also, Bone Therapeutics S.A., in Apr 2018, announced completion of clinical trials for "JTA-004 intra-articular injection" for knee osteoarthritis.
Covid-19 Crisis Impact - Significant Delays and Rescheduling of Treatment Hindering the Market
The Covid-19 pandemic has resulted in an unprecedented economic and operational unpredictability. The uncertainty regarding developing and commercializing effective options for treatment can't be ruled out as well. These glitches are expected to re-schedule and delay diagnosis and treatment related to viscosupplementation in the upcoming 2 to 3 quarters.
Besides, the governments across the globe are engaging healthcare workers to cope up with Covid-19 crisis. The market growth could slow down due to this aspect as well.
The viscosupplementation market could pick up pace in the year 2021's first quarter with somewhat recovery of emerging and developed economies from Covid-19 pandemic. So, linear progression could be expected from 2021 onwards.
Knee Oseteoarthritis Treatment a Key Growth Driver
Viscosupplementation market players are on the development and approval spree of novel products that can address elbow, hip, and knee osteoarthritis.
Viscosupplementation for knee osteoarthritis is expected to be a key growth driver followed by hip osteoarthritis. The primary reason being – viscosupplementation does away with knee replacement.
Viscosupplementation is available with anti-inflammatory drugs these days. Plus, in countries like France, 65% of expenses incurred for 12 out of 13 drugs available to treat knee osteoarthritis are reimbursed.
In the US, Medicare reimburses 80% of patient-allowable cost. These factors are likely to contribute to the growth of in the forecast period.
Viscosupplementation Market Product Synopsis
The viscosupplementation market has been scaling high on five and three injection hyaluronic acid viscosupplements so far. Single injection hyaluronic acid supplements are comparatively new but are expected to hold the largest market share in the forecast period due to reduced visits to hospitals, shorter regimen, and minimal adverse effects.
The very first single injection hyaluronic acid that too from vegan sources was "MONOVISC" developed by "Anika Therapeutics". It had received US FDA's approval in the first half of 2014. Increase in demand for single injection hyaluronic acid supplements is expected to catalyze the viscosupplementation market in the forecast period.
Ambulatory Surgical Centres (ASCs) Gaining Traction
The emergence of ASCs (Ambulatory Surgical Centres) is expected to give an impetus to viscosupplementation market in the forecast period. ASCs have the advantages like shorter stay and cost-effectiveness.
The US alone has 5000+ ASCs that make way for viscosupplementation to treat osteoarthritis at affordable costs. Emerging countries in Asia Pacific, Latin America, and Africa are also investing in ASCs to facilitate viscosupplementation.
Viscosuppplementation Market: Region-wise Analysis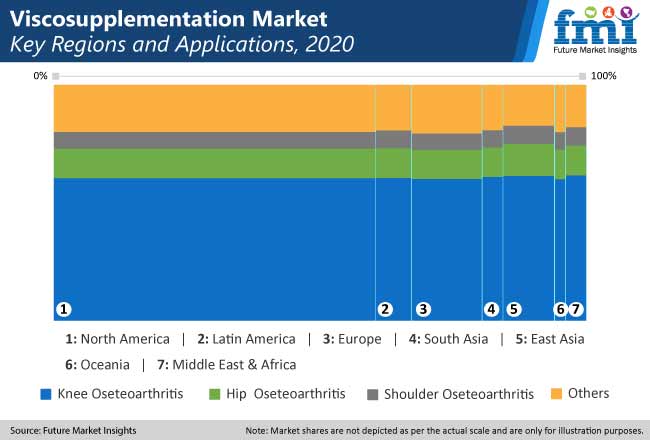 The U.S. viscosupplementation market has consistently shown significant annual growth rates, and the market is set to grow at over 3.9% in 2020. Plus, as per the Population Reference Bureau, the number of Americans aged 65 and above are slated to increase two-fold between 2016 and 2060 (46 Mn to 98 Mn).
Europe's viscosupplementation market, which accounts for nearly 20% of the overall revenues generated, is also set to witness a staggering growth in the future mainly because product innovation is being witnessed by the market.
For instance - France-based Labrha introduced HAppyMini, HAppyVisc, and HAppyCross recently with HAppyOne (single intra-articular injection) and HAppySoft (generic product) are in process.
Asia Pacific is expected to grow at the fastest rate in the forecast period. This could be attributed to enhancement in healthcare infrastructure and facilities in countries like India, Japan, South Korea, and China.
Relaxation in regulatory norms is also another driver to the market in these regions. South Korea recognizes viscosupplements as a specialized medication. These factors are likely to boost opportunities for viscosuppplementation market in Asia Pacific between 2020 and 2030.
Leading Players in Viscosupplementation Market
The viscosupplementation market is witnessing the entry of innovative products and their expansion to the other geographies. For instance – "CINGAL', a patented product from Anika Therapeutics, announced positive results for its Phase III trial and is planning to make it available in Hungary, Czech Republic, Italy, Poland, and Germany. The major players in viscosupplementation market are:
Americas
Zimmer Biomet Holdings Inc.
Bioventus LLC
Anika Therapeutics Inc.
OrthogenRx Inc.
Mylan N.V.
Europe
Sanofi S.A.
Fidia Farmaceutici S.p.A.
Ferring B.V.
Asia Pacific
Seikagaku Corporation
Chugai Pharmaceutical Co., Ltd.
*The list is not exhaustive, and only for representational purposes. Full competitive intelligence with SWOT analysis available in the report
Viscosupplementation Market: The Way Forward
The long-term outlook regarding viscosupplementation market remains stupendous, with FMI analysts estimating a CAGR of 4.6%. The ongoing pandemic has temporarily slowed down the growth, but the market is expected to bounce back in the first three months of 2021 as recovery management will be in full-swing.
Viscosupplementation market players will need to move beyond their classic strategies of viscosupplement development to target big markets. To increase sales in cost-sensitive, yet lucrative markets, cooperation with local government and healthcare authorities are needed for rapid entry of new products.
Viscosupplementation Market: Segmentation
The global viscosupplementation market is segmented in detail to cover every aspect of the market and present a complete market intelligence approach to the reader.
Product Type
Single Injection Viscosupplementation
Three Injection Viscosupplementation
Five Injection Viscosupplementation
Application
Knee Oseteoarthritis
Hip Oseteoarthritis
Shoulder Oseteoarthritis
Others
End User
Hospitals
Ambulatory Surgical Centers
Orthopedic Clinics
Retail Pharmacies
Online Sales
Region
North America
Latin America
Europe
South Asia
East Asia
Oceania
Middle East & Africa (MEA)
Need specific information?
Talk Show:
The Rise of Intelligent Packaging
Personalized, Connected and Sustainable
November 18, 2021
11:00-11:45 AM PST (USA & Canada)
This is a LIVE session