Introduction
Rising prevalence of knee osteoarthritis is fuelling demand for effective treatment therapies. Hyaluronic acid-based intra-articular injections have proved to be one of the most preferred choices of treatment for symptomatic knee osteoarthritis. Hyaluronic acid-based intra-articular injections restore normal viscoelastic properties of altered synovial fluid in the knee joint, delivering effective therapeutic effect. The ultimate goal of viscosupplementation is to increase the concentration of hyaluronate in the joints so to restore the altered synovial fluid present in the joints.
Growing prevalence of osteoarthritis, strong healthcare infrastructure and well established reimbursements are soaring the demand for viscosupplementation market. The Europe viscosupplementation market has been segmented by product type, end user and region.
Market Value and Forecast
The Europe viscosupplementation market has been estimated to be valued at US$ 192.0 Mn in 2015 and is expected to expand at a CAGR of 5.1% over the forecast period (2016–2026).
Market Dynamics
Growth of the Europe viscosupplementation market is mainly driven by rising obesity rates and growing patient awareness about effective treatment therapies for knee osteoarthritis, coupled with macroeconomic factors such as high unmet patient needs and strengthening of distribution network by key players in the viscosupplementation market. Other prominent growth drivers include rapidly growing medical technology industry and cost-effectiveness of the treatment. However, economic issues in some Eastern European countries and reimbursement cutbacks are expected to hamper overall growth of the viscosupplementation market in Europe over the forecast period.
Viscosupplementation devices are classified under Class III category in Europe and are considered high-risk devices. They require premarket approval from notified bodies, including private organisations recognised by the European Free Trade Association (EFTA).
Market Segmentation By Product
Based on product type, the market has been segmented into single injection viscosupplementation, three injection viscosupplementation and five injection viscosupplementation. Single injection viscosupplementation product type segment is expected to exhibit the highest growth over the forecast period.
Market Segmentation By End User
Based on end users, the market has been segmented into hospitals, ambulatory surgical centres and orthopaedic clinics. Hospitals segment currently accounts for the highest revenue share in the Europe viscosupplementation market. Orthopaedic clinics segment is also gaining prominence in Europe due to upcoming attractive reimbursement options and patient preference for single injection cycle over multiple injection cycle treatment.
Key Regions
The Europe viscosupplementation market has been segmented into Western Europe and Eastern Europe. In terms of value, Western Europe has been estimated to dominate the Europe viscosupplementation market in 2015 and is expected to expand at a CAGR of 5.1% over the forecast period. In Eastern Europe, effective formalisation of patient registries are gaining prominence. This could lead to better patient diagnosis and enhance access to treatments. In addition to this, reimbursement policies in the region are in the process of being formalised in accordance with guidelines developed by both local and national pricing authorities.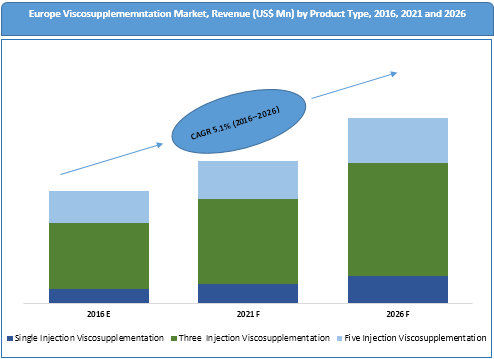 Key Players
Some key players in the global infusion pumps market identified in this report are Anika Therapeutics Inc., Sanofi S.A., Zimmer Biomet Holdings, Meda AB, Ferring B.V, Fidia Pharmaceutici S.p.A, and Bioventus LLC. The report also identifies company-specific strategies related to product development, market consolidation initiatives and analysis of their specific strengths, weaknesses, opportunities and threats.
Key Segments
Product Type

Single Injection Viscosupplementation
Three Injection Viscosupplementation
Five Injection Viscosupplementation

End User

Hospitals
Ambulatory Surgical Centres
Orthopaedic Clinics
Key Regions/Countries
Western Europe

U.K.
France
Germany
Spain
Italy
Nordics
Rest of Western Europe

Eastern Europe

Russia
Rest of Eastern Europe
Need specific information?
Talk Show:
The Rise of Intelligent Packaging
Personalized, Connected and Sustainable
November 18, 2021
11:00-11:45 AM PST (USA & Canada)
This is a LIVE session