Demand for Waterproof Socks Driven by Increase in Adventure Sports
From an estimated market size of US$ 24.2 Mn in 2018, the value sales of waterproof socks are expected to reach US$ 34.9 Mn by 2027, expanding at a CAGR of 4.2%
Socks have been essential consumer products that are being used since decades. The demand for socks has always been high and consistent, which has resulted in the continuous evolution of products at regular intervals. Nowadays, various innovative types of socks are available in the market to meet the needs of various demographic segments. These include athletic socks, casual socks, formal socks as well as specialty socks.
Waterproof socks have been gaining traction among target customers, especially among people involved in activities such as trekking, swimming, cycling, snow sports, etc. Waterproof socks are a new type of socks that have been designed to meet the requirements of customers engaged in the adventure and sports industries.
The global waterproof socks market is gaining traction owing to an increase in demand from sports enthusiasts
Over the past two decade, the popularity of various adventurous and extreme sports activities has grown rapidly across the world. The customers of today are extremely keen and influenced in indulging in various adventurous sports such as trekking, snow sports as well as cycling. Sport enthusiasts seek safety equipment, which includes waterproof socks. Waterproof socks provides thermal as well as water resistance to users, which makes cycling and trekking easier.
The North America, Europe and several parts of the Asia Pacific region are well known for the practice of various adventurous sports, which indicates the large-scale usage of waterproof socks in the above-mentioned countries or regions.
Manufacturers of waterproof socks are introducing new and innovative products to cater to the growing consumer demand
With the growing demand for waterproof socks in the global market, the manufacturers of waterproof socks are aiming at introducing new features to their existing product lines of waterproof socks. For instance, ArcticDry, one of the key manufacturers of waterproof socks in the European market, launched a new variant of waterproof socks with additional features.
The new ArcticDry Xtreme waterproof socks for men are crafted from nylon, spandex and Coolmax material, due to which they are waterproof as well as breathable. The ArcticDry Xtreme waterproof socks are specifically marketed for cyclers, hikers and fishers in the European region.
The company has also introduced the Waterfly waterproof socks that are crafted and processed through three-layered durable materials, i.e. a nylon outer material, a waterproof middle layer and a merino wool with a nylon inner layer. Waterfly waterproof socks are highly water-resistant and naturally antibacterial & odour-resistant.
Waterproof socks to witness high demand from the healthcare industry
Waterproof socks are also known to be hygienic consumer goods since they are antibacterial. There are various diseases that one suffers from, which are mostly caused by various harmful bacteria and viruses. As a result, most healthcare professionals urge people to wear waterproof socks. Waterproof socks tend to prevent bacteria from entering into the feet during outdoor or extra-curricular activities.
Millennials among the largest consumers of waterproof socks
The activities of the millennial population and their perceptions about various consumer goods have been considered as one of the most influential factors driving the demand for waterproof socks in the global market. This category of customers are very active and ardent sports enthusiasts. Most of the millennial population, especially from the North America and European regions, likes to participate in various sports activities and adventurous sports.
A large number of millennials participate in cycling, water sports as well as trekking, owing to which they purchase safety gear. As a result, the demand for various types of waterproof socks, which include mid-calf length waterproof socks, ankle-length waterproof socks as well as calf-length waterproof socks, among the millennial population is on the rise.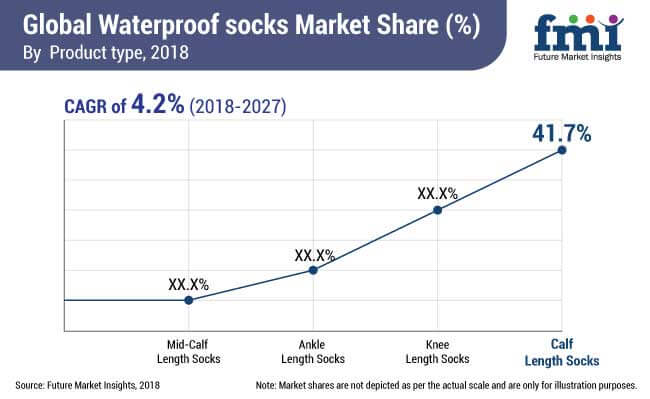 Multinational players are relatively highly concentrated in the global waterproof socks market as compared to local and regional manufacturers
The global waterproof socks market is primarily characterised by the presence of a large number of regional and multinational companies. The detailed profiles of companies in the waterproof socks market are also included in global waterproof socks market report to evaluate their strategies, key product offerings and recent developments.
Some of the key players profiled in the global waterproof socks market study are Sealskinz; Happy Socks; DexShell; Wigwam Corporation; Camaro GmbH; Randy Sun; Bridgedale Outdoor Ltd.; Okamoto Corporation; Recreational Equipment, Inc.; The Showers Pass; Injinji; Rocky; Seavenger; Neo Sport; Footland Inc.; Lennon Performance Products Ltd.; The Sock Factory; Northern Diver; Wrightenberry Mills, Inc. and Wildfire Sports & Trek.
World's Most Profilic Intelligence Engine
Get Access To The World's Largest Market Research Database. Ngage with a revolutionary intelligence engine that scale and pricing that flexes as per your needs
Sign Up Now
Key Segment
On the basis of product type
mid-calf length waterproof socks
ankle-length socks
knee-length socks
On the basis of application
trekking
water sports
cycling
snow sports
outdoor
other activities
On the basis of gender
On the basis of sales channel
wholesaler/distributor
supermarket/hypermarket
specialty store
independent store, club store
online store
Need specific information?