X-by-Wire Market Analysis and Review By Technology (Throttle-by-wire, Shift-by-wire, Brake-by-wire, Suspension-by-wire, Park-by-wire), By Vehicle Type (Passenger Car, Commercial Vehicle), & Region – Forecast 2022-2027
X-by-Wire Market - Analysis, Outlook, Growth, Trends, Forecasts
December 2021

REP-GB-6324

282 pages
Global X-by-Wire Market Snapshot
[282 Pages] Future Market Insights (FMI) has projected the global X-by-wire market to grow with year-on-year value growth of 13.9% in 2022 reaching a value of about US$ 39 Bn by 2022 end.
| | |
| --- | --- |
| Global X-by-wire market Analysis (2021A) | US$ 34,213.3 Mn |
| Global X-by-wire market Analysis Estimated Year Value (2022E) | US$ 38,958.8 Mn |
| Global X-by-wire market Analysis Projected Year Value (2027F) | US$ 81,993.0 Mn |
| Value CAGR (2022-2027) | 16.0% |
| Collective Value Share: Top 3 Countries (2022E) | 55.6% |
In X-by-Wire technology, electrical components like control units, motors, actuators, sensors, and others replace mechanical linkages. The usage of these devices lowers vehicle's overall weight and makes it lighter. Vehicle controls such as throttle, steering, brakes, shifting, and clutch are frequently replaced by X-by-wire.
Electronic components and circuits are becoming more popular due to their technical qualities which allow for a wide range of integrated functions and features while also lowering vehicle weight. Other goals in developing new forms of transportation include reducing engine size, replacing mechanical components with electrical devices, electronically conveying request information and building integrated control systems. Global market is projected to witness a value CAGR of 16% during the period 2022 and 2027.
FMI has identified APEJ to be a key market for X-by-wire over the forecast period owing to increasing adoption of X-by-wire in premium and luxury vehicles. The region is estimated to witness a value CAGR of 17.5% during the forecast period.
Global X-by-Wire Market Outlook 2012-2021 Compared to 2022-2027 Forecast
The growing automotive industry and rapid penetration of technologically advanced and high-cost products is anticipated to increase the demand for X-by-wire. A large share of passenger cars and commercial vehicles are equipped with advanced brake technologies, such as ABS, brake by wire and other safety systems. Furthermore, significant sales of sports and luxury vehicles make the market more inclined towards the acceptance of advanced technologies.
With the success of fly-by-wire technology in the aerospace industry, the focus is now being laid on developing X-by-wire technologies for passenger cars and commercial vehicles.
The demand for X-by-wire system increased at a significant CAGR of 11% in terms of value from 2012 to 2021. Though there was a slump in 2020 but market recovered in 2021 and projected to grow at a substantial growth rate during the forecast period.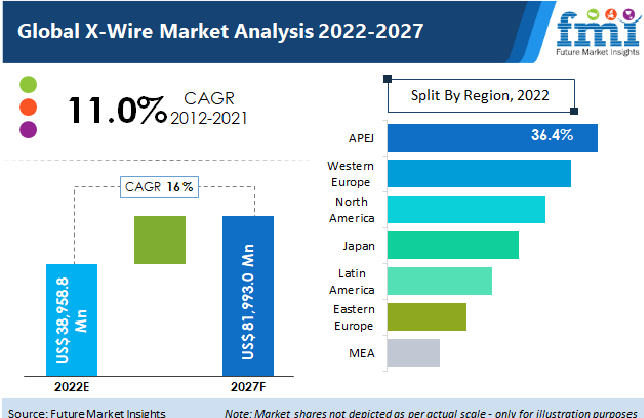 How Research And Development Will Drive The Demand For X-By-Wire In Coming Years?
Advanced control technologies such as radar, laser, GPS, computer vision, and others are required for a driverless car or unmanned ground vehicle that can sense and navigate without human intervention. The elimination of mechanical links and the use of computer-controlled technologies like as brake by wire, steer by wire, suspension by wire, and shift by wire are all required for driverless transportation.
Tesla, General Motors, Uber, Google, BMW, Volvo, Nissan, Ford, and other technology suppliers and automakers are either developing or have expressed an interest in developing self-driving cars.
Furthermore, many automotive companies are expected to work on autonomous technology, which will function as a driving force for the X-by-wire market. Likewise, focus on urban mobility is compelling automakers to implement new technologies and change the way transportation services are organized and delivered. Technologies such as steer-by-wire, brake-by-wire, and drive-by-wire will play a key role in constructing future urban mobility and subsequently enhancing the X-by-wire market.
How High Initial Cost And Suspicions Over Reliability And Safety May Threaten The Growth Of X-By-Wire?
The material composition and manufacturing process associated with X-by-wire technologies results in the high cost of end products, which is a major factor restraining the adoption of new and innovative safety systems and products among pocket friendly economy cars. In the existing competitive automotive industry, the cost is a major differentiating factor.
Preference for low-cost alternatives is a significant trend in the market, which is expected to significantly affect the adoption of advanced technologies and also affect market growth negatively.
There has been continuous debate in the market over the reliability of X-by-wire systems. End users are worried about the malfunctioning of electronic control units and sensors that can lead to road accidents. Regulatory authorities see mechanical systems to be more failsafe than electronic systems.
X-by-wire systems are complex in nature and further, existing concerns regarding their reliability and durability are anticipated to impede the adoption rate of X by-wire technologies.
What Was The Impact Of The COVID-19 Crisis On The X-By-Wire Market?
Emergence of COVID-19 in 2020 had a massive impact on the global economy. A reduction in demand in a number of industries, as well as supply chain problems, had damaged the global industry. Furthermore, due to extensive lockdowns and movement restrictions, economic activity had come to a halt.
The closure of automotive production plants had an impact on X-by-wire growth rate in 2020. The drop in vehicle sales had a significant impact on the global X-by-wire sales, but it will undoubtedly expand in the coming years as the need for advanced technology products grows.
Country-Wise Insights
What are the crucial factors behind the rise of the X-by-wire market in the U.S.?
The U.S. is estimated to account for 82.3% of the North America X-by-wire market in 2022 and projected to remain above 80% throughout the forecast period. In the U.S., automobile utilization is rapidly expanding and hybrid vehicles are expected to grow in popularity in the coming years. Similarly, expansions of automotive industry as well as a growing demand from luxury and premium vehicles are driving X-by-wire sales in the U.S. In addition, the region is supporting the growing demand for electric vehicles, which will boost the market for X-by-wire systems.
What is the X-by-wire market scenario in Germany?
Germany is playing a significant role in the growth of the Western Europe X-by-wire market as the country is the prominent supplier of X-by-wire. The replacement of mechanical elements by electronic systems also helps to make vehicles lighter, boosting fuel efficiency is the topmost requirement around the world. The factors such as advanced technology and vehicle weight loss are driving the market. Major X-by-wire system manufacturers are creating new technology for the future and forming agreements with other players to stay ahead in the market and give the safest experience to vehicle owners. The market in Germany is estimated to dominate the Western Europe X-by-wire market throughout the forecast period with a 14.3% CAGR in terms of value.
What is the Expected Growth outlook of the Global X-by-wire market in China?
Between 2022 and 2027, China is estimated to grow at a value CAGR of 17.5% percent. China is a major market for automobile manufacturers due to the growing population and need for personal vehicles. Furthermore, the government has implemented scrappage incentive programs, which encourage customers to acquire new automobiles which boosting the overall market growth. The luxury car industry in China has plenty of room to develop and it is projected to overtake the U.S. as the top market by the end of 2026. Despite the country's rise, mature markets like the U.S. and Europe remain essential target countries. The X-by-wire market in China will undoubtedly grow in the next 10 years.
Category-wise Insights
Which Technology Hold Prominent Share in the X-by-wire Market?
Throttle-by-wire is projected to create an absolute dollar opportunity of more than US$ 25 Bn during the period of 2022 to 2027. Technology such as throttle-by-wire has seen significant adoption in the recent past and is in a stage of healthy growth as part of the product life cycle. In recent years, throttle-by-wire has gained significant use among luxury and premium vehicles.
What Is the Global X-by-wire market Outlook by Vehicle Type?
The passenger car segment is projected to create an absolute dollar opportunity of more than US$ 33 Bn from 2022 to 2027. With increasing urbanization and a rising population, the demand for passenger cars is rising steeply. Similarly, rising purchasing power and demand for driving comfort will boost X-by-wire use in the coming years. A substantial percentage of passenger cars are equipped with advanced braking technologies such as ABS, brake-by-wire, and other safety systems.
Competitive Landscape
Over the past few years, an increment in the number of joint ventures and expansion activities has been witnessed to improve the supply of X-by-wire. Several key players are also focusing on improving the efficiency of X-by-wire for various applications. The emergence of various manufacturers had also been witnessed in global businesses, especially in China, U.S. and India.
For Instance,
In November 2017, Denso Corporation and NEC platform agreed on a new joint venture, DENSO NEXT CO., LTD. to develop necessary connecting technologies for cars
In 2016, Nissan Motor Co., Ltd. acquired the French software development company, Sylpheo, to accelerate the expansion of its connected vehicle and mobility services programs.
The latest study conducted by Future Market Insights covers all the strategies and success factors of key manufacturers of the market.
Scope Of Report
Attribute

Details

Forecast Period

2022-2027

Historical Data Available for

2012-2021

Market Analysis

USD Million for Value and Units for Volume

Key Regions Covered

North America, Western Europe, Eastern Europe, Latin America, Asia Pacific Excluding Japan, Middle East and Africa, and Japan

Key Countries Covered

U.S., Canada, Brazil, Mexico, Russia, Poland, Germany, Italy, France, U.K., Spain, BENELUX, China, India, ASEAN, ANZ, South Africa, and Turkey

Key Segments Covered

By Technology, By Vehicle Type, By Region

Key Companies Profiled

Continental AG
Kongsberg Automotive
Curtiss-Wright Corporation
Nissan Motor Co., Ltd.
Robert Bosch GmbH
SKF AB
Denso Corporation
Ficosa International SA
ThyssenKrupp AG
Orscheln Products LLC
KSR International Co.
DURA Automotive System
LORD Corporation
JTEKT Corp.

Report Coverage

Market Forecast, Company Share Analysis, Competition Intelligence, DROT Analysis, Market Dynamics and Challenges, and Strategic Growth Initiatives

Customization & Pricing

Available upon Request
World's Most Profilic Intelligence Engine
Get Access To The World's Largest Market Research Database.
Sign Up Now
Global X-by-wire market by Category
By Technology
Throttle-by-wire
Shift-by-wire
Brake-by-wire
Suspension-by-wire
Park-by-wire
By Vehicle Type
Passenger Car
Commercial Vehicle
By Region
North America
Western Europe
Eastern Europe
Latin America
Asia Pacific Excluding Japan (APEJ)
Middle East and Africa (MEA)
Japan
Key Questions Answered in the Report
What is the current size of the Global X-by-wire market?
The global X-by-wire market is expected to total US$ 38,958.8 Mn in 2022.
At what growth rate the demand for X-by-wire will rise during the forecast period 2022 – 2027?
The demand for X-by-wire reached by 16% in 2022.
Who are the top players in the Global X-by-wire market and what is their total share?
Continental AG, Kongsberg Automotive, Curtiss-Wright Corporation, ZF Friedrichshafen AG, Nissan Motor Co., Ltd., Robert Bosch GmbH, SKF AB, Denso Corporation, Ficosa International SA, and ThyssenKrupp AG are the leading market players. They collectively are anticipated to account for 30% to 35% of the global market share.
What is the potential of X-by-wire in China?
The demand in China is expected to increase by 17.5% CAGR between 2022 and 2027 on a value basis.
Which countries are driving the demand for X-by-wire?
China, U.S., Japan, and Germany are the key consumers of the Global X-by-wire market.
How was the performance in the last five years?
In terms of value, X-by-wire demand grew at a CAGR of around 12.1% from 2016 to 2021.
Need specific information?
Our Clients