About the Report
Diketene is a colourless and pungent organic compound manufactured by dimerization of ketene followed by fractional distillation to raise purity from about 85% to 99.5%. While applications remain varied, its use in the pharmaceutical and nutraceutical segment has led to a slew of opportunities for manufacturers in the last five years. The opportunities are not lost on existing and new players, who are looking to supply high-quality diketene to brands in the health & wellness domain. In its new study, Future Market Insights explores the key factors that will influence diketene demand through 2030. Historic sales of diketene have been analyzed in 20+ high-growth markets, with strategies of key players discussed lucidly.
Historical and Future Growth Projections
The global diketene market was valued at nearly US$ 318 Mn in 2015, with sales equating to US$ 381 Mn by 2019. The key factors for growth in demand were multi-pronged, however, increasing Diketene applications in healthcare and agriculture industry created a slew of opportunities for manufacturers.
Rapidly changing lifestyles, food habits and sleep cycles are compelling individuals to increase spending on healthcare and dietary supplements. Furthermore, growing demand for sustainable farming has accelerated uptake of organic chemicals which extensively use diketene derivatives. The future prospects remain bullish, with FMI's analysis projecting a CAGR of 5% through 2030.
How Big is the Demand for Diketene from Pharma & Nutraceuticals Category?
In recent years, nutraceuticals consumption has increased significantly, owing to growing consumer awareness about their health benefits. In recent times, nutraceuticals have received credible interest due to potential safety, therapeutic and nutritional benefits.
Acetoacetic acid derivatives have played a pivotal role with respect to manufacturing nutraceutical products. Exogenous ketones production has made extensive use of this derivative. These are a class of ketone bodies which are ingested using nutritional supplements. Such developments are highly likely to broaden diketene market prospects in the future. Diketene manufacturers will be looking to consolidate their position in the pharma & nutraceuticals category, considering it accounts for 40% of all diketene demand.
Why Diketene Manufacturers are Targeting Dyes & Pigments Segment?
The global pigments and dyes industry was valued at approximately US$ 34.5 billion as of 2020, which is expected to grow impressively in upcoming years. Amongst all areas, scope for organic pigments appears to be the most promising, expected to capture over two-fifths of the revenue share.
Numerous concerns have emerged with regard to production of synthetic dyes and paints. These products not only harm people but the environment as well. A major problem associated with synthetic dyes is that they are highly water intensive. Also, discharging them contaminates water bodies and soil, rendering them unfit for usage.
Diketene derivatives play an important role in the production of organic pigments such as diarylide and arylide yellow, acetoacetanilide, yellow and orange azo dyes and azo pigments. Attributed to such extensive applications, demand for diketene and its derivative products is likely to increase during the assessment period.
Heightening Demand for Agrochemicals to Drive Diketene Demand
The Food and Agriculture Organization estimates that world population is expected to surpass the 9 billion mark by 2050, thus stimulating greater demand for food crops. Furthermore, income levels will be multiples of what their current levels are, attributed to increased prevalence of urbanization. Food production, therefore, will have to increase by 70%.
Due to the exponentially rising population, food demand is being far outpaced, ushering in immense shortages across the developing countries. Consequently, agriculturists and farmers are increasing adoption of agrochemicals to increase output and address scarcity problems, leading to a significant upsurge in the market.
Players such as the Eastman Chemical Company are active in the agrochemicals segment, manufacturing a range of diketene based substances, including intermediaries, neutralizing agents, catalysts and solvents, such as dimethylamine 40% aqueous solution, benzyl dimethylamine and dimethylamine 60% aqueous solution respectively.
Market Consolidation Restricts Entry of New Manufacturers
Diketene manufacturers are comparatively less in number globally, rendering the market highly consolidated in nature. These manufacturers account for the bulk of global revenue, meaning that entry of new players is limited. This is likely to restrict future revenue prospects.
This high degree of consolidation implies that small-scale producers are either acquired by existing manufacturers or are compelled to enter into partnership or collaboration agreements, thus restraining their ability to compete with the existing players and establish an independent identity.
According to FMI's analysis, China is the primary contributor to the global diketene market, offering a wide range of derivatives. Additionally, it is the primary revenue generator, contributing nearly 20% of the global revenue share. Being a leading chemical manufacturing hub, it is no surprise it is the leading producer in this landscape.
Availability of Alternatives May Impede Expansion
A significant challenge faced by diketene producers is the availability of substitute derivatives such as 2, 2, 6-trimethyl-4H-1, 3-dioxin-4-one. A major advantage of this alternative is that it is practically insoluble in water and mixes with most organic solvents. Therefore, it is more convenient compared to diketene.
Furthermore, it is less poisonous, foul-smelling and irritating to the eye, making it a highly preferred choice by industrial manufacturers. Several manufacturers, including Sigma-Aldrich, TCI Chemicals and Alfa Aesar are at the forefront of manufacturing this alternative.
Increasing efforts by engineers and scientists across various institutions and industries are leading to the discovery of new alternatives and substitutes. All these aforementioned factors are anticipated to impede growth of the diketene market across the forecast period.
Country-Specific Analysis
Why is the US a Key Investment Destination?
The chemical industry is amongst the largest manufacturing segments of the United States economy. According to estimates provided by the Department of Commerce's Trade Administration, it is a global leader in chemicals production, accounting for 18% of global chemical shipments.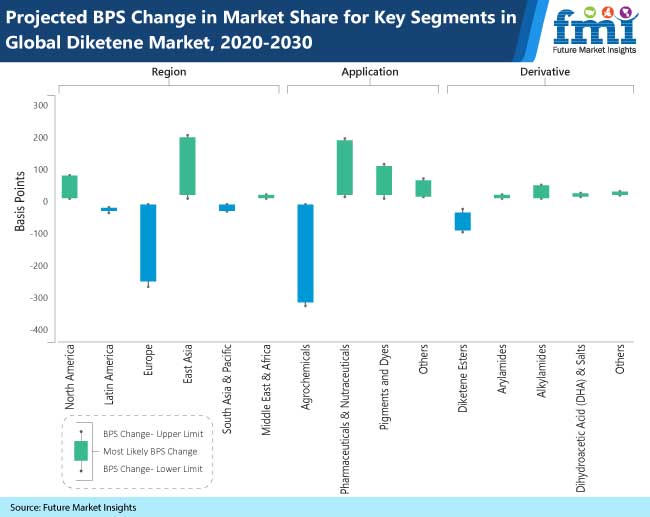 As of 2017, the U.S chemical industry recorded sales worth over US$ 765 billion, employing over 529,000 workers. Net FDI surpassed US$ 700 billion, with total investments in research & development being valued at US$ 99 billion. Some key segments include basic chemicals, specialty chemicals, agricultural chemicals and pharmaceutical chemicals.
Attributed to the aforementioned trends, diketene derivative manufacturers are increasing their presence across the American market. Some prominent specialty chemical manufacturers producing diketene include The Lubrizol Corporation, Huntsman, Ashland, Rockwood, Chemtura, Cabot, Albemarle, Ferro Corporation, Cytec Industries and W.R. Grace.
As per FMI's analysis, the United States diketene chemicals market was valued at US$ 67.4 Mn in 2020, and is expected to surge at a CAGR of over 5% from 2020-2030, reaching US$ 112.6 Mn.
How Big is the Opportunity in Germany?
Until 2019, the German diketene market expanded at a historical CAGR of 3.5%, reaching nearly US$ 19 Mn. Future projections for the market appear largely positive, representing an absolute opportunity worth US$ 10 Mn until 2030.
Maximum uptake is expected across the agrochemicals sector, generating over 30% of the revenue. As of 2019, agriculture contributed €3.4 million in terms of nominal GDP. Major emphasis is laid on organic farming, owing to heightening concerns about the deleterious impact of inorganic agriculture on the environment.
It is expected that 20% of the German cultivable area will be organic by the end of this decade. Hence, demand for organic agrochemicals is witnessing a considerable incline. Players such as SFM Chemicals and MAC GmbH are active in the agrochemicals industry.
The latter is more prominent, manufacturing a range of insecticides, herbicides, fungicides, mixtures and growth regulators respectively. The derivatives used include acephate, acetamiprid, abamectin, acetochlor and clopuralid to name a few.
U.K. Witnessing Growing Sales amid High Pharmaceutical Applications
The U.K diketene market is poised to garner a market share exceeding 13% through 2030, gaining 20 BPS across the forecast period. Growth is largely attributed to extensive application of diketene derivatives across the pharmaceutical industry. This is due to the constant drive for introducing new drugs and formulations to offer better treatment.
According to the European Patent Office, the industry witnessed a filing of 7,441 patents in 2018, representing an increase of nearly 14% compared to 2017. The agency advocated that it was the second consecutive double-digit growth year. Also, the pace of innovation has also increased compared to previous years.
Such accelerating pace of pharmaceutical breakthroughs and innovations are expected to generate fertile ground for the diketene market in upcoming years. A study has concluded that the UK drug discovery is a large, diverse, vibrant and growing sector. The market is expected to reach US$ 15.5 Mn by 2030.
France to Generate Credible Expansion Opportunities
The French diketene market is likely to generate an absolute opportunity worth approximately US$ 4 Mn, with agrochemicals emerging as the primary application area, contributing over 30% of the revenue share until 2030.
Numerous regional level agrochemical manufacturers have emerged across the French market. Amongst all those present, Aceto France S.A.S has been the most prominent pharmaceutical and chemical products since the past two decades. It manufactures a host of agricultural protection products.
Some of these include Aceto Diquat 2L, Aceto Trifluralin 4 EC, Amplify II and Elast Flowable among others. Other agrochemicals suppliers and manufacturers include TECHLAB SA, Tereos, SYNKEM, SNF SA, Supplychem Co. Ltd., Substipharm and Phoenix France S.A.S.
China Holds Sway across East Asia
Perhaps no market is as opportunistic as China, expected to contribute nearly 60% of the global revenue share in the diketene market. Immense growth opportunities abound across the nutraceutical industry in the coming years, attributed to growing awareness about good health and adoption of healthy lifestyles.
By 2050, approximately 400 million Chinese people will be aged over 65 years. Presently, more than 50% of nutraceuticals are consumed by the geriatric population. Moreover, it is the fastest expanding market for nutraceuticals across East Asia. Spurred by this, companies are enhancing supply, generating white spaces for diketene derivatives.
The Chinese market is peppered with several regional level manufacturers, which include, but not limited to, Hangzhou J&H Chemical Co. Ltd., Zehao Industry Co. Ltd., Hangzhou Meite Industry Co. Ltd., Haihang Industry Co. Ltd. and many others.
Agrochemicals is another important application area. Presently, the country feeds 22% of the global population, with only 7% of the planet's arable land. It is regionally the highest consumer of grain, due to the presence of the world's largest population. Consequently, demand for fertilizers to ensure crop availability has risen.
What Lies in Store for the Indian Market?
Until 2020, the Indian diketene market was valued at US$ 31.5 Mn, and is further expected to increase to US$ 48.4 Mn by 2030, expanding at a value CAGR of over 4%. Pharmaceuticals & nutraceuticals is the key growth engine, likely to yield over two-fifths of the total revenue.
The India Brand Equity Foundation establishes that the country is the largest provider of generic drugs globally. The Indian pharmaceutical sector generated over 50% of the global demand for various vaccines, 40% of generic demand in the U.S and a quarter of all medicines in the U.K. By 2025, the pharmaceutical industry will reach US$ 25 billion.
Recently, the Union Cabinet has amended existing FDI policies in the pharmaceutical segment to permit 100% investment with regard to medical devices manufacturing subject to certain conditions. The drugs and pharmaceutical sector cumulatively attracted an FDI inflow worth over US$ 16 billion between April and June 2020.
Based on these aforementioned broad trends, investments in diketene derivatives and associated products is likely to burgeon, creating massive revenue pools in the future. Presently, Laxmi Organic Industries Ltd. is the largest producer of these chemicals.
Diketene Market- Category-wise Insights
Diketene Esters Remain Lucrative
By derivative type, diketene esters are expected to remain dominant, attributed to extensive application across pharmaceutical products and agrochemicals respectively, mostly as intermediaries. The segment is likely to generate over 70% of the total revenue share through 2030. Typically, these are used as analgetics to alleviate pain.
Simultaneously, alkylamides are likely to witness the fastest growth, expanding at a value CAGR worth nearly 6% across the forecast period. These derivatives are experiencing notable upsurge due to their extensive usage in the formulation and manufacturing of insecticides.
Demand from Pharma & Nutraceuticals will be Key
By application, pharmaceuticals and nutraceuticals are expected to remain the primary application area for different diketene derivatives for the forthcoming decade. The segment is poised to gain 170 BPS, generating over 2/5th of the overall revenue during the aforementioned period.
However, uptake is equally high across the agrochemicals sector. Extensive production of fertilizers, pesticides and insecticides is increasing adoption of diketene derivatives as important raw materials. The segment is set to generate an incremental opportunity worth US$ 58.2 Mn until 2030.
Competition Analysis
The global diketene market landscape is characterized by the presence of numerous regional and global level manufacturers. Approximately half to three-fifths of the total market share is accounted for by the below-mentioned prominent players*:
Lonza
Eastman Chemical Company
Laxmi Organic Industries Ltd.
Nantong Acetic Acid Chemical Co. Ltd.
Jubilant Life Sciences Ltd.
Ningbo Wanglong Technology Co.
Mitsubishi Chemical Co. Ltd.
*This list is indicative- full details about the diketene market players is available upon request.
Strengthening business foundations for ensuring sustainable growth is a primary strategy deployed by these players to remain afloat in the market. For this, they emphasize on maximizing profitability from existing product portfolios by undertaking significant cost reductions, enhancing cash flows and expanding investment volumes.
Furthermore, small-scale manufacturers opt for contract manufacturing with end-users to supply customized products at competitive prices. For instance, Sagechem Limited, a regional company based in China, offers chemical R&D, manufacturing and distribution services since 2009, including pharmaceutical intermediaries and agrochemicals. It offers contract manufacturing activities with pilot and commercial scales.
Also, existing players are relying on capacity expansion to cope with the every surging business volumes. Lonza, for instance, undertook an expansion drive which included establishing two additional manufacturing suites at its Visp site in December 2020. The facility shall add a 30% additional capacity for clinical and commercial supply.
Another approach relied is shifting price benchmarks. A case in point is that of Eastman Chemical Company, which announced an increase in price of its different grades of N-Butyl Acetate and Urethane to the tune of US$ 0.05/lb, or US$ 0.11/kg across North America and Latin America for January 2021.
In January 2020, Daicel Corporation developed an environmentally friendly form of cellulose acetate with twice the marine biodegradability of existing products. Since it is a naturally derived plastic, cellulose acetate easily biodegrades into water and carbon dioxide, thereby protecting the environment upon its disposal.
Diketene Market- Report Scope
| | |
| --- | --- |
| Attribute | Details |
| Forecast Period | 2020-2030 |
| Historical Data Available for | 2015-2019 |
| Market Analysis | US$ Mn for Value & Tons for Volume |
| Key Regions Covered | North America, Latin America, Europe, Middle East & Africa, East Asia and South Asia & Pacific |
| Key Countries Covered | U.S., Canada, Brazil, Mexico, Germany, Italy, France, U.K., Spain, BENELUX, Russia, China, Japan, South Korea, India, ASEAN, Australia & New Zealand, Turkey, GCC & South Africa |
| Key Segments Covered | Derivative & Application |
| Key Companies Profiled | Lonza, Eastman Chemical Company, Daicel Corporation, Laxmi Organic Industries Ltd., Mitsubishi Chemical Co. Ltd., Zhang Jiagang Hope Chemicals Co. Ltd., Nantong Acetic Acid Chemical Co. Ltd., Ningbo Wanglong Technology Co., Jubilant Life Sciences Ltd. and Toronto Research Chemicals |
| Report Coverage | Market Overview, Key Market Trends, Key Success Factors, Demand Analysis, Market Background, Segmental Analysis, Regional Profiling, Market Structure Analysis & Competition Analysis |
| Customization & Pricing | |
Key questions answered in the report
What is the outlook on future diketene demand?

According to FMI, the global diketene market is expected to register a steady growth trajectory, recording a value CAGR of 5% and reaching US$ 630 Mn by 2030. Growth is largely attributed to heightening adoption across the pharmaceuticals & nutraceuticals and agrochemicals industries

Which is the most promising diketene market?

China is expected to emerge as the most lucrative diketene market, contributing almost 3/5th of the global revenue share. This growth is largely attributed to a proliferating pharmaceutical segment due to increased consumption of health supplements

Which are the prominent diketene manufacturers?

Prominent players in the diketene market include Lonza, Eastman Chemical Company, Daicel Corporation, Laxmi Organic Industries Ltd., Mitsubishi Chemical Co. Ltd., Zhang Jiagang Hope Chemicals Co. Ltd., Nantong Acetic Acid Chemical Co. Ltd., Ningbo Wanglong Technology Co., Jubilant Life Sciences Ltd. and Toronto Research Chemicals
Enquiry before Buying
Is the diketene research conducted by Future Market Insights?

Yes, the diketene report has been compiled by expert analysts of Future Market Insights through a combination of primary and secondary research. To know more about how the research was conducted, you can speak to the research analyst.

What research methodology is followed by FMI?

FMI follows a methodology that encompasses the demand side assessment of the market, and triangulates the same through a supply side analysis. This methodology is based on use of standard market structure, methods and definitions.

Who are the respondents for primary research?

FMI speaks to stakeholders across the spectrum, including C-level executives, distributors, product manufacturers, industry experts. For a full list of primary respondents, please reach out to us.

What are the sources of secondary research?

FMI conducts extensive secondary research through proprietary databases, paid databases, and information available in the public domain. We refer to industry associations, company press releases, annual reports, investor presentations, and research papers. More information about desk research is available upon request.

Is a sample of this report available for evaluation?

Yes, you can request a sample and it will be sent to you through an email.

How can I buy this report?

FMI provides a secure online payment system to buy report seamlessly. You can buy the report securely and safely.
World's Most Profilic Intelligence Engine
Get Access To The World's Largest Market Research Database. Ngage with a revolutionary intelligence engine that scale and pricing that flexes as per your needs
Sign Up Now
Key Segments
Derivative
Diketene Esters
Arylamides
Alkylamides
Dihydroacetic Acid & Salt (DHS)
Others
Application
Agrochemicals
Pharmaceuticals & Nutraceuticals
Pigments & Dyes
Others
Region
North America (U.S & Canada)
Latin America (Brazil, Mexico & Rest of Latin America)
Europe (Germany, Italy, France, U.K, Spain, BENELUX, Russia & Rest of Europe)
East Asia (China, Japan & South Korea)
South Asia & Pacific (India, ASEAN, Australia & New Zealand and Rest of South Asia & Pacific)
Middle East & Africa (GCC, Turkey, South Africa & Rest of MEA)
Need specific information?