About the Report
The global acetone market is expected to display steady growth prospects, in the near future despite the disruptive effects of the coronavirus pandemic in 2019 and 2020. Wide scope of applications in numerous chemical processes, and niche applications in the personal care and pharmaceutical sectors are expected to aid in the development of a positive growth environment for industry players through the projection period between 2021 and 2031.
In a new study, ESOMAR-certified market research and consulting firm Future Market Insights (FMI) offers critical insights on key factors that influence the demand for acetones. The report covers global demand for acetone in more than 20 high potential markets, in addition to an in-depth analysis of the impact of COVID-19 on the global acetone market.
How Does the Historic and Future Outlook of the Acetone Market Compare?
Acetone consumption is anticipated to display steady growth during the assessment period, driven by growth in the varied end user industries. Asia Pacific excluding Japan and North America will continue to hold the lead in the industry. Industrial development initiatives set by governments in these regions are likely to contribute significantly to growth.
Major manufacturers are pushing to optimize production capacities to maintain healthy profitability in an industry displaying strong supply. Collaborations with end user players to maintain robust long-term supply chains have gained traction.
As per the analysis by FMI, acetone sales are likely to rise at approximately 5% CAGR from 2021 to 2031. Acetones are largely used as solvents and for the production of derivatives including bisphenol-A and methyl methacrylate. Plastic, pharmaceutical, polymer, and agrochemical production are also driving demand. The covid-19 crisis had a substantial impact on industries around the globe disrupting supply chains and overall demand through 2020.
On the other hand, growing applications in the pharma sector were expected to create opportunities for market players, owing to increased demand for medication during the pandemic. Relaxation of lockdown regulations and initiatives towards economic recovery are likely to aid the market in the years ahead.
What is the Role of the Cosmetics Industry in Driving Acetone Sales?
Acetone is a colorless fluid. While most supplies come from chemical manufacturing processes, acetone can also be also found in natural sources. In the cosmetics and personal care sector, the chemical is frequently used in varying formulations of nail polish removers. The material also plays key roles in bath products, nail polish, fragrance products, cleansing products, skin care products, and hair care products.
The covid-19 pandemic has had an impact on the demand for acetones in cosmetics. Major cosmetic industry leaders including Revlon, Estee Lauder, and E.L.F. Beauty have reported a decline in sales during 2020, in terms of fragrance products and hair care products. On the other hand, the closure of salon businesses resulted in a growth of home-based self-care activities. Revlon for instance, revealed a double-digit growth in nail polish and skin care products. Driven by economic uncertainties, drugstore brands are more likely to find demand over high-end products, influencing distribution of acetones in the sector.
What is the Scope of Bisphenol-A in Driving Demand?
Despite continuing concerns over health and environment, polycarbonate plastic remains a high demand commodity for the production of items such as baby bottles, storage containers, re-usable water bottles, tableware, and food containers among others. This is a key factor driving the need for bisphenol-A, and as a result influencing the demand for acetone.
Polycarbonates are also finding increased use in a number of end-use industries including construction, electronics, and automotive production. Superior characteristics of temperature change resistance, ductility, transparency, and amorphous properties are factors that will drive demand. As per the FMI report, the demand for bisphenol A will surpass that of methyl methacrylate through the conclusion of the assessment period.
Does Oversupply Remain a Concern?
Since 2018, the gap between supply and demand has gradually tightened, with oversupply becoming a reduced concern for the industry. The prices of acetones have remained largely unaffected even through the covid-19 pandemic.
The demand for acetone has been largely driven by the increased demand for isopropanol, which witnessed significant shortage since the onset of the coronavirus pandemic. The sudden jump in demand for hand sanitizers in homes, hospitals, and public places has resulted in substantial price increases, creating a profitable environment for market players. Consequently, demand from IPA producers has significantly mitigated oversupply issues in the industry.
Increases in production capacity in China and higher volumes of imports in the Middle East, could potentially restore a situation of oversupply. Demand for isopropanol and phenol on a global scale remain key determinants for the future of the market.
Country-wise Insights
Why is China Expected to Lead the Acetone Market?
As per the China Petroleum and Chemical Industry Federation, recent months have reflected an increasingly tight supply of acetone in China owing to high consumption arising from the IPA sector. Also, a major domestic market turnaround schedule has influenced the industry. Supply in China is set to increase following the initiation of acetone and phenol production in the Zhejiang Petrochemical plant. Also, the resumption of imports from Saudi Arabia following the turnaround by Rabigh have influenced supplies in the country.
IPA production rates slumped in May 2020. Also, competition in the industry has increased with a rise in IPA capacities. Only IPA producers in China were able to keep up with increased acetone prices through the covid-19 pandemic. The pandemic also forced MMA manufacturers to keep their production rates lower than normal.
High acetone prices have impacted IPA valuation. IPA prices in Europe on one hand, have been boosted by higher demand in comparison to supply. However in China, IPA prices have been help up largely owing to rising costs of acetone.
What Factors are Influencing Acetone Sales in the United States?
In the US, the acetone market is projected to remain in a strong position, as supply has remained tight. Demand for acetone from solvent and coating manufacturers in the country witnessed a slump during the Covid-19 crisis, but has since improved owing to higher volumes from IPA and MMA sectors, which provided the acetone industry aid in recovering faster towards the latter half of 2020. On the other hand, market players are likely to face a softening of demand from IPA producers owing to gradual reduction in hand sanitizers production.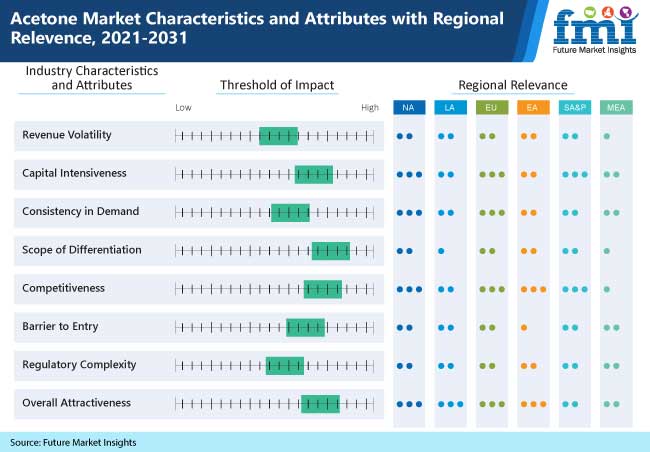 According to a report from the United States International Trade Commission, the U.S. acetone industry was impacted by imports from South Africa, Belgium, and Korea in early 2020, with offerings being sold at less than fair value. This has resulted in the imposition of substantial anti-dumping duties on international acetone manufacturers. Consequently, major players including Sasol have reduced or stopped exports towards the U.S. This is likely to aid in a recovery of the domestic market in the near future.
Which Applications are Driving Demand in India?
The Indian acetone market is largely driven by imports. Major sources of acetone for the country include South Korea, Taiwan, Singapore and Thailand. The demand for acetone is on the rise and is projected to continue increasing in the coming decade, supported by applications in the automobile and the construction sectors, which are reflecting steady recovery in 2021.
The Indian government's initiative of its Smart Cities Mission, is expected to provide a significant boost to the demand for acetone in the construction and automobile industry. The growing number of smart cities and increase in the number of people moving from lower tier cities to major urban centers has boosted the demand for affordable housing. Also, the potential for car manufacturing in India is likely to contribute to demand for acetone.
China is making significant efforts towards self-production for its acetone requirements, with an approximate increase of 1.2 MMT expected to be added, India is set to become the largest importer of acetone in the Asia Pacific excluding Japan region.
The reduction of Chinese imports and the lack of profitable alternative markets in Asia are likely to generate surplus Asian acetone stocks which could be pushed into India. India is currently home to only three key acetone producers – Deepak Nitrile Ltd., SI Group, and Hindustan Organic Chemicals Ltd., with a cumulative capacity of more than 170 thousand MT which keeps imports essential to meet demand in the country for the foreseeable future.
What are the Driving Factors for the UK Acetone Market?
Growth of acetones in the United Kingdom can largely be attributed to the dominance of polycarbonate consumption in the country. As per the Association of Plastics Manufacturers, the UK reflected a 4% year-on-year growth between 2016 and 2020. Most consumption can be attributed to automotive, electrical & electronics, optical media, and building & construction sectors. This is a key factor supporting acetone supplies to the UK.
According to the Chemicals Regulations Division, the UK plastic industry accounts for a valuation of close to 23 billion GBP annually. Increased demand for plastics is expected to aid the growth of the acetone market in the country in the coming decade.
How are Acetone Sales set to Fare in Japan?
The acetone market in Japan is anticipated to rise at a moderate rate owing to presence of leading market participants. In addition, growing demand from major end-use industries such as pharmaceuticals, rubber processing & cosmetics, and agrochemicals industries will aid in keeping the demand for acetone steady in the near future.
The agrochemicals segment in Japan is likely to grow at strongly. Steady population growth is expected to keep up the demand for agricultural produce, which will spur growth acetone applications in the agrochemicals segment. Subsequently, the demand for acetone is expected to increase.
Key importers including the U.S. and India have imposed anti-dumping duties on acetone imports from Japan towards the protection of domestic industry, to minimize imports being sold at below fair price. This factor is likely to influence developments in the country in years to come.
Category-wise Insights
Which Acetone Application Remains Lucrative?
Solvent production is a major contributor to acetone consumption, accounting for more than 30% of the overall market share. Growth in solvent applications can be attributed to its miscibility in organic compounds and water.
The personal care sector has increasingly become a major contributor to acetone solvents, owing to improved consistency in offerings such as nail polish removers, skin cleansers, and hair care products. Bisphenol-A production will also display high potential for growth owing to the high global demand for polycarbonates, which likely to remain unchanged in the coming decade.
How Big is the Opportunity for Chemical & Allied Products?
Acetones find use in the chemicals and allied products sector for use in agricultural chemicals, paints & coatings, rubber processing, polymer & resin processing, adhesives, and printing ink production. The paints and coating industry is expected to emerge as a key contributor as a cleaner and binder solvent. Growth is likely to be stronger in developing economies in Asia, Africa, and the Middle East. The role of acetones with paints and coatings in the building & construction and automotive sectors is expected to positively influence market developments through 2031.
Competition Landscape
Future Market Insights has profiled the following acetone manufacturers in its report:
Mitsui Chemicals Inc.
Domo Chemicals
Formosa Chemicals and Fiber Corporation
CEPSA Quimica
These players have displayed increased interest on collaborations and asset optimization through divestments and acquisitions to improve levels of profitability in regional and global production and distribution networks.
In October 2019, INEOS Phenol announced the development of a new world scale cumene facility in Marl Germany, with a capacity of 750,000 tons, which will integrate raw materials from the cracker complex and refinery. The project is expected to be completed in 2021.
In March 2020, Sasol announced its intentions to stop exports of acetone to the United States from its South African Unit. The decision came after the imposition of a 5-year, 414.9% anti-dumping duty by the US International Trade Commission.
In August 2019, the Dow Chemical Company announced that its Acetone Derivatives Business and associated manufacturing assets in Institute Industrial Park, West Virginia were to be acquired by ALTIVIA Ketones & Additives LLC.
Acetone: Scope of the Report
| | |
| --- | --- |
| Attribute | Details |
| Forecast Period | 2021-2031 |
| Historical Data Available for | 2016-2020 |
| Market Analysis | USD Million for Value, Tons for Volume |
| Key Regions Covered | North America, Latin America, Western Europe, Eastern Europe, APEJ, Japan, and Middle East & Africa |
| Key Countries Covered | US, Canada, Brazil, Mexico, Germany, Italy, France, UK, Spain, Russia, Poland, China, Japan, India, ASEAN, Oceania, GCC Countries, South Africa, North Africa, Turkey, |
| Key Segments Covered | End-Use Industry, Application Type, and Region |
| Key Companies Profiled | INEOS Phenol, Royal Dutch Shell plc, Sasol, The Dow Chemical Company, Mitsui Chemicals Inc., Hindustan Organic Chemicals Ltd., Domo Chemicals, Honeywell International Inc., Formosa Chemicals and Fiber Corporation, CEPSA Quimica, and Others |
| Report Coverage | Market Overview, Key Market Trends, COVID-19's Impact, Demand Analysis, Market Background, Segmental Analysis, Regional Profiling, Market Structure Analysis and Competition Analysis |
| Customization & Pricing | |
Key questions answered in the report
How will Acetone market expand until 2031?

FMI projects the global acetone market to register a CAGR around 5% across the 2021-2031 assessment period. Wide scope of applications and growing niche in pharma and personal care sectors are expected to drive the growth in a positive direction.

Which is the most lucrative market for acetone?

Asia Pacific excluding Japan is the leading region in the global acetone market and the trend is likely to continue in the years ahead. This can be attributed to the transition of manufacturing facilities to the region, supported by low cost of labor, infrastructure, and raw materials.

Who are the leading players in acetone market?

Prominent players operating in the global acetone landscape include INEOS Phenol, Royal Dutch Shell plc, Sasol, The Dow Chemical Company, Mitsui Chemicals Inc., Hindustan Organic Chemicals Ltd., Domo Chemicals, Honeywell International Inc., Formosa Chemicals and Fiber Corporation, CEPSA Quimica, and among others
Key Segments Covered of the Acetone Market
End-Use Industry
Chemical & Allied Products

Agricultural Chemicals
Paints & Coatings
Rubber Processing
Polymer & Resin Processing
Adhesives
Printing Ink

Pharmaceutical Drugs
Cosmetics & Personal Care Use
Application Type
Methyl Methacrylate
Bisphenol-A
Solvents
Others (Aldol Chemicals, etc.)
Region
North America
Latin America
Western Europe
Eastern Europe
Asia Pacific excluding Japan
Japan
Middle East & Africa (MEA)
Need specific information?