Introduction
In 2020, the overall sales for the asphalt shingles witnessed a massive decline due to the Covid-19 crisis as lockdown was implemented and all the factorial units were closed which led the manufacturing companies to face immense losses. Now in 2021, the global manufacturers are giving entire focus on improving their sales and profitability through product innovations and upgrades.
Recognized companies such as Owens Corning, Certain Teed Corporation, Henry Company LLC, Malarkey Roofing Products, IKO Industries, Ltd., Siplast, Inc., TAMKO Building Products, Inc., Tarco, Inc., Polyglass U.S.A., Inc., and Atlas Roofing Corporation are focusing on the incorporation of tactics including partnership agreements, sales contracts, strategic alliances, diversifications, innovative launches, mergers & acquisitions, research and developments, technological upliftments, product line extensions, hiring technical expertise, joint ventures, collaborations, product approvals etc for gaining a competitive edge over others in the market.
For instance, in 2020, Henry Company announced the launch of Henry® 812 RoofSaver™ Clear Sealer – a low-cost solution to shingle replacement. The product has the ability to extend the life of aged shingles and also reduce granule loss. It also offers a great adhesion because of its 100% acrylic technology. RoofSaver can be applied on clay, concrete and slate roof tiles and helps in renewing the appearance of existing roof appearance, offers protection against deterioration as a result of heat from the sun, rain, ice and snow, and wind. Henry Company claims that Henry® 812 RoofSaver™ can extend roof life up to 5 years.
North America, followed by Europe, is predicted to pick up pace and eventually dominate the global market in terms of asphalt shingles through 2030 owing to the emergence of leading manufacturing companies and new domestic players. Asia Pacific region is turning out to be a very lucrative market for the manufacturers owing to a large number of R&D and construction activities and emergence of growing economies such as China, Japan, and South Korea. Other regions expected to take over the market during the forecast period are North America, Latin America, Japan, APEJ and Middle East & Africa.
An asphalt shingle is a wall/roof shingle, which utilises asphalt for waterproofing. Asphalt shingles are widely used as roofing covers, particularly in North America, as they are attributed with a relatively affordable up-front cost. They are very simple to install as well. Asphalt shingles basically come in two types viz. fiberglass and organic.
Cost-effectiveness & Easy Replacement Characteristics Sustaining Adoption of Asphalt Shingles
A broad range of roofing materials are available in the market on the basis of economic, aesthetic, performance, and structural needs. Over the past few years, roof designs have been transforming into an architectural trademark. These transformations offered reasonably priced, structurally sound, and aesthetically attractive designs, along with being environment friendly. In this highly competitive roofing market, asphalt shingles have been of the most favourite choices of consumers.
Although asphalt shingles are not as long lasting and durable as the more premium roofing materials including clay tiles, slate, metal and cedar shake, asphalt shingles enable sufficient aesthetic appeal and adequate protection at mere fraction of price of other roofing systems. This has led several house owners to adopt asphalt shingles for roofing. With expected rise in the residential building construction spending, demand for asphalt shingles is likely to gain an uptick in the near future.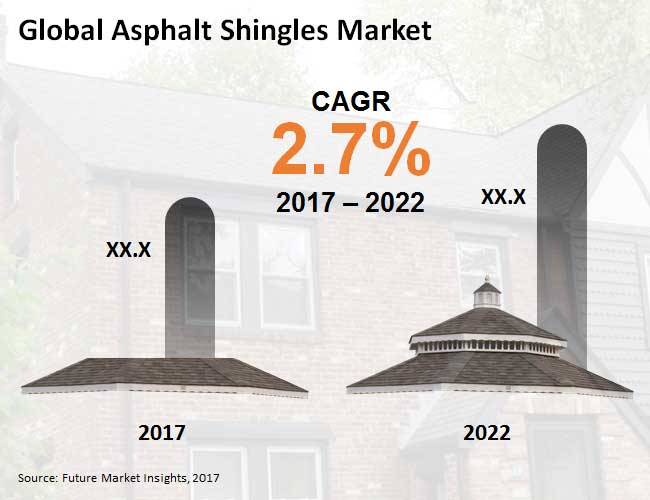 Global warming has now rechristened climate change, allowing snow and extremely cold weather to be experienced in countries, wherein winters are subtropical. This extreme weather, encompassing various regions, is one of the major reasons fuelling adoption of asphalt shingles among roofing systems, as they are cost-effective and can be easily replaced when damaged.
However various factors are likely to affect the cost of asphalt shingles' supply and demand. For example – cost of petroleum-based products, which are used for manufacturing asphalt shingles, based on foreign or domestic provenance.
Market for Asphalt Shingles categorised by Long-Term Relationships between Manufacturers & Customers
The asphalt shingles market is categorised on the basis of high brand loyalty, along with long-term and established relationships between manufacturers and house owners. Global leaders in asphalt shingles manufacturing are therefore concentrating on reinforcing their brand reputation through product differentiation, and offering better quality standards than their competitors.
Key players in the market are now concentrating on implementation of business strategies for coming up with sophisticated & advanced techniques for product development, in-depth understanding of customers as well as the market, and adoption of an established production process for gaining a competitive benefit.
Other key strategies such as a comprehensive product portfolio, and provision of quality service are anticipated to play an indispensable role for players to increase their presence in the market. A latest study by Future Market Insights (FMI) has estimated the global market for asphalt shingles to account for nearly US$ 10,000 Mn revenues by 2022-end.
Key Research Findings from FMI's Report
North America is anticipated to remain dominant in the global asphalt shingles market, with sales estimated to reach roughly US$ 6,000 Mn by 2022-end. Europe will continue to be the second largest market for asphalt shingles.
On the basis of product, strip asphalt shingles are expected to register the fastest growth in sales through 2022.
Based on composition, although fiberglass asphalt shingles are expected to account for a comparatively higher revenue share of the market than organic asphalt shingles during 2017 to 2022.
By end market, although re-roofing will continue to account for larger market revenue share, demand for asphalt shingles in new construction is expected to increase at a higher CAGR through 2022.
Company Profiles
Key participants actively contributing to growth of the global asphalt shingles market include Owens Corning, Certain Teed Corporation, Henry Company LLC, Malarkey Roofing Products, IKO Industries, Ltd., Siplast, Inc., TAMKO Building Products, Inc., Tarco, Inc., Polyglass U.S.A., Inc., and Atlas Roofing Corporation.
World's Most Profilic Intelligence Engine
Get Access To The World's Largest Market Research Database. Ngage with a revolutionary intelligence engine that scale and pricing that flexes as per your needs
Sign Up Now
Market Taxonomy
The report also includes chapters comprising a segmentation-wise forecast and analysis on the global asphalt shingles market. The global market for asphalt shingles is segmented based on product, end market, composition, and region. Along with the segmentation analysis offered, the report also renders country-specific analysis & forecast, and the cross-sectional data concerning the market. The details regarding taxonomy of the global asphalt shingles market have been portrayed in the table below.
Region
North America
Latin America
Europe
Japan
APEJ
MEA
Product Type
Heavy Laminates
Laminates
Strip
Composition
Fiberglass Asphalt Shingles
Organic Asphalt Shingles
End Market
New Construction
Re-roofing
Need specific information?