Roofing Materials Market: Moving Beyond Safety and Weather Resistance
In 2020, the overall sales for the roofing materials market witnessed a massive decline due to the Covid-19 crisis as lockdown was implemented and all the factorial units were closed which led the manufacturing companies to face immense losses. Now in 2021, the global manufacturers are giving entire focus on improving their sales and profitability through product innovations, upgrades and online selling.
Leading corporations including GAF Materials Corporation, Owens Corning, Atlas Roofing Corporation, BraasMonier Building Group; Etex; Boral Ltd Atlas Roofing Corporation, Carlisle Companies Incorporated, and Atlas Roofing Corporation, are taking initiatives to increase awareness regarding the benefits of roofing materials in making homes more resistant to the weather and are also focusing on the establishment of research institutes in different regions to come up with improvements in their offerings. They are adopting business strategies such as sales contracts, strategic alliances, acquiring technical expertise, product approvals, patents and events, joint ventures, partnership agreements, collaborations, digital marketing, mergers and acquisitions, capacity utilisations, technological advancements etc to lead the global market for the roofing materials with largest market share.
For instance, GAF Materials Corporation, took advantage of the post covidscenario by grabbing the opportunity in the digitally driven world and coming out with a customisable sales platform called GAF Project. This platform has been created especially for the contractors as it offers a range of tools from lead management to payments, the end-to-end offering enables contractors to customize a consistent selling experience that is easy to use and accessible anywhere. In addition to this, the company announced the launch of its residential product line with the newly enhanced Timberline® American Harvest shingles. The product comes with time-release algae-fighting technology, fast and accurate installation with LayerLock technology and much more.
Asia Pacific region is predicted to hold the major share in the roofing materials market through 2030 owing to increasing construction activities in the developing regions. The widening of the industrial sector and its development across India is contributing to the expansion of the market. With the arrival of coronavirus, the UK witnessed a delay in the construction of more than 3L planned new homes. In the post covid scenario, with the increase in the housing construction activities in the UK, the roofing materials market can expect a surge in demand.
For decades, roofing materials and techniques have been playing a vital part in making homes more weather resistant, controlling interior temperature or environment, and boosting street appeal of the house. It is also pertinent to note, roofing has been the same for years, with little to no innovation. However, the population of today is increasingly becoming pragmatic, organic, and green. The result is likely to bring notable changes in roofing industry in general and roofing materials in particular.
In 2018, the global roofing materials market accounted for revenues worth US$ 115 Bn, and it is expected to record a CAGR of 4% during the forecast period (2019-2029). In recent years, rapid increase in retrofitting activities in developed countries and continued expansion of the construction industry in developing economies are significantly boosting sales of roofing materials.
Energy-efficient Roofing Materials to Lead the Second Wave of Growth
As low-cost and ease of installation remain influencing factors, asphalt shingles continue to witness higher demand and investment as compared to bitumen. While bitumen has been restricted in several countries due to non-conformance with environmental standards, volatility in prices of petroleum-based roofing materials, especially asphalt shingles, is leading to realignment of manufacturers' strategies.
Mounting concerns over the sustainability of construction materials are changing the building culture, and roofing materials are no exception. Manufacturers have been focused on increasing the production of metal shingles, highly influenced by the 'recyclability' quotient.
However, relatively high cost associated with metal roofing and labor concerns continue to represent threat for market players. Innovations are forthcoming to replace conventional materials with ecofriendly variants. Moreover, leading names in tech, such as Tesla, are entering the sustainable roofing space with production of new type of roofing shingle made of textured glass that will harness energy of the sun to power homes and cost less than traditional roof systems.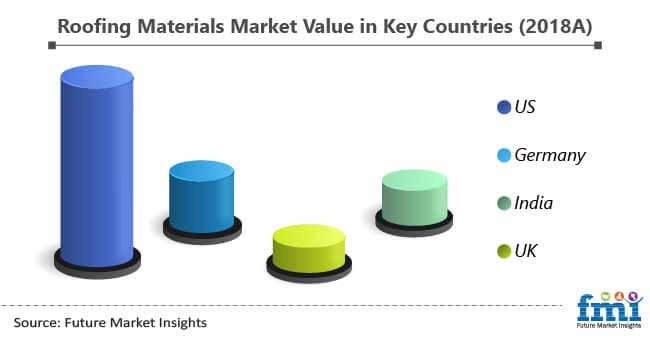 North America Leads Global Adoption, APAC's Market Remains Lucrative
Growth prospects of the roofing materials market are high in the U.S. and EU5, in view of increased retrofitting activities in both residential and commercial buildings with aging and weathered shingles. As homeowners are taking the financial plunge to get a new roof, manufactures are centering on improving their offerings. In the current scenario, North America accounts for 46% of the global market value, and the trend is likely to continue over the predefined timeframe. The U.S.'s market in particular hit its US$ 40 Bn mark in 2019.
Asia Pacific will continue to offer greater opportunities for market players, due to rising government investments in major construction projects across the region. Mass urbanization and increasing need for residential housing units to sustain growing populace, especially in China and India, will complement growth of the APAC's roofing materials market. Strong focus on lifespan, recyclability, energy efficiency, ease of installation, and aesthetics of roofing materials among consumers is further influencing innovation strategies of manufacturers.
Roofing Materials Market: Competitive Landscape
A number of companies vying a pie of the roofing materials market continue to increase with each passing years, given consideration to increasing infrastructural development across the globe. Some of the leading market players include GAF Materials Corporation, CertainTeed, Owens Corning, Atlas Roofing Corporation, Carlisle Companies Inc., Boral Ltd., Braas Monier Building Group, Johns Manville, and Etex.
World's Most Profilic Intelligence Engine
Get Access To The World's Largest Market Research Database. Ngage with a revolutionary intelligence engine that scale and pricing that flexes as per your needs
Sign Up Now
Roofing Materials Market: Segmentation
The global roofing materials market is segmented in detail to cover every aspect of the market and present a complete market intelligence approach to readers.
By Product
Asphalt Shingles
Concrete & Clay Tiles
Plastic Roof
Metal Roof
Others
By Application
Residential
Non-residential
By Region
North America
Europe
Asia Pacific
Central & South America
MEA
Need specific information?