Tire Materials Market By Material Type (Natural Rubber, Synthetic Rubber), Tire (Solid Tire, Pneumatic Tire), Vehicle (Passenger Cars, Light Commercial Vehicles ) & Region - Forecast to 2018- 2028
Tire Materials Market - Analysis, Outlook, Growth, Trends, Forecasts
March 2019

REP-GB-9242

352 pages
Global Tire Materials Market – Key Research Findings
In 2020, the overall sales for tire materials witnessed a massive decline due to the Covid-19 crisis as lockdown was implemented and all the factorial units were closed which led the manufacturing companies to face immense losses. Now in 2021, the global manufacturers are giving entire focus on improving their sales and profitability through product innovations and upgrades.
Leading corporations including Cabot Corporation (US), JSR Corporation (Japan), Thai Carbon Black (Thailand), Lanxess (Germany), and Bekaert (Belgium) are making high investments in the establishment of research institutes in different regions to come up with improvements in their offerings. They are adopting business strategies such as sales contracts, strategic alliances, acquiring technical expertise, product approvals, patents and events, joint ventures, partnership agreements, collaborations, digital marketing, mergers and acquisitions, capacity utilisations, technological advancements etc to lead the global market for tire materials with largest market share.
For instance, Cabot Corporation announced the launch of ENERMAX™ 6 carbon nanotube (CNT) series. ENERMAX™ 6 carbon nanotube products are the company's high-performance CNTs. With its high aspect ratio, it is proven to be the most conductive multi-walled CNT product in the history of carbot. The series is expected to enhance battery performance at lower loadings. In addition to this, in March 2021, Cabot Corporation announced its intention to continue to expand its commitment to Responsible care and also completed the Responsible Care 14001 (RC14001) certification process at four additional sites in China.
North America is predicted to rule the global market for tire materials through 2030 owing to increasing demands from the manufacturing industries like the automobile industry. Presence of leading manufacturing companies that produce and distribute superior class tire materials globally contributes to make China a leading region. In Asia Pacific, long term supply agreements between key raw material suppliers engaged in synthetic rubber, natural rubber or silica market and the tire manufacturing companies is the prime factor helping the global raw material manufacturers to dominate the respective markets.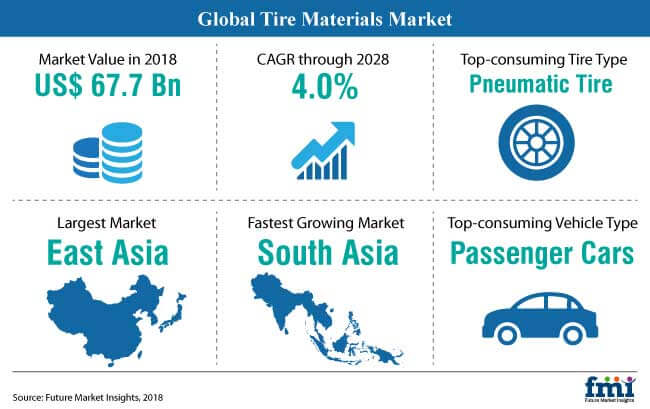 Global tire materials market value in 2018 – Nearly US$ 67 Bn
Tire materials market revenue estimated to expand at a moderate 4% CAGR over 2018–2028
In terms of consumption, East Asia and South Asia are anticipated to register high value and volume growth in the tire materials market.

Increasing Tire production and rising tire replacement activities in countries, such as China, India and Brazil, is the key driving factor for the growth of the tire materials market.
Moreover, easy availability of materials, low labor cost, and lenient environmental and government regulations in these regions are encouraging the tire manufacturers to expand their manufacturing facilities in these regions, which in turn, is expected to drive the demand for tire materials.

North America and Europe are estimated to register moderate growth in the tire materials market over the forecast period.

Slowdown in automotive production and availability of economic tires imported from China are key factors responsible for moderate growth of tire materials market in these regions, despite predominance of key tire manufacturers.

Silica has been widely used as a reinforcing filler material, effectively replacing carbon black.

Tire makers have switched to silica-made tires to cut down rolling resistance by 20% and increase fuel efficiency by 5%. Road transport contributes ~20% to CO2 emissions in the EU and other developed countries. Thus, reducing emission has been critical to reducing greenhouse effect and the resulting climate change
The adoption of silica as a reinforcing filler material for the development of green tires reduces the CO2 emissions by almost 7%.

In recent years, a serious downfall in tire retreading activities has been registered across the globe

Retread tires has significant benefits that impact global warming, resource reduction, CO2 and particle emissions and even land usage.
The retread market has continued to decline in recent years with more ultralow-cost tires being purchased that are generally used only once. The number of retreaded tires dropped to 14.3 million in 2017 from 15.3 million in 2014
Top 3 factors driving the growth of Tire Materials Market
Expanding Vehicle Parc and Increasing Automotive Production
Tires are an important part of the automobile industry and thus, production and sales of vehicles directly affect the dynamics within the tire industry. Over the recent past, the automotive industry has registered significant growth of 3%-3.5% and is expected to grow at the same rate over the projected period.
This growth is expected to be comparatively higher in Asian countries, such as China and India, which can be attributed to better economic conditions and growing inclination of population towards comfort-travelling, and this in turn, is expected to fuel the demand for tires.
In a vehicle, a tire is one of those parts that must be replaced frequently -- after every 2-3 years -- as tires experience maximum wear and tear. Further, it is estimated that in the FY2017, the global vehicle parc was about 1.3 billion. Thus, it can be easily concluded that the growing vehicle parc and production will augment the market of automotive tires. Rising automotive production and ever-increasing automotive fleet size will also increase the consumption of tires and increasing tire consumption will up surge the demand for tire materials
Shifting Trends in the Global Demographics
According to Federal Reserve and United Nations research forecast, the middle class population will grow worldwide from 5 percent to 25 percent between 2005 and 2030. Increasing middle class population coupled with rising urbanization in developing countries will increase the number vehicle owners as many people will be able to afford a vehicle.
Apart from this, increasing youth population has also led to increased sales of automotive, which is a positive sign for the tire materials market. Similarly, changing lifestyle and increased standard of living have increased the adoption of high performance tires as well as branded tires and thus, increasing demand for such tires will positively impact the tire materials market. Increasing number of vehicle owners will push the growth of both original equipment manufacturers (OEM) as well as aftermarket segments and thus, growing demand for tires will give a boost to the tire materials market.
Robust Industrial Growth Driving HCV and LCV Sales
Due to the flourishing industrial sector, including manufacturing, mining, construction, utilities and oil & gas, the sales of HCVs and LCVs has increased in the global market and is expected to further increase during the forecast period. Due to this, many tire companies are entering the market in the Asia-Pacific and MEA regions with the hope of capitalizing on increased sales and expanding their geographical footprint.
Companies in the tire materials market are focusing on developing products that comply with safety norms of the local market. Through effective research, development and innovation, global manufacturers will find opportunities to capture the unexploited market and increase their market share. Thus, increasing tire production activities to cater to this increasing demand will positively influence the tire materials market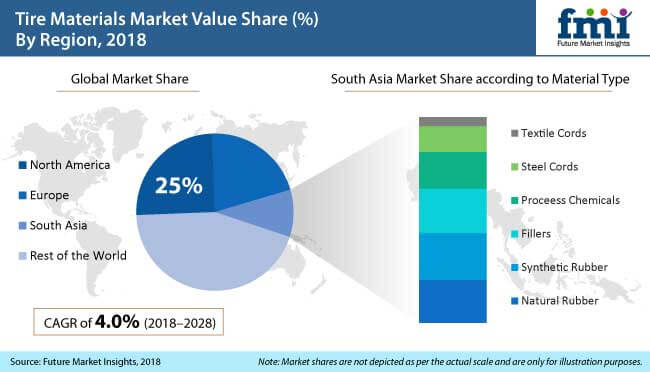 Global Tire Materials Market Structure:
Synthetic rubber, natural rubber, and filler materials, such as Silica or specialty silica, are prime tire materials used in the production of tires. The market pertaining to such materials is highly consolidated and the key manufacturers hold the maximum share in these raw materials market
Long term supply agreements between key raw material suppliers engaged in synthetic rubber, natural rubber or silica market and the tire manufacturing companies is the prime factor helping the global raw material manufacturers to dominate the respective markets
On the other hand, other raw materials markets, such as Carbon Black, are moderately fragmented owing to the presence of unorganized local market players. This will have a decent impact on respective regional markets
Tire Materials manufacturers are emphasizing on expansion of their production capabilities to sustain in the market and meet with increasing market demand
World's Most Profilic Intelligence Engine
Get Access To The World's Largest Market Research Database.
Sign Up Now
Key Segments
By Material Type
Natural Rubber
Synthetic Rubber

Styrene Butadiene Rubber (SBR)
Poly Butadiene Rubber
Butyl Rubber

Fillers
Process Chemicals

Antidegradants
Accelerators
Oils

Steel Cords
Textile Cords
By Tire Types
Solid Tire
Pneumatic Tire
Retreated Tires
By Vehicle Types
Passenger Cars
Light Commercial Vehicles
Heavy Commercial Vehicles
Wheelers
By Region
North America
Europe
Middle East and Africa (MEA)
East Asia
South Asia
Oceania
Latin America
Need specific information?
Our Clients