About the Report
Tires in today's vehicles are integral components which determine vehicle performance and driver safety. Tire testing machines test tires under static and dynamic conditions, evaluate material properties, and enable safety for vehicles. For the ever-evolving tire specifications and performance oriented to each end-use industry including automotive, aerospace and defense vehicles, tire testing equipment is getting better at evaluating different tire profiles.
In its new study, ESOMAR-certified market research and consulting firm Future Market Insights (FMI), offers insights about key factors driving demand in the Global Tire Testing Machine market. The report tracks the sales of Tire Testing Machine in high-growth markets, along with the analyzing the impact COVID-19 had on the tire industry in general, and Tire Testing Machine in particular.
How the Future Outlook for Tire Testing Machine Market with Historical Sales?
Tires play a pivotal role in today's vehicles. Given the conditions vehicles have to ride on, tires are required to perform under extreme conditions in terms of weather, driving characteristics, and serve longer miles before they wear out. Product innovations, patent filings, technical developments, research, and tire testing have paved way for the entry of many tire testing machine manufacturers. Most of the investments have been focused on the improvement of machine compatibility, its performance and its output. According to FMI's analysis, on the back of these factors, tire testing machine will grow at 4.6% CAGR between 2021 and 2031.
The impact of the COVID-19 pandemic has been significant on the tire testing machine market. The consequences have been wide reaching, particularly for automotive end-use industry with declining usage in aerospace sector. Regions such as Asia-Pacific, Europe and North America have been drastically affected with devastating effects on supply chain, production, sales and market development. Globally, the automotive industry experienced a sharp decline in 2020. Arguably, the challenge for tire testing machine manufacturers is unprecedented. Since COVID-19, there have been some noticeable signs of slowing down. The overseas market development, remote working trends, unavailability of raw materials, and dependency on outsourcing, were some of the key trends during pandemic.
What is the Effect of Automation on the Market?
At the onset of fourth industrial revolution, development of smart factories and digital age, tire testing suppliers are ramping their machines to be able to address evolving market demand. Tire machinery manufacturers are investing more in R&D, evolving quickly in technology, and offering tailored automated solutions for optimum production to their customers due to the rapid pace of change faced by tire producers. The effect of increasing automation to eradicate human errors for tire producers would be that strict testing on 100% of tire manufacturing would be a legal requirement.
Automatic tire testing machines provide faster cycling times, surge in productivity, reduce dependency on labor, decrease the lead time, reduce errors and provide considerable benefits to owner as well as end-user.
How Partnerships are Providing Stimulus to Tire Testing Machine Manufacturers?
The key players in the tire testing machine market are actively engaged in various forms of partnerships with tire manufacturers and automotive OEMs to help them address a large market. These partnerships are creating new avenues for product development, its market positioning, improving the product value, its lifecycle, and easy deployment of product into the market. They are providing a stimulus in the Tire Testing Machine market.
How Challenging Are Tire Testing Machine Costs?
Innovative tire design and development ideas and improved production processes with a higher degree of automation and more transparency, are needed by tire manufacturers and machine builders. Reduced downtime, detailed diagnostics, and lower energy usage are also important features.
Around the same time, considering the numerous integrations into a tire testing machine, several plants must be upgraded to meet current standards and new regulations, which are costly and not feasible. These solutions tend to become expensive and cost becomes a critical factor deterring the market growth.
Country-wise Insights
How big is the Opportunity in U.S.?
The U.S. is home to some of the prominent market players such as MTS Systems Corp, Ametek Inc and Calspan Corporation, These companies serve tire manufacturers, automotive OEMs, and aircraft industry. There is ample opportunity for product development in the country backed by regulatory norms including the FMVSS 119 which are the North American requirements according to the National Highway and Traffic Safety Administration (NHTSA)
How is the Tire Testing Machine Market expected to develop in China?
In China, many American and European tire testing machine manufacturers as well as automotive OEMs have set up manufacturing units. There is large activity in this country as the tire industry is poised for global growth. It will attract global attention and serve a large consumer base in the Chinese market as well as other parts of East Asia.
Also, the increasing vehicle production has been enabling growth in the country. According to the China Association of Automobile Manufacturers, in July 2020, the production and sales of automobiles in China were 2.201 and 2.12 million, respectively. With the numbers forecast to rise, China will continue offering lucrative prospects for tire testing machine sales.
What is market potential for Tire Testing Machine in Germany?
European countries such as Germany, are considered hotspots for tire testing machines sales. Some of the key manufacturers have partnered with leading OEMs from Germany. These partnerships aim to provide a collaborative effort towards driving profitable solutions while simultaneously serving market needs. The country is likely to generate profitable business in the forecast period. It has a very high market potential considering supply-side development.
What is the market scenario of tire testing machines in India?
In India, a large portion of tire testing facilities serve a small to medium sized market but there is large number of cost leadership in the country. Testing machines are used for defense vehicles, laboratories and majorly at tire dealers and specialty shops.
The India Brand Equity Foundation (IBEF), has identified the rising middle class income to be a key driver of automobile sales in India. IBEF also has forecast India to displace leading automotive producing countries such as Germany and Japan, to emerge at the fore by 2021.
With automotive product gaining pace, India will continue offering conducive environment for sales of tire testing machines.
How lucrative is the market for tire testing machines in Japan?
In the country of Japan, developments in tire testing machines are positively impacting the market growth. The country has a large supplier base for tire manufacturers based in the country like Sumitomo Tires and Bridgestone Tires.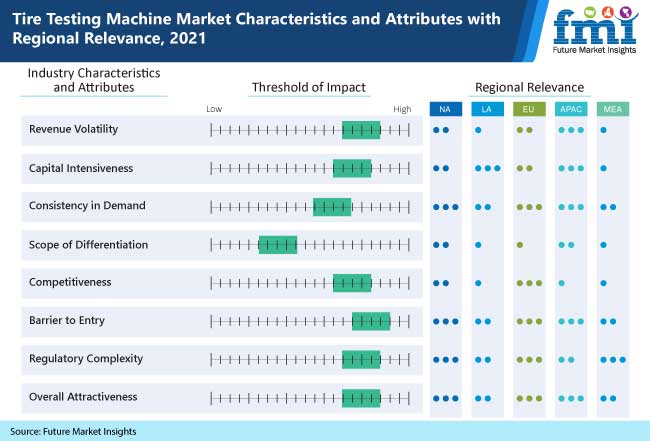 Segment-wise Insights
Which are Preferred Tire Testing Machine Types?
In the current scenario, tire force & measurement machines, endurance testing machines and tire uniformity machines are dominating the global market. These machines play a crucial role on evaluating tire parameters before it runs on the track. There is a lot of activity at supplier side concerning development of these machines. Demands from motorsports, EVs and aircrafts are fueling the market growth.
How will tire manufacturers influence the demand for tire testing machines?
As per, leading tire manufacturer, Continental AG, approximately 150,000 tires get tested at every large tire manufacturing company, every year. Coupled with the global tire production rate, which gradually increases 3-4% every year, testing machines will be required on a large scale to meet the ever-rising demand. Tire manufacturing is also impacted positively by growing automotive production and aerospace fleet.
Is there Room for manual tire testing machine in the global market?
In the current industry scenario, a large number of tire testing machines are currently operated automatically due to the onset of industrial automation. The reduced dependence on workforce, improved productivity and reduced lead time offer considerable advantages than manual machines. Due to automatic machines, cycle time considerably increases and this positively impacts the adoption of automatic machines. Manual machine however can be found in small to medium tire testing facilities having batch testing of 50-100 tires per day.
Why Do Four Wheelers Account for Maximum Tire Testing Machines Sales?
Four wheelers including passenger cars, motorsports and heavy commercial vehicles constitute a larger chunk of the global automotive production. In 2019, total of 92 million passenger cars and commercial vehicles were sold. With rising population and automotive commercial activities like taxi services, ride sharing and electrification, there will be ample opportunities for rising demands from this application type.
Competitive Landscape
Some of the ley players profiled in FMI's tire testing machine market study include MTS Systems Corp, A&D Co. Ltd, Ametek Inc and ZF AG.
The tire testing machine market is a highly competitive market dominated by both global and regional players which are aiming to provide the most cost competitive solution for various end-uses of tire testing. There is a lot of product differentiation concerning the types of solutions which are offered to tire manufacturers, automotive OEMs and for contract and laboratory purposes.
The key participants currently driving the market, hold approximately half the market value share. Drive for product positioning and aggressive marketing are some of the common behavioral trends in the global market.
Some of the leading companies operating in the market are:
MTS Systems Corporation;
Burke Porter Group
AMETEK,Inc.
TMSI LLC
Kistler Group
Kobelco Technology
Kokusai Co. Ltd
ZF Friedrichshafen AG
Zwick Roell LP
Calspan Corporation
Qingdao GaoCe Technology Co., LTD
Leonardo Automation
*The list is not exhaustive, and only for representational purposes. Full competitive intelligence with SWOT analysis available in the report.
Scope of the Report
Attribute

Details

Forecast Period

2021-2031

Historical Data Available for

2016-2020

Market Analysis

USD Million for value and units for Volume

Key Regions Covered

North America, Latin America, Asia-Pacific and Middle East & Africa

Key Countries Covered

US, Canada, Germany, U.K., Italy, Spain, Russia, China, Japan, South Korea, India, ASEAN countries, Australia, Turkey, Brazil

Key Segments Covered

Machine Type, Application, Operation, End-use and Region

Key Companies Profiled

MTS Systems Corporation
A&D Technology
Burke Porter Group
AMETEK,Inc.
TMSI LLC
Kistler Group
Kobelco Technology
Kokusai Co. Ltd
ZF Friedrichshafen AG
Zwick Roell LP
Calspan Corporation
Qingdao GaoCe Technology Co., LTD
Leonardo Automation

Report Coverage

Market Forecast, brand share analysis, competition intelligence, DROT analysis, Market Dynamics and Challenges, Strategic Growth Initiatives

Customization & Pricing
Key Questions Answered in the Report
Which Is The Most Lucrative Market For Tire Testing Machine?

The U.S. currently leads the tire testing machine market. The country is leading due to a number of factors including the increasing production of tire testing machines backed by the rising demand from end-use sectors such as automotive and aerospace.

Which Tire Testing Machine Type has the Spotlight?

The tire force and measurement machine type is vital for evaluating performance of tire under dynamic conditions and thus it is the most valued in the global market.

Which Region will Exhibit High Demand for Tire Testing Machine?

Europe is expected to register a healthy CAGR over the forecast period in the global market. This is backed by the presence of tire manufacturing companies in Europe, with a large base for automotive manufacturing facilities.

Which are some of the leading companies in the Tire Testing Machine Market?

Some of the leading companies in the Tire Testing Machine market are MTS Systems Corp, A&D Co. Ltd, ZF AG and Ametek Inc.

Who is the Leading End User of Tire Testing Machine?

Automotive end-use is driving the sales of tire testing machine because automotive tires need to perform under critical conditions, and deliver superior performance. The developments in automotive industry are positively impacting the market growth.
Tire Testing Machine Market by Segments
Machine Type
Flat Belt Tire Testing Machine
Rolling Resistance Testing Machine
Dynamic Contact Testing Machine
Tire Balancing Machine
Drum Tire Testing Machine
Endurance Testing Machine
Endurance + High Speed Testing Machine
Tire Force & Moment Measurement Systems
Plunger Test & Bead Unseating Test machine
Tire Stiffness & Footprint Measurement machine
Tire Tread Wear Simulation Systems
Run Flat tire Durability Tester
Load Tester
Uniformity Tester
Application
Two Wheelers Tire Testing Machine
Four Wheelers Tire Testing Machine

Passenger Cars Tire Testing Machine
Motorsports Tire Testing Machine
Heavy Commercial Vehicles Tire Testing Machine

Industrial & Off-road vehicles Tire Testing Machine
Aircraft Tire Testing Machine
Defence Vehicles Tire Testing Machine
Operation
Automatic Tire Testing Machine
Manual Tire Testing Machine
End-use
Automotive

OEMs
Repair & Maintenance Service Stations
Tire Dealers & Specialty Shops

Aerospace
Tire Manufacturers
Other Testing, Research & Certification Agencies
Region
North America
Latin America
Europe
Asia-Pacific
Middle East & Africa
Need specific information?
Talk Show:
The Rise of Intelligent Packaging
Personalized, Connected and Sustainable
November 18, 2021
11:00-11:45 AM PST (USA & Canada)
This is a LIVE session