Introduction
The aircraft tire market is gradually overcoming the challenges encountered in recent years, including banned industrial applications and disposal of rubber, complex manufacturing demands, and high environmental impact. Witnessing moderate expansion at a CAGR of 4% over 2017-2026, the global aircraft tire market revenue is expected to reach just under US$ 2 Bn by 2026 end.
According to a recently conducted study on the global aircraft tire market, the manufacturing processes and regulatory norms associated with aircraft tire are likely to become even more complicated in the near future. Evolving aircraft body dynamics and critical demand for reduced aircraft bodyweight are expected to take the front seat in the aircraft tire landscape throughout the foreseeable future, as the focus on optimum fuel efficiency zooms in.
Top 4 Companies Take up 35% of the Total Market Value, Leaving the Rest of Aircraft Tire Landscape Fragmented
The competitive landscape of aircraft tire market is foreseen to witness fierce competition among top performing players over the product differentiation. The top four players in global aircraft tire market, i.e. Bidgestone, Michelin, GoodYear, and Polymer Enterprises currently hold around 35% share of the total market value. While manufacturing facility expansion, strategic acquisitions, and new product launches will highlight the most preferred developmental strategies in aircraft tire market space, material innovation will also be a priority for aircraft tire manufacturers. Recently, Bridgestone Americas launched two new products in the ultra-wide base aircraft tire.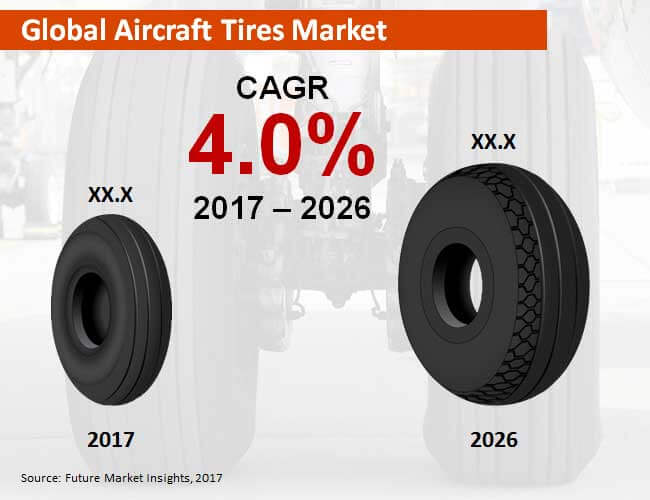 Soaring Adoption of Kevlar in Manufacturing of Aircraft Tire for Military and Aerospace to Elevate Global Sales of Aircraft Tire
Adoption of high-performance materials that also complement the demands set by concerned safety standards is currently one of the most important strategy for aircraft tire manufacturers. Using synthetic elastomer or cross-linkable rubber material has proven to augur well for aircraft tire market in the recent past, followed by the integration of hybrid composite materials into rubber used in the manufacturing of aircraft tire. Aircraft tire design has been evolving over the years, and one of the latest innovations include the implementation of Kevlar – a new aramid (aromatic polyamide).
While the use of aramids is ubiquitous among aircraft tire manufacturers that predominantly serve military and aerospace industries, Kevlar has been claimed to deliver improved performance over conventional aramids in terms of friction, resistance, and tensile strength. Aircraft tire applications specific to military and aerospace sectors demand a higher strength-weight ratio, enhanced heat resistance, anti-chemical, cut, and flame properties, and lower elongation peak – for a better performance during take-off as well as landing cycles. Visibly increasing demand for Kevlar is slated to provide a strong impetus to aircraft tire market growth over 2017-2026, as indicated by a recent study.
Widening Airline Network and Growing Air Traffic to Push Sales of Aircraft Tire in Asia Pacific
While strong economy and soaring demand for new aircrafts will continue to enable the Americas retain dominance over other regions in aircraft tire market throughout the projection period, the regional evaluation of aircraft tire market unleashes an impressive growth outlook for Asia Pacific, through 2026. In the backdrop of Asia Pacific's surging air traffic, it is more likely that the aircraft tire market in APAC will attract substantial revenue in the near future.
The demand for advanced technology aircrafts is already on the rise, and will continue to be impacted by the establishment of new airlines leading to network expansion, eventually boosting the sales of aircraft tire in APAC. Moreover, a growing rate of replacement of obsolete wide-bodied aircrafts, coupled with an escalating concern regarding fuel efficiency of the aircraft equipment will play a vital role in improving growth prospects for Asia's aircraft tire market in the near future.
Functional Superiority to Reap Higher Revenue for Bias Ply, Steady Growth Estimated for Radial Ply Aircraft Tire
Consistently high demand for bias ply aircraft tire is poised to overshadow the sales performance of the radial counterparts. With global revenue accounting for a share of over 60% in aircraft tire market value in 2017, bias ply aircraft tire is projected for solid growth through 2026. Bias ply tends to offer better ground control, superior surface resistance, and enhanced stability over radial ply, retaining higher revenue in aircraft tire market. Radial aircraft tires are however anticipated to witness increasing preference for lightweight, fuel efficient aircrafts.
Competitive Landscape Analysis: Global Aircraft Tire Market
A leading brand in aircraft tire market, The Goodyear Tire & Rubber Company started the new facility expansion project in Luxembourg. Growing R&D investment is also identified to mark an important move considered as a growth key by a majority of companies operating the aircraft tire marketplace. Bridgestone Corporation has been focused on R&D of sustainable aircraft tire that complements the voluntary standards associated with improved aircraft safety, noise reduction, natural resource conservation, and material recycling. With strong R&D presence in the US, China, Japan, Thailand, and Italy, the company recently commenced its expansion in France through acquisition of a leading retailer of aircraft tire.
Continental AG offers a selective range of intelligent aircraft tires equipped with sensors integrated into a small chip. The sensors have performance monitors that track tire damage, wear and tear, pressure, and a few other parameters. Recently, Safran Landing Systems in collaboration with Michelin Aircraft Tire, launched the first-ever connected aircraft tire – PresSense. Such smart innovations are foreseen to impart a new dimension to aircraft tire market, opening a myriad new opportunities for both aircraft tire manufacturers and technology innovators.
Click to know more on competitive scenario and understand key strategies of the prominent participants in aircraft tire market.
Research Methodology & Market Taxonomy
To deeply understand the performance of the global aircraft tires market for the foreseeable future, the market has been segmented into various segments depending on different factors. Further, the revenue generated by leading manufacturers has been included in the report. The aircraft tires market assessment report evaluates the revenue generated in terms of value (millions of dollars). The existing market has been sized up to deliver most accurate forecast as it is crucial for estimating how aircraft tires market need to enhance over the course of decade.
On the account of market characteristics, the output has been triangulated on threefold approach such as economic envelope, supply side and downstream industry demand. All the segments of aircraft tires market have been studied by BPS to identify the contribution of each individual segment to aircraft tires market.
Region
North America
Latin America
Europe
APAC
MEA
Aircraft Type
Small Widebody Aircraft
Medium/ Large Widebody Aircraft
Narrowbody Aircraft
Propeller Aircraft
Helicopter
Defence and Homeland Security Aircraft
Freighters
Ply Type
Sales Channel
Need specific information?