Key Highlights from Report
Which is the most lucrative market for aircraft tire market?

According to FMI, the U.S. will emerge as a highly lucrative market for aircraft tire. Besides this, the demand in China, Japan, and other countries is poised to surge in the coming years.

Which aircraft type will account for maximum sales in aircraft tire market?

Narrowbody aircraft is expected exhibit high demand in the market. However, widebody aircrafts are anticipated to register growth at a swifter pace.

Which ply type accounts for the highest sales in aircraft tire market?

Backed by functional superiority, bias ply aircraft tires are expected to high growth between 2021 and 2031.

Who are the leading aircraft tire market players?

Bridgestone Corporation, Goodyear Tire & Rubber Company, Compagnie Générale des Établissements Michelin, Dunlop Aircraft Tyres Limited, and Polymer Enterprises Inc. are some prominent players operating in the global aircraft tire market
Key Points Covered in Aircraft Tire Market
Market estimates and forecast 2021-2031
Key drivers and restraints impacting market growth
Segment-wise, Country-wise, and Region-wise Analysis
Competition Mapping and Benchmarking
Brand share and Market Share Analysis
Key Product Innovations and Regulatory Climate
COVID-19 Impact on Aircraft Tire Market and How to Navigate
Recommendation on Key Winning Strategies
2016-2020 Aircraft Tire Market Outlook In Comparison to 2021-2031 Forecast
The aircraft tires market have made significant gains in the recent past, owing to the expanding airline network and surging demand for military and commercial aircrafts the world. Furthermore, growing sustainability concerns have furthered the adoption of radial ply aircraft tires among prominent manufacturers. This has bolstered the growth of aircraft tire market.
The aircraft tire market is anticipated to witness impressive growth overcoming the challenges encountered in recent years, including complex manufacturing demand, banning of industrial application and disposal of rubber.
From adopting radial tires to adoption of Kevlar - an aromatic polyamide, aircraft manufacturers are adopting hybrid composite materials for the manufacturing of military aircraft tires. This efforts are yielding credible results, with the market registering a growth of over 6% CAGR during the forecast period of 2021 and 2031.
In its new study, ESOMAR-certified market research and consulting firm Future Market Insights (FMI) offers insights about key factors driving demand for aircraft tire. The report tracks the global sales of aircraft tire in 20+ high-growth markets, along with analyzing the impact COVID-19 has had on the automotive industry in general, and aircraft tire in particular.
How is Application in Military and Commercial Aircrafts Affecting Growth?
Surging production of military and commercial aircrafts has improved the growth prospects for the aircraft tire manufacturers. Also, rising production and usage of aircrafts led to higher maintenance cycles of aircrafts across the world, fostering the sales.
Technological advancements and increased research & development activities for the development of sustainable tire production is improving the growth of aircraft tire market. Increasing use of narrowbody and widebody aircraft in commercial and military sector has widened the scope of aftermarket tire sales, attributed to the constant need for maintenance services. Opportunities also abound in the bias ply segment. Hence, the market is poised to embark on a positive growth trajectory until 2031.
A temporary setback was however experienced amid the COVID-19 pandemic, as government imposed lockdowns caused a pause in production activities, triggering a shortage of essential spare parts and accessories. However, as there were relaxations in the rules and international travels, the market experienced a resurgence with the recommencement of travel industry.
How are Sustainability Concerns and Demand for Kevlar in Manufacturing of Aircraft Tires Pushing Sales?
Surging adoption of high-performance materials which also matches the demand set by regulatory bodies is one of the most important strategy for aircraft tire manufacturers. Using cross-linkable rubber material or synthetic elastomer has proven to bode well for aircraft tire market, followed by the adoption of hybrid composite materials into rubber used for manufacturing aircraft tires.
Hence, prominent manufacturers are constantly conducting research & development activities for the innovation in manufacturing. Key players are adopting the usage of Kevlar – a new aramid, for the manufacturing of aircraft tires used in the military as well as commercial aircrafts.
Kevlar has claimed to boost the performance of tires while providing sufficient friction, resistance and tensile strength. Aircraft tires used in the military application need enhanced heat resistance and lower elongation peak for better performance.
Increasing demand for aircraft tires with the integration of Kevlar is expected to boost the market revenue over the forecast period of 2021-2031.
Demand for Helicopters & Freighters in the Military Sector to Drive Sales
Helicopter and freighter aircrafts are expected to witness positive growth over the forecast period. Growth is attributed to the surging popularity of wheeled helicopters and cargo aircrafts primarily used in the military sector.
Increasing applications from military sector such as surveillance, combat operations, emergency services, and others are expected to boost the production of helicopters. Furthermore, these helicopters offer better fuel economy and higher speed over long distances, which will improve the demand of aircraft tires.
Country-wise Analysis
What are the Opportunities in U.S. Aircraft Tire Market?
The U.S. aircraft tire market is poised to witness substantial growth throughout the forecast period. According to the Aerospace Industry in the United States, in 2018 the industry contributed US$ 151 billion in the export sales to the U.S. economy through its manufacturing industry. Also, in 2019, the U.S. aviation industry registered around US$ 387 billion sales revenue for aircraft and aircraft exports were valued at US$ 126.5 billion.
Furthermore, the sales of U.S. aerospace industry grew by 15% registering the sales of around US$ 137 billion across Washington and US$ 119 billion sales across California. On the flip side, due to outbreak of COVID-19, the industry witnessed a set-back and registered a drop in production of aircraft of nearly 50% in the FY-20.
However, as the economy recovered, increased focus on the sustainable investment in research & development for the product innovation and recommencement of transportation industry fueled the growth of aircraft industry across the U.S.
Furthermore, increasing number of passengers travelling internationally have widened the scope for aircraft tire manufacturers across the country. Heavy presence of manufacturers in the region and rising production of commercial as well as military aircrafts will drive the demand of aircraft tires in the U.S.
How is China Spearheading the Growth in Asia Pacific Aircraft Tire Market?
While soaring demand for new aircrafts will continue to enable the growth in the U.S., the report on the aircraft tire market presents an impressive growth outlook for China. Technological advancements for aircrafts and rising demand from the military sector for narrowbody aircraft is expected to bolster the growth of aircraft tire across China.
As of 2019, around 600 million passengers travelled to international as well as domestic borders, representing an increase of 2% compared to 2018. However, the number reduced drastically due to pandemic registering a drop of almost 90%.
As airlines in this region continue to invest in procuring new and technologically advanced aircrafts despite the pandemic. Also, increasing disposable income coupled with rising business activity in the country has led to increasing number of domestic as well as international passengers in China. Furthermore, favorable regulations in the aviation industry and increasing number of budget airlines will propel the growth of aircraft tires in China.
With China being the second largest market for the manufacturing of aircrafts, despite of the slight setback due to coronavirus pandemic, the country is expected to witness a surge in the production of aircrafts backed by the surging demand from commercial as well as military sector.
How Lucrative is the Aircraft Tire Sales Opportunity in India?
With rising initiatives for developing sustainable products and enhance fuel efficiency in aircrafts in addition to reducing weight on the aircraft tires, the Indian aviation industry are adopting new manufacturing trends to achieve market dynamics requirements and facilitate the demand of OEMs as well as aftermarkets. This has bolstered the growth of aircraft tire market across the country.
According to the India Brand Equity Foundation (IBEF), in 2019, passenger traffic in India stood at close to 316.5 million, out of which 63.59 million was international traffic and domestic passenger traffic stood at 252.92 million. Also, Indian government in 2020 invested around US$ 120 billion for the infrastructure development of aviation industry. Increased production of military and commercial aircrafts in India accelerated the sales of aircraft tires in the country.
Currently, it is estimated that the aviation industry in India contributes around US$ 72 billion to the GDP. Additionally, the government under union budget 2021-2022 lowered the custom duty from 2.5% to 0% on the components for manufacturing of aircrafts, reducing the operational and trade cost. Hence, the ease in international trade facilities is expected to boost the aircraft tire market in India.
What is Driving Adoption of Aircraft tire in UK?
According to FMI, U.K is expected to be one of the most lucrative country for aircraft tire market across Europe. According to International Civil Aviation Organization, U.K has the most mature aerospace industry with its robust technologies and advanced infrastructure. Increasing research & development investments in aerospace domain for the manufacturing of commercial aircrafts, has enabled the production of aircraft tires in the region.
Soaring production and modernization of aircraft in both commercial and military sectors have improved the manufacturing of aircraft tires across the country. For example, in 2018, the UK Ministry of Defense unveiled its plans to invest 17 new fighter jets F-35 by 2022-end. Likewise, in February 2019, UK based commercial airline, International Airlines Group purchased 42 B777x aircraft, including 18 orders and 24 options. These procurements are expected to create growth prospects for the aircraft tire manufacturers in the upcoming years.
How is Advancement in Technology across Germany Aiding the Market Demand?
The development of Germany aviation and aerospace industry has been pointing upward for many years on the back of rising technological development in the region. The industry generated the approx. US$ 4.89 billion in 2017 backed by the increased production of military aircrafts in the country.
In 2019, according to International Aviation Transport of Germany, the air transport industry contributed US$ 68 billion of GDP in Germany. Increasing number of airlines and improved infrastructure is also aiding the growth of aircraft tire market in the country.
Soaring demand for new aircraft is continuously generating the demand for new aircraft tires across Germany. Also, the German aircraft landscape is being stimulated by several positive development in the infrastructure of airlines and passenger airports. Moreover, increasing sustainability concerns are fueling the adoption of radial ply aircraft tires, offering energy efficient and light weight fuel efficient aircrafts.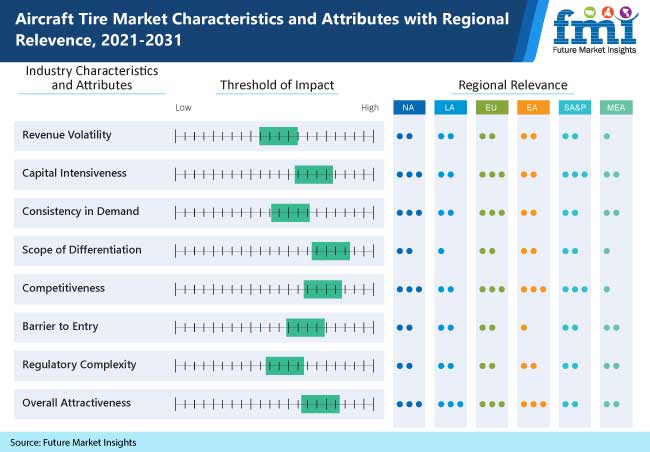 Category-wise Insights
Which Ply Type Will Gain Traction in the Aircraft Tires Market?
In terms of ply, the aircraft tire market is bifurcated in two type, which are, bias ply and radial ply. Among both, bias ply are expected to emerge as key revenue powerhouse in the market. Bias ply aircraft tires are made up of casing piles which run diagonally at right angles to one another.
The angle helps in providing high speed stability while dictating strength and load capacity. Also, they protect the casing piles from damage and can act as wear indicators on retread tires.
Considering this, some of the leading manufacturers such as Bridgestone Corporation and Goodyear Tire & Rubber Company have increased the use of bias ply for the production of military and commercial aircraft tires. Bias ply offers more ground control, enhanced stability and superior surface resistance as compared to the radial ply.
However, due to sustainability concerns and preference for lightweight, fuel efficient aircrafts, radial aircraft tires are expected to witness positive growth over the forecast period.
Why are Narrowbody Aircrafts Acquiring Popularity?
By aircraft type, narrowbody aircrafts are expected to generate maximum growth opportunities for leading aircraft tire manufacturers through 2031. Surging demand for narrowbody aircraft from military & commercial sector is likely to propel future growth.
According to International Air Transport Association (IATA), around 4 million passengers travelled by commercial airlines for short & medium haul travel distance in 2019. Additionally, around 3 million passengers travelled in 2020 which was down to 96% from April 2019 due to the pandemic crisis across the globe. Among those, only 132,000 passengers travelled internationally. Hence, due to the declined rate of passengers for longer distance, demand for narrowbody aircrafts increased.
Furthermore, technological advancements in the aviation field have made it possible for narrowbody aircrafts to use them for long haul distance over the past few years. Thereby, increasing the production of narrowbody aircrafts and fuelling the growth.
However, with the recommencement of travel industry in most of the countries, there has been a spike in number of passengers travelling internationally. Henceforth, owing to the increasing number of air travel has necessitated the need for widebody aircraft in the commercial sector. Hence, widebody aircraft is anticipated to register steady growth over the forecast period.
Why is Aftermarket Sales Channel More Preferred?
In terms of sales channel, the market is divided into original equipment manufacturers (OEM) and aftermarket. Demand for aircraft tires for the aftermarket sales channel is anticipated to be strong due to the high operational cost and increased frequency of tire replacement for an aircraft every year. As the global production of aircraft rises, manufacturers are looking to reduce operational costs to achieve economy.
According to FMI's study, almost every other aircraft tire being manufactures in the global market will be sold through aftermarkets. Meanwhile, OEMs are anticipated to emerge as the fastest growing sales channel on the back of manufacturers forming strategic partnerships with the OEMs to create lucrative revenue and avoid added loss value from third-party distributors.
Competitive Landscape
According to Future Market Insights, the aircraft tire market is fragmented. Product innovation, research & development activities, strategic collaborations, mergers, and partnerships are some of the few strategies adopted by key players to maintain their position in the industry. For instance:
Bridgestone Corporation, for instance, in June 2020, announced the collaboration with Japan Airlines by utilizing their aircraft tire wear prediction technologies to improve aircraft maintenance and management plans for the JAL Group out of Osaka International Airport in Japan.
In April 2020, Aero Repair Corp, the largest aircraft tire maintenance, repair, and overhaul platform in North America, announced the acquisition of Aero Tire and Tanks, a provider of wheel and brake repair and overhaul services to the commercial, corporate and military aviation industry.
Goodyear Tire and Rubber Company, for instance, are increasing the adoption of Kevlar – a new aromatic polyamide, as their latest innovation in the manufacturing of aviation tires for commercial, corporate and military industry. The implementation of Kevlar for its 24.5X8.5 Flight Leader military aircraft, 46X16 Flight Leader bias-ply choice commercial aircraft for military aviation industry and many more. Their latest innovation offers improved performance over conventional aramids in terms of safety, friction, and tensile strength.
Leading aircraft tire manufactures as profiled by FMI include:
Bridgestone Corporation
Goodyear Tire & Rubber Company
Compagnie Générale des Établissements Michelin
Polymer Enterprises Inc.
This list is indicative - full details about prominent aircraft tire manufacturers is available upon request
Aircraft Tire Market - Report Scope
Attribute

Details

Forecast Period

2021-2031

Historical Data Available for

2016-2020

Market Analysis

US$ Mn for Value & Units for Volume

Key Regions Covered

North America, Latin America, Europe, Asia Pacific and Middle East & Africa

Key Countries Covered

US, Canada, Brazil, Mexico, Argentina, Germany, UK, Spain, France, Italy, Russia, India, China, Japan, South Korea, the Philippines, Malaysia, Thailand, Australia, New Zealand, GCC, Turkey, Israel, Turkey, Iran and South Africa

Key Segments Covered

Aircraft Type, Ply Type, Sales Channel, and Region

Key Companies Profiled

Bridgestone Corporation
Goodyear Tire & Rubber Company
Compagnie Générale des Établissements Michelin
Dunlop Aircraft Tyres Limited,
Polymer Enterprises Inc.

Report Coverage

Market Overview, Market Background, Market Forecast, Segmental Analysis, Regional Profiling and Competition Analysis

Customization & Pricing

Available upon Request
Enquiry before Buying
Is the market research conducted by Future Market Insights?

Yes, the report has been compiled by expert analysts of Future Market Insights, through a combination of primary and secondary research. To know more about how the research was conducted, you can speak to a research analyst.

What research methodology is followed by Future Market Insights?

FMI follows a methodology that encompasses the demand-side assessment of the market, and triangulates the same through a supply-side analysis. This methodology is based on the use of standard market structure, methods, and definitions.

Who are the respondents for primary research?

FMI speaks to stakeholders across the spectrum, including C-level executives, distributors, product manufacturers, and industry experts. For a full list of primary respondents, please reach out to us.

What are the sources of secondary research?

FMI conducts extensive secondary research through proprietary databases, paid databases, and information available in the public domain. We refer to industry associations, company press releases, annual reports, investor presentations, and research papers. More information about desk research is available upon request.

Is a sample of this report available for evaluation?

Yes, you can request a sample, and it will be sent to you through an email.

How can I buy this report?

FMI provides a secure online payment system to buy reports seamlessly. You can buy the report securely and safely
World's Most Profilic Intelligence Engine
Get Access To The World's Largest Market Research Database. Ngage with a revolutionary intelligence engine that scale and pricing that flexes as per your needs
Sign Up Now
Key Segments Covered
Aircraft Type
Small Widebody Aircraft
Medium/ Large Widebody Aircraft
Narrowbody Aircraft
Propeller Aircraft
Helicopter
Defense and Homeland Security Aircraft
Freighters
Ply Type
Sales Channel
Region
North America (US and Canada)
Latin America (Brazil, Mexico and Rest of Latin America)
Europe (Germany, France, Spain, UK, Italy, Nordics, BENELUX, Russia and Rest of Europe)
Asia Pacific (India, Malaysia, China, Japan, Australia, Thailand and South Korea and Rest of APAC)
Middle East & Africa (GCC, South Africa, Turkey and Rest of MEA)
Need specific information?