Interior Based Chemicals Continue to Gain Higher Traction
Accounting for nearly 3/5th of total demand, interior based aircraft cleaning chemicals will continue to surge ahead of their exterior based counterparts. The overall rate of demand growth is poised to remain moderate throughout the period of forecast, and consumption of interior based aircraft cleaning chemicals such as glass cleaners, in flight wipes, air fresheners, and lavatory cleaners will be more prominent through 2029. Glass cleaners and in flight wipes will account for 1/3rd of total sales of interior based aircraft cleaning chemicals towards 2029 end.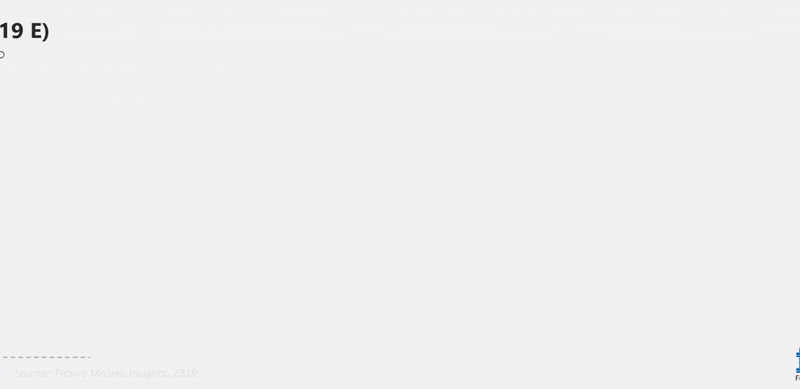 Attractiveness of Developing Markets on Rise
Developed regional markets such as North America and Western Europe collectively contribute nearly half of the global market revenues. However, this share is most likely to see a dip in the following years, against the increasing lucrativeness of developing regional markets. Southeast Asia Pacific (SEAP) and China have been reflecting attractive sales opportunity on the back of hefty airport investments, and remarkable rise in air tourist footfall. The commercial aviation landscape of Middle East & Africa (MEA) will also turn lucrative.
Industry Shifting Towards Green Chemicals
The global sustainability drive has been triggering industries to adopt an eco-friendly approach to eventually slash down the carbon footprint. Manufacturers of aircraft cleaning chemicals are also accelerating their shift to greener cleaning chemicals that are bio-based, non-toxic, biodegradable, equally durable, yet cost-effective.
Water-based aircraft cleaning chemicals are thus gathering momentum, outpacing their solvent-based counterparts in the market, in terms of rate of demand growth. This would mark an impactful trend shaping up the future of aircraft cleaning chemicals market through the foreseeable future.
How Growth will Unfold
Civil aircraft has been a traditional application area of aircraft cleaning chemicals and it continues to account for more than 75% the total sales of aircraft cleaning chemicals. However, extending application base in military aircrafts has been responsible for notable growth in demand for aircraft cleaning chemicals over the recent past. Currently holding a mere 12% share in total market value, military aircrafts will emerge as a highly attractive area of application for aircraft cleaning chemicals manufacturers, through 2029.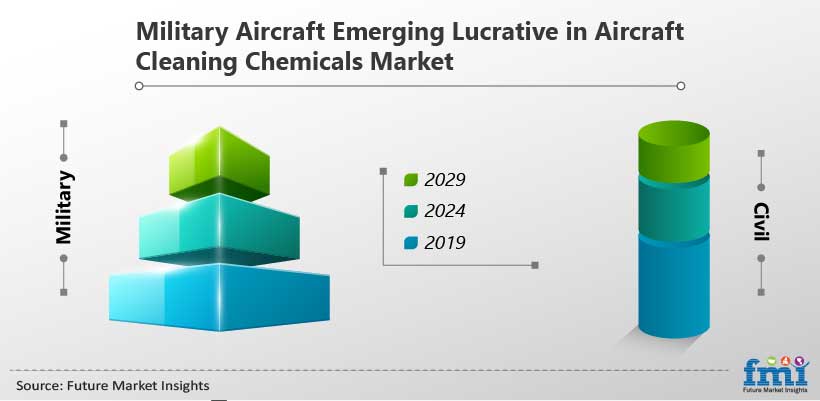 FREQUENTLY ASKED QUESTIONS ABOUT AIRCRAFT CLEANING CHEMICALS MARKET
How is increasing consumer preference for air travel molding the market for aircraft cleaning chemicals?
Factors such as growth in the tourism industry, rising international travel, competitive pricing of air travel fare by airline carriers, and increase in amenities provided during air travel are largely contributing to increasing consumer preference for air travel. This has led to airline carriers deploying new aircraft. This, in turn, will augment the demand for aircraft cleaning chemicals during the forecast period.
For instance, in India, the international air passenger witnessed a Y-o-Y growth of 14.0% to reach 22.8 Mn passengers, while domestic passengers increased by 17.4% to 117 Mn during 2017. Further, international passengers in the country are forecasted to witness an annual growth of 8.3%, and domestic passengers to witness a growth of 9.6% in the coming decade.
How significant will be the refurbishment and leasing of aircraft in shaping the demand for cleaning chemicals?
An aircraft is an expensive commodity which requires millions of dollars to be manufactured and maintained. Most of the small airline carriers lease aircraft from prominent players to avoid high capital investment and most aircraft in the fleet of regional carriers are leased aircraft.
Airline carrier companies, which lease aircraft usually renovate the entire aircraft interior before putting it into operation. Further, the entirety of the aircraft interior is renovated according to the needs of airline carriers and customer demands. This factor is expected to further propel the demand for aircraft cleaning chemicals.
How is booming commercial aviation sector assisting market growth across the Middle Eastern countries?
Middle Eastern economies are slowly shifting from oil and gas-based revenues to trade, tourism, commerce, and manufacturing. Geographical advantage, coupled with robust business models and investments in infrastructure, will allow carriers in the Middle East to channel traffic through their hubs and offer one-stop service between various cities. The demand for aircraft services is also expected to increase, mainly due to the introduction of low-cost carriers in the region.
This demand push is anticipated to create a huge increase in the requirement for aircraft cleaning chemicals over the coming years. Significant increase in air travelers visiting countries such as Saudi Arabia, USA, and Qatar, is driving airlines to expand their fleet size. The expansion of airport and aircraft fleets in the Middle East is enlarging the opportunities for the aircraft cleaning chemical market participants in the region.
Is the governments' policy framework favorable to the growth of aircraft cleaning chemicals market? Where is this trend more prominent?
Strong policy framework and government support create immense growth opportunities in the market. Developing countries such as India and China have a strong framework to afford all mandatory resources for the aviation industry. Manufacturing expertise due to the presence of global firms located in India and China, a huge pool of skilled manpower, and an effective supply chain network are some of the factors supporting the growth of the aviation industry.
These countries will provide immense opportunities for new and existing players working in the industries linked to the aviation sector, such as maintenance services, food services & cleaning services, among others.
How does the report assess the aircraft cleaning chemicals market structure?
The global aircraft cleaning chemicals market is highly fragmented, comprising a large number of medium- and small-scale manufacturers & distributors. Established players such as PPG Industries Inc., Illinois Tool Works Inc., and others hold a major market share in the global aircraft cleaning chemicals market. Substantial investments in research and development activities by companies for improvement of product portfolios are expected to enhance growth prospects for the aircraft cleaning chemicals market.
AIRCRAFT CLEANING CHEMICALS MARKET TAXONOMY
The global aircraft cleaning chemicals market is segmented in detail to cover every aspect of the market and present complete market intelligence to the reader.
Product
Exterior

Dry & Wet Wipes
Dry wash Cleaning
Wet Wash Cleaning
Degreasers
Exhaust & Soot Removers
Polishes

Interior

Equipment Cleaning
In-flight Wipes
Glass Cleaners
Air Fresheners
Leather Cleaners
Carpet Cleaners
Lavatory Cleaners
Disinfectants
Insecticides
Formulation
Water-based
Solvent-based
Wax-based
End Use
Civil Aircraft
Commercial/Cargo Based Aviation
Military
Region
North America
Latin America
Western Europe
Eastern Europe
SEAP
MEA
China
Japan
Need specific information?