Aircraft Refurbishing Market - Key Research Findings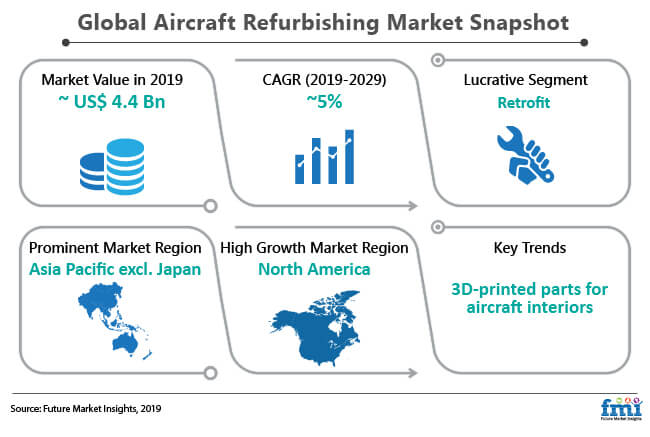 The global aircraft refurbishing market size is estimated to reach the revenues worth ~US$ 4.4 Bn in 2019.
Over the forecast period of 2019-2029, the aircraft refurbishing market is estimated to grow at a CAGR of ~5%.
In the aircraft refurbishing market, narrow body aircraft is estimated to gain significant traction.

Narrow body aircraft is expected to remain prominent over the forecast period owing to its increasing adoption by airline carriers, especially in APEJ.
High number of existing narrow body aircraft and increasing demand for upgrade of domestic cabins makes this segment lucrative in terms of revenue growth opportunities.

Commercial cabin refurbishing is expected to remain dominant in terms of market value share over the forecast period.

Customization and replacement demand for aircraft cabin interior components by major airline companies is primarily driving the growth of this segment.
Airline carriers go to great lengths to increase passenger share by adding more destinations, pricing aggressively, and renovating aircraft frequently.

In terms of fitting, passenger seats are expected to register robust growth, owing to rising airline passenger traffic.

Rising airline passenger traffic is pushing airline companies to go for frequent modification of seat coverings in aircraft, as comfortable seating in aircraft is what drives the reputation of airline companies.

In terms of value share, APEJ and North America are anticipated to be prominent markets by collectively holding ~50% of the volume and value shares in the global aircraft refurbishing market size.
In terms of the growth rate, the aircraft refurbishing market is most likely to foresee high growth in APEJ.
Manufacturers are focused on developing high-quality aircraft components adhering to specific requirements from OEMs and airline carriers. Most aircraft refurbishing suppliers have long-term contracts with OEMs and airline carriers to provide customised aircraft refurbishing products.
Increasing competition, lower cash outlays, and continuous efforts of airline carriers to enhance reputation, all characterize the evolving nature of the refurbishment industry.
Factors Shaping the Global Aircraft Refurbishing Market
VIP Aircraft Refurbishing Rising as Wealthy Travelers Seek Luxurious Travel Experience
Asia Pacific, followed by North America, is home to the largest population of high net worth individuals. This has led to an increased demand for a niche aerospace aftermarket, which includes refurbishment and completion of cabin interiors of business and corporate jets. VIP aircrafts feature a bedroom, lounge area, dining room, and first class seats.
In order to completely satisfy customers' needs, refurbishment service providers directly collaborate with designers to customize the interiors of aircrafts. As a result, VIP cabin refurbishment will be the main growth area for service providers over the coming years.
Airlines in Favor of Refurbishing for Better Operational Efficiency
Weight and power consumption are important factors, which affect the efficiency of an aircraft. Less fuel consumption means lower carbon dioxide emissions as well as significant savings on operating cost of airlines. The cabin area is a key part of the aircraft and it is in this area that the strongest of innovations are taking place.
For instance, Safran S.A., through its subsidiary Zodiac Aerospace, is working on a new generation of lightweight galley system that would cut up to 26% of the individual mass of galley unit. Moreover, new lighting technologies such as light emitting diodes (LED), which offer superior lighting quality along with longer life and lower power consumption, are being deployed during refurbishment.
Modular Aircraft Refurbishing to Gain Acceptance in Coming Years
Refurbishing service providers are offering standardized and modular designs for selected aircrafts. Completion and refurbishment centres are in constant search of more efficient ways to work. As a result, downtime for aircraft is minimal and cabin refurbishment is very cost effective.
The development of a modular aircraft cabin includes the entire ecosystem of airlines, manufacturers, passengers, and regulators, simplifying the process of customizing aircraft cabins. Thus, the modular kit interior concept is expected to become industry standard in business aircraft refurbishment in the coming years.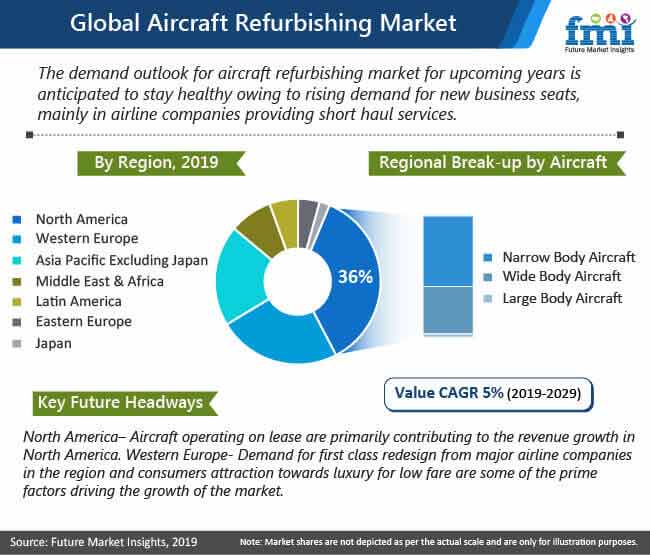 Aircraft Refurbishing Market Structure Analysis
A majority of manufacturers active in the aircraft refurbishing market are strategically focusing on the APEJ market.
Key market players in the aircraft refurbishing market, such as Diehl Stiftung & Co. KG, SIA Engineering Co Ltd, Hong Kong Aircraft Engineering Company Limited, and United Technology Corporation, are focusing on expanding their presence in regional markets to fulfill the growing demand for aircraft refurbishing across geographies.
Tier-1 players are strengthening their positions in the aircraft refurbishing market by offering technologically-developed products.
Key Segment
Based on the aircraft type
large body aircraft
wide body aircraft
narrow body aircraft
Based on the refurbishing type
VIP cabin refurbishing
commercial cabin refurbishing
based on the fitting type
retrofit
IFEC and lighting
passenger seats
Need specific information?