SMART FACTORY MARKET - KEY RESEARCH FINDINGS
The global smart factory market will cross its US$ 100 Bn in 2020.
At-scale adoption of connected technologies in workplaces would underpin market growth.
Software components continue to shape revenue growth of smart factory market; under the category, distributed control systems hold leading value share.
Discrete industry accounts for greater revenue share in smart factory; process industry to generate stable returns.
East Asia would remain at driver's seat; North America to offer lucrative prospects.
KEY FACTORS SHAPING SMART FACTORY MARKET
Increasing Adoption IIoT
The development of internet of things (IoT) is drastically changing the industrial sector. Industrial Internet of things (IIoT) components are completely transforming physical plants and machine tools among others. By implementing IIoT components, companies capture new growth by increasing production, exploiting intelligent technologies to fuel innovation, transforming their workforce, and creating new hybrid business models.
In today's highly competitive environment, factories have started adopting advanced and automated systems to improve operational efficiency and business performance. Hence, recent developments in the industrial Internet of Things environment in the coming period can be expected to propel the smart factory market growth, globally.
In addition, it has been observed that manufacturing factories have introduced IIoT solutions on the floor for inventory tracking, supply chain management & production systems, and some companies have started increasing the usage of on-board IoT devices.
Increasing Role of Industrial Automation
The Industry 4.0 revolution is rapidly changing industrial production capabilities. The rising adaptation of connected devices, artificial intelligence-based systems, enterprise applications and advanced sensing systems for data collection are completely changing industrial processes.
Moreover, several manufacturers are leveraging component technologies of smart factories in different areas such as advanced planning and scheduling, using real-time production, inventory management and augmented reality for maintenance.
By adopting these innovative production methods and technologies, several industries such as automotive, chemical, aerospace, food & beverages, etc., are making their manufacturing processes advanced and automated.
In addition, rapid changes in technology and trends have made the shift towards a more flexible and adaptive production system almost an essential for users who wish to either disrupt their competition or remain competitive. These trends and technological changes are projected to propel smart factory market growth during the forecast period.
Drop in Machine Utilization Due to COVID-19 Pandemic
Vision guided robots play an important role to support fight against the COVID-19 outbreak. Leveraging machine vision technology and robotics can be a significant solution to prevent spread of coronavirus and help people to fight against the pandemic. But the pandemic has forced lockdowns across various countries in Asia, such as China, Japan, South Korea, India, Philippines and others. '
Thus this has brought the manufacturing to a complete halt across different industry vertical and paralyzed the economic activity across the continent. In addition, according to International Monetary Fund (IMF), pandemic is driving the global economy into recession.
For instance, the factory activity in Japan contracted at the fastest pace in about a decade. Moreover, the manufacturing gauges in Vietnam, Philippines and Indonesia also tumbled as Purchasing Managers' Index survey reported that more than 700,000 people were affected by COVID-19 outbreak, and upended supply chains and led to city lockdowns worldwide.
East Asia to Contribute a Major Market Share; North America Lucrative
In terms of value, the contactless biometrics technology market in East Asia accounted for the largest market share in 2019, with China market dominating the region, owing to the presence of large number of manufacturing industries in this region. High adoption of smart factory solutions in automotive and aerospace & defense industries is anticipated to fuel the market growth of North America.
SMART FACTORY MARKET STRUCTURE ANALYSIS
The smart factory market is witnessing an increasing level of competition, with the number of players gradually rising.
Market players are focusing on mergers & acquisitions of emerging players offering distinct contactless biometric systems.
In order to maintain competitiveness, key players are adopting data-enabled technologies such as big data analytics, and artificial intelligence (AI).
Base Year

2019

Historical Period

2015-2019

Forecast Period

2020-2030

Market Value in 2019

US$ 95.0 Bn

Segments Covered

Solution Industry Vertical, End-user

Regions Covered

North America, Latin America, Europe, East Asia, South Asia & Pacific and Middle East & Africa

Key Companies
ABB Ltd., Siemens AG, Schneider Electric SE, Rockwell Automation Inc., General Electric Company, Johnson Controls International PLC, Yokogawa Electric Corporation, Honeywell International Inc., SAP SE, Oracle Corporation, IBM Corporation, Cisco Systems Inc., Microsoft Corporation and Kollmorgen.
Growth Drivers

Rising demand for automated systems.
Supportive government initiatives for fueling innovation.
Flourishing manufacturing sectors in Mexico, and Brazil.
High labor expenses in developed regions.
Software Components Continue to See Strong Adoption
Players in smart factory market continue to allocate their capital investments to software components, which will generate over US$ 50 Bn revenue in 2021. Among software components, distributed control systems (DCS) are considered a favored option, owing to their simplicity and flexibility benefits in monitoring, controlling, and reporting processes
. In addition, these benefits of DCS compliment system reliability and availability, paving way for further market growth opportunities. Further, this study states that, hardware and services will falter markedly in the coming years.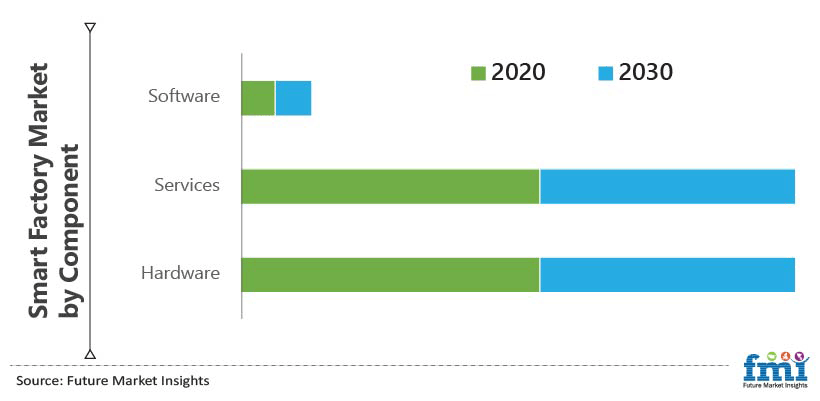 Investing in East Asia's Market - A Win-win Situation
East Asia continues to be the hub of investment opportunities in smart factory market, given government policies and initiatives to encourage the adoption of future-ready factory approaches. Industries including, consumer goods, infrastructure & construction, and power & energy, in the region are resorting to end-to-end product lifecycle management (PLM) solutions.
Manufacturing sectors in countries - China, and South Korea - are growing rapidly. Further, the East Asian automotive industry is increasingly banking on intelligent solutions such as enterprise resource planning (ERP), and inventory management software in order to ensure better productivity and curb labor costs.
IIoT to Underpin Market Development
Industrial Internet of Things (IIoT) has materially transformed every facet of the industrial sector. The technology is bridging the gap between man and machine. Backed by IIoT components enterprises grab potential opportunities by disrupting their workspaces, boosting production, transforming their workforce, and developing hybrid business models.
Substantial rise in market competition is raising implications for factories to embrace automated technologies to enhance operational efficiency and business performance. As such, emergence of IIoT in the coming period will augur well for smart factory market growth. Several manufacturing factories are bringing IIoT to the floor for supply chain management, and inventory tracking.
How Growth will Unfold
Adoption of smart factory technologies will remain prominent in the automotive industry, owing to transformation of automobile manufacturing units by deploying automated solutions.
Automotive manufacturers are reinventing their production plants with industrial robotics that execute manufacturing-associated tasks with greater efficacy compared to human workforce. Moreover, OEMs are teaming up with software & service providers to build future-proof manufacturing facilities and leverage IIoT benefits. Towards the end of projection period, smart factory market players would reap over US$ 100 Bn from automotive vertical.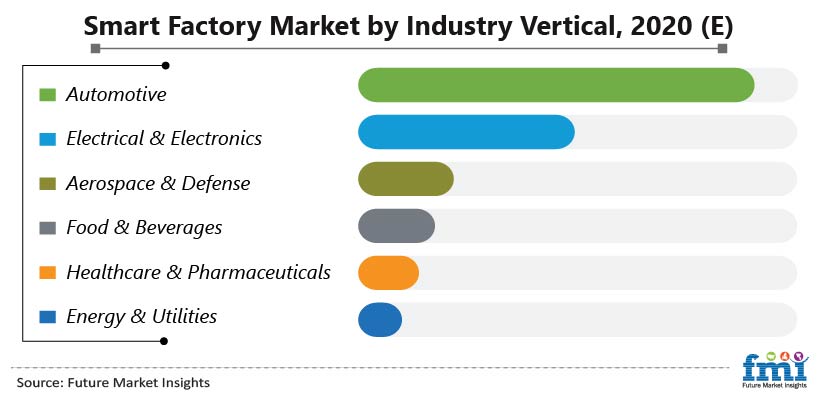 SMART FACTORY MARKET TAXONOMY
The global smart factory market is segmented in detail to cover every aspect of the market and present complete market intelligence to the reader.
Solution
Hardware

Sensors
Industrial Robots
Machine Vision Systems
Industrial 3D Printing

Software

Human Machine Interface
Product Life Cycle Management
Distributed Control System
SCADA
ERP
Others

Services

Integration & Deployment
Consulting
Support & Maintenance
End User
Discrete Industry
Process Industry
Industry Vertical
Automotive
Aerospace & Defense
Electrical & Electronics
Food & Beverages
Energy & Utilities
Healthcare & Pharmaceutical
Others
Region
North America
Latin America
Europe
East Asia
South Asia and Pacific
Middle East & Africa
Need specific information?