Introduction
Retreading is a re-manufacturing process through which old and worn out tire treads are replaced by new ones. Retreading is applied to casings of old tires after inspection. Retreading of tires costs at least 40% less than the cost of a new tire. The cost effectiveness offered by Retread tires is one of the primary factors driving market growth, which is further supplemented by the robust growth of the transportation industry. F
urthermore, retread tires and tire retreading are environment-friendly solutions and hence, are witnessing support from various regulating bodies encouraging the use of retread tires.
Continuously growing vehicle parc is another major factor which will increase the demand for replacement of tires and thus, will drive the demand for retread tires. Large fleet owners of commercial vehicles prefer tire remolding to ensure cost effectiveness. Hence, growth in automobile, forestry and construction is expected to create healthy growth opportunities for the retread tires market.
The global retread tires market is estimated to have been valued at US$ 8,684.9 Mn at the end of 2017 and is expected to reach US$ 13,647.2 Mn by the end of 2028 while expanding at a CAGR of 4.6% over the forecast period. The global retread tires market is anticipated to represent incremental opportunity of US$ 4,962.3 Mn between 2018 and 2028.
Steady growth in the underground mining sector is expected to propel the growth of HCVs with customized retread tires
Mining is a prominent industry in regions, such as Africa, Latin America and Asia Pacific, where it contributes significantly to the overall export and GDP. The growth of the mining industry is highly correlated with the global economic growth. Currently, the mining and exploration companies are channelizing investments for the extraction of minerals from underground mines and adopting advanced technologies to extract mineral-rich resources at deeper levels, which, in turn, is driving the global market of retread tires particulary for mining equipment.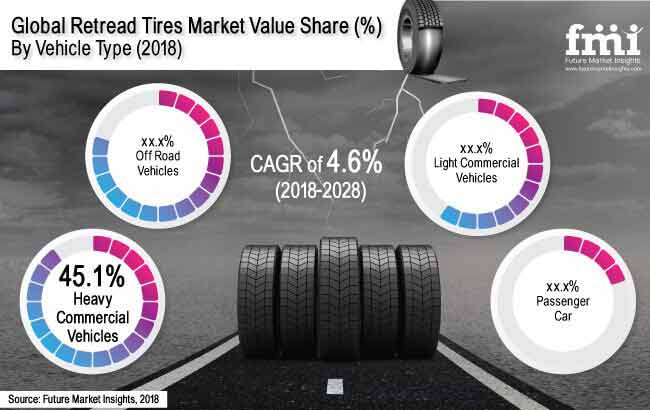 Increase in average vehicle age will drive the sales of retread tires
With improvements in materials and technologies used for automotive manufacturing, the average operational age of vehicles has increased substantially, which in turn, is driving the demand for Retread Tires. The reliability of vehicles has increased significantly over the past decade.
According to a survey, consumers are increasingly keeping their old cars as their second vehicles rather than reselling or scraping them. As a result of increasing vehicle age, there is growing demand for replacement and maintenance and thus, these days, retread tires are being much preferred over new ones, which, in turn, is driving the market of retread tires.
Growing demand for special harvesting equipment owing to increasing demand for wood will boost the demand for retread tires
Applications of wood range from complex housing structures to the simple writing paper. Hence, the demand for different kinds of wood timber is steadily increasing in the current market scenario. Some equipment, such as feller bunchers, harvesters, forwarders and skid steer loaders, generally use retread tires which are customized in mold cures to provide efficient operational advantage. Thus, with the growth of the forestry and timber harvesting equipment, the market of retread tires will also grow substantially over the forecast period.
China is expected to remain the dominant regional market over the forecast period
The China Retread Tires market is expected to represent significantly high incremental opportunity between 2018 and 2028 and the South East Asia & Pacific Retread Tires market is projected to expand at significant CAGR in terms of volume over the forecast period. Sales of Retread Tires in South East Asia & Pacific is expected to represent total incremental opportunity worth US$ 469.6 Mn between 2018 and 2028.
Key Segments Covered
By Vehicle Type
Passenger cars
Light Commercial Vehicles
Heavy Trucks & Buses
Off-road vehicles
By Process Type
By Sales Channel
OEM Service Providers
Independent Service Providers
By Region
North America
Latin America
Western Europe
Eastern Europe
China
Japan
India
South East Asia & Others (SEA)
Middle East & Africa (MEA)
Need specific information?