About the Report
Cost-effectiveness of retread tires in comparison to new tires has been resulting in their accelerating sales. Moreover, retread tires are eco-friendly, which has been aiding the overall expansion of the market since consumers are likelier to show preference for sustainable solutions. Subsequently, an increasing number of manufacturers have started including retread tires in commercial and heavy vehicles alike.
In its new study, ESOMAR-certified market research and consulting firm, Future Market Insights (FMI), offers insights about key factors fueling the demand for Retread Tire. The report tracks the global sales of Retread tire in 20+ high-growth markets, along with analyzing the impact COVID-19 has had on the oil & gas industry in general, and retread tire in particular.
How Historical and Future Outlook of Retread Tires Market Match Up?
The rising demand for cost effective and economical tires have been aiding the expansion of the retread tires market. Expansion of the logistics industry and the rising demand for freight transportation have created an environment conducive for retread tires sales. As a result of the increased wear and tear on tires, the demand for retread of tire has increased. Fleet operators are looking at opportunities to save costs while maintaining a sustainable and safe vehicle fleet. Fleets owners have sought to tackle this problem is the use of retread tires, which many are finding to be beneficial.
Leading tire manufacturers in the automobile industry are introducing techniques to develop retread tires that are fairly similar to their original tire in terms of quality. In recent years increasing demand for retread tires in the motorsport industry has encouraged leading market players to launch retread tires with unique characteristics. This is intended to cater to the customer preferences within the sector. According to FMI's analysis, retread tire sales have grown at 4.7% CAGR between 2016 and 2021
The rising demand for retread tires in the commercial vehicle sector has been creating lucrative prospects for tire manufacturers and distributors. Last-mile distribution applications, such as walk-in vans and lightweight delivery vehicles are exceeding other segments in terms of expansion. As a result, more fleets are likely to use retreading to reduce their average cost per mile. Private fleet owner and public/government-municipal fleets are turning to retreading to manage environmental commitments and budget concerns.
Retread tire quality also has improved significantly in recent years as a result of the introduction of advanced technology. Besides this, increasing awareness among consumers about the type of tire, coupled with rising average sale prices of new tires, will push the demand in the market over the forecast period.
The COVID-19 pandemic has severely impacted the global economy at numerous stages and the effect is seen on vehicle industry as well. Output and supply chain operations have suffered a small holdup as a result of the current COVID-19 pandemic, but demand will increase as the economy pulls through after the pandemic's containment era. The retread tire market growth is also estimated to be affected by the pandemic crisis and is expected to witness a substantial drop in 2020. With a number of end users affected in regions such as North America, East Asia and Asia-Pacific, the supply and shortage in demand are projected to result in a major drop in Y-O-Y growth yet FMI expects global retread tire market to grow at 4.7% CAGR through 2031.
What Key Factors Driving Retreat Tires Sales?
Retread tires common, cost-effective, and environmentally friendly options. These attributes have been driving their sales. Some of the leading retread tire manufacturers are implementing innovative production technologies and techniques to eliminate operational issues and provide end-users with high-quality retread tire. The growing demand for retread tire in the commercial vehicle sector is expected to create lucrative prospects for manufacturers and distributors alike.
The light and heavy commercial vehicles used in construction, mining, and agriculture equipment are often installed with retread tires. Due to the growth in logistics operations and transportation around the world, the vehicle fleet is increasing. Fleet owners generally prefer retreading which is expected to create opportunities for sales of retread tires in the coming years.
What is the environmental Impact of Retread Tire?
Retread tires are much eco-friendlier than new tires as the retreading process results in lesser carbon emissions in comparison to manufacturing new tire. The process is therefore considered more fuel efficient. In this process, a high-quality casing is applied with a new layer of tread coating after it has worn off. The process is therefore considered more sustainable since it uses a fraction of the raw materials required in the manufacturing of a new tire.
Scrapping and landfilling of worn-out tires are all reduced by retreading. This not only help companies save manufacturing costs but offers greater environmental benefits altogether.
As commercial fleet operators are burdened by stringent regulations, they are looking for ways to reduce fuel consumption. Environmental awareness is therefore at the forefront of driving change in the automotive sector. This also will boost sales of retread tires in the coming years.
Country-wise Insights
How large is the Opportunity in US?
Future Market Insights has estimated the US to remain the most potential market throughout the course of the projection period. One of the factors enabling growth is the increased fleet vehicles, rental vehicles and improved regulations on the use of rubber as well as the environmental effects.
Showcasing integration of various technologies and innovations within the automotive sector, the U.S. remains one of the most prominent markets for retread tire in the world. Coupled with this, the rising vehicle production will aid the overall expansion of the market. According to the Trading Economics, car production in the U.S. increased from 2.03 million units in December 2020 to 2.04 million units in January 2021.
Despite not so satisfactory performance from the automotive sector amid COVID-19, production continued to increase. This also continued presenting attractive opportunities for retread tires sales in the U.S.
Will Germany's Strong Automotive Industry Drive Retread Tires Sales?
Being the largest shareholder in Europe, Germany has been exhibiting increasing demand for passenger and light commercial vehicles tires. Thanks to popularity of German cars in international markets, Germany remains a key pocket for sales of retread tires. Increasing focus on vehicle production will continue aiding expansion in the market.
According to Germany Works, German car-makers manufactured more cars than the U.K. and Italy combined in 2019. With vehicle production expected to rise in the coming years, coupled with increasing focus on environment-friendly solutions, retread tires sales is poised to surge in the country in the coming years.
What's the Outlook on India Market?
India is expected to remain a highly lucrative market for retread tires sales in South Asia. Recently, the government of India has announced the abolition of Goods and Services Tax (GST) and sales and services tax (SST), which gave instant boost to vehicle production within the country. Also the country's rising population is indicative of the future surge in vehicle fleet, which will present attractive opportunities for the expansion of the retread tire market in India.
Is China a Lucrative Market For Retread Tire?
The expanding automotive sector of China has been attracting some of the leading vehicle producers in the world. Besides this, the country's thriving automotive aftermarket has already created a conducive environment for retread tires sales. In 2019, China drafted policies to encourage re-use and recycling of spend rubber tires. This was intended at tackling the mounting waste problem.
According to the China Tire Recycling Association, the country has an accumulated total of over 300 million used and un-recycled tires, and nearly 13 million is added to this number each year. The association has said that if China can recycle 13 million tons of the waste each year, it could create an industrial chain worth more than US$ 14 Billion. Implementation of favorable policies supporting tire retreading has placed China as a key market in the global landscape.
Category-wise Insights
Which Vehicle Type Exhibits Higher Demand for Tire Retreading?
Heavy commercial vehicle (HCV) type holds the leading share in the market. Companies such as Michelin, Continental are providing retread tire for off-road and HCV's with various retread designs for greater efficiency of the retread tire. Consistent efforts by leading companies to improve their services and solutions will continue fuelling demand in the category.
Which is Most Used Retreading Process?
Retreading of a tire is effective if the tire are retreaded for 2 to 3 times on specific intervals. There are two processes of retreading - pre-cure and mold cure. Vehicle owners usually prefer pre-cure retreading process as this process offers more flexibility and saves cost.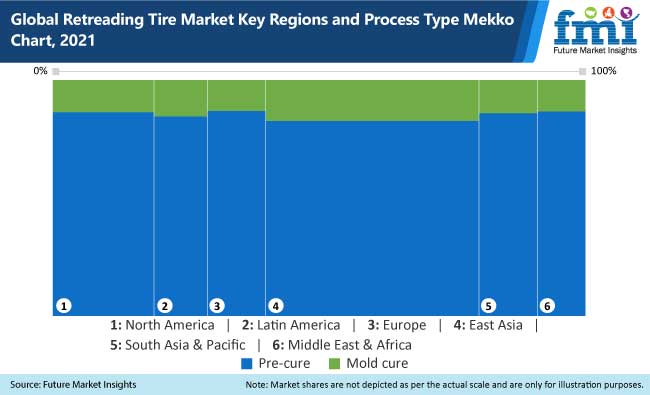 Which is the Preferred Sales Channel?
Retread tires are provided by original equipment manufacturers as well as independent service providers. Major vehicle fleet owners prefer buying retread tire from independent service providers, which has sealed their dominance as preferred sales channel within the market.
Competitive Landscape
The retread tire market is highly competitive, with presence of large number of players offering cost-competitive retread tire. Some of the players are focusing to carve a niche for specific demography. Some of the leading manufacturers are entering into strategic partnerships with end customers and regional distributors to expand their footprint, while others are focusing on capacity expansion.
For instance,
Michelin launched two new pre-mold retreads to expand its lineup of tire retread technologies. This retread offers fuel savings through its innovative compound tread for a lower total cost of ownership.
The Goodyear Tire & Rubber Company and Cooper Tire & Rubber Company stated that they have entered a definitive transaction agreement to increases scale to support investments in New Mobility and Fleet Solutions.
Leading Japanese tire maker Yokohama Rubber Co. expanded its tire mold production capacity in Thailand as part of efforts to assure stable supply in Southeast Asia
Marangoni's Ring tread technology responds perfectly to all market necessities such as the positions of pre cured tread strips and the contribution of machinery for retreading all types of tire.
JK tire came with the modernization of smart tire which monitors the conditions of the tire through sensors which enhances the safety and the performance.
Some of the leading companies operating in the market are:
The Goodyear Tire & Rubber Company
MRF
Rosler Tech Innovators
Carloni Tire
JK TYRES
*The list is not exhaustive, and only for representational purposes. Full competitive intelligence with SWOT analysis available in the report.
Scope of the Report
Attribute

Details

Forecast Period

2021-2031

Historical Data Available for

2016-2020

Market Analysis

USD Million for value and Units for Volume

Key Regions Covered

North America, Latin America, Europe, East Asia, South Asia & Pacific, Middle East & Africa

Key Countries Covered

US, Canada, Germany, U.K., France, Italy, Spain, Russia, China, Japan, South Korea, India, Oceania, Turkey, Northern Africa, South Africa

Key Segments Covered

Vehicle Type, Process, Sales Channel, Region

Key Companies Profiled

Michelin
Bridgestone
The Goodyear Tire & Rubber Company
Continental AG
MRF
YOKOHAMA RUBBER COMPANY
Rosler Tech Innovators
Carloni Tire
JK TYRES
Eastern treads
Nokian tyres plc
KRAIBURG Austria GmbH & Co.KG
Pilipinas Kai Rubber Corporation
Kit Loong Commercial Tyre Group
Fortune Tire Tech Limited
Tread Wright Tire
CIO Tyres Pvt. Ltd.
Vaculug Tyres
King Meiler Tyres

Report Coverage

Market Forecast, brand share analysis, competition intelligence, DROT analysis, Market Dynamics and Challenges, Strategic Growth Initiatives

Customization & Pricing
Key Questions Answered in the Report
Which is the most lucrative market for retread tire?

East Asia currently leads the global market for Retread tire. East Asia will account for more than one third of total demand throughout the forecast period. Within East Asia, China is expected to remain dominant through the course of the forecast period within East Asia.

Which is the preferred process for retreading tire?

Pre-cure retreading process is the most preferred process as it offers greater flexibility and saves operational costs.

Which vehicle type exhibits higher demand for retread tire?

HCV and LCV currently exhibit high demand for retreading tires.

Which are some of the leading retread tire manufacturers?

Some of the leading companies manufacturing Retread tire are Michelin, Bridgestone, The Goodyear tire & Rubber Company, Continental AG
Retread tire Market
By Vehicle Type
Passenger cars
LCV
HCV
Off-Road Vehicle
By Process
By Sales Channel
OEM
Independent Service Provider
By Region
North America
Latin America
Europe
East Asia
South Asia & Pacific
Middle East & Africa
Need specific information?