Bicycle Tires Market By Bicycle Type (Mountain, Hybrid, Electric, Comfort), Product Type (Tube Tire, Tubeless Tire, Solid Tire), Sales Channel (OEM, Aftermarket) & Region - Forecast to 2021 – 2031
Bicycle Tires Market - Analysis, Outlook, Growth, Trends, Forecasts
February 2021

REP-GB-3128

200 pages
Bicycle Tires Market - About the Report
[200 Pages Report] The bicycle tires market has made significant gains in the recent past, owing to increasing bicycle ownership in response to discovering eco-friendly alternatives to conventional fossil-fuel driven vehicles which is heightening sales of bicycles. From introducing tubeless tires to hybrid bikes, bicycle tire manufacturers are introducing a slew of innovative products to deepen market penetration.
Their efforts are yielding credible results, with the market registering a robust increase in the upcoming forecast period. The key emphasis is laid on technological improvements which assist in providing a rider-friendly experience by equipping bikes with enhanced safety features.
In its new report, ESOMAR-certified market research and consulting firm Future Market Insights (FMI) offers refined projections for the bicycle tires market.
Key factors enabling growth across 20+ countries and potential risks for stakeholders are elaborately discussed. Additionally, an exclusive section is dedicated to the potential impacts and implications of the COVID-19 pandemic.
How Does the Future Outlook for Bicycle Tires Market Compare to Historic Sales Pattern?
The global bicycle tires market registered remarkable growth, exhibiting value CAGR exceeding 6% until 2021. Growth is attributed to an expanding bicycle fleet in the wake of catapulting fuel prices, prompting vehicle owners to investigate cheaper transportation alternatives.
Additionally, rising popularity of cycling competitions in sporting events has widened the scope of aftermarket tire sales, attributed to the constant need for maintenance services. Opportunities also abound in the electric bicycle segment. Hence, the market is poised to embark on a positive growth trajectory until 2031.
A temporary blip was experienced amid the COVID-19 pandemic, as government imposed lockdowns caused a cessation of production activities, causing a shortage of essential spare parts and accessories. However, as the year progressed, the market experienced a resurgence as restrictions were lifted, permitting owners to resume biking activities.
Accelerating Fuel Prices Nudge Consumers toward Bicycles
In recent years, global fuel prices have skyrocketed, prompting vehicle owners to adopt alternative modes of transport. According to the BP Statistical Review of World Energy, primary energy consumption accounted for 1.3% growth in 2019 compared to 2.8% in 2018.
Oil consumption grew by a below-average 0.9 million barrels a day that same year. This was largely because crude prices reached over US$ 63 per barrel as of December 2019. Going by these trends, sales of bicycles have witnessed a prolific increase in the past several years.
In the previous year, global bicycle ownership exceeded 1 billion units, with China accounting for the maximum share pegged at 450,000 units. Likewise, American citizens are spending US$ 81 billion annually on biking. All these developments are expected to create favorable conditions for bicycle tire sales in upcoming years.
How is Focus on Sustainability Impacting Growth?
Sustainable transportation is acquiring high momentum, attributed to rising concerns regarding high carbon emission levels in recent years. The International Energy Agency estimates that global energy-related carbon dioxide emissions increased by nearly 2% to reach 33.1 gigatonnes in 2018.
Also, on a global scale, 1.3 billion automobiles consume 79 quadrillion BTU, mostly gasoline and diesel. About 15% of total greenhouse gases and 22% of CO­2 emissions are attributed to transportation. Concerned by this, governmental worldwide are proactively seeking to reduce their emission levels by switching to renewable alternatives.
On the back of these trends, bicycle sales have registered a prominent increase, thus generating enhanced growth prospects for various types of bicycle tires in the upcoming forecast period.
What is the Impact of Surging Electric Vehicles Sales on Market?
As sustainability concerns mount, electric vehicles are acquiring significant traction, with sales surpassing 2 million units as of 2019, according to the Global EV Outlook Report. It is expected that the global e-bicycle fleet is likely to witness an expansion by 130 million units between 2020 and 2023.
With technological progress in the electrification of two and three wheelers, cars and buses advances, their market is witnessing an exponential upsurge. Ambitious policy announcements have proven highly instrumental in stimulating the electric vehicle rollout across lucrative markets.
As the pandemic crisis intensifies, people are increasingly seeking safer transportation alternatives, avoiding public transportation systems such as subway trains, buses or taxis. This has led to an increase in the sales of e-bikes as well. Bicycle tire manufacturers now have another lucrative sales channel in the e-bike market, as going by market trends, e-bike sales are set to grow at a higher CAGR vis-à-vis traditional bicycles.
How is Focus on Safety Influencing Bicycle Tire Sales?
While bicycle adoption has been a welcome development across countries, concerns regarding frequent accidents and collisions has acquired equal precedence in recent years. The National Highway Traffic Safety Administration (NHTSA) advocates that bicycle accident fatalities constitute 2% of all traffic-related deaths across the United States.
Furthermore, the National Safety Council has reported a 9% increase in cycling accidents between 2001 and 2011. Most of these accidents occur largely as a result of carelessness exercised by automobile drivers, with 18% of them failing to see the cyclist and 22% of them crashing into open doors.
Based on these figures, riders are often discouraged to own a bicycle, leading to declining ownership and a consequent reduction in sales of bicycle aftermarket products, including bicycle tires. This is expected to hinder future expansion prospects.
Bicycle Tires Market Country-wise Insights
What are the Opportunities in US Bicycle Tire Market?
The U.S bicycle tires market is expected to surpass US$ 520 Mn by 2021. It is expected to grow at nearly 4% through 2030. Maximum growth opportunities abound across the electric bikes segment, poised to register approximately 12% CAGR through 2030.
Sales have especially spiked since COVID-19's outbreak, with supportive federal policies toward non-car mobility providing significant impetus. For instance, Arizona-based online e-bike retailer Lectric eBikes reported a 140% increase in sales since March 15.
Since the pandemic's onset, one in ten American adults reported having ridden a bike for the first time. Since March 2020, ridership on trails registered a 3x increase as reported by the non-profit Rails-to-Trails Conservancy. Owing to this surging trend, sales of bicycle aftermarket products, including bicycle tires, is expected to register an upward sloping curve in upcoming years.
As people become increasingly apprehensive about using public transportation systems, reliance on individual travel means incorporating environmentally friendly alternatives have spiked the regional bicycle market, providing room for expansion to the bicycle tires market.
Are e-Bikes the New Normal in Italy?
Suring bike ownership has made significant advancements across the European market. In Italy, the government allocated € 210 million towards a cash-back program wherein Italian residents purchasing a vehicle devoid of an engine were eligible for a € 500 stipend, thus providing a major impetus to bike sales during the pandemic crisis.
According to Bike Europe, sales of both assembly and e-bikes are experiencing a significant increase across the country. Projections indicate that production of e-bikes in 2019 arose by 209%, reaching 213,000 units. Domestic production regular bicycles expanded by 7% to around 2.6 million units, widening the berth for bicycle tires sales expansion.
E-bike sales are acquiring further traction with the drafting and implementation of the National Sustainable Development Strategy 2017/2030. Modeled on the lines of the 2030 Global Sustainable Development Agenda, the Strategy aims to carve out a new vision towards a circular and low-emission economy which is resilient to climate impacts and other global challenges.
How Lucrative is the Bicycle Sales Opportunity in France?
According to Future Market Insights, the French bicycle tires market is likely to emerge as highly opportunistic, attracting significant investments from key manufacturers. A valuation of nearly US$ 100 Mn is projected by the end of 2021, representing an annual increase exceeding 6%.
Like Italy, France has also introduced a reimbursement and subsidy program with the objective of keeping pollution levels under check. In April 2020, the French government allocated € 20 million under which everyone is eligible for bike repairs of up to € 50 at registered mechanics.
Moreover, the fact that under normal circumstances, six out of ten journeys undertaken in France are below 5 kilometers are widening the scope for bicycle sales, rendering them a highly efficient and effective transportation solution. Moreover, Paris is likely to create cycle routes along the paths of its busiest metro lines.
Owing to these aforementioned developments, numerous bicycle tire manufacturers have increased inroads across the French market. Some prominent players across the landscape include Cognoscenti Cycles, Continental Tires, Alleluia, Origine Cycles, Roger Rivière, La Fontan and Automoto among others.
Germany to Remain a Bicycle Market Hotspot
According to the German Bicycles Industry Association, in 2016, sales increased by 7% to reach € 2.6 billion. By 2019, nearly 3 million bicycles and e-bikes were sold in H1, representing an increase of 3.2% compared to the previous year. Exports accounted for 14.1% during the same year, while e-bikes comprised 36% of the said exports.
The German bicycle landscape is being stimulated by several positive industrial developments, including leasing of company bikes, digital offers and innovative business concepts regarding all aspects of cycling. Moreover, heightened sustainability concerns are also fueling sales of non-fuel driven vehicles, providing high ground for bicycle sales expansion.
In FMI's analysis, the German bicycle tires market is expected to reach US$ 169.2 Mn by 2021-end, representing a Y-o-Y expansion of over 5% and is likely to generate over 15% revenue.
U.K. to Witness Increasing Bicycle Tire Sales
The U.K bicycle tires market is likely to expand staggeringly, registering an annual growth rate exceeding 8% by 2021 to reach a valuation of over US$ 42 Mn. As per data put forth by the U.K Bicycles Association, sales witnessed a whopping 63% increase between April and June 2020.
The agency further estimated a 50% increase in electric bikes sales during April alone, representing a credible leap from the earlier 29% recorded in the first quarter of 2020. Paradigm lifestyle shifts induced by the pandemic crisis has rendered the outlook highly positive in forthcoming years.
As the country transitions towards green energy, efforts are being undertaken to reduce carbon emissions. According to the UK Climate Change Act, the objective is to restrict global warming to 1.5o C for which a synergistic approach is required across all governmental levels. Hence, emphasis on alternative transport solutions such as bicycles is rising, providing a wide platform for bicycle tire sales.
India to Emerge as the Fastest Growing Market for Bicycle Tires
South Asia & Pacific is poised to emerge as the fastest expanding bicycle tires market, registering a yearly growth exceeding 5% through 2020. Amongst all countries, India represents a highly opportunistic market, attributed to the presence of a large middle-income population base.
According to All India Bicycle Manufacturers Association (AICMA), a total of over 4 million bicycles were sold between May to September 2020 as individuals realized the importance of maintaining proper social distancing amid the pandemic crisis as well as the realization of boosting physical fitness.
Sales have expanded twofold in the post-lockdown period, as people rely on cheaper and environmentally sustainable transport alternatives. Massive spike is expected in the hybrid segment, with over 16 thousand unit sales expected by the end of 2021.
Such heightening sales are prompting reputed bicycle tire manufacturers to make inroads into the market. Players such as Apollo Tyres Ltd., Dunlop Auto Tyres Ltd., GRL Tires, Syndicate Tyres and Ralson Tyres have been highly active in the local market in recent years.
Bicycle Tires Market Category-wise Insights
Why are Electric Bikes Acquiring Popularity?
By bicycle type, e-bikes are expected to generate maximum growth opportunities for prominent bicycle tire manufacturers through 2031, expanding at a value CAGR exceeding 10%. High adoption of electric vehicles to address growing carbon emission concerns is likely to propel future growth.
At the same time, hybrid bicycles are expected to emerge as an important category, attributed to the growing demand for multi-functionality in biking operations. Increasing sporting events across different terrains is escalating growth prospects. The segment is expected to yield over 14% revenue by 2020-end.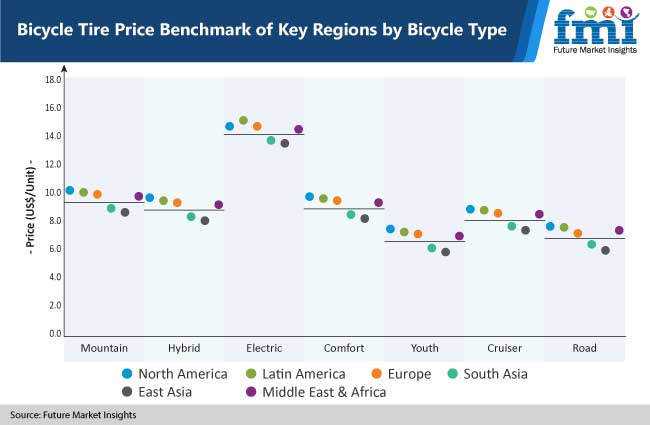 How are Tubeless Bicycle Tires Coming in the Limelight?
By product type, tubeless tires are expected to emerge as key revenue powerhouses, surpassing US$ 3 Bn in the next half-a-decade. Minimal deflation rate is the primary reason for its enhanced adoption by bicycle manufacturers. This also helps avoid accidents.
However, tube tires are not expected to wane in popularity, as it possesses superior road-gripping qualities. Due to the presence of tough but elastic material, tube tires offer a high degree of robustness and stability while riding, thus sustaining their usage. The segment is slated to generate close to 2/5th of the overall revenue share.
Which Tire Size and Sales Channels are More Preferred?
12-22 inches tire size continues to be more preferred in the market. FMI has forecast it to remain the dominant segment through the course of the report's forecast period. In terms of sales channel, aftermarket will register higher growth. Bicycle tires are often replaced by consumers due to wear and tear. The need for maintaining bicycles and customizing a few of its features post purchase will continue drawing revenue to the market.
Bicycle Tires Market Competitive Landscape
The bicycle tire market is moderately competitive, exhibiting the presence of a large number of players offering cost-competitive products. Some of the players are focusing to carve a niche for specific demography. Manufacturers are aiming at strategic collaborations with regional distributors to address the requirements of an expanding customer base. Suppliers also are adopting acquisition and regional expansion strategies to strengthen their foothold.
For instance,
In 2018, The Goodyear Tire and Rubber company formed a 50/50 joint venture with Bridgestone Americas, Inc. which helps companies to develop their storage and distribution channel
In 2018, MICHELIN launched its first tubeless cycling tire. From tarmac to single-track, Michelin's new POWER Gravel tire is engineered to deliver excellent grip, performance and durability in a variety of cycling conditions.
In 2019, Michelin acquired Masternaut, stepping up the deployment of its telematics solutions across Europe. It provides a technical platform equipped with the latest technology and offers on-board fleet telematics solutions to optimize vehicle fleet management and monitoring
In the year 2019, Continental AG expands its market in bicycle segment specifically in gravel range bicycle segment by launching its two new product namely Terra Trail and Terra Speed and both are available in two sizes.
Continental AG in 2020 launched a new product namely Ultra sport III which is a low range sport tire for bicycle lovers. It offers great grip and traction capacity in low price range.
Scope of the Report
Attribute

Details

Forecast Period

2021-2031

Historical Data Available for

2016-2020

Market Analysis

USD Million for value and Units for Volume

Key Regions Covered

North America, Latin America, Europe, East Asia, South Asia & Pacific, Middle East & Africa

Key Countries Covered

US, Canada, Germany, U.K., France, Italy, Spain, Russia, China, Japan, South Korea, India, ASEAN, Oceania, Turkey, Northern Africa, South Africa

Key Segments Covered

Bicycle Type, Product type, Tire Size, Sales Channel, and Region.

Key Companies Profiled

Cheng Shin Rubber Ind Co., Ltd.
HUTCHINSON
Trek Bicycle Corporation
The Goodyear Tire & Rubber Company
Specialized Bicycle Components
MICHELIN
Mitas
Pirelli & C. S.p.A.
Giant Bicycles
Continental AG

Report Coverage

Market Forecast, brand share analysis, competition intelligence, DROT analysis, Market Dynamics and Challenges, Strategic Growth Initiatives

Customization & Pricing
World's Most Profilic Intelligence Engine
Get Access To The World's Largest Market Research Database.
Sign Up Now
Bicycle tire Market
By Bicycle Type
Mountain
Hybrid
Electric
Comfort
Youth
Cruiser
Road
By Product Type
Tube Tire
Tubeless Tire
Solid Tire
By Tire Size
Upto 12 inch
12 to 22 inch
Above 22 inch
By Sales Channel
By Region
North America
Latin America
Europe
East Asia
South Asia & Pacific
Middle East & Africa
Key Questions Answered in the Report
Which is the most lucrative market for Bicycle Tire?
China currently leads the global market for Bicycle tire. Sales in China will account for over one-third of the total demand throughout the forecast period.
Which are the top-selling Bicycle type within the Bicycle Tire market?
Tire for electric bicycles is highly sought-after. The demand for tires for electric bicycles is expected to remain high in the near future, especially due to the rising interest of the world for safer and more sustainable ways of commute.
Which is the top-selling bicycle tire type?
Tubeless tires are highly sought-after due to their impressive puncture and wear resistance. They are expected to remain the dominant product type within the bicycle tire market through the forecast period.
Which are some of the leading bicycle tire manufacturers?
Cheng Shin Rubber Ind Co., Ltd. HUTCHINSON Trek Bicycle Corporation The Goodyear Tire & Rubber Company Specialized Bicycle Components MICHELIN Mitas Pirelli & C. S.p.A. Giant Bicycles Continental AG Ralf Bohle GmbH
Need specific information?
Our Clients