Surging Oil Prices and Growing Focus on Conserving Natural Resources Will Directly Impact Bicycle Components Aftermarket Growth
Perceived as relatively cheaper and more viable transportation alternative over fuel-powered vehicles, bicycles have been witnessing a progressing sales scenario in the recent past.
Conservation of natural resources is a pressing concern across the globe and depletion of these resources is a very real possibility in future. Increasing consumer inclination towards fuel conservation is resulting in increased usage of bicycles, particularly to cover close distance commutes. The global bicycle components aftermarket was roughly valuated at around US$ 11 Bn in 2018, according to a new research by Future Market Insights.
Growing Preference for Green Transportation Is Favoring Bicycle Components Aftermarket Sales
According to a report released by WHO, air pollution contributed to the death of approximately 3.7 million people under the age of 60 in 2012. Passenger vehicles and trucks are the major causes of air pollution since they produce significant amounts of carbon monoxide, nitrogen oxides and other pollutants. Fuel-driven vehicles are responsible for over half of nitrogen oxides and carbon monoxides and nearly a quarter of the hydrocarbons in the air.
The bicycle components aftermarket is being driven by the collective use of electric and conventional bicycles. For instance, the APAC region accounts for a large bicycle fleet in the bicycle components aftermarket. APAC will be largest end-user of e-bikes as well as the largest consumer of eco-friendly modes of transportation. Similarly, China has more electric & conventional bicycles than cars running on road. Middle and low-income consumers are directly impacting the sales in the Bicycle Components Aftermarket in the Asian region.
India, where the automobiles industry has a strong foothold, has started facing serious concerns, prominently in metropolitan cities. Bicycles are thus rapidly emerging as an effective means to curb pollution levels, and thus, receiving strong promotional support from governments and other authorities.
Increasing Fleet – An Important Growth Driver for Bicycle Components Aftermarket
Bicycle components have an ascending replacement rate, says research. That apart, increasing fleet on roads will also directly give a push to the bicycle components aftermarket. Most customers prefer to keep upgrading their bicycles frequently, a prominent factor working in favor of bicycle components aftermarket.
Moreover, the operational life of these bicycle components is considered to be excellent and ROI is also considered to profitable. The aforementioned factors are estimated to fuel the demand in the bicycle components aftermarket during the forecast period.
Advanced Material Technology Will Boost Demand for Bicycle Components in Aftermarket
Adoption of advanced material technology in bicycle components increases its load capacity, strength and resistance against corrosion & high temperature. High resistance against corrosion and high operational life of bicycle components results in increased productivity, which in turn, is expected to fuel the growth of the bicycle components aftermarket in upcoming years.
Several materials such as super alloys and aluminum, are lightweight and have high strength & load capacity. Inclusion of these materials in bicycle designs will directly impact the growth of global bicycle components aftermarket.
India and China Emerge Most Lucrative Countries in the Bicycle Components Aftermarket
Bicycle components aftermarket sales will reportedly experience a significant CAGR in MEA owing to the robust expansion of the vehicle fleet size, coupled with the increasing awareness about clean transportation. In terms of value share, APEJ is projected to dominate throughout the forecast period and is projected to create absolute $ opportunity worth US$ 5,391.6 Mn between 2018 and 2028 in the bicycle components aftermarket.
Manufacturing Strategies to Pave the Way for Growth of Bicycle Components Aftermarket
High popularity of bicycle components will encourage the growth of the bicycle components aftermarket during the forecast period. More importantly, growth in demand for mountain and sports bicycle components has also been adding to the growth in revenue of the global Bicycle Components. Emerging players are strengthening their position in the aftermarket by offering cost-effective but highly efficient bicycle components, which in turn, is affecting the profit margin of established players.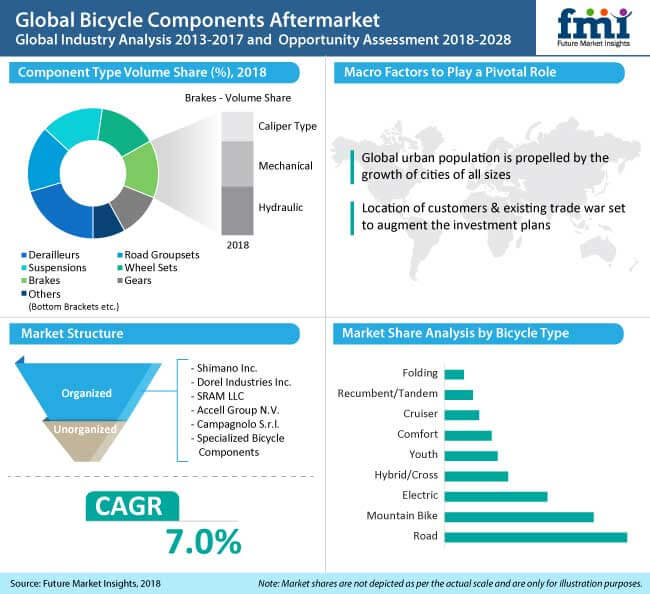 Bicycle Components Aftermarket Market – Competitive Landscape
The global bicycle components aftermarket is fairly consolidated. Organized players account for more than 35% share in the global bicycle components aftermarket even though there are numerous small players present in the global bicycle components aftermarket.
Key Segment
By Component Type
Derailleurs
Road Groupsets
Suspensions
Wheel Sets
Brakes

Hydraulic
Mechanical
Caliper Type

Gears
Others (Bottom Brackets etc.)
By Bicycle Type
Mountain Bike
Hybrid/Cross
Road
Comfort
Youth
Cruiser
Recumbent/Tandem
Electric
Folding
By Sales Channel
Specialty Bicycle Retailers
Discount Stores
Department Stores
Full-line Sporting Goods Stores
Outdoor Specialty Stores
Other Sales Channel
By Region
North America
Latin America
Europe
APEJ
Oceania
Middle East & Africa
Japan
Need specific information?