Bicycle Light Market Outlook (2022 to 2032)
The global bicycle light market is set to be valued at US$ 1,236.4 Million in 2022. The market is projected to grow at a CAGR of 7.1% from 2022 to 2032. It is anticipated to reach a valuation of US$ 2,454.7 Million by the end of 2032.
Due to the growing popularity of bicycle-associated sports activities, expanding fleet of bicycles, and rising participation in sports, the demand for mountain bikes is surging at a rapid pace. Owing to heavy road traffic and congestion, riders are nowadays looking for protection and safety.
It is further set to propel the demand for bicycle lights as they help in providing safety to the rider and enhance the quality of their riding experience. Thus, bicycle lights are expected to emerge as important products in the field of bicycle accessories.
According to the latest FMI report, East Asia is anticipated to continue to be the most lucrative bicycle light market, making up more than one-third of global sales by the end of 2022. By mounting type, the headlight category is likely to experience strong growth between 2022 and 2032 in terms of volume.
With rising investments in green modes of transportation i.e. electric transportation, the demand for bicycles is projected to surge in the next ten years. Growing safety and health concerns of cyclists are also expected to drive the bicycle light market. The bicycle light market currently accounts for about 2 to 3% of the global bicycle market.
An increasing number of bike riding competitions and rapid economic development of various emerging countries are expected to bolster the global bicycle light market in the next ten years. However, the incidence of accidents is growing across the globe, which is projected to compel manufacturers to produce more durable and sturdy safety features, including bicycle lights.
Many companies present in the travel and tourism sector are also focusing on organizing competitions to attract more tourists. In October 2022, for instance, Ryterna Modul, a provider of temporary or permanent construction services based in Europe, announced its yearly architectural competition. The company is focusing on cyclists as cycling in general is nowadays gaining speed.
The company is striving to develop a complex for cyclist travelers for an overnight stay or a short stopover. The complex will also include accommodation, a bicycle repair area, sanitary facilities, and fast-food restaurants or cafes for both passing cyclists and those staying overnight in hostel rooms.
| | |
| --- | --- |
| Attributes | Key Insights |
| Global Bicycle Light Market Estimated Size (2022E) | US$ 1,236.4 Million |
| Projected Market Valuation (2032F) | US$ 2,454.7 Million |
| Value-based CAGR (2022 to 2032) | 7.1% |
| Collective Value Share: Top 3 Countries (2022) | 50.5% |
Don't pay for what you don't need
Customize your report by selecting specific countries or regions and save 30%!
2017 to 2021 Global Bicycle Light Market Outlook in Comparison to 2022 to 2032 Demand Forecast
From 2017 to 2021, the bicycle light market witnessed considerable growth at a 4.9% CAGR. It is projected to grow at a CAGR of 7.1% in the forecast period (2022 to 2032). This increase in YOY growth in 2022 is higher because of factors, including the rising popularity of cycling as a sport, greater attention placed on rider safety, and expanding bicycle culture. Millennials are nowadays choosing to utilize bicycles as a result of the increasing focus on minimizing traffic. Bicycle lights are becoming more popular in both developed and developing countries as bicycle sales are increasing.
Moreover, demand for bicycle lights has significantly increased as a result of rising awareness regarding the benefits of using electric bicycles among people, which is boosting growth in the bicycle light market. Bicycle lights are widely used in electric and mountain bicycles for the safety purpose of cyclists during night-time drives or at mountain trails. In contrast to the US$ 1,236.4 Million recorded in 2022, the above-mentioned factors are anticipated to boost the market to reach US$ 2,454.7 Million by the end of 2032.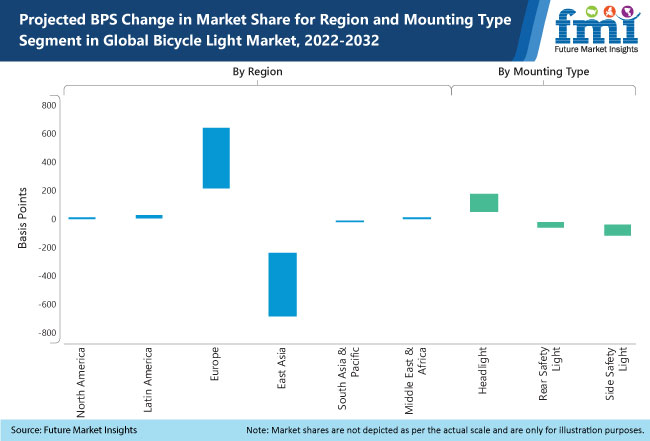 Top Trends Pushing Sales of Bicycle Lights Worldwide
Emergence of Cycle Lights with High Lumen Intensity and Shortage of Fuel to Push Sales
Owing to safety concerns put forward by several end users, manufacturers are focusing on launching advanced bicycle lights with more innovative features like high lumen intensity or camera installation with lights, which may help the cyclist to record any evidence of an incident. Key market players are concentrating on releasing new products with upgraded and advanced functionality with a maximum life of light.
Also, government rules & regulations and increasing environmental awareness programs will indirectly affect the global bicycle light market in the evaluation period. Concerns about rapidly increasing pollution levels and the limited availability of fuel sources are expected to drive e-bike adoption across the globe. Bicycle lights are mounted readily on electric bicycles, which will be a new opportunity for bicycle light manufacturers to increase their business revenues in the market.
Furthermore, owing to changing lifestyles and growing knowledge of health benefits, cycling has gained immense popularity as a sport & exercise activity in recent years. As a result, there are nowadays many technically advanced bicycles available with features like lights and reflectors for the convenience of riders.
These bicycle features have boosted the number of purchasers who view this form of transportation as an affordable and environmentally responsible option. The rising number of working people who are primarily focused on the convenience and health benefits of riding a bicycle is another factor that has contributed to the expansion of the bicycle lights market. The growing adoption of cycles and e-bicycles and the rising use of bicycle lights at night for safety purposes are set to create lucrative opportunities for manufacturers of bicycle lights.
Country-wise Insights
How are Bicycle Lights Manufacturers Faring in Germany?
Participation in Mountain Biking Activities to Push Sales of Bike Reflectors in Germany
Germany is estimated to grow at a CAGR of 8.9% from 2022 to 2032. As per FMI, it is expected to hold a prominent share of the Europe bicycle light market during the forecast period of 2022 to 2032. Germany is one of the countries in Europe that have the maximum number of mountain trails and ranges for riding activities of cyclists. It is considered to be one of the European nations where the mountain biking craze is growing rapidly.
At night time, during cycling on the mountainside, bicycle lights help cyclists to see their path, as well as their fellow cyclists. Because of the high number of mountain biking trails and the presence of a well-established mountain biking space in Germany, the bicycle light market is projected to grow steadily in the assessment period.
Why is China Showcasing Exponential Demand for Bicycle Lights?
Concerns Regarding Traffic Congestion in China to Boost Demand for Cycle LED Lights
China is anticipated to hold around 6.3% CAGR in the East Asia bicycle lights market during the forecast period, says FMI. China's population consists of nearly 17% to 20% of the global population. Due to the growing population, China has become the country with the busiest traffic congestion in the world.
Concerns regarding growing traffic have compelled people in China to mainly focus on the adoption of bicycles at a high level both during the day and at night. This is set to increase the sales of bicycle lights in the country, which will be beneficial for the bicycle light market.
Why is the USA Considered to be a Lucrative Hub for Bicycle Light Manufacturers?
High Demand for Folding Bicycles in the USA to Foster Sales of Bike Headlights
Over the forecast period, the bicycle light market in the USA is projected to create an incremental opportunity of nearly US$ 14.4 Million. Participation of people in bicycling activities in the country has reached around 51.4 Million. People are adopting bicycles as their primary mode of transportation to go to offices or nearby locations in the country.
In addition, the high demand for folding bicycles is expected to create a new opportunity for companies present in the USA bicycle light market. The majority of people nowadays are using folding bicycles for traveling short distances. Also, the rising number of cycling events and the urgent need to provide riders with a smooth experience is projected to drive the USA bicycle light market.
Category-wise Insights
Which is the Most Preferred Mounting Type?
Demand for Cycle Headlights to Surge by 2032 Amid Need for More Safety at Night Time
Based on mounting type, headlights are estimated to account for more than 65.7% of the global bicycle light market share by the end of 2032. Headlights are lamps mounted to the front of the bicycle at the handle, which are very important to provide cyclists with clear visibility at night time.
Front safety lights, also known as headlights, are more commonly used in bicycles than rear or side safety lights. They also help cyclists to drive safely at night. Besides, due to the rising adoption of e-bikes, headlights are set to witness high sales in the next ten years.
Which Type of Bicycle is Expected to Showcase Immense Popularity?
Demand for E-Bicycle Tail Lights to Surge at a Rapid Pace by the End of 2032
Based on bicycle type, the e-bicycle segment is projected to hold more than 72% of the global bicycle light market share by 2032. Owing to the rapidly increasing pollution level and high fuel consumption, governments of various countries have put forward stringent rules and regulations, which have further increased global sales of e-bicycles.
Governments are also providing subsidies to people for purchasing e-bikes and adopting the same as a new mode of transportation. These factors are anticipated to drive sales of e-bikes in the global bicycle light market.
Which Sales Channel is Set to Generate the Maximum Revenue?
OEMs to Promote their Cycle Brake Lights with the Help of Online Platforms
By sales channel, the OEM segment is set to account for the majority of shares in the global bicycle light market in the next ten years. Industry leaders, including OEMs and devoted manufacturers, are projected to focus on selling bicycle lights online. They are also expected to use these platforms to promote their goods in local markets. Consumer requirements are being met by OEM manufacturers and it is likely to push growth in the global bicycle light market.
Get the data you need at a Fraction of the cost
Personalize your report by choosing insights you need
and save 40%!
Competitive Landscape
Over the past few years, increasing acquisition and expansion activities have been witnessed among key companies to improve their supply chain of bicycle lights. Major manufacturers are providing a wide range of customized bicycle lights depending on the requirement. They are also offering services that are customized for each unique customer. The market is also expected to witness the entry of various start-up companies in the evaluation period.
For instance:
In November 2020, Lezyne introduced a new alert braking signal technology to its existing line of rear bicycle lights that, according to the company, will inform motorists and other cyclists that they are slowing down. When deceleration is detected, the alert technology uses accelerometers to produce a full-strength pulse of light followed by a quick flash.
Bright and Durable Bicycle Lights from Garmin Ltd., GACIRON, and Goldmore Co., Ltd are Here to Illuminate Your Night Rides!
Numerous companies are developing innovative bicycle lights to provide safety to riders. They are attaching bright lights to the bike wheel instead of installing them on the handlebar. Bicycle lights are considered to be the easiest way a person can see while riding at night time without stopping and seeing where the person is going. In general, these lights are very helpful as many people get injured due to riding with low visibility on dark nights.
Garmin Ltd (Garmin) produces, develops, manufactures, and distributes GPS-enabled hand-held, portable, and fixed-mount devices. Additionally, the firm provides navigation, communication, and information devices for the automotive/mobile, outdoor, fitness, maritime, and general aviation industries.
It sells goods under numerous brands, including Garmin Fleet, Overlander, Quickdraw, ECHOMAP, EmpirBus, inReach, Instinct, Garmin Connect, and Vivofit. Garmin also provides GPS receivers and accessories to retailers, as well as sells aviation equipment to aviation dealers and aircraft manufacturers via a network of independent dealers and distributors.
In May 2022, Gramin introduced the Varia RCT715 rear-view radar-activated tail light with a built-in camera. The built-in camera continuously records the surroundings during a ride and automatically saves footage if an accident is detected.
In July 2022, Garmin International introduced two new cycling products, namely, the Edge 1040 Solar, a cutting-edge GPS bicycling computer, and the Varia RCT715 rearward radar actuated tail light with a built-in camera. The Edge 1040 Solar, which is equipped with Garmin's exclusive PowerGlass technology, has a battery life of more than 100 hours when it stays in energy saver mode.
Another key supplier and manufacturer of bicycle lights are GACIRON, which is a globally recognized brand of bicycle lighting equipment. It was founded in 2008 in the world′s innovation capital, Shenzhen, China.
GACIRON has developed a professional bicycle front and rear light product line that is divided into four series, namely, Road, Off-Road, Urban, and Race. The GACIRON brand adheres to the brand philosophy of Light Up Your Way and is devoted to offering the most professional bicycle lighting equipment for cycling lovers worldwide, as well as making outdoor activities considerably safer.
In October 2022, a new smart bike taillight called the W10-BS was launched by GACIRON. It mounts to either a saddle or a seat post and senses braking forces automatically, switching to its highest brightness for three seconds as a warning to others. The W10-BS is IPX5 waterproof, USB-rechargeable, and has a 350mAh lithium battery that lasts for an impressive 66 hours.
Similarly, Goldmore, which was founded in 2008, is a leading manufacturer of various LED outdoor lights such as camping lanterns, flashlights, book lights, night lights, headlamps, bike lights, work lights, and many more. Goldmore strives to deliver the finest service to clients by employing a professional sales staff, competent design engineers, and a dedicated QC team that is in charge of 100% online product inspection to assure the highest quality.
To enable quick sample preparation, inventive product designers and expert tooling engineers are accessible upon request in the company. GoldMore LED bike lights include incredibly brilliant and long-lasting tail lights and headlights. Its LED bike lights are ideal for downhill or mountain biking. It installs in seconds without the requirement of any tools and fits a broad range of handlebar sizes.
Scope of the Bicycle Light Market Report
Attribute
Details
Estimated Market Size (2022)
US$ 1,236.4 Million
Projected Market Valuation (2032)
US$ 2,454.7 Million
Value-based CAGR (2022 to 2032)
7.1%
Forecast Period
2022 to 2032
Historical Data Available for
2017 to 2021
Market Analysis
Value (US$ Million)
Key Regions Covered
North America, Latin America, Europe, East Asia, South Asia, and Pacific, and the Middle East & Africa
Key Countries Covered
USA, Canada, Mexico, Brazil, Germany, Italy, France, United Kingdom, Spain, BENELUX, Russia, China, Japan, South Korea, India, ASEAN, Australia and New Zealand, GCC Countries, Northern Africa, South Africa, Turkey
Key Market Segments Covered
Mounting Type, Bicycle Type, Sales Channel, and Region
Key Companies Profiled

Garmin Ltd.
Cygolite
Cateye Co., Ltd.
GACIRON
Goldmore Co., Ltd.
Lord Benex
Knog
Smart Bike Light
NiteRider Technical Lighting Systems
Blackburn
Schwinn
Serfas
Lezyne
Sense.
LEDbyLIT

Report Coverage
Market Forecast, brand share analysis, competition intelligence, Drivers, Restraints, Opportunities and Threats analysis, Market Dynamics and Challenges, Strategic Growth Initiatives
Key Segments Covered in Bicycle Light Market Analysis
By Mounting Type:
Headlight
Rear Safety Light
Side Safety Light
By Bicycle Type:
Mountain Bicycle
Road Bicycle
E-Bicycle
Sport Bicycle
By Sales Channel:
OEM
Aftermarket

Online Channel
Offline Channel
By Region:
North America
Latin America
Europe
East Asia
South Asia and the Pacific
Middle East & Africa
Frequently Asked Questions
The global bicycle light market is expected to reach a valuation of US$ 1,236.4 Million in 2022.
The bicycle light market is expected to grow at 7.1% CAGR during the forecast period from 2022 to 2032.
Garmin Ltd., Cygolite, Cateye Co., Ltd., GACIRON, Goldmore Co., Ltd., Lord Benex, Knog, and Smart Bike Light are the leading players. They collectively account for 40% to 45% of the global bicycle light market share.
The China bicycle light market is expected to register growth at 6.3% CAGR from 2022 to 2032.
Germany, China, and the USA are key consumers in the bicycle light market.