Automotive Tire Market Snapshot
Newly released data by Future Market Insights predicts the global automotive tire market to reach US$ 366,092 Mn in 2021. Despite stifled growth amid COVID-19 outbreak, the market is likely to recover, showcasing 5.6% year-on-year growth in 2021.
The radial tire sales is projected to surpass US$ 550 Bn between 2021 and 2031. Bridgestone, Michelin, Goodyear, Continental, and Pirelli are the leading market players and they are expected to collectively account for nearly 48% of global automotive tire market in 2021.
Key Points Covered in Automotive tire Market Study
Market estimates and forecast 2015-2031
Key drivers and restraints impacting market growth
Segment-wise, Country-wise, and Region-wise Analysis
Competition Mapping and Benchmarking
Brand share and Market Share Analysis
Key Product Innovations and Regulatory Climate
COVID-19 Impact on Automotive Tire Market and How to Navigate
Recommendation on Key Winning Strategies
2016-2020 Automotive Tire Market Historic Sales Compared To 2021-2031 Forecast Outlook
Surge in sales of two wheelers and commercial vehicles have driven the global automotive tire market in past few years. FMI states that the automotive tire market grew at 1.2% CAGR between 2016 and 2020.
Growth in automotive tire market will continue on account of the increasing demand for replacement of worn out tires and low rolling resistance tires. As per the FMI's study, the automotive tire market is forecast to reach the valuation of US$ 366,092 Mn in 2021.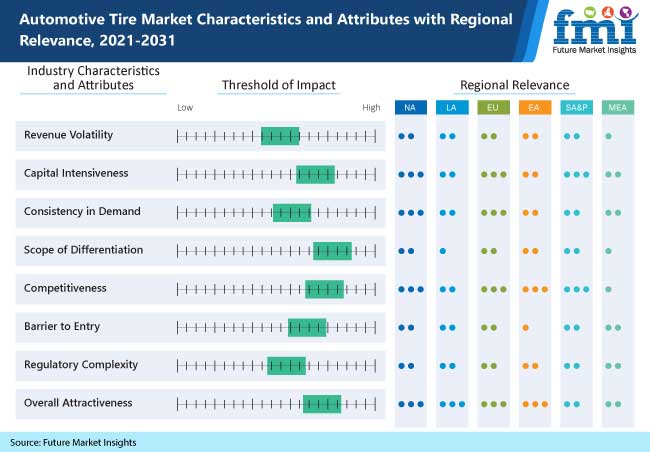 Rising in automobile ownership, demand for high-performance vehicles and the consequent increase in automotive production will contribute to the expansion of the automotive tire market.
Leading companies are heavily investing in research and development to improve efficiency and produce premium quality tires. Soaring popularity of electric vehicles is encouraging them to create modified and lightweight tires, especially designed for electric and hybrid vehicles. Some of the market players are also collaborating with online retail services to increase customer reach, provide better service and increase revenue.
For instance in July 2021, CEAT Tyres partnered with TyresnMore for online sales and home tire fitment and servicing. Customer will be able to buy genuine CEAT products like tyres and batteries from the TyresnMore website. The product will be home delivered and fitted by its service team without any hassle to the customer.
How Will Thriving Automobile Industry Influence The Automotive Tire Market?
Surge in production of automobiles and high demand for passenger cars across the globe are expected to drive the automotive tire industry during the forecast period. Sport utility vehicles (SUVs) are gaining popularity in India and China thus providing lucrative opportunities for market growth.
As per the statistics from the International Organization of Motor Vehicle Manufacturers, around 55.83 million passenger cars and 21.78 million commercial vehicles were produced globally in 2020. Implementation of strict tire performance regulations and increasing demand for fuel efficient vehicles are encouraging market players towards developing new tires with superior wet grip and low rolling resistance. These factors will boost the market growth.
Leading tire manufacturers and automobile giants are entering into partnerships to incorporate new technology tires in the new launches to increase their market share and expand their product portfolio.
For instance, Michelin tyres formed a technical partnership with Hyundai Motor towards developing next generation tires for electric and luxury vehicles. Luxury vehicle launches in emerging economies will open floodgates of opportunities for automotive tire original equipment manufacturers (OEMs).
Technological Innovations Enabling Automotive Tire Market Growth
In order to boost efficiency and increase production to cater the rising demand, market players are switching towards automation for automotive tire manufacturing. Advancement in the field of composite material and incorporation of carbon fiber and alloys in tire production will positively influence the automotive tire market over the forecast period.
Green tires are gaining popularity among the younger population as they are eco-friendly and improve mileage especially in heavy motor vehicles. Green tires have low rolling resistance and are capable of increasing the fuel economy of vehicle by at least 2% in commercial vehicles. However, green tires are expensive but the cost will be recovered with savings on fuel expenses.
Pirelli launched world's first Forest Stewardship Council (FSC)-certified P ZERO tire, in May 2021. This P ZERO tire was developed in accordance to BMWs performance requirements and Pirelli's 'perfect fit' strategy. The tire is aimed to provide significant contribution to green philosophy of hybrid automotives.
Adoption of rimless tires and development towards producing cheaper and sustainable green tires to reduce carbon emission will catapult the growth of the global automotive tire market.
Country-wise Insights
Why Is The U.S. Dominating North America Automotive Tire Market?
Rising sales of electric vehicles and development of technologically advance autonomous vehicles are stimulating the demand for automotive tires in U.S. Change in taxation policy and shifting consumer preference towards safer, comfortable and more durable tires is fueling the market growth in the country.
Increasing production of automotives and growing popularity of pickup trucks and similar light commercial vehicles will further accelerate the market growth. Increasing investment towards developing green tires and rise in demand of rethread tires are boosting the automotive tire market sales in the country.
U.S. automotive tire market is very competitive and leading market players are employing inorganic strategies to increase their revenue generation rate and capture maximum market. The inorganic strategies include strategic collaboration and merger with automobile manufacturers.
For instance, in July 2021, N Priz S Grand-Touring Tire developed by Nexen Tire America Inc. was selected as the original equipment to be used in the 2022 Hyundai Kona in both South Korean and U.S. markets. Nexen Tire America Inc. is a global leader in high-performance, passenger, SUV/light truck, and winter tire technology. 2022 Hyundai Kona will be equipped with 215/55R17 N Priz S grand-touring tires to assist the vehicle in delivering maximum fuel economy and comfort.
As per the FMI's analysis, U.S. is anticipated to hold prominent market share, with North America registering the growth at more than 3.50% CAGR during the forecast period.
What Will Support Automotive Tire Market Expansion In Japan?
Japan Automobile Manufacturers Association reports that around 7.70 million cars were produced in Japan in 2019 while more than 2.98 million cars were sold during the same period. Presence of leading automakers like Suzuki, Toyota, Nissan, Honda, and Mitsubishi and thriving online sales of tires at reduced price will positively influence the market growth.
Consistent development and introduction of new products by market players to expand their portfolio will continue to fuel the automotive tires market in Japan over the forecast period. For instance, in March 2021, Nihon Michelin Tire Co. Ltd. announced to launch its two new tires "the Pilot Exalto PE2" and "Primacy 3" for modern classic cars in Japan.
What Are The Factors Influencing The Automotive Tire Market In India?
India is expected to offer lucrative growth opportunities due to increasing production of motorcycles and commercial vehicles especially sport utility vehicle (SUV) across the region. According to the Society of Indian Automobile Manufacturers (SIAM), two-wheelers production across India surpassed 18.34 million units while commercial vehicle production reached around 6,24,939 units in 2020.
Strategic collaboration between tire manufacturers and automakers is an emerging trend. For instance, on 7th July 2021, one of the leading tire manufacturers JK Tyre entered into partnership with Hyundai Motor India, supplying tires to the all-new Hyundai Alcazar and other top variants. JK offers its latest UX Royale high performance tires developed with best-in-class technology, provides unmatchable performance, comfort, and smooth handling.
In February 2020, Maxxis India announced its partnership with Yamaha for supplying tyres for Yamaha's 125 cc BSVI- compliant Ray ZR and Fascino range of scooters as well as BSVI-compliant model of Ray ZR Street Rally 125 FI in India.
Leading market players are focusing on new product launches to cater the high demand especially from premium motorcycle and SUV segment.
For instance, Apollo Tyres launched its recently developed eco-friendly tire "The Apollo Amazer XP" in February 2021. This new tire is claimed to offer best in class rolling resistance coefficient and is compliant with BS VI, India's equivalent of Euro 6 standards, and is electric vehicle ready.
As per the analysis of Future Market Insights, India is anticipated to spearhead the sales of automotive tires across South Asia.
What is Supporting Automotive Tire Market Growth in Germany?
As per the report by German Association of the Automotive Industry, around 4.6 million passenger cars were produced in Germany in 2019. Aggrandizing production of passenger cars in the country and high demand for German made luxury automobiles across the globe is driving the automotive tire market in the region.
Also the presence of some of the leading automotive tire manufacturers like Michelin Reifenwerke AG & Co. KGaA, Continental Reifen Deutschland GmbH, Goodyear Dunlop Tires Germany GmbH, and Bridgestone Deutschland GmbH will strengthen growth opportunities in Germany.
These OEMs are focusing on new product launches to gain competitive edge.For instance, in May 2021, Continental launched its new telehandler and skid-steer loader tire called "CompactMaster AG tire". The tire is equipped with new turtle shield tread layer and twisted steel belt leading to low wear and tear of the tire.
In addition to this, rapid urbanization, introduction of electric & hybrid vehicles and increasing demand for better road grip and long life tires will further propel the market growth over the forecast period.
Category-wise Insights
Why are Radial Automotive Tires Most Preferred?
In terms of tire structure type, the market is segmented into radial, tubeless, tube and bias automotive tires. As per the FMI, the radial segment value is expected to surpass US$ 550.2 Bn by 2031.
Superior performance characteristics such as low rolling resistance, high heat dissipation, and long life are some of the factors encouraging radial tires sales especially in heavy commercial vehicles. Also, low rolling resistance of radial tires enhances the flexibility of moving tire. These characteristics make radial tires a preferred choice for automotive tires.
High Growth Potential Visible in the Passenger Vehicle Domain
By vehicle type, passenger car segment is anticipated to account for the highest global market share during the forecast period. This segment is anticipated to grow at a healthy 6.8% CAGR throughout the forecast period
Passenger cars are generally equipped with 13"-15" rim size. Popular models like Volkswagen Polo and Volkswagen Rapid comes with 13"-15" rim size tires. Increasing demand of passenger vehicles in Asian countries like India and China will drive the passenger car tires market growth.
Commercial vehicles tire market is expected to grow at more than 6.1% CAGR during the assessment period. The growth can be attributed to increasing demand of retreaded tires in pickup trucks and other light commercial vehicles. Retreaded tires provide high mileage, are more than 30% cheaper, and have same warranties as to that of new tires.
Thus the light commercial vehicle segment is a high growth segment and is predicted to surpass the valuation of US$ 102.7 Bn by the end of 2031.
Which Sales Channel Will Remain More Preferred?
OEM segment is forecast to exhibit significant growth rate throughout the assessment period. Simultaneously aftermarket segment is poised to experience increase in sales as automobile manufacturers are collaborating with tire manufacturers to cater to their specific requirements.
Increasing demand for passenger vehicles and high demand for low rolling resistance tires will conducive environment for market players to develop more efficient and long lasting tires to improve the safety of the vehicle and the passenger. Hence, the OEM segment is expected to exceed growth rate of 6.4% CAGR during 2021-2031.
Competitive Landscape
As per the FMI's analysis, cheap labor and availability of raw material in emerging economies are encouraging leading market players to invest and establish their manufacturing units in these regions. Increasing demand for vehicles and rising per capita income of middle class population has boosted the sales of automotive which in turn drove the growth of tire business.
For instance, In June 2021, Michelin launched its MICHELIN Primacy 4ST tyres in India. The tire provides excellent wet grip owing to its new tread pattern which provides 1.5X additional grooves to evacuate more water. The next generation Silent Rib Technology creates inter-locking bands between tread blocks resulting in smoother ride and high comfort. The new technology also limits the air pumping sounds during the rolling of tire.
Moreover, In 2021 Apollo tires announced to launch a new range of tyres under its Dutch brand Vredestein in India, designed for luxury automobiles and high performance bikes. With the launch of these new tires company aims to dominate the luxury car tire segment.
Market players are also collaborating with research institutes and regional players for new product development and to gain competitive edge. For instance, Michelin India signed a memorandum of understanding (MoU) with Automotive Research Association of India (ARAI) in July 2021 to promote knowledge sharing, improve general awareness regarding automotive industry, and develop new tire technologies. This collaboration will assist in testing of tires for wet grip and rolling resistance.
Scope of Report
Attribute

Details

Forecast Period

2021-2031

Historical Data Available for

2017-2027

Market Analysis

USD Million for Value

Key Countries Covered

U.S., Canada, Brazil, Mexico, Argentina, Rest of Latin America, EU-5, BENELUX (Belgium, Netherlands, Luxembourg), NORDIC (Denmark, Finland, Iceland, Norway, Sweden), Rest of Western Europe, Poland, Russia, Rest of Eastern Europe, China, India, Japan, GCC Countries, South Africa, Israel, Turkey, Iran, Rest of Middle East & Africa, Australia, New Zealand, South Korea, the Philippines, Malaysia, and Thailand

Key Segments Covered

By Vehicle type, By Tire Structure Type, By Sales Channel and Region

Key Companies Profiled

Bridgestone Corp.
Michelin
Goodyear Tire And Rubber Company
Yokohama Rubber Company, Limited
Cheng Shin Rubber Industries
Sumitomo Rubber Industries Ltd.
Toyo Tire & Rubber Company
Trelleborg AB
Cooper Tire & Rubber Company
Hankook Tire
Madras Rubber Factory Limited
Kumho Tire Co. Inc.
Apollo Tyres Ltd
Sailun Tires Ltd
Shandong Linglong Tyre
Nokian Renkaat Ojy
Titan Tire Corporation
Nexen Tire America Inc.

Report Coverage

Market Forecast, Company Share Analysis, Competition Intelligence, DROT Analysis, Market Dynamics and Challenges, and Strategic Growth Initiatives

Customization & Pricing

Available upon Request
Key Questions Answered in the Report
What Is The Expected Valuation Of Automotive Tire Market?

The global automotive tire market is forecast reach the market valuation of around US$ 366,092 Mn in 2021. It is expected to increase exponentially during the forecast period.

What is the sales outlook for automotive tire market?

Sales of automotive tire are expected to grow at 4.8% by volume over the assessment period.

What was the last 5 year automotive tire market CAGR?

Automotive tire market recorded CAGR of around 1.2% in terms of unit volume from 2016 until 2020.

What are the key trends prevailing in automotive tire market?

Prominence of green tires, demand diversity amongst end users, and enhanced utilization of digital platform are the key trends prevailing in automotive tires market.

What are the key factors fuelling the demand for automotive tire?

Increasing sales of passenger vehicles and two wheelers and introduction of new tires with low rolling resistance will drive their market demand during the assessment period.

What is the market share of top players in automotive tire market?

The top five companies in automotive tire market hold around 48% of the total market share in 2021.

Who are the top 5 players operating in automotive tire market?

Top 5 players operating in automotive tire market are Bridgestone, Michelin, Goodyear, Continental, and Pirelli.

What is the North America automotive tire market outlook?

The market for automotive tire in North America is anticipated to expand at a healthy pace on the back of rising demand for passenger vehicles and increased standard of living. The North America market will exhibit 5.9% CAGR in terms of value between 2021 and 2031.

At what percentage is automotive tire going to register growth in Europe?

The Europe market is projected to register an average growth of 6.2% per annum during the forecast period

What are the key statistics for automotive tire market in South Korea and Japan?

South Korea and Japan cumulatively held around 12% of the overall automotive tire market in 2021.
Automotive Tire Market by Category
By Vehicle Type:
2/3 Wheeler
Passenger Vehicle
Commercial Vehicle
Light Commercial Vehicle
Heavy Commercial Vehicle

<=20"
21"-24"
>=24"
specialty Vehicle
By Tire Structure:
Radial
Tube
Tubeless
Bias
By Sales Channel:
By Region:
North America
Latin America
Western Europe
Eastern Europe
Asia Pacific excluding Japan (APEJ)
Japan
Middle East and Africa (MEA)
Need specific information?
Talk Show:
The Rise of Intelligent Packaging
Personalized, Connected and Sustainable
November 18, 2021
11:00-11:45 AM PST (USA & Canada)
This is a LIVE session