An Incisive, In-depth Analysis on the Automotive Fabric Market
This study offers a comprehensive, 360 degree analysis on the Automotive Fabric market, bringing to fore insights that can help stakeholders identify the opportunities as well as challenges. It tracks the global Automotive Fabric market across key regions, and offers in-depth commentary and accurate quantitative insights. The study also includes incisive competitive landscape analysis, and provides key recommendations to market players on winning imperatives and successful strategies.
Automotive fabric offers maximum comfort and pleasurable ride to passengers, and helps in enhancing the interior ambience as well as vehicle safety. Automotive fabric is UV rays resistant, cold cracking resistant, durable, easy to clean, and helps in minimising fatigue. Knitted, woven and non-woven are three types of automotive fabrics primarily utilised in vehicles.
Manufacturers focusing on Light-weight Composite Materials for Automotive Fabric
Automotive fabrics has been helping manufacturers in meeting the sustainable strategy goals, with the provision of advanced products to end-users. The automotive industry has been using various fabrication technologies, may it be for niche motorcycles or for heavy commercial vehicles. Automotive fabric manufacturers are increasingly focusing on adoption of light-weight composite material, which has lower moisture content, and an advanced adhesive technology for improving sealing, vibration, and harshness performance of vehicles.
Automotive fabric has also witnessed a significant adoption in floor covering, owing to its noise and vibration absorption properties. Other factors influencing demand for automotive fabric include its provision of advanced features such as breakage & wear resistant and elasticity, soaring adoption of automobile accessories, and rapid economic development. However, increasing availability of alternative counterparts such as PVC, natural leather, and synthetic leather is expected to remain as a challenge for automotive fabric manufacturers.
A new research analysis report by Future Market Insights (FMI) has projected the global automotive fabric market to ride on an impressive CAGR over the forecast period (2017-2022). Global sales of automotive fabric is estimated to account for approximately US$ 250 Mn revenues by 2022-end.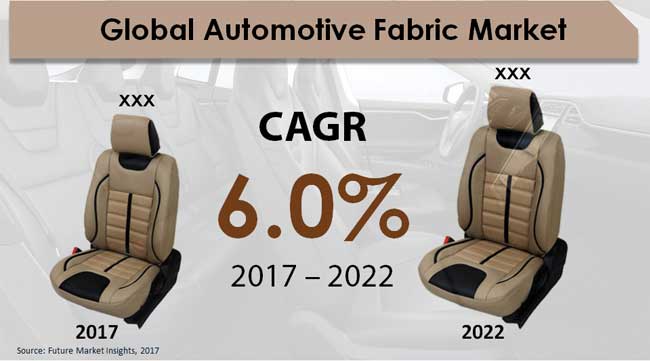 Europe to Account for Largest Share of the Global Automotive Fabric Market
In terms of revenues, the largest share of the global automotive fabric market will continue be accounted by Europe, followed by North America and Asia-Pacific excluding Japan (APEJ). However, Latin America and Japan are anticipated to remain the fastest expanding markets for automotive fabric during the forecast period. Middle East and Africa is expected to remain the least lucrative market for automotive fabric.
In terms of revenues, compact passenger cars will continue to be the most lucrative vehicles in the global automotive fabric market, followed by mid-sized passenger cars and light commercial vehicles. In addition, sales of automotive fabric are projected to register the fastest expansion in compact passenger cars and light commercial vehicles. A steady expansion has been projected for sales of automotive fabric in premium passenger cars and mid-sized passenger cars.
Airbags and Floor Covering – Most Lucrative Applications of Automotive Fabric
Airbags and floor covering will continue to be the most lucrative applications of automotive fabric, with sales expanding at steady CAGRs through 2022. Automotive fabric sales will witness the fastest expansion in car roof and tires, and are estimated to collectively account for over US$ 70 Mn revenues by 2022-end. Belts and hoses will also remain a lucrative application of automotive fabric over the forecast period.
Although OEM will remain the largest sales channel for automotive fabrics, sales in aftermarket are projected to register a slightly higher CAGR than that in OEM through 2022. However, revenues from sales of automotive fabrics in OEM will remain significantly higher than in aftermarket during 2017 to 2022.
Woven fabric will remain preferred among products in the global automotive fabric market. However, sales of knitted fabric and non-woven fabric will reflect relatively higher CAGRs through 2022, with the latter remaining comparatively more lucrative than the former.
Company Profiles
FMI's report has offered a detailed analysis on the competitive landscape of the market, along with presence of key companies through an intensity map. These companies include Lear Corporation, ACME, SETEX-Textil-GmbH, Delcotex Delius Techtex GmbH & Co. KG, HYOSUNG, and Adient Plc.
A yet another unbiased and comprehensive report, titled "Automotive Fabric Market: Global Industry Analysis (2012-2016) and Opportunity Assessment (2017-2022)", has been delivered by Future Market Insights (FMI). This report studies the global automotive fabric market in detail, exhaustively covering key dynamics of the global market for automotive fabric. The report explains its readers about trends, hindrances, and propelling factors impacting expansion of the market. In addition, the report offers study of data across various parameters for arriving at significant & relevant numbers pertaining to the global market for automotive fabric. An in-depth analysis on the market's competitive landscape has been provided by this report, including information on key industries operating in global automotive fabric market.
Report Structure
The report commences with a chapter providing executive summary of global automotive fabric market. This chapter delivers a précis of automotive fabric market worldwide, and provides pertinent & significant market numbers, including historical CAGR (2012-2016) and forecast CAGR (2017-2022) of the market. From the perspective of highest CAGRs and largest revenues shares, the report delivers information on lucrative regions for growth of global automotive fabric market.
Following the executive summary, the report offers a chapter delivering the global automotive fabric market's overview. The overview include a formal definition of the target product – automotive fabric, along with a brief introduction of automotive fabric market. The overview gives a clear perception of the wide scope of the market to the report readers. The next chapter sheds light on key dynamics of global automotive fabric market, which covers key points including fiscal stimulus, bottom line of enterprises, and the global economy. The succeeding chapters of this report give information about pricing and cost structure analysis of the market.
Market Taxonomy
The report has categorised the global market for automotive fabric based on five key segments viz. vehicle type, application, sales channel, product type, and region. Y-o-Y growth comparison, along with revenue and market share comparison have been used for providing insights on the market numbers related to segmentation analysis. The global market for automotive fabric has been categorised into six key regions viz. Japan, APEJ, MEA, North America, Europe, and Latin America.
| Region | Product Type | Sales Channel | Application | Vehicle Type |
| --- | --- | --- | --- | --- |
| | | | | |
| | | | | |
| | | | | |
| | | | | |
| | | | | Light Commercial Vehicles |
| | | | | Heavy Commercial Vehicles |
| | | | Pre-Assembled Interior Component (PRIC) | |
| | | | | |
| | | | | |
Competition Landscape
In its concluding chapter, the report delivers analysis on the competition landscape of the global automotive fabric market, profiling key market participants in detail. Information on the market players has been rendered in terms of SWOT analysis, wherein strengths, weaknesses, opportunities and threats associated with the particular company analysed have been explored in detail. The information delivered also comprises the product overview, key developments, company overview, and key financials of the companies. This chapter is crucial for report readers, as it delivers all necessary insights about companies and their strategies, which help them in gaining a competitive edge in the market.
Research Methodology
An exhaustive research methodology has been used in this report to deliver insights and forecast on the global automotive fabric market. The research methodology used completely relies on primary and secondary research for gaining necessary information on the global market for automotive fabric. This information acquires is then validated several times by FMI's analysts, making it an authoritative source for clients.
COVID -19 : Impact Analysis
Request the coronavirus impact analysis across industries and markets
Request Covid -19 Impact
CASE STUDIES
See how our work makes an impact.
At FMI, we design strategies that are adaptive, impactful, and implementable.