Synthetic Leather Market Snapshot
Future Market Insights (FMI) estimates that synthetic leather sales will increase by 4.5% year-on-year in 2021, backed by rising demand for lightweight material for automotive interior and rising popularity of polyurethane leather across various industries.
FMI has identified Asahi Kasei, Nan Ya Plastics Corporation, Toray Industries, Teijin Limited, Kuraray Co., Ltd., Daewon Chemical Co Ltd., Kolon Industries Inc., Achilles Corp, and Mayur Uniquoters as leading players in synthetic leather market. They collectively account for more than 30% of global market share as of 2021.
Key Points Covered in Synthetic leather Market Study
Market estimates and forecast 2021 – 2031
Key drivers and restrains impacting market growth
Segment-wise, Country-wise, and Region-wise Analysis
Competitive Mapping and Benchmarking
Brand share and Market Share Analysis
Key Product Innovations and Regulatory Climate
COVID-19 Impact On Synthetic Leather Market
Recommendation on Key Winning Strategies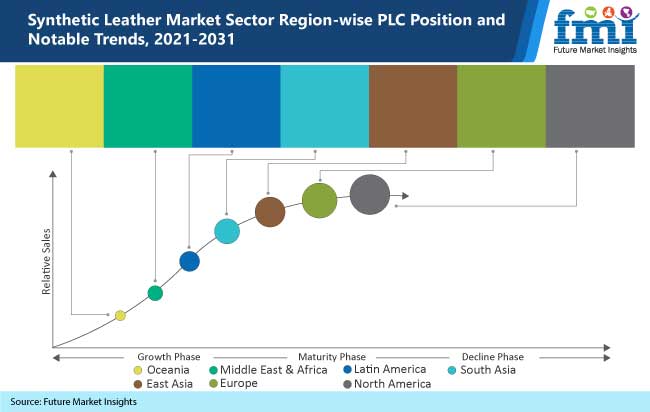 2016 – 2020 Global Synthetic leather Market Outlook Compared to 2021 – 2031 Forecast
Growing demand for high-end luxury interior in automobiles and luxury goods at affordable pricing is driving the synthetic leather market growth sincre past few years. Future Market Insights in its analysis states that synthetic leather market grew at 1% CAGR between 2016 and 2020.
Increasing demand of eco-friendly products and stringent regulations regarding animal cruelty and slaughtering will fuel the adoption of synthetic leather in the upcoming years. Rising popularity of veganism and consequent campaigns aimed at encouraging vegan leather products sales on social media will play a critical role in driving the market over the assessment period.
Prevailing fashion trends in emerging economies of Asia and entry of leading footwear and apparel companies as a part of their global expansion strategy will boost the sales of synthetic leather market in these countries.
Automotive buyers are looking for luxurious interior design and elevated comfort at an affordable pricing. Manufacturing luxurious cockpit interior use natural leather, which is quite expensive and requires high maintenance, thus manufacturers are switching to artificial leather for car upholsteries owing to its relatively low cost, easy to clean and aesthetically pleasing attributes.
Research and development is the key area of focus among market players as they are heavily investing to develop plant-based synthetic leathers with properties superior to that of natural leather. Emergence of new market players developing multi-functional artificial leather will bode well with the market growth in the future.
According to FMI's research, growth is projected to increase at a faster pace over the coming years, with sales touching 40,119 KT by the end of 2021.
How will Changing Consumer Preference Affect Synthetic Leather Sales?
Thanks to various internet and social media campaigns, customers are rendered better aware regarding about adverse effects of natural leather production on the environment. Consequently they are showing greater inclination towards choosing natural leather alternatives to play their part in protecting the environment.
Natural leather based product manufacturing results in carbon-dioxide emission. Contrary to this, sustainable production of synthetic leather based products will make a significant contribution in reducing carbon footprint.
High climate control, superior comfort, and easy to style properties of synthetic leather have made them increasingly in fashion industry. Besides this investment from leading fashion brands towards developing apparels and footwear from artificial leather coupled with increasing demand from consumers will pump up the market growth in upcoming years.
Tanning of natural leather is a hazardous process and long-term exposure to tanning chemicals will lead to severe respiratory ailments and even cancer. People for the Ethical Treatment of Animals (PETA) India recently reported that tannery waste disposed in the river Ganga is causing a wide array of problem like creating health issues in humans and developing agricultural wastelands.
To address these issues leather product manufacturers are switching towards more environment friendly alternatives like bio-based synthetic leather, which are derived from plants.
How Will Bio-Based Synthetic Leather Sales affect Overall Market Growth?
Owing to the rising demand and strict international regulations aimed at curbing animal cruelty, manufacturers are shifting from natural leather towards bio-based or vegan synthetic leather for manufacturing footwear and bags.
These new types of leathers are free from any toxic and harmful manufacturing and usage traits and are synthesized from natural fibers like flax or fibers of cotton mixed with palm, soybean, corn, and other plants.
A new class of plant Based synthetic leather have emerged called "Pinatex" produced from pineapple leaves. The pineapple leaf fibers have excellent strength and flexibility which are the key qualities required from manufacturing of leather. The manufacturing process itself consumes limited resources and thus helps in reducing the carbon emission.
Bio-based leather products have already started to hit the marketplace. For instance, Bucha Bio launched plant based leather which is completely made in laboratory in July 2021, in an attempt to push the envelope towards introducing a sustainable leather alternative that can be used for shoes, clothing, accessories and more. With growing international pressure towards reducing the usage of toxic chemicals, these new alternatives can offer a major opportunity for synthetic leather market growth.
Country-wise Analysis
What Makes Italy a Leading Market for Synthetic leather?
Italy is forecast to emerge as a highly lucrative synthetic leather market owing to booming fashion industry and presence of influential footwear companies in the country. Due to growing awareness regarding the harmful effects of leather industry on the environment, consumers are switching towards more sustainable and artificial leather.
In order to remain ahead of the curve and cater the rising demand, leading footwear companies are incorporating bio-based synthetic leather for manufacturing luxury footwear. For instance, in June 2021, Gucci launched its brand new range of footwear made from bio-based synthetic leather derived from wood pulp.
Italian automakers are also working to incorporate synthetic leather in their upholstery and cabin interior especially in their luxury car segment. For instance, luxury automotive giant Ferrari through its Tailor Made Programme offers Alcantara leather and other type of artificial leather alternatives for its high end car segments.
The company has also developed its own type of synthetic leather called "Mycro Prestige" and is considered to be better than the natural leather. These innovations and initiatives are expected to drive synthetic leather market growth in upcoming years in Italy.
What Are the Factors Driving Synthetic leather Demand in India?
India is one of the largest footwear manufacturers in the world which makes it a lucrative market for synthetic leather sales. As synthetic leather are extensively used in manufacturing men and women's footwear owing to its ease in designing and processing. Rising per capita income and increasing population will drive the sales of footwear, which will fuel the demand for synthetic leather in Indian footwear industry.
The government of India has recently launched "the Indian Footwear, Leather and Accessories Development Programme (IFLADP)" with a budget of Rs. 2600 crore (US$ 390 million). Through this programme, government will provide financial support in areas where modernization of production units is necessary and devise strategies for human resource development.
The government will also monitor the status of common effluent treatment plants (CETPs). These initiatives along with 100% foreign direct investment policies are expected to drive growth of synthetic leather market in future.
Synthetic leathers are finding its use in automotive domain in manufacturing car seats. Car manufacturers are switching towards synthetic leather for its low cost, high durability and wear resistance. Rise in automotive sales is anticipated to be a critical factor for market growth over the forecast period.
How is the Synthetic leather Market in Japan Set to Fare?
Spike in demand for lightweight and durable material for vehicle interior is seen in Japan. Increasing popularity of lightweight vehicles and growing consumer inclination towards maximum efficiency has led to adoption of synthetic leather for automotive interior in Japan.
Japan is the market leader in producing high end synthetic leather that is used to cover car seats and other interior components in vehicles. Presence of modern manufacturing machinery coupled with increasing investment among market players and automakers will lead to development of premium synthetic leather materials for seats and interior.
In addition, rising adoption of synthetic leather in cheaper motor vehicle variants will create opportunities for market growth in next decade. Rapid expansion of automotive sector in Japan is expected to provide attractive opportunities for manufacturers of synthetic leather. For instance Mazda's all new "MX-30" electric car will come with faux leatherette, rather than real leather on the seats. Company is also looking to replace leather on the steering wheel and gear selector.
What is the Outlook for Synthetic leather in the U.S.?
According to Future Market Insight, U.S. market for synthetic leather will grow at a healthy rate over the forecast period. The rising for vegan footwear will boost the sales of synthetic leather in America. Leading footwear makers are looking to leverage this opportunity and are working towards developing and launching new products made from synthetic leather.
For instance, leading shoe-maker company Nike recently launched a new version of the iconic Nike Air Force 1s which are made from Piñatex pineapple leather. Similarly in April 2021, Dominic & Dempsey developed toddler boots made from Desserto Cactus Leather. Desserto Cactus Leather is a type of bio-based leather derived from cactus.
Increasing consumption of consumer electronics will create lucrative opportunities for market growth in U.S. Electronic companies are also focusing on using synthetic leather covering to protect laptops and other consumer electronics. Hewlett-Packard recently introduced a new "Elito Folio" laptop which is equipped with bio-based synthetic leather cover. Previously company used natural leather but has switched towards more animal friendly alternative.
Despite devastating effect of the pandemic on U.S. synthetic leather sales, steady demand for consumer electronics will ascertain steady sales of synthetic leather in the country.
Category-wise Insights
Which Synthetic leather Type Has Emerged as Top Choice Across Industries?
Banning of PVC in multiple countries due to its harmful effects on environment and superior quality of PU as compared to PVC are the key growth drivers of PU synthetic leather market. PU synthetic leathers are made using multiple blends of PU and fabrics. Further treatment of coated polymers gives natural leather type feel and texture to the synthetic leather. They are an ideal material for automotive and clothing industries as it is waterproof, lightweight and does not fail under weathering conditions.
Polyurethane (PU) synthetic leather is expected to surpass the polyvinyl chloride (PVC) leather market share over the forecast period. Bio-Based synthetic leather are in developmental phase but is expected to experience highest growth over the forecast period
Which is the Key Application for Synthetic Leather?
Synthetic leather is extensively used in manufacturing footwear due to its excellent durability. The footwear segment is predicted to account for more than 26.8% value share in 2021. The growth can be attributed to changing consumer preference from natural leather to artificial leather and increasing demand from footwear industries in developed and emerging countries. Synthetic leather are used in producing various types of footwear which include sports shoes for athletes, formal shoes for office workers, and boots which are resistant to heat, water, and adverse climatic conditions. Cost effectiveness of synthetic leather will further drive the growth in footwear segment.
Increasing sales of automotives and high demand for luxurious looking interiors will drive the market in automotive segment. It is anticipated to encompass more than 19.4% share in the global synthetic leather market by 2021 end.
Competitive Landscape
Future Market Insights states that leading market players are investing towards creating new and advanced material to expand their market share. Emergence of start-ups and new players will further fuel the development especially in bio-based leather and similar materials.
In 2020, Indian startup Phool.co developed artificial leather from leftover temple flowers. The company claims that this animal-free leather will emerge as the game changer for overall fashion industry.
Strategic merger, acquisition, and partnership are in the cards during the forecast period. Leading foot wear and apparel companies are also investing towards producing synthetic leather development in compliance with environment regulations.
For instance, in 2020, clothing and apparel giant H&M Launched synthetic Leather Made of Wine Waste & Dye Made of Coffee Grounds. H&M also partnered with Vegea, a biomaterial and bio-based leather making company to develop artificial leather made of wine by-products.
In June 2021, BMW invested in plant-based textile company Natural Fiber Welding with the aim to develop leather alternative for automotive interior. The Natural Fiber Welding Company specializes in producing Mirum, a leather alternative made entirely from biodegradable ingredients.
Synthetic leather Market – Report Scope
| | |
| --- | --- |
| Attribute | Details |
| Forecast Period | 2021 – 2031 |
| Historical Data Available for | 2017 – 2027 |
| Market Analysis | US$ Mn for Value & Units for Volume |
| Key Regions Covered | North America, Latin America, Western Europe, Eastern Europe, Asia Pacific excluding Japan, Japan, and Middle East & Africa |
| Key Countries Covered | U.S., Canada, Brazil, Mexico, Argentina, Rest of Latin America, EU-5, BENELUX (Belgium, Netherlands, Luxembourg), NORDIC (Denmark, Finland, Iceland, Norway, Sweden), Rest of Western Europe, Poland, Russia, Rest of Eastern Europe, China, India, Japan, GCC Countries, South Africa, Israel, Turkey, Iran, Rest of Middle East & Africa, Australia, New Zealand, South Korea, the Philippines, Malaysia, and Thailand |
| Key Segments Covered | By Material Type, By Application, and By Region |
| Key Companies Profiled | Kolon Industries Inc., Mayur Uniquoters Ltd, .Gruppo Mastrotto spa, Alfatex, Achilles Corp., Teijin Limited, Nan Ya Plastics Corporation, Asahi Kasei Corporation, Toray Group Kuraray Co., Ltd., Daewon Chemical Co Ltd., Leather Resource Of America Inc., Comfort Int'l Co., Ltd, Sheng Hung Industrial Co. Ltd. and Plastics Elche S.A. |
| Report Coverage | Market Overview, Market Background, Market Forecast, Segmental Analysis, Regional Profiling and Competition Analysis |
| Customization & Pricing | Available upon Request |
Key Questions Answered in the Report
What is synthetic leather market size?

Driven by increasing demand for polyurethane leather and lightweight material for automotive interior, the synthetic leather sales is forecast to reach US$ 34,129 Mn in 2021.

At what rate did the synthetic leather market expand in the last five years?

Between 2016 and 2020, the synthetic leather sales grew at 1.0% CAGR.

What are the key trends shaping the synthetic leather market?

Adoption for polyurethane leather in clothing industry along with rising demand for lightweight material in automotive sector is few of the key trends shaping the synthetic leather market.

Who are the key exporters operating in synthetic leather market?

China, Japan, South Korea, and India are the leading exporters of synthetic leather in the world.

What is the North America synthetic leather market outlook?

Demand registered in North America will continue rising, backed by thriving automotive industry in U.S. and Canada, the North America market is anticipated to expand at 3.7% CAGR during the forecast period.

Who are the leading companies in synthetic leather market?

Asahi Kasei, Nan Ya Plastics Corporation, Toray Industries, Teijin Limited, Kuraray Co., Ltd., Daewon Chemical Co Ltd., Kolon Industries Inc., Achilles Corp, and Mayur Uniquoters Ltd. are the top companies operating in the market.

What is the cumulative share of top companies in synthetic leather market?

Top players account for 35% to 40% of the synthetic leather market share in 2021.

At what rate will synthetic leather sales increase in Europe?

Synthetic leather sales will increase at 3.60% CAGR in Europe, backed by rising demand of synthetic leather in apparel industry in France, Italy, and other countries.

Who are the key producers operating in synthetic leather market?

Leading producers of synthetic leather operating in the market are China, Japan, South Korea, and India.

What are the key statistics for synthetic leather market in Japan and South Korea?

Currently in 2021, Japan and South Korea holds around 11% of share respectively in the East Asia synthetic leather market.
Key Segments Covered in Synthetic leather Market Study:
By Material Types:
Polyvinyl Chloride
Polyurethane
Bio Based
By Application:
Footwear
Furnishing
Automotive

Seat
Door
Dash
Steering Cover
Others

Clothing
Bags
Sports
Electronics
By Regions :
North America
Latin America
Western Europe
Eastern Europe
Asia Pacific excluding Japan
Japan
Middle East & Africa
Need specific information?
Talk Show:
The Rise of Intelligent Packaging
Personalized, Connected and Sustainable
November 18, 2021
11:00-11:45 AM PST (USA & Canada)
This is a LIVE session