Introduction
The global sales for synthetic camphor witnessed a minor slowdown in the Covid-19 crisis as all the factories were closed and supply of only basic necessity goods was permitted. Since the lockdown has been lifted up to improve economic conditions, the manufacturing companies are trying hard to gain traction and attract customers globally through innovative launches and technological upliftments in 2021.
Major manufacturing companies including Fujian Qingsong Co. Ltd., Mangalam Organics Limited, Suzhou Youhe Science and Technology Co., Ltd., Saptagir Camphor Limited, Oriental Aromatics Limited, Wuzhou Huangpu Chemical Pharmaceutical Co, Ltd., Kanchi Karpooram Limited, Taiwan Tekho Camphor Co., Ltd., Caesar & Loretz GmbH, and others are investing in the establishment of a strong distribution network to remain competitive in the market.
Adoption of business strategies like research and developments, new product launches, product approvals, patents and events, joint ventures, product innovations, partnership agreements, collaborations, digital marketing, mergers and acquisitions etc continues to be on the prime attention of leading players to emerge as a recognized and profitable business firm. Almost all key players are following these strategies.
For instance, Merck, a leading manufacturer of synthetic camphor, announced the addition of a single use assembly unit at its Life Science Center in Molsheim, France. The company has invested € 25 million and is focusing on accelerating its plans to expand in Europe. The further production sites are going to be located in Danvers, Massachusetts, USA, and Wuxi, China.
In addition to this, in February 2021, Merck announced its partnership with BioSTL to advance the bioscience and innovation ecosystem. The partnership is aimed to help the local bioscience startups in growing their businesses under the guidance of Merck employees who will serve as mentors. The partnership will further help in promoting diversity, strengthening science, technology, engineering and math (STEM) education and employment opportunities for women and underserved communities.
In terms of growth of the market, the North American region is anticipated to stay ahead at a promising rate during the forecast period owing to increasing production of camphor contained products. China is expected to witness growth because of the increasing number of pharma grade synthetic camphor manufacturers. Manufacturers are focusing to expand in the Asia Pacific region mainly because of the increased government spendings in the developing nations.
Synthetic camphor is conventionally prepared from the extracts of the camphor tree. While the one produced using chemical synthesis is known as synthetic camphor. One of the most important raw material employed in the manufacturing of synthetic camphor is turpentine oil. Synthetic camphor involves two grades of products solely differentiated in the terms of its purity.
While the technical grade synthetic camphor is less than 98% pure and used as a plasticizer, as an insecticide ingredient or in the production of personal care products. Pharma grade synthetic camphor is a high purity product involving more than 98% synthetic camphor and used in manufacturing inhalants (such as nasal decongestants) and topical products (such as muscle rub ointments). Owing to its toxicity, synthetic camphor is not recommended to be administered orally.
Pharmaceutical grade synthetic camphor is estimated to hold a significant share in the overall synthetic camphor market while the technical grade synthetic camphor is expected to expand at a relatively faster rate.
The global market for synthetic camphor is estimated to be valued at US$ 322.3 Mn by the end of 2018 and is expected to reach a market value of US$ 571.6 Mn by the end of 2028, expanding at a CAGR of 5.9% over the forecast period. The global market is anticipated to represent incremental opportunity worth US$ 249.3 Mn between 2018 and 2028.
Global Synthetic Camphor Market Is Anticipated to Register Significant Growth over the Forecast Period
Synthetic camphor is used in production of insecticides such as moth repellants and mosquito repellants. With the rising awareness around the air purifying properties of synthetic camphor, the demand for synthetic camphor powder has seen an upsurge from the downstream producers of synthetic camphor tablets. Few manufacturers are also noted to offer synthetic camphor powder as well as tablets in addition to offering the two aforementioned grades of synthetic camphor.
The increasing scope of applications of plastics has also proven to act in the favor of synthetic camphor as it is employed as a plasticizer in the production of celluloid and PVC plastics. Synthetic camphor formulations are also noted to be helpful in several health ailments. Though it is not approved for the oral route of administration due to its toxicity, synthetic camphor is widely used in the production of inhalant and topical drug formulations.
Being classified as non-prescription drugs and OTC (Over The Counter) sales augment the growth of such products and have an indirect but significant impact on the synthetic camphor market, raising its demand around the world.
The Production of Synthetic Camphor Is Intensified In Countries Such As China and India While the Demand for Synthetic Camphor Is High Around the World
From a regional perspective, the production of synthetic camphor is dominated by the manufacturers based in India and China. With large production capacities and advanced technologies producing synthetic camphor of high quality turns out to be economical in such countries. With the low labor cost and availability of area, set up costs of a manufacturing unit is also noted to be economical.
In terms of consumption, the end users of synthetic camphor are dependent on the international trade policies as the prominent manufacturers export their synthetic camphor to the end users based in the countries around the world, mainly Europe and North America.
With the intense scrutiny by the environmental and health authorities over the oral administration of synthetic camphor, its non-toxicity as an inhalant and topical rub ointment helps drive its sales to the pharmaceutical industry. Acts such as EU Medicines Directive 2001/83/EU of the European Union, 21 CFR 341.85 of the US FDA, among others have approved the OTC sales of synthetic camphor containing products. This is likely to have a significant impact on the synthetic camphor market, thereby creating opportunities throughout the forecast period.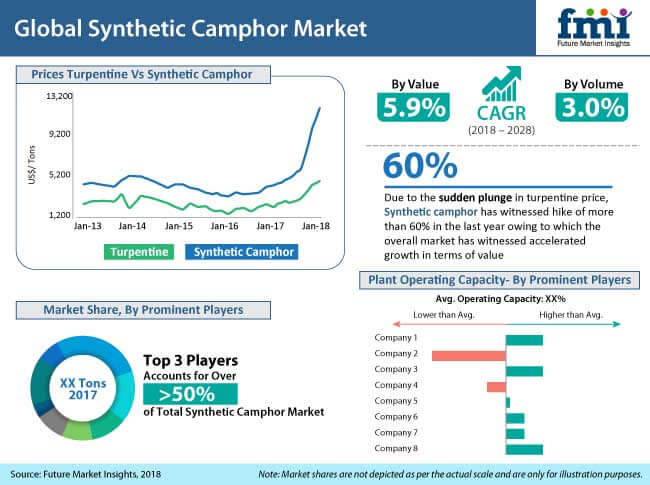 Consolidation in the synthetic camphor market universe positions the producers to hold a near monopoly relating to prices and has in turn negatively impacted the pricing of synthetic camphor in the recent past.
The global synthetic camphor market is witnessing shutdown of few manufacturing units due to the intense competition in the chemical industry in Asia Pacific. Another contributing factor to this is that the prices for raw material such as turpentine oil has increased in the recent past. With synthetic camphor market being a very cost sensitive market, the producers with insufficient funds or debt chose to make an exit from the market.
With the existence of supply demand gap, the existing synthetic camphor manufacturers are noted to be striving to satisfy the demand. It is also noted that the market for synthetic camphor is at a stage where any further disruption from these manufacturers in the throughput of synthetic camphor disturbs the whole value chain.
Key Trends
The cost of synthetic camphor during the fiscal year 2017-18 has plunged suddenly and with a hike of over 60% as compared to the year before. The abrupt rise in the prices of synthetic camphor while the cost of its raw material has remained stable is due to the supply shortage of synthetic camphor in the market. As a counteraction to this, several market participants are focused towards ramping up their production capacities.
These manufacturers are involved in exporting their products and are channelizing their efforts towards establishing channel partners in their respective target markets. One of the key synthetic camphor manufacturer, Kanchi Karpooram Limited, is noted to be in the final stages of expansion of its facility in India, awaiting environmental clearances. Once approved, the company will be able to double its synthetic camphor production and accelerate its revenue growth.
Key Players
Some of the players reported in this study include Fujian Qingsong Co. Ltd., Mangalam Organics Limited, Suzhou Youhe Science and Technology Co., Ltd., Saptagir Camphor Limited, Oriental Aromatics Limited, Wuzhou Huangpu Chemical Pharmaceutical Co, Ltd., Kanchi Karpooram Limited, Taiwan Tekho Camphor Co., Ltd., Caesar & Loretz GmbH, Merck KGaA, Recochem Inc., Xiamen Hisunny Chemical Co., Ltd, SkyRun Industrial Co., Ltd, Shanghai Huayi Group Huayuan Chemical Co., Ltd., Fengchen Group Co., Ltd, Aldon Corporation, Prinova LLC, Teloonchem International Co., Limited, among others.
Synthetic camphor Market: Segmentation
Grade
Technical Grade Synthetic Camphor
Pharma Grade Synthetic Camphor
Application
Pharmaceuticals
Personal Care
Plasticizer
Flavour & Fragrance
Others
Region
North America
Latin America
Europe
South Asia
East Asia
Oceania
Middle East & Africa
Need specific information?