Turpentine Market By Application (Cosmetics, Fragrance, Food, Paints & Coatings, Others) & Region - Forecast 2018–2028
Turpentine Market - Analysis, Outlook, Growth, Trends, Forecasts
February 2019

REP-GB-8968

169 pages
Market Introduction
Global turpentine market is majorly led by China, Indonesia, and Brazil, in terms of production. Major part of the turpentine produced in US is contributed by crude sulfate turpentine (CST). Various pine tapping techniques are used for collecting pine resin from pine trees, and then turpentine is derived by further processing. CST is the byproduct of paper industry, and lot of processing is needed for CST to get required ingredients from it.
Turpentine contains alpha pinene, beta pinene, and other useful constituents, which are favored in the fragrance and cosmetics industry. Turpentine is used as a thinner or solvent in cosmetics applications. It is also used as flavor enhancer in various food applications, and in paint & coating applications, it is used as a industrial solvent or thinner.
The global turpentine market can be segmented on the basis of application into cosmetics, fragrances, food, paints & coatings and others including pharmaceutical and agricultural applications. The fragrance application segment accounted for a significant share of the global turpentine market in 2017. It is further projected to grow at a relatively high CAGR during the forecast period. The paints & coating segment also accounts for a significant share of the overall turpentine market.
The global turpentine market is estimated at US$ 848.1 Mn in 2018, and is projected to register a CAGR of 6.0% to reach US$ 1,513.2 Mn by 2028. The total incremental $ opportunity expected to be created during 2018 to 2028 is pegged at US$ 665.1 Mn.
Global Turpentine Market to Register Significant Growth over the Forecast Period
Turpentine is used in various applications and the growth of application industries is in turn expected to push the demand for turpentine during the forecast period. Growth of the personal care industry and increasing demand for personal grooming products are leading to an upsurge in the fragrance products market, which in turn is accelerating the demand for turpentine from this application segment.
Increasing importance of bio-based solvents in paint and coating applications is also bolstering the growth of the turpentine market. The large industrial base in China and the growth of end-use industries in the country are pushing the growth of the market in East Asia. Availability of pine forests, good pine tapping techniques, and availability of skilled labor in this region are expected to boost the production and consumption of turpentine.
East Asia Pacific to Lead the Global Turpentine Market in Terms of Production and Consumption
The global turpentine market, on the basis of region, has been segmented into East Asia, North America, Europe, South Asia, Latin America, and MEA. East Asia accounted for the lion's share in the global market; however both East and South Asia are expected to register high growth.
Favorable conditions in terms of geographical, demographical and economical perspective are accelerating the growth of the turpentine market in East and South Asia. Europe, followed East Asia, accounts for a significant share of the demand in terms value. Europe has witnessed slow growth during the historical years and is further projected to similar momentum during the forecast period.
China, Brazil, and Indonesia are the leading producers of gum turpentine, whereas the U.S. leads the market in terms of CST production. High labor wages in the European and North American countries is restraining pine tapping to a great extent in these regions, which has been leading to an upsurge in exports from Asia and Brazil to these countries. Emerging countries in South and East Asia are expected to create ample opportunities for turpentine production as well as consumption during the forecast period.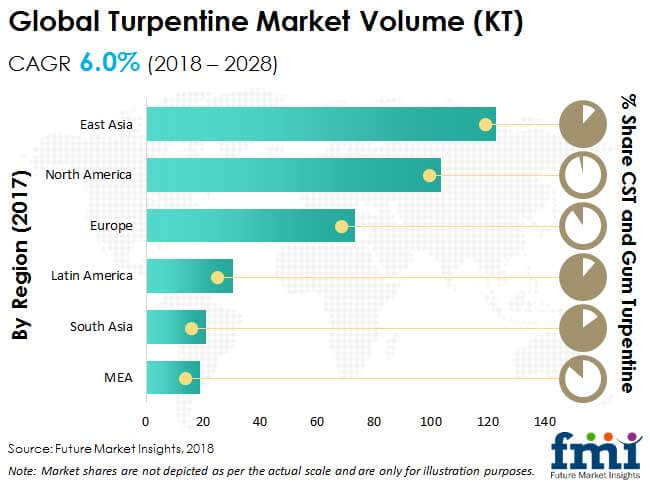 Turpentine Market Fragmented with Few Large and Many Medium and Small Manufacturers
Pine tapping is an old process for obtaining pine resins. The global turpentine market is fragmented with major market participants holding single-digit market shares in 2017. The top ten to twelve players in the global turpentine market are anticipated to collectively hold between a 30% and 35% market share.
Some of the leading manufacturers considered under this study on the global turpentine market are Wuzhou Pine Chemicals Ltd., PT. Naval Overseas, Wuzhou Sun Shine Forestry & Chemicals CO., ltd., Punjab Rosin and Chemicals Works, Forestar Chemical Co., Ltd., Deqing Jiyuan synthetic Resin Co., Ltd., Deqing Yinlong Industrial Co., Ltd., Resin Chemicals Co., Ltd, Guilin Songquan Forest Chemical Co., Ltd., CV. Indonesia Pinus, Vinhconship Group, and EURO-YSER.
Key Questions Answered in the Global Turpentine Report
How has the turpentine market evolved over the past four years?
What are some of the prevailing market dynamics in the turpentine market?
What shape is the turpentine market expected to take in terms of volume and value during the study period?
What are the competition developments and trends in the turpentine market?
What are the important key challenges, opportunities and improvement factors for turpentine market players?
What are some of the underlying macro-economic and industry factors impacting the growth of the turpentine market?
What are the important market positioning and key strategies of key turpentine manufacturers as per the market taxonomy?
How is the competition structured at present and how has it evolved in the turpentine market over the past few years?
World's Most Profilic Intelligence Engine
Get Access To The World's Largest Market Research Database.
Sign Up Now
Key Segment
Application
Cosmetics
Fragrance
Food
Paints & Coatings
Others
Region
North America
Latin America
Europe
South Asia
East Asia
Middle East & Africa
Need specific information?
Our Clients