About the Colostrum Report
The incorporation of nutritional standards in food products has been stimulated by increasing knowledge about health and immunity. Colostrum is rich in immunoglobulins (antibodies) and is known to stimulate the immune system. Hence it is gaining popularity with the trend of consuming nutritional products catching up. Additionally, there is a stronger emphasis on sustainability and certifications, as well as increased transparency and traceability of the ingredients used. These are a few of the major factors driving the colostrum market.
Meanwhile, concerns regarding health and nutrition of human Infants & animals are expected to drive the colostrum market. Rising awareness among consumers about the importance of food supplements, food components, food processing, and food safety will enable growth in the market. All these factors are encouraging the governments and numerous international organizations to encourage colostrum consumption and production.
In its new study, ESOMAR-certified market research and consulting firm Future Market Insights (FMI) offers insights aboutkey factors driving demand for Colostrum Market. The report tracks the global sales of the Colostrum market in 20+ high-growth markets, along with analyzing the impact COVID-19 has had on the medical device industry in general, and Colostrum in particular.
How Historical and Future Outlook of Colostrum Market Match Up?
Manufacturers of colostrum are marketing their products using various platforms such as marketing campaigns, social media, online portals, and magazines. Whereproducts that deliver protection and most importantly improved health benefits are the subject of these marketing campaigns. Additionally, consumer behavior patterns are reflected in the strategies used by market participants. In this case, the focus is on emphasizing the nutritional value of food products which is expected to be a significant factor, promoting the use of colostrum.
Manufacturers are focusing on quality certifications from regulatory bodies for improving consumer trust as Quality certifications are very essential in the global market. These certifications ensure the quality of products through various laboratory tests. As quality certifications maintain the grade of food, customers can trust products that are approved by controlling bodies, including NON-GMO, all-natural, gluten-free, ISO, GFSI, FSSAI, FDA, HALAL, and KOSHER.
Medical nutritional food support pregnant women and patients with health conditions such as diabetes, other disorders or severe illnesses, in terms of enhancing the immune system, and ensuring intake of essential nutrients and supplements. Colostrum nutrition-packed foods are available via prescription from doctors, physicians, and health professionals. This is anticipated to fuel the growth of the colostrum market globally over the forecast period. Although colostrum is high in vitamins, minerals and macronutrients, the majority of its health benefits are due to a particular protein named Lactoferrin, which helps the body combat diseases such as those caused by viruses and bacteria and promotes growth in infants.
Colostrum is commonly consumed as dietary supplements, sports nutrition, and animal nutrition form by adults and children. Its consumption is increasing because it fights infection, promotes immunity, and improve gut health. Although all mammals produce colostrum, cow colostrum, is traditionally used to make supplements, popularly known as Bovine colostrum, which rich in carbohydrates, vitamins, minerals, fats, disease-fighting proteins, growth hormones, fats, and digestive enzymes identical to human colostrum. Spurred by these factors, manufacturers are not just focusing on infant colostrum formulas but for children adults as well.
For Instance, according to a field survey conducted by ColoPlus AB in 2015 on medical food, the use of colostrum in medical nutritional food strengthens the immune system of children diagnosed with acquired immune deficiency syndrome (HIV/AIDS) as well as reduces diarrhoea and immune deficiency-related disorders
According to FMI's analysis, the global colostrum market reached a size of almost US$3.19 Bn in 2021. The market is further projected to expand at a CAGR of 6.5% over the forecast period of 2021-2031.
What are the Various Health Benefits Driving Colostrum Sales?
Colostrum is a form of breast fluid formed by humans, buffalo, cows, and other mammals before the release of breast milk. It is rich in antibodies proteins that battle viruses and bacteria, and are very nutritious. They are widely used as infant formulas and dietary supplement. Colostrum is low in lactose, therefore isan excellent choice for those with special requirements such as lactose intolerance.
Jaundice a very common health condition in infant occur when a baby's blood bilirubin level is too high.Colostrum promotes the early passage of bilirubin-rich meconium stools, lowering the risk of bilirubin being reabsorbed into the bloodstream and causing elevated blood pressure keeping jaundice away hence medical practicenor, government and various NGOs promote and encourage the feeding of colostrum containing breast milk for infants but as not all mothers are capable of producing enough amount of colostrum hence manufacturers seeing opportunities in the market are providing various colostrum products with the same nutritional contents as of natural colostrum.
What Are Prospects for Colostrum Applications inthe Cosmetic and pharmaceuticals Industry?
Colostrum is believed to offer over 82 natural bio-activity ingredients, including IgG with high centration, which prevents microbial growth and protects the skin. Colostrum supports Skin wellbeing by offering growth factors such as GF-I, EGF, and FGF. Hyaluronic acid helps to keep the skin hydrated. TGF- effectively enhances skin tone by inhibiting melanin synthesis. These benefits of colostrum utilized by the cosmetic industry are leading to the growth of the market.
The cosmetics industry's expansion has resulted in strategic changes, such as the use of cosmeceutical and nutraceutical to reverse the biological ageing process by enriching cosmetic items with colostrum. Colostrum, when used daily, helps to minimize wrinkles on the face. When used regularly, the human growth factor found in colostrum assists in cell regeneration. These hormones promote cell growth in the skin's dermal layer, which increases the skin's elasticity and thickness, reducing the problems associated with aging.
For instance - Thecreame a prominent brand of The Human Experience, LLC launched in 2012 focuses on cosmetic containing colostrum as the primary ingredient with 7 International Skincare Awards.
What is the Impact ofthe Organic Colostrum Trend?
Organic colostrum powder is becoming more common in both developed and developing countries, although demand for traditional colostrum powder remains stagnant. Organic colostrum is free of artificial ingredients and chemicals, making it a healthier choice. As a result, demand for organic colostrum products is outpacing demand for traditional colostrum products, and this trend is expected to continue in the future. Colostrum will continue to be an excellent choice for organic and nutrient-dense protein alternatives to meet additional nutrient quality requirements for babies, teenagers, and adults. Meanwhile, manufacturers are concentrating their efforts on organic colostrum products, which are gaining popularity in the industry.
For instance- In 2019 Two Brothers Organic Farms AMOREARTH launched the organic colostrum powder with the same nutritional benefits as natural colostrum.
What is the Impact of Increasing Use of Colostrum in the Sports and Fitness Industry?
Usage of colostrum by athletes is increasing as the increasing incidence of the upper respiratory tract and intestinal damage. Colostrum improves the athlete's immune system during intense physical training and thus reduces stress. It has become an important dietary supplement for athletes due to the growth factors offered by colostrum, which strengthen the gut lining. Athletes who consume colostrum regularly are less likely to contract respiratory infections as compared to those who do not.
Country-wise Insights
How large is the Opportunity for Colostrum Market in the United States?
FMI has projected North America to remain one of the most profitable markets in the forecast period. High spending power in the region is one of the key factors supporting growth.
Moreover, the U.S. is one of the world's leading markets, which makes it a lucrative pocket. According to the FMI, the U.S. willhold61.5 per cent of themarket share in the year 2021 in North America.
One of the key factors supporting the growth of the market is the increasing prevalence of health and diet-related issues. According to the World Health Organization (WHO) in 2019 2.4 million infants died globally, one-third of newborns died on the day of birth, and almost three-quarters died within the first week of life.
Besides high spending power of Americans, their awareness about the prevalence of chronic illnesses and health has been driving them to live a healthier lifestyle. Colostrum sales in the country are projected to benefit greatly as a result of this.
Will the U.K. Colostrum Market Show Significant Growth in Coming Years?
The U.K.colostrum market is projected to grow at 6.0% CAGR during the forecast period (2021 – 2031).Market growth is facilitated by the accumulation of scientific evidence of the various health benefits of colostrum over regular milk counterparts. The nutritional benefits of colostrum are increasingly recognized by consumers in the U.K., which is creating growth opportunities for the market.
Moreover, the sales of natural protein substitute in the United Kingdom alone are projected to increase by 15% over the next five years. The prominence of immunity and nutrition as a part of a healthy and disease-free life is a trend that is expanding across Europe.
The U.K. has been identified by FMI as one of the leading markets for the colostrum market. One of the key factors supporting this expansion is increasing healthcare spending. According to the Office for National Statistics, U.K., the total healthcare spending in the country accounted for 10% of Gross Domestic Product (GDP) in 2017.
With a focus on healthcare forecast to increase further, the U.K. will present attractive opportunities for the growth of the colostrum market.
How large is the Opportunity in the Australia Colostrum Market?
Australia remains among the most prominent markets for colostrum sales. Australia has the best breeds of cows which makes it the centre for leading manufacturers. Many major skincare brands in Australia uses colostrum in their products, which leads to high growth opportunities in the colostrum market. Additionally, tourists from all over the world flock to Australia for the speciality of colostrum skincare products, offering a greater reach and ability to study a wide market while adding product variety.
According to FMI, Australia holds more than 70% of the share in Oceania in the year 2021. As customers are becoming more health-conscious, they are more likely to invest in balanced dietary supplements which are assisting in their overall well-being. As a result, to obtain good immunity, the market for colostrum is expected to increase in Australia.
What is Supporting Growth in India's Colostrum Market?
Colostrum has been used for the treatment of sickness and the preservation of health issues for thousands of years in India. Colostrum was used for its antibiotic properties until the advent of antibiotics and sulpha drug. Furthermore, the business climate in India remains favourable, as a developing country with the world's second-largest population, key Colostrum manufacturers are concentrating on local renowned players in the Indian market, as this will provide opportunities and enable key manufacturers to enter the market more easily. India is expected to grow with a CAGR of 8.4% during the valuation period.
Why is Colostrum Market Gaining Traction in China?
China is likely to offer a highly lucrative opportunity for growth. Because of its robust market ecosystem, lack of regulatory enforcement, low taxes and duties, and competitive currency activities, China has earned the moniker "the world's factory." All This is attributable to the increase in the colostrum market. Meanwhile, Health trends like immunity are very common in the country after the covid-19 effect. Thus consumers are colostrum in their diet. China is expected to grow with a CAGR of 4.9% holding a market share of 60.8% in South Asia in 2021.
Category-wise Insights
Why Colostrum of Conventional Nature Does Holds the Maximum Share?
The conventional nature segment holds the maximum share in the overall market because of its easy availability. Most of the key players are currently manufacturing only the conventional colostrum with similar nutritional content as of organic colostrum hence rising demand for convenient and nutritional products across the globe is helping the conventional colostrum market to grow exponentially. Additionally, increasing demand for protein-enhanced immunity-boosting products like colostrum is highly in demand globally.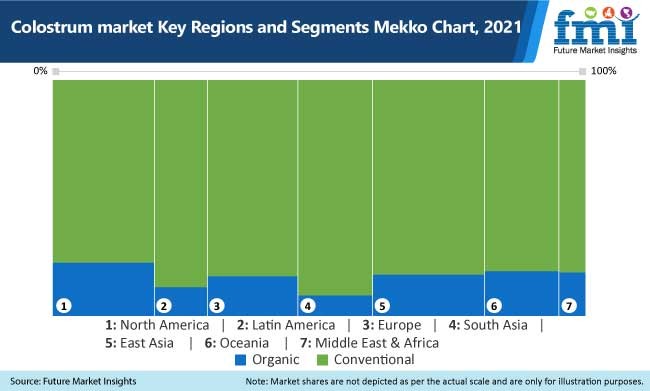 Why Has Infant Food Segment Emerged as Leading End User?
Since bovine colostrum has a higher nutritional value than human colostrum, demand for colostrum-based infant formula is increasing in both developed and developing countries. Colostrum is readily digestible by babies, leading more colostrum manufacturers to develop infant formulas based on colostrum.
Colostrum protects the gastrointestinal tract of an infant by preventing bacteria from entering the gut. It produces more IgG immunoglobulin, which helps to improve the immune system of the baby. Colostrum contains immunoglobulin, which boosts infants' immunity and allows them to assimilate more easily.
Global demand for colostrum-based infant formula is being fueled by growing personal income, modernization, and an increase in the number of working women. Another reason for the strong demand for colostrum-based infant food is the rising middle-class population, which is leading to greater penetration of colostrum-based infant formula products on global markets.
Why Colostrum as a Colostrum Finished Products Hold the Largest Share in Product type Segment?
Colostrum Finished products include Capsules, Chewable Tablets, Individuals Sachets, Specialty Formulated Products Colostrum. Colostrum finished products hold the largest share of the overall Colostrum market in the product type segment as they are made to work their way around the body before they start getting absorbed. Additionally Taste is also an important factor as a most consumer of various nutritional supplements do not prefer the taste.
Which is the Preferred Source of Colostrum In terms of Animal Type?
Based on animal type, colostrum derived from cow is more preferred than that derived from buffalo. Bovine colostrum is a rich source of nutrients and antibodies. It helps in boosting immunity system, which remains a key factor driving growth in the segment. According to the report, cows will remain a chief source of colostrum and will account for over 75% of colostrum produced in 2021, in terms of animal type.
Competitive Landscape
Manufacturers of colostrum are increasing the frequency of product launches so that they can easily connect with the consumers and fulfil the growing consumer demand for colostrum-based products. However, new market players can formulate a diverse range of colostrum formats and incorporate them into food products like bakery and confectionery, which will enable them to attract a larger consumer base.
For instance- In 2018 Biochem launched bovine colostrum powder B.I.O Ig Energy 15% making an addition to their tremendous product portfolio.
Additionally, New technologies for producing colostrum-based products have been increasing in the recent past by the manufacturers. Newer and more innovative products are being launched into the market such as fast-dissolving ready-to-mix colostrum powders. This enables consumers to easily mix colostrum powder with water for immediate consumption, instead of waiting for a long period till the powder dissolves.
Some of the leading companies operating in theColostrum market are:
Zuche Pharmaceuticals
Biodane Pharma A/S
Agati Healthcare Pvt. Ltd.
McePharma
Cure Nutraceuticals Pvt. Ltd.
Ingredia Nutritional (Ingredia S.A.)
Sterling Technology
Biotaris B.V.
NIG Nutritionals Limited
La Belle Inc.
*The list is not exhaustive, and only for representational purposes. Full competitive intelligence with SWOT analysis available in the report.
Scope of the Colostrum Report
Attribute

Details

Forecast Period

2021-2031

Historical Data Available for

2016-2021

Colostrum Market Analysis

USD Million for value and '000 MT for Volume

Key Regions Covered

North America, Latin America, Europe, South Asia, East Asia,Oceania, Middle East & Africa

Key Countries Covered

US, Canada, Brazil, Mexico, chili, Peru, Argentina, Rest of Latin America, Germany, France, U.K., Spain, Italy, BENELUX, Nordic, Russia, Poland, Rest of Europe, India, Thailand, Indonesia, Malaysia, Singapore, Rest of South Asia, China, Japan, South Korea, Australia, New Zealand,GCC Countries, Turkey, North Africa, South Africa, Rest Of MEA.

Key Segments Covered

Nature, Product Type, End-Use, Animal Type and Region

Key Companies Profiled

Colostrum BioTec GmbH
Zuche Pharmaceuticals
Biodane Pharma A/S
Agati Healthcare Pvt. Ltd.
McePharma
Cure Nutraceuticals Pvt. Ltd.
Ingredia Nutritional (Ingredia S.A.)
Sterling Technology
Biotaris B.V.
NIG Nutritionals Limited
La Belle Inc.

Report Coverage

Colostrum Market Forecast, brand share analysis, competition intelligence, DROT analysis, Colostrum Market Dynamics and Challenges, Strategic Growth Initiatives

Customization & Pricing
Key Questions Answered in the Colostrum Report
Which is the most lucrative market for Colostrum?

South Asia is one of the leading markets for Colostrum. The rising focus on improving immunity and overall health has been encouraging consumers to the adoption of dietary supplement. This is expected to have a considerable impact on the market.

Which typeof Colostrum in terms of nature is used widely?

Conventional colostrumin the nature segmentholds larger market share as compared organic colostrum. However, a considerable growth in CAGR of organic segment can be witnessed with the rising demand for organic products.

Who are the leading end users of Colostrum?

Colostrum is majorly used in functional food mixes. A variety of functional food is being developed by integrating Colostrum.The pharmaceutical industry also uses Colostrum as a dietary supplement that offers nutritional benefits.

Which are some of the leading companies operating in the Colostrum Market?

Some of the leading companies offeringColostrum are Colostrum BioTec GmbH, Zuche Pharmaceuticals, Biodane Pharma A/S, Agati Healthcare Pvt. Ltd., McePharma, Cure Nutraceuticals Pvt. Ltd., Ingredia Nutritional (Ingredia S.A.), Sterling Technology, Biotaris B.V., NIG Nutritionals Limited, La Belle Inc.

Which are the key success factors supporting the growth of the Colostrum market?

Some of the key success factors supporting the Colostrum market growth are as follows: Nuanced Marketing Campaigns, Implementation of New Production Techniques, Product Portfolio, Exploiting Economies of Sales, and Strategic Promotional Activity and many others.
Colostrum Market by Category
Based on Nature, the global Colostrum market can be segmented as:
Based on Product Type, the global Colostrum market can be segmented as:
Whole

Whole Colostrum Powder
Skim Colostrum Powder
Specialty Colostrum Powder

Colostrum Finished Products

Capsules
Chewable Tablets
Individuals Sachets
Specialty Formulated Products
Based on End Use, the global Colostrum market can be segmented as:
B2B

Dietary Supplements
Sports Nutrition
Functional Foods
Animal Nutrition
Cosmetics
Infant Formula
Pharmaceuticals

B2C

Store-Based Retail

Hypermarket
Convenience Stores
Speciality Stores
Drug Stores
Health & Wellness Stores
Others

Online Retailing

Based on Animal Type, the global Colostrum market can be segmented as:
Based on Region, the global Colostrum market can be segmented as:
North America
Latin America
Europe
South Africa
East Africa
Oceania
The Middle East and Africa (MEA)
Need specific information?