Infant Formula Market Outlook
The infant formula market is expected to witness strong growth during the forecast period. The rise in the number of women joining the workforce, lack of ability to lactate, as well as the quest for added nutrition for parents are some of the influencers improving sales of infant formula.
Among the other forms, it is anticipated that the demand for powdered infant formula is going to be significant, owing to its ease of mixing in hot water. Besides this, powdered infant formula is relatively convenient to carry during travelling, which further improves market opportunities for powdered infant formula.
Manufacturers are looking at the growing use of infant formula and are investing in R&D activities to meet the consumers' expectations. For instance, Nestle announced that it has inaugurated a new R&D facility in Ireland in 2019. Nestle invested about US$ 30 Mn for the facility. In addition, Arla Food Amba invested about US$ 0.66 Mn to focus on infant formula. The investment has been made by the company to find out whether a meal that includes bioactive milk ingredients can protect against the inflammation of the gut. A0nother player, BASF, announced the launch of HMO, PREBILAC 2'-FL in the infant formula market in 2019.
Talking about the COVID-19 market scenario, the demand for the product is steady, owing to the disruptions in the supply chain and poor availability of infant formula in the local supermarkets. However, the post-COVID-19 scenario could turn out to be favourable for the manufacturers, as parents would opt for high nutritional value-based infant formula. Parents might also switch to premium infant formula, as they are concerned about the immunity of their children.
All-in-all, the infant formula market is expected to return to normalcy and could witness increased opportunities once the influence of the pandemic fades out.
KEY FACTORS SHAPING THE INFANT FORMULA MARKET
Infant Formula Market - The Key Market for Dry Whey Products
Different protein compositions between human breast milk and cow's milk, in terms of whey-to-casein ratio, are added to infant formula products by the manufactures. The key whey ingredients used are demineralized whey powder, whey protein hydrolyzate, and whey protein concentrate, which is mostly used in special infant formula. This use of whey in infant formula is anticipated to grow in the coming years to meet the specific need of the consumers.
Packaging Innovations to Benefit the Market
The DMK Group (Germany's largest dairy cooperative) has surveyed mothers across seven countries about infant formula packaging that offers better safety, the convenience of use, protection against bacteria, also a perfect dosing system. These improvements brought about the manufacturers in packaging impels an increasing number of mothers to buy the infant formula.
Besides this, pouches are used as packaging for infant formula which is convenient for baby self-feed. These pouches also act as a more attractive proposition for customers looking for innovative and convenient infant nutrition products.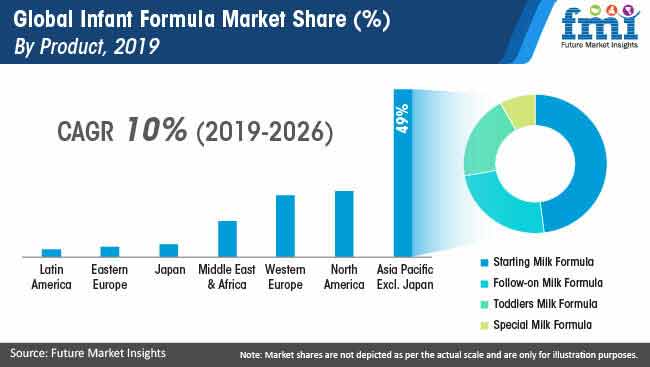 INFANT FORMULA MARKET STRUCTURE ANALYSIS
The global infant formula market represents a fairly combined competition landscape. Leading players primarily focus on research and development to introduce new products. Furthermore, these manufacturers maintain strong distribution partnerships to expand their global footprint.

Some of the key players in the infant formula market are Nestlé S.A., Abbott Nutrition, Groupe Danone, Mead Johnson Nutrition, The Kraft Heinz Company, Beingmate Baby & Child Food Co. Ltd., Meiji Holdings Co. Ltd, Synutra International, Inc., Pfizer Inc. and Friesland Campina, and many other small players.

For strengthening their foothold in target markets, infant formula manufacturers will continue to trust in a number of strategies such as product development, mergers and acquisitions, research and development, and innovation.
Portfolio expansion is also recognized as one of the key strategies adopted by manufacturers of infant formula to cater to different segments of consumers on the basis of age group.
The organic baby products market is growing at a fast pace due to increasing concern of mothers towards their baby's health.
Rapid urbanization around the world has encouraged the adoption of convenience-oriented lifestyle and is thus considered a chief driving factor of the infant formula market.
Value addition by players in the category of ingredients and technology has improved the quality and function of infant formula. It has also enabled the companies to acquire a larger section of consumers. Advancement in the lipid technology by the manufactures, add predominant energy source for infants and play important role in the growth of the infants.
Nearly Half the Revenue Share is Gobbled by Starting Milk Formula
A plethora of infant formula options are available on market today, which is mainly attributed to a number of new players entering the infant formula market. To stand out from the competition, leading players in the market are innovating towards improvement of infant health at different stages of growth. Among various types of infant formula products, the demand for starting milk formula remains significant. Global sales of starting milk formula currently accounts for more than 48% share of the market value.
APEJ Captures over 50% Market Share
While the consumer perception about the importance of infant formula in toddlers' health remains significantly positive in developed regions, the market scenario is even more positive in developing economies. Asia Pacific excluding Japan (APEJ) holds nearly half the revenue share in the infant formula market, surpassing the collective share of North America and the Europe Union. Furthermore, with the increasing population in fast developing Asian countries such as China and India, the market for infant formula will witness incremental growth, particularly in APEJ.
Organic Infant Formula Gaining Traction
Growing awareness about factors influencing infants' health and the importance of micronutrients in promoting growth is triggering market players to introducing better products. Parents are becoming more critical about their purchasing decisions vis-à-vis infant formula, with increasing inquisitiveness about the use of various ingredients in these products.
In order to sync with the rise in parents' consciousness while choosing an infant formula, leading market players are introducing organic products, manufactured exclusively using organic ingredients. Global brands are zooming in their focus on innovative ingredients to introduce specific health benefits in infant formula.
How Growth will Unfold
China and India are commonly perceived as the biggest markets for infant formula products. However, the former accounts for nearly 90% revenue share in APEJ market. Post the 2008 tainted-milk scandal in China, a large number of Chinese parents began to spurn local products, trusting foreign brands of infant formula.
However, Chinese government is revising policies to restructure the market within the country, mainly to curb the imports. With an aim to boost local production of infant formula, around half of the country's demand will be catered to at a domestic level.
Infant Formula Market Report Scope
Attribute

Details

Forecast Period

2014-2018

Historical Data Available for

2019-2026

Market Analysis

US$ Mn for Value

Key Regions Covered

North America, Latin America, Western Europe, Asia Pacific Excl. Japan, Eastern Europe, Japan, and Middle East & Africa (MEA)

Key Countries Covered

U.S, Canada, Mexico, Brazil, Rest of Latin America, Germany, United Kingdom, France, Italy, Spain, Benelux, Nordic Region, Rest of Western Europe, China, India, ANZ, Rest of APEJ, Japan, ASEAN, GCC, North Africa, South Africa, and Rest of MEA

Key Segments Covered

Product Type, Distribution Channels, Region

Key Companies Profiled

Nestle S.A
Groupe Danone
Abbott Nutrition
Mead Johnson Nutrition
The Kraft Heinz Company
Meiji Holdings Co. Ltd.
BeingMate Baby & Child Food Co. Ltd
Synutra International Inc.
Pfizer Inc.
Friesland Campina

Report Coverage

Market Overview, Key Market Trends, Key Success Factors, Demand Analysis, Market Background, COVID-19 Analysis, Segmental Analysis, Regional Profiling, Market Structure & Competition Analysis

Customization & Pricing
INFANT FORMULA MARKET TAXONOMY
The global infant formula market is segmented in detail to cover every aspect of the market and present complete market intelligence to the reader.
Product
Starting Milk Formula
Follow-on Milk Formula
Toddlers Milk Formula
Special Milk Formula
Distribution Channel
Specialty Outlets
Supermarkets
Online Stores
Pharmacy Stores
Others
Region
North America
Latin America
Western Europe
Eastern Europe
APEJ
Japan
MEA
Need specific information?