Infant Nutritional Premix Market By Form (Powder, Liquid), By Ingredient (Vitamins, Minerals, Nucleotides, Amino Acids), By Function (Bone Health, Immunity, Digestion, Vision Health, Brain Health & Memory) , By Distribution Channel ( Pharmacy Stores, Specialty Outlets ,Supermarkets, Online channel), & Region - Forecast to 2022 – 2032
Infant Nutritional Premix Market - Analysis, Outlook, Growth, Trends, Forecasts
January 2022

REP-GB-6473

350 pages
Infant Nutritional Premix Market Snapshot
[350 Pages Report] According to Future Market Insights (FMI), The Global Infant Nutritional Premix Market size was estimated at USD 235 million in 2021 and expected to reach USD 370 million in 2032, at 4%.
| | |
| --- | --- |
| Market Size Value in 2022 | US$ 235 Million |
| Market Forecast Value in 2032 | US$ 370 Million |
| Global Growth Rate (2022 to 2032) | 4.0% |
| Forecast Period | 2022-2032 |
| Market Share of India in South Asia | ~25% |
Over the projection period, demand for infant nutritional premix is expected to increase significantly. The increased need for convenient and nutritious infant food has resulted from the fast migration of working women in urban areas.
Consumer awareness of the possible health benefits of infant food has prompted them to consider these items as a viable alternative to nursing. By the end of 2032, the global market is expected to have grown by about twofold, reaching a value of USD 370 million.
Premix is a mixture in which all of the essential nutrient components are blended in the proper proportions. Infants require the optimal intake of vitamins and minerals to ensure effective postnatal growth and to decrease newborn morbidity and death. As a result, to meet their nutritional needs, newborns are fed a high-nutrient food premix. Infant nutrition is a broad category that encompasses a wide range of infant nourishment items for babies and infants.
Because of the rising knowledge about the benefits of newborn nutritional premixes produced with organic ingredients, vitamins, probiotics, and amino acids, they are becoming more widely used around the world.
Increased demand for infant nutritional premixes manufactured with purified protein, growing investment by key players to develop high-quality infant nutritional premixes, and rise in innovations in infant nutritional premixes are the factors that are expected to drive the growth of the Infant Nutritional Premix Market from 2022 to 2032
Upswing in innovations is triggering Infant Nutritional Premix Market
Because of the increased demand from health-conscious customers, significant firms around the world are working on advancements in medical food, particularly infant nutritional premixes. One of the primary factors driving the growth of the Newborn Nutritional Premix Market is the increase in innovations in infant nutritional premixes with the addition of nucleotides, organic components, and probiotics.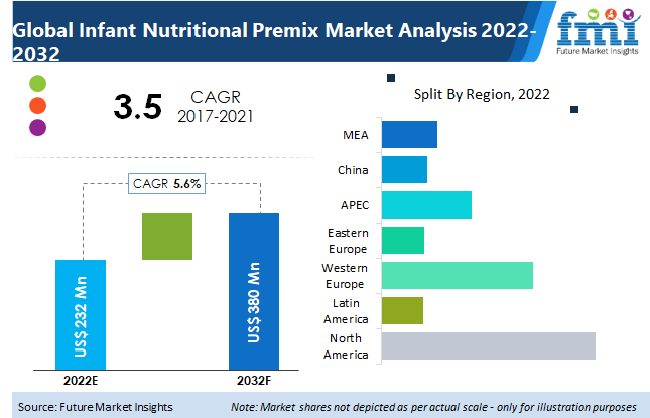 Demand for customized premixes is on the rise
Because of the growing knowledge of the benefits of fortified infant products, customers all over the world are increasingly turning to personalized premixes manufactured with pure protein. The leading companies throughout the world are also concentrating on producing customised mineral and vitamin premixes, which is driving the Infant Nutritional Premix Market even faster.
Country-Wise Analysis
How does the United States fare in the world of infant nutritional premixes?
Over the forecast period, the United States will control over 36% of the global market, owing to the presence of important market players and a high consumption rate of baby nutritional products.
The cost of an infant automobile in the United States has risen dramatically in recent years. The average monthly cost of providing center-based child care for an infant is USD 1,230 compared to USD 800 for a family child care home. The cost of child care for a newborn consumes 18 percent of a household's income on average.
Several producers have established themselves in the United States market. Similac Probiotic Tri-Blend, Similac Advance, and Similac Pro-Advance 20 are three of Abbott Nutrition's newborn premix formulations that help enhance the gut microbiome and perform as excellent breast milk substitutes.
Why is Infant Nutritional Premix Industry in China so appealing?
In 2015, China's one-child policy was replaced with a two-child policy, with 17.5 million births recorded that year. This surge has had a significant impact on the baby food business, particularly on infant milk formula.
Children account for 1/3 of urban household expenditure in China, according to the National Bureau of Statistics. The majority of this money was spent on day-to-day baby feeding and meals for little children. RTD food items are becoming increasingly popular among Chinese parents since they are handy and can be tailored to their hectic schedules.
The newborn nutritional premixes market in China is being fueled by the aforementioned elements, as well as a rising desire for homemade, fresh, organic baby food. According to FMI, between 2022 and 2032, the market would increase at a CAGR of roughly 10%.
Category-wise Insights
How are Vitamin-Based Infant Products Helping to Drive Market Growth?
According to FMI, vitamin-based newborn nutritional premix accounted for about a third of the market share among all ingredients in 2020, and is predicted to expand at a rate of over 5% over the next decade.
The increased focus of parents on providing a nutritious meal for their children's health resulted in a demand for vitamin-based goods. To earn consumer trust, well-known brands such as Nestle-Ceregrow are meeting demand by introducing nutritious ingredients, such as essential vitamins for newborn newborns. Thickening and Binding Application is Boosting the Application Segment.
What's the Big Deal About Powdered Infant Nutritional Premixes?
Powdered infant nutritional premixes accounted for the highest revenue share in 2021, and it is expected to continue on a favorable development trajectory with a CAGR of almost 6% over the forecast period.
The demand for powdered nutritious premixes is increasing dramatically in both developed countries and developing countries. This is due to the unique characteristics of powdered goods, such as their ease of water solubility.
The nutritional premixes market has seen a significant transition from liquid to powder form in recent years, owing to numerous benefits such as increased durability and simplicity.
Competition Landscape: Top Infant Nutritional Premix Market Manufacturers
Leading players are adopting novel strategies such as ground-breaking marketing tactics, the opening of new retail outlets, technical developments, and mergers and acquisitions.
Koninklijke DSM NV said in September 2021 that it has made the strategic choice to re-organize its health, nutrition, and bioscience activities into three different areas, each with clear prospects to assist people and the planet's health.
Redox and JKP Nutrition announced a collaboration in July 2020 to sell unique vitamin and mineral infant nutritional premixes to the Australian and New Zealand markets.
Scope of Report
Attribute

Details

Market Size Value in 2021

US$ 235 Million

Market Forecast Value in 2032

US$ 370 Million

Global Growth Rate

4.0%

Forecast Period

2022-2032

Historical Data Available for

2017-2021

Market Analysis

MT for Volume and US$ Mn for Value

Key Regions Covered

North America, Latin America, Europe, Japan, APEJ and Middle East and Africa - MEA

Key Countries Covered

United States, Canada, Brazil, Mexico, Argentina, EU5, Russia, Poland, China, ASEAN, Australia and New Zealand, Japan, GCC countries, North Africa, South Africa, others.

Key Market Segments Covered

Nature, Grade, Application, End-Use and Regions

Key Companies Profiled

Glanbia Plc.
Koninklijke DSM N.V
SternVitamin GmbH & Co. AG
BASF SE
Lycored Limited
Watson Inc.
Fenchem Biotek Limited
Farbest Brands
Prinova Group LLC
Barentz International B.V
Vitablend Nederland B.V
ADM
Vaneeghan International B.V

Pricing

Available upon Request
World's Most Profilic Intelligence Engine
Get Access To The World's Largest Market Research Database.
Sign Up Now
Market Segments Covered in Infant Nutritional Premix Market Industry Analysis
By Form :
By Ingredient :
Vitamins
Minerals
Nucleotides
Amino Acids
Others
By Function :
Bone Health
Immunity
Digestion
Vision Health
Brain Health & Memory
Others
By Distribution Channel :
Pharmacy Stores
Specialty Outlets
Supermarkets
Online channel
Others
By Region :
North America
Latin America
Europe
East Asia
South Asia
Oceania
Middle East & Africa
Key Questions Answered in the Report
How much is the Infant Nutritional Premix Market current worth?
Currently Infant Nutritional Premix Market is worth more than USD 235 Mn.
At what CAGR is the market expected to grow?
Infant Nutritional Premix Market consumption is expected to grow at a CAGR of around 6.1% during the period 2021-2031.
How was the performance in the last five years?
In terms of revenue, Infant Nutritional Premix Market grew at a CAGR of around 4.0% during 2017-2021
What are the key trends boosting Infant Nutritional Premix Market sales?
Vendors are adding delightful flavours and healthful components to their infant goods in order to boost sales and make them easier to consume. The majority of them are available in a powdered form that is readily mixed with water, grabbing the attention of parents in developing countries like China, India, and Japan.
How are market players reacting to the new developments in the market?
Market players are opting for technological advancement, new product developments and production capacity expansion.
How much share does the top 5 companies hold?
The top 5 producers of Infant Nutritional Premix Market hold around 25-30% of the market share.
Which are the major countries driving demand for Infant Nutritional Premix Market?
The US, and China are the major countries driving demand for Infant Nutritional Premix Market.
Who are the major players in Infant Nutritional Premix Market?
The major players involved in the Infant Nutritional Premix Market are Glanbia Plc., Koninklijke DSM N.V, SternVitamin GmbH & Co. AG, BASF SE , Lycored Limited, Watson Inc., Fenchem Biotek Limited, Hexagon Nutrition Pvt. Ltd.,Jubilant Life Sciences, Farbest Brands, Prinova Group LLC, Barentz International B.V, Vitablend Nederland B.V, ADM, Vaneeghan International B.V and Others.
What outlook does North America provide?
North America holds around 33% of the total Infant Nutritional Premix Market revenue share.
At what rate will the U.S. Infant Nutritional Premix Market grow?
US Infant Nutritional Premix Market is projected to grow at a CAGR of around x.x% over the next ten years.
Need specific information?
Our Clients