Infant Nutritional Premix: Optimum Nutrition Supporting Developmental Needs
An increasing inclination towards health and wellness, growing demand for functional, fortified foods, and the trend of convenience have been gradually changing the food landscape, and infant nutrition is no different. Rise in demand for quality infant formula and baby food creates the need for higher quality assured manufacturing processes. With growing awareness of health benefits of breast milk, companies operating in infant nutrition industry are focusing on nutritional science to developed new products that resemble the composition of human milk.
This has led to nutritional fortification of infant formula and baby food products. Future Market Insights' Infant Nutritional Premix Market Report discusses growth and innovation in infant nutritional premix globally, and evaluates opportunities and challenges across various regions.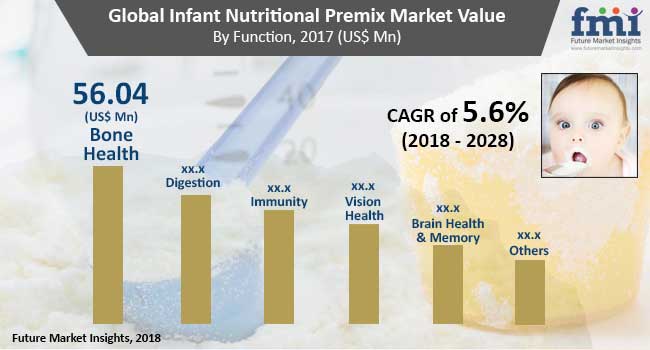 Convenience Remains Key Growth Driver
Demand for infant nutritional premix continues to gain a boost from growing need to achieve good nutrition to effectively support postnatal development. Potential health benefits of infant nutritional premixes in ensuring optimum intake of vitamins and minerals have been encouraging a large number of mother as well as health professionals to see these products as a suitable alternative to breastfeeding. A key demand driver of infant nutritional premix is 'convenience' it provides to parents seeking ready-to-eat food for infants that can be prepared in lesser time and comes with optimum mix of essential nutrients required for healthy growth.
With an increasing proportion of women in employment and growing awareness of numerous benefits of consuming fortified infant nutrition products and unique formulations, the demand for infant nutritional premix is expected to grow strong going forward.
Market Share to Shift from Liquid to Powder
Liquid infant nutritional premix continues to account for major share of the market revenue. However, these products are concentrates and require some degree of preparation, thereby lacking a strong competitive advantage over powdered form on the grounds of convenience and stability. With increasing varieties of powdered form of infant nutritional premix, the two categories are further expected to differentiate, with liquid continuing to decline in both volume and value share.
Key Players to Target Developing Countries
North America remains a prominent market for infant nutritional premix, accounting for relatively high share. However, with lower birth rates and growing campaigns to promote breastfeeding, sales of both infant formula and infant nutritional premix are slowing down in developed regions. Manufacturers are thus targeting key developing markets such as China and India, given consideration to growing per capita expenditure on infant care and significant increase in adoption of infant nutrition products in these countries.
Premiumization is set to be key factor of growth in developed markets, while robust performance of infant formula and baby food in developing countries is encouraging manufacturers to focus on widening their target audience. Premiumization strategies are expected to remain driven by new research that continues to identify nutrients and bioactive factors in human milk that are not currently found in infant nutritional premix. Growing demand for hypo-allergenic and organic infant formula are further projected to lead to realignment of manufacturers' strategies.
Market Taxonomy
Weighted market segmentation is carried out to fully analyse the global market for infant nutritional premix.
By Form
By Ingredient Type
Vitamins
Minerals
Nucleotides
Amino Acid
Others
By Function
Bone Health
Immunity
Digestion
Vision Health
Brain Health & Memory
Others
By Region
North America
Western Europe
Eastern Europe
Latin America
APEC
China
MEA
Need specific information?