Nutritional Yeast Market Value to Surpass US$ 1.5 Bn in 2029
Nutritional yeast is a natural and plant-based source of protein. It contains vitamins and minerals, which makes it a rich source of nutrition. Plant-based proteins are perceived healthier and more than meat-based counterparts, which is fuelling the demand for nutritional yeast vegan and flexitarians meals. This has encouraged manufacturers to introduce new plant-based protein products. Exhibiting an impressive CAGR of ~14%, the global nutritional yeast market will surpass US$ 1.5 Bn mark by 2029. This FMI study reveals that the market will grow at a steady pace during 2019 - 2029.
Frequently asked questions about global Nutritional Yeast market
Which application segment witnesses highest growth opportunities?
The food & beverage segment accounts for the maximum share in the nutritional yeast market. It is used as vegan meat and natural food flavor in food and beverages.
What is the critical trend influencing strategies adopted by manufacturers of nutritional yeast?
Veganism will be the most critical trend influencing production decisions of manufacturers. Manufacturers and retailers of nutritional yeast are marketing their products as vegan and meat substitutes to attract vegan consumers and improve their revenues.
What is the degree of competition in the nutritional yeast market?
Globally nutritional yeast is still at an introductory phase, therefore, more promotions and advertisements are required to spread awareness about its applications and health benefits. The nutritional yeast is widely used in food and beverage and dietary supplements. The vegan food products and plant-based proteins and ingredients markets are witnessing high growth rates due to which the demand for nutritional yeast is growing across the globe.
Which region will lead the global sales of nutritional yeast ?
Western Europe remains the largest shareholder in the nutritional yeast market. However, Asia Pacific is expected to show higher growth.
Food & Beverage Industry Accounts for About 40% Share
Due to the increasing awareness about healthy lifestyle and nutritious food, the food and beverage industry is expected to hold about 40% of the market revenue. Nutritional yeast has a nutty and cheesy flavor and is used widely in food and beverages. For instance, it is used as a meat substitute, salt replacer and non-GMO L-Cysteine replacer in bakery products, as well as in beverages, dairy products, and functional food. Demand for vegan meat, natural food flavor, and replacements for salt is on the rise. This is attributable to increasing health consciousness among consumers.
Developing Nations Offer Lucrative Growth Opportunities
Developed regional markets such as North America and Western Europe collectively contribute around 50% of the global market revenues. However, these regions will witness a slight decline in share held by them against the lucrative opportunities witnessed in developing nations such as China in Asia Pacific. Nutritional yeast is bought mainly for its nutritional benefits and additional gastrointestinal benefits. One in nine people in the world or nearly 800 million people cannot afford food to meet their basic nutritional requirements. The rate of nutritional deficiencies is relatively higher in developing nations. Therefore, manufacturers of nutritional yeast witnesses higher growth potential in developing countries.
Clean Label Trends Underpin Impressive Growth Opportunities
Clean labeling implies that ingredients used in a product and their origin are disclosed to consumers through product labels. This ensures safety of products. Consumers often demand high level of transparency, particularly regarding what they consume and where it is sourced from. This is attributable to the rising health consciousness witnessed around the world. Revivable yeast products such as yeast extracts and nutritional yeast are therefore witnessing high demand as they are free from chemicals and additives.
Inactive Dry Yeast holds leading revenue share
Fortified Yeast to showcase noteworthy CAGR
Conventional holds leading revenue share
Organic to showcase noteworthy CAGR
Powder holds leading revenue share
Capsule to showcase noteworthy CAGR
Food & Beverage holds leading revenue share
Personal Care to showcase noteworthy CAGR
How Growth will Unfold
Besides the food and beverages industry, nutritional yeast market is witnessing considerably high demand from animal feed, personal care, and other industries. For instance, Saccharomyces boulardii is effective in clinical studies and is the only yeast among probiotics that is bacteria. Various clinical studies have proven S. boulardii to be beneficial in the treatment of traveler's diarrhea, ulcerative colitis, and inflammatory bowel diseases. Meanwhile, inactive dried nutritional yeast is used as an effective ingredient in animal feed. Other than this, the market is expected to witness surging demand for fortified yeast and revivable yeast in the coming years.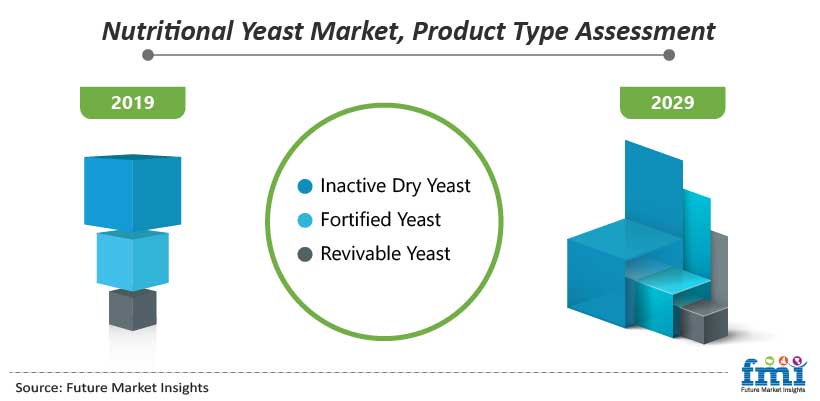 * This data is only a representation. Actual data may vary and will be available in report.
Click Here To Know How The Growth Will Unfold
Custom Market Research Services
FMI offers custom market research services that help clients to get information on their business scenario required where syndicated solutions are not enough.
Overview
Nutritional Yeast Market: Global Industry Analysis 2014-2018 & Opportunity Assessment 2019-2029
A recent market study published by Future Market Insights on the nutritional yeast market offers global industry analysis for 2014-2018 & opportunity assessment for 2019-2029. The study offers a comprehensive assessment of the most important market dynamics. After conducting a thorough research on the historical, as well as current growth parameters, the growth prospects of the market are obtained with maximum precision.
Nutritional Yeast Market Taxonomy
The global nutritional yeast market is segmented in detail to cover every aspect of the market and present complete market intelligence to readers.
Product Type
Inactive Dry Yeast
Fortified Yeast
Revivable Yeast
Form
Powder
Flakes
Tablet
Capsule
Application
Food & Beverage

Bakery & Confectionery
Beverages
Soups, Sauces & Seasonings
Functional Foods

Dietary Supplements
Personal Care
Animal Feed
Other Applications
Sales Channel
B2B
B2C

Modern Trade
Specialty Store
Convenience Store
Online Retail
Other Sales Channel
Region
North America
Latin America
Western Europe
North & Eastern Europe
APEC
China
Middle East & Africa
How the research was conducted?
Primary Research
C - Level Executives
Marketing Directors
Sales Heads
Production Managers
Distributors Heads
Sales Executives
Product Manufacturers
Distributors
Traders
Industry Experts
End Users
Current Market Dynamics and Challenges
Market Characteristics
Market Performance and Growth Quadrants
Competition Structure and Market Structure
Strategic Growth Initiatives
Near-term and Long-term Market Growth Prospects
Market Segment Splits and Authenticity
Opinions on Market Projections and Validity Of Assumptions
Secondary Research
Industry Publications

Industrial Week
Industrial Product Review
Industrial Magazine

Industry Associations

Dieticians Association
Food and Agriculture Organization

Company Press Releases
Annual Reports and Investor Presentations
Research Papers
Government Websites and Publications
Trade Websites
Primary Interview Splits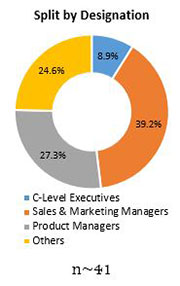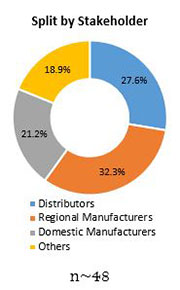 To Learn More About our Comprehensive Perspective on Nutritional Yeast Market ,
Get in touch
COVID -19 : Impact Analysis
Request the coronavirus impact analysis across industries and markets
Request Covid -19 Impact
CASE STUDIES
See how our work makes an impact.
At FMI, we design strategies that are adaptive, impactful, and implementable.