Yeast Extract Market by Grade (Food Grade, Feed Grade), End Use (Food and Beverages, Soups, Processed Food, Dairy Products, Bakery, Sauces & Savory Flavors, Non-alcoholic Beverages, Alcoholic Beverages, Animal Feed, Pharmaceuticals, Microbial Nutrients, Cosmetics & Personal Care, Others - Biofuel & Biomass Production), & Region - Forecast to 2022 – 2032
Yeast Extract Market - Analysis, Outlook, Growth, Trends, Forecasts
January 2022

REP-GB-10920

350 pages
Yeast Extract Market
[350 Pages Report] The sales of Yeast Extract is estimated to be valued at US$ 4,318.0 Mn in 2022. As per Future Market Insights (FMI), the overall market value is expected to reach US$ 8,707.7 Mn by 2032, rising at a CAGR of 7.3% for 2022-32.
| | |
| --- | --- |
| Attribute | Details |
| Market Size Value in 2021 | USD 4,318.0 Mn |
| Market Forecast Value in 2032 | USD 8,707.7 Mn |
| Global Growth Rate | 7.3% |
| Forecast Period | 2022-2032 |
According to the Market Research analysis, Lesaffre Group, Kerry Group, Angel Yeast, Lallemand, Inc., Biospringer, Synergy Flavors, Thai Foods International Co. are identified as Key Yeast Extract brands.
The market is predicted to rise due to an increase in the use of alcoholic drinks and rising demand for bakery food products. Yeast extract is a non-GMO, non-GMO component. It's a natural flavouring ingredient, similar to spices and herbs. Yeast extract is GMO-free, Kosher, Halal, and gluten-free, to name a few of its distinguishing characteristics.
In addition, increased consumer desire for healthy and fresh food products made with natural ingredients is expected to boost demand. The yeast extract market is expected to increase due to the simple availability of resources such as saccharides and other sugar derivatives at a reasonable price over the forecast period.
In The Food-Grade, There is a lot of Demand for Yeast Extract
Yeast extract is in great demand and will account for over 70% of total consumption. Food grade yeast derivates sales are predicted to reach 8,707.7 Mn by 2032, indicating that market participants will continue to be interested in this product category during the forecast period. However, the global feed industry's rapid expansion is boosting sales of yeast derivates, which will rise at a faster rate from 2020 onwards.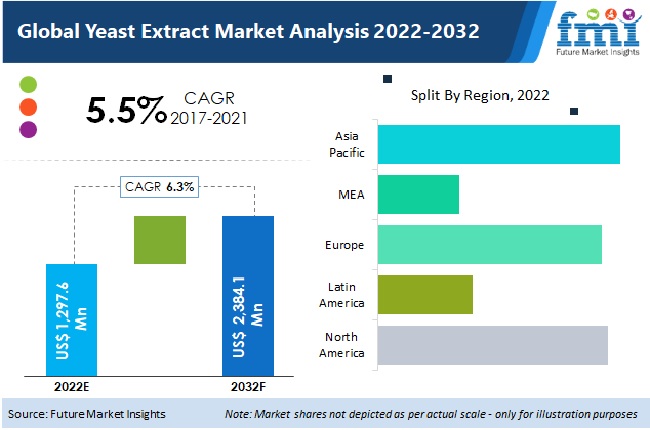 The APAC market for yeast extract emerges as the most lucrative
North America is currently the centre of global yeast extract market growth, with the United States accounting for a substantial portion of the region's market revenue. By the year 2021, the worldwide market value of yeast extract in the Asia Pacific will surpass that of North America, owing to the popularity of luxury food products and the growing lifestyle conditions.
As the regional market will continue to lead, growth opportunities have been identified in Latin America, prompting industry participants to rethink their tactics.
Pharmaceutical and Animal Feed Sectors will yield Higher Returns
Glucan free yeast extract helps to lower bad cholesterol levels while also increasing good cholesterol production. Because of cost-effective manufacturing processes and consistent R&D activities undertaken on yeast, beta-glucan generated from yeast is becoming more prevalent. When combined with other components, yeast beta-glucans are thought to be beneficial in the treatment of a variety of lifestyle disorders.
In addition, yeast extract mannitol is widely used in the animal feed sector to boost cattle efficiency. Manufacturers are increasing their product portfolios in the pharmaceutical and animal feed sectors as a result of these numerous advantages.
A look at the competitive landscape of the market
Yeast extract is being more widely used as a supplement in the food and beverage industry, and it will continue to attract significant investment. Within the end-use category, autolysed yeast extract adoption continues to be strongest in saucy and savoury flavours, followed by processed foods, and dairy products will see quick growth.
Furthermore, producers see the animal feed and microbial nutrients as target application areas, with yeast extract use predicted to account for 45% of total consumption.
A look at Yeast Extract as a Flavouring Agent
Yeast Extract is made from the yeast which is used in making bread and beer and is known as a food flavouring component. It is widely used in the products like sauce and some food items like cheese. The taste generated by using yeast extract is known as "umami".
The manufacturing of yeast extract includes adding sugar to yeast in hot environment. The walls of yeast try to expand, and the outer covering begins to soften. This mixture is further processed in centrifuge motion and the loose yeast cell walls are then whisked away.
Savoury meals are popular among masses and is found in marinated meat and sauces. It is widely used ingredient that provides the unique taste to soups, sauces, and variety of snacks. The usage is compared to that of spices usage in flavouring the food. The flavouring resembles to that of a meat stock but is free from any kind of animal derived ingredient.
Yeast Extract raw material includes high protein yeast from Europe which is grown on molasses, debittered brewers' yeast from UK and US. Other type of raw material used is yeast fermented on whey.
Yeast Extract is known as the autolysed yeast which is easily soluble in the water. The autolysis is managed through different processes to preserve the original B-complex vitamins.
Nutritional Advantages of Yeast Derivatives
Number of Yeast products are widely used including their ingredients which are commercially manufactured and marketed. In recent times, commercial usage of yeast is seen in animal feed across the globe. Numerous studies have been conducted to measure the growth of animal performance and their health after using the yeast extracts in feed.
Probiotic products also use dry yeast solely or in a combination with good bacteria to provide the nutritional benefits. Nutritional yeasts have enough amount of protein content and have amino acid compound that are commonly higher than grains and oil seed diets.
Other major yeast-based items include nutritious chemicals found in yeast cell and cell walls, which are shown to benefit animal development and health in general. Many animal diets use special yeast products like selenium yeast and Phaffia yeast, which include nutrients that improves the colour of salmon and trout flesh.
Due to prohibitions on the use of antimicrobial and its growth in many countries, these yeast-based items are becoming alternative additions in animal feed due to their nutritional and health benefits.
Scope of Report
Attribute

Details

Market Size Value in 2021

USD 4,318.0 Mn

Market Forecast Value in 2032

USD 8,707.7 Mn

Global Growth Rate

7.3%

Forecast Period

2022-2032

Historical Data Available for

2017-2021

Market Analysis

MT for Volume and USD Mn for Value

Key Regions Covered

North America, Latin America, Europe, Japan, APEJ and MEA

Key Countries Covered

United States, Canada, Brazil, Mexico, Argentina, EU5, Russia, Poland, China, ASEAN, Australia and New Zealand, Japan, GCC countries, Ethopia, North Africa, South Africa, others.

Key Market Segments Covered

Grade, End user, Region

Key Companies Profiled

Lesaffre Group
Angel Yeast
Synergy Flavors
Thai Foods International Co.

Pricing

Available upon Request
World's Most Profilic Intelligence Engine
Get Access To The World's Largest Market Research Database.
Sign Up Now
Market Segments Covered in Yeast Extract Market Analysis
By Grade :
By End Use :
Food and Beverages

Soups
Processed Food
Dairy Products
Bakery
Sauces & Savory Flavors
Non-alcoholic Beverages
Alcoholic Beverages

Animal Feed
Pharmaceuticals
Microbial Nutrients
Cosmetics & Personal Care
Others (Biofuel & Biomass Production)
By Region :
North America
Latin America
Europe
Middle East and Africa
Asia Pacific
Key Questions Answered in the Report
What is the level of competition in the market for yeast extract?
Due to the presence of many small-scale competitors, the worldwide yeast derivates market is fragmented. The leading companies in the yeast extract market are concentrating on new product launches and expanding yeast extract uses. To increase their worldwide reach, manufacturers are investing in joint ventures, mergers and acquisitions, and partnership methods to provide clean label ingredients.
Which end-use segment provides the most profitable growth potential for industry participants?
In comparison to other end use industries, the food and beverage industry is experiencing profitable growth in the speciality yeast market in the current term. This is due to the increased usage of naturally flavouring ingredient in a variety of food products. It's popular in sauces and savoury flavours, for example. Meanwhile, the cosmetics and personal care industry is growing at a faster rate than the rest of the economy.
Which region will account for the majority of global yeast extract sales?
The market for yeast extracts is dominated by Asia Pacific. In addition, it is predicted to grow faster than the rest of the world. Manufacturers are focusing on diversifying their product portfolios and investing in R&D to use yeast extract in new applications. The global yeast extract market is split around 50/50 between North America and Europe.
In the next 10 years, which grade of yeast extracts will sell the most?
While food grade speciality yeast extracts continue to rise in popularity, they still hold the majority of the market. The yeast extract industry's market share has increased as a result of rising demand for unique flavoured foods and beverages from producers. Meanwhile, food grade yeast extract has a better growth potential than food grade yeast extract.
In the future years, which trend will boost the yeast extract market?
In numerous industries, manufacturers are offering goods that use yeast extract composition as an addition. The market price of yeast extract makes it more appealing to manufacturers. Yeast extracts are simple to prepare and widely available in the marketplace. As a result, this element aids yeast extract's acceptance by end-user industries. When yeast is broken down into its constituent components, the result is autolyzed yeast extract. It includes free glutamic acid, and is frequently used as
Need specific information?
Our Clients