Dry Yeast Market Outlook & Key Findings
Dry yeast market is estimated to be grow at a CAGR of 6.9% during the forecast period 2020-2030
Pet owners have become increasingly conscious about health & well-being of pets captivating towards organic formulations, unfolding growth opportunities for dry yeast market
Increasing demand for vegetarian and vegan pet food in European countries
From being product belonging to a niche segment, dry yeast has transitioned to one of the top performing category in the animal feed industry.
Dry Yeast Market Analysis:
Animal owners are becoming very conscious of the animal food they buy and the nutritional benefits it provides. Nutrition is a significant factor in recent times, and sales of goods that do not meet customer standards are also adversely influenced by the same. Therefore, producers of pet food have started to integrate high nutritional value into their products.
Dry yeast improves the nutrient content of pet food, resulting in a significant rise in the use of dry yeast by pet food producers.
Dry yeast is one of the wonders of modern day baking practices— a free flowing finegrained powder made from several millions layers of single-celled dehydrated microorganism called yeast. When hydrated, these little critters mix in a dough with sugar or starch, creating the alcohol and carbon dioxide that gives bread its distinctly fermented flavour, and aerated development.
Increasing Demand for Vegetarian and Vegan Pet Food
Human diets with less or no animal meat have grown in common over the last period. Animal owners have a quite high degree of animal compassion than those that don't have pets. As a result, a growing number of pet owners rely on diets that are safe for their pets.
Vegan diets have recently been implemented in the pet food market, creating possible moral discomfort to vegetarians and vegans who shares their homes with omnivorous and carnivorous pets. Pet food producers commonly use dry yeast for the production of animal-free pet food as it improves the nutritional content as well as the quality of pet food.
Price Stabilization Anticipated with Economies of Scale Coming to the Fore
Industry stakeholder's sentiment and production manager are under the impression that over the span of next five years, the prices of dried yeast will be stabilize at around 20% lower than that of the current average selling prices.
The average prices of inactive dried yeast is reported to be USD 500 higher than that of active dried yeast, taking per ton prices into account. Though these prices also very regionally, which is further subjected to the installed capacities in these regions.
Exhibit below explains the price benchmark of active and inactive dried yeast across different regions.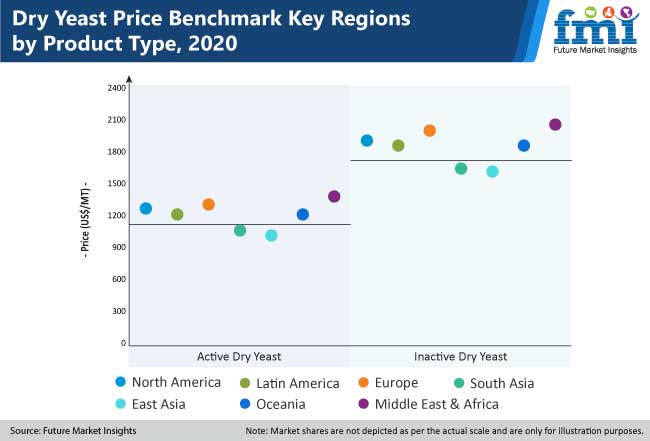 Clean Label Trends Underpin Impressive Growth Opportunities
Clean labeling means ingredients used in a product are revealed to customers by means of product labels, and their sources. This ensures safety of food products and also consumer health. Consumers also demand a high degree of transparency, particularly when it comes to what they consume and where it originates from.
This is attributable to the growing health consciousness experienced across the globe. Dried yeast products - since they are free of chemicals and additives, are also highly in demand
Naturally-derived Ingredients in Pet Food Market
Consumers have been more attentive to pet food and its additives than ever before. Natural and organic choices become a common choice for human food, a growing number of pet owners are searching for similar food characteristics for their pets.
Customers want pet food to be processed without the use of artificial colors, preservatives or flavorings, synthetic additives, poisonous pesticides or antibiotics. As a result, naturally-derived ingredients, such as dry yeast and its byproducts, are highly sought-after in both the animal feed industry and the pet food industry.
Rising Demand for High Quality Pet Food Products
The humanization phenomenon has also boosted the consumer appetite for high-quality and premium options for animal feed. According to the FMI, pet owners are not concerned about the cost of pet food, but instead about the quality of food. Almost 50% of American pet owners have declared that they would sacrifice their Netflix subscription to pay for pet food premiums.
In addition, 55% of French and American pet owners agreed that they should trade chocolate for providing high-quality food to their pets. The demand for premium and high-quality pet food has significantly increased retail purchases in the last 10 years, with annual pet food consumption witnessing tremendous growth, i.e. 36% from 2007 and 2017. Dry yeast increases the consistency and shelf life of pet food by increasing the use of dry yeast in pet food products.
Antibiotics Replacement' Flourishing Demand for Dry Yeast
Antibiotics are primarily used for livestock to support animal production and increase feed quality. However, the use of antibiotics for animals has been decreasing over the last few years, due to the adverse health effects and the climate. Antibiotics are mainly used in the poultry industry, since there is a high degree of consumption of poultry meat worldwide.
Nevertheless, the use of antibiotics has been banned in the United States since 2017. Yeast-based foods are a good substitute for antibiotics because they enhance digestion and provide essential nutrients to animals. The move to substitute antibiotics has a positive effect on the market for dry yeast.
Limited Awareness of Benefits of Inactive Dried Yeast to Hinder Market Growth: Key Challenge Witnessed in Market
Most of the spent yeast from the brewing process is not recovered and is perceived as waste. This is attributable to the limited awareness of benefits of using inactive dried yeast in animal feed among manufacturers in developing countries.
Dry yeast is being added to animal feed to increase the immunity of animals and to improve their overall health. But the high prices of yeast derivatives have hindered its growth in the economic feed and the pet food industry.
Dry Yeast: Region-wise Analysis
Europe and North America are projected to be the leading regions in dry yeast market share and are projected to be dominant in the forecasting era. Across Europe, countries like France and Germany are the main market for dry yeast. In terms of revenues Asia Pacific is projected to be the third largest contributor to the dry yeast industry, led by Latin America
In US, the dry yeast for pet food applications market has represented the fast growth pace in pet food industry for past few years where North America accounts for 21.9% share in the global dry yeast market and anticipated to show 6.1% of CAGR in the forecasted period 2020-2030.
Clean label and transparency are the claims most preferred by European consumers, especially millennials. It is also found in the recent survey conducted from Kerry a top ingredients manufacturer that, 53 percent of consumers who read food labels and are aware of clean labels, 90 percent say they are willing to pay more for clean label products. Pet food manufacturers could increase their sales by specifying these claims while marketing their products in this region.
Leading suppliers in Dry Yeast Market
Owing to the higher profits margin, the Dry Yeast market is anticipated to witness the entry of new players. There are some of the key players, which driving the growth of global dry yeast market such as, Kerry Group, Bio Springer S.A., Koninklijke DSM N.V., A. Costantino & C. spa, Lallemand Inc, Sensient Technologies Corporation, Leiber GmbH,, KOHJIN Life Science Co., Ltd, Angel Yeast Co., Ltd, Titan Biotech Ltd., Associated British Foods Plc, and many others.
Key Dried Yeast Brands:
ADY
Bellarise
Fleischmann's Instant Yeast
Red Star Active Dry Yeast
SAF instant yeast
Dry Yeast: The Way Forward
Large companies are diversifying existing portfolio and upgrading production facilities to ensure they are fully equipped to cater to growing consumer demand. Furthermore, regional players and local players are focusing on carving out a niche in terms of flavors.
They are also collaborating with retailers in domestic markets to gain competitive advantage. Strategies adopted by the key players will enable growth in the market in the coming years.
Key Segment
Product Type
Active Dry Yeast
Inactive Dry Yeast
Form
Powder
Flakes
Tablet
Capsule
Base
Nature
Sales Channel
B2B
B2C
Modern Trade
Specialty Stores
Convenience Store
Online retail
Other Sales Channel
Region
North America
South America
Europe
South Asia
East Asia
Oceania
Middle East & Africa
Need specific information?