Introduction
With electronics and semiconductor products being seen as common products, the industry is adopting dry vacuum pumps for related applications, such as coating and drying. Dry vacuum pumps are predominantly used in end-use industries, such as electronics and semiconductor, pharmaceutical and chemical industries.
Dry vacuum pumps are essentially used for vacuum drying, mixing, de-aeration and filtration. Another crucial use of dry vacuum pumps is in particle conveying and material handling. Dry vacuum pumps are also used in scientific instruments, such as laser scanning microscopes.
Traditionally, oil filled dry vacuum pumps were associated with industrial operations. However, the requirement of safety and cleanliness is driving the adoption of oil-free or dry vacuum pumps for industrial and laboratory applications.
However, to promote energy saving during operations and to maintain noise levels, dry running and contact-free dry vacuum pumps have emerged as an attractive solution over the last two decades at the global front.
The key benefits associated with dry vacuum pumps include steady performance, clean quality vacuum, easy integration and installation, sound shelf life, wide opening doors and a removable rear panel, which facilitates maintenance, and access to real time data with no time gap.
The dry vacuum pumps market, since its inception, has evolved into a high value market and has been witnessing healthy growth rate in the current scenario. It is expected to witness robust growth during the forecast period.
The dry vacuum pumps market comprises dry screw vacuum pumps, dry scroll vacuum pumps, dry diaphragm vacuum pumps, dry claw and hook pumps and others (dry lobe vacuum pump, and dry rotary vane vacuum pump).
The scope of the dry vacuum pumps market in this research study mainly includes industrial and laboratory applications associated with end-use industries, such as pharmaceutical, chemical, electronics & semiconductor and others (printing, packaging, and food and beverages industries).
This report only covers the rough vacuum type products and high or ultra-high vacuum level dry vacuum pump products have not been considered.
The global dry vacuum pumps market is estimated to be valued at US$ 1,680.8 Mn by 2018 end and reach US$ 3,070.1 Mn by the end of 2028 while expanding at a CAGR of 6.2% over the forecast period.
The global dry vacuum pumps market is anticipated to represent incremental opportunity of US$ 1,389.4 Mn between 2018 and 2028 and thus, is expected to be a high value – high growth market.
Drivers and Trends
The global dry vacuum pumps market is expected to witness steady growth rate over the forthcoming years. Rising adoption of dry vacuum pumps in electronics & semiconductor and pharmaceutical industries will further push this growth.
Growing investments in Asia Pacific region in the electronics & semiconductor and pharmaceutical industries will also support the growth of the dry vacuum pumps market. The growth in the market is being fueled by increasing investments by South Korea, Japan, the USA and Germany in nations, such as India, Brazil and ASEAN countries.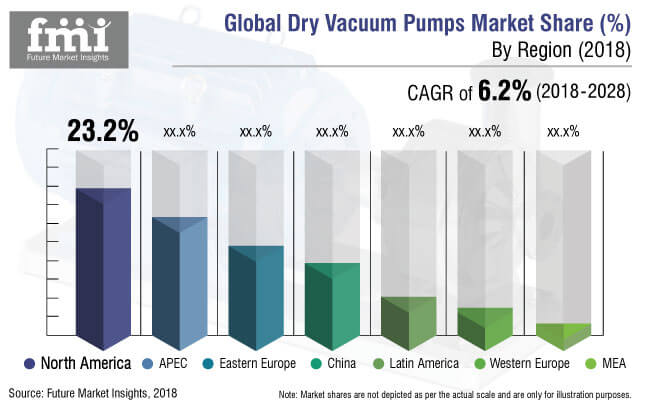 Key Players
Some of the prominent players reported in this study of the global dry vacuum pumps market include EBARA CORPORATION, Pfeiffer Vacuum GmbH, Atlas Copco AB, Gardner Denver, Inc., ULVAC, Agilent Technologies, Becker, BUSCH and VACUUBRAND GMBH + CO KG, among others.
These players are key participants in the global dry vacuum pumps market and there are some regional players as well who are offering dry vacuum pumps. In recent times, collaborating with sales and service companies to enhance the market presence of the leading players has been the key strategy of major market players.
As low cost offerings by Chinese players are a major concern for the key manufacturers, mergers and acquisitions and collaboration activities by large players will drive end users to adopt modern dry vacuum pumps.
Key Segments Covered
By Product Type,
Dry Screw Vacuum Pump
Dry Scroll Vacuum Pump
Dry Diaphragm Vacuum Pump
Dry Claw and Hook Pump
Others (Dry Lobe Vacuum Pump, and Dry Rotary Vane Vacuum Pump)
By End Use,
Electronics & Semiconductor Industry
Pharmaceutical Industry
Chemical Industry
Others (Printing Industry, Packaging Industry, Food and Beverages Industry)
By Region,
North America
Latin America
Western Europe
Eastern Europe
Middle-East & Africa (MEA)
China
Asia Pacific excluding China (APEC)
Need specific information?